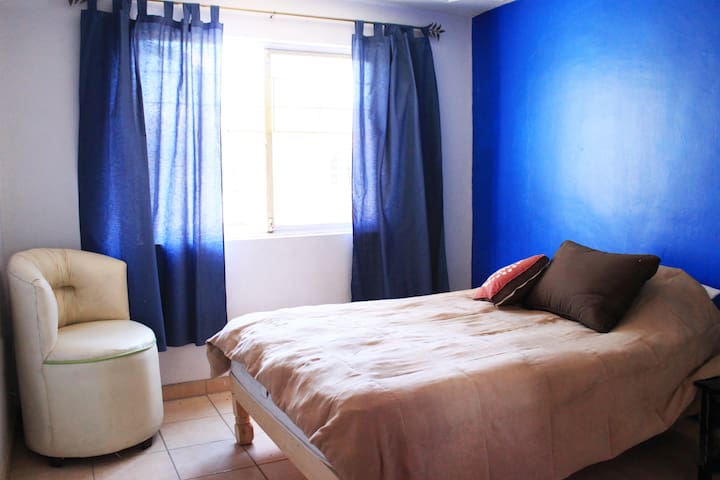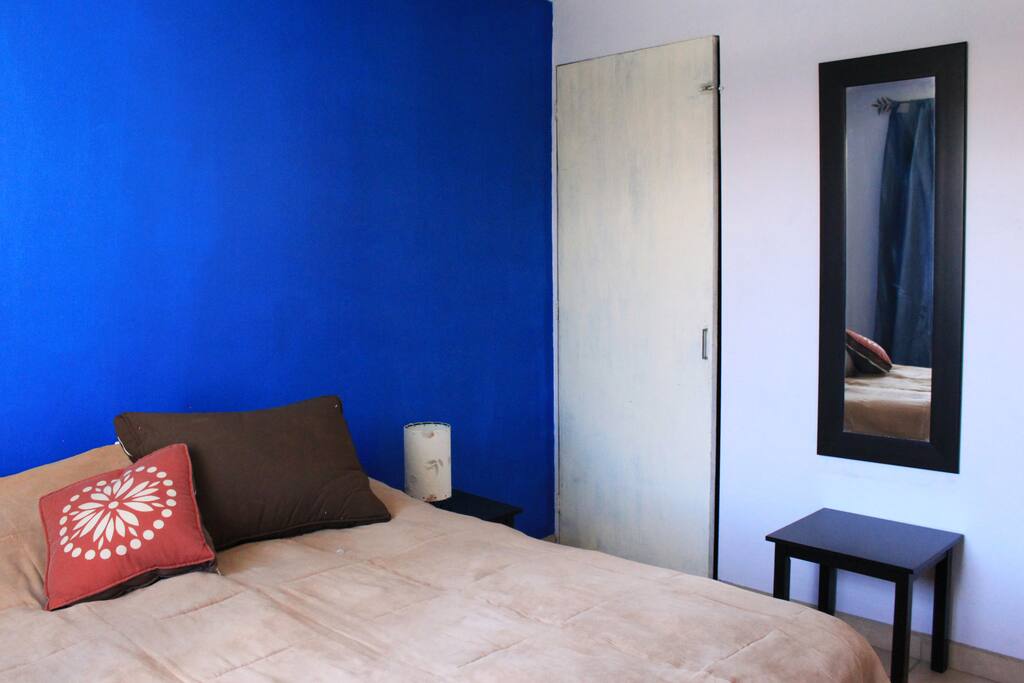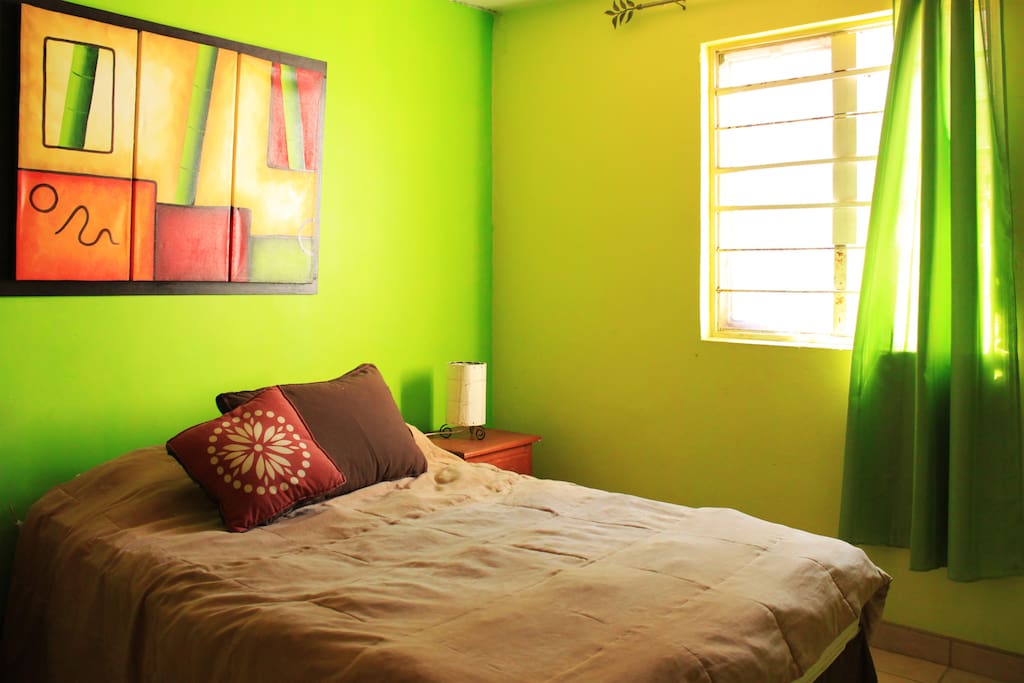 This apartment includes as well a house phone with free phone calls to US, Canada and within Mexico.
房源
This 2 bedroom, 2 floor house features...
•One bedroom with a queen-size bed with closet
•One bedroom with a double bed with closet
•Standing fan in bedrooms
•Bathroom with walk-in shower
•Kitchen with all appliances incl Microwave & coffee maker & electric water ketle
•Iron with ironing board
•Flat-screen TV 32" with cable feed
•DVD player with movies
•Wireless high speed internet
•House phone with free phone calls within Mexico, USA and Canada
•Drive way
•10 minutes walking from the center of Tlaquepaque
•15 minutes walking from Guadalajara Language Center
与房客的互动
I am always available day and night by phone, email or (SENSITIVE CONTENTS HIDDEN). Besides the information about the apartment I provide extra information about daily activities, tours and local events on arrival.
其他注意事项
Bookings made through Airbnb get and extra 5% discount on our Spanish language courses at Guadalajara Language Center.
---
---
Just treat the house as it was yours.
---
Before meeting Wouter in person, I was a little frustrated about the last minute fee for my 2 year old. I had originally booked Casa Tlaquepaque for 3 people, but then had communication back & forth via email after the fact, informing him that a 4th person was coming after all (child). He didn't say it was a problem up until the day before our trip. He basically told me that either I pay an additional daily fee (to cover extra water/electricity/etc.) for the 2 year old, for the full 10 days OR I could always cancel altogether. I then explained that of the 10 days we booked, we would only be there for 4 of those days (we were heading to Michoacán to visit other family for the remainder of the trip) - but even so, he required an additional per-day fee for my 2 year old, for all 10 days. That was unexpected & frustrating, to say the least. I paid him cash upon arrival & that was that. Wouter picked us up at the airport (for $31 USD) & was already waiting for us with a sign when we arrived. He was very friendly & knowledgeable. He picked us up in an older van & we were able to comfortably fit 3 suitcases + double stroller. The apartment was fairly close to the airport (which is one of the reasons why we chose it) & the neighborhood felt very safe & homey. The apartment is 10 minutes (walking distance) from El Parian, which was fantastic! The apartment itself was ok. The set up downstairs was great! Everything you need for simple meals is there. The internet & cable work GREAT! Hot water was always available! The CONs: The refrigerator did not work. We purchased milk & yogurt & a handful of other things & they all spoiled by the next morning. Pillows/linens (upstairs bedrooms) are in poor conditions & hadn't been washed. 2 of the 4 towels smelled awful. It was very hot there when we went (August) & the apartment only had 1 fan; options were to open the screen-less windows, which helped a little, BUT the Mosquitos charged in the second we did so. It was very uncomfortable to sleep because of this. Bring bug spray to sleep! The steps upstairs are steep, so beware with smaller children! Otherwise, Wouter was very friendly & available. I didn't mention the problems to him because by the time we returned to the house to sleep (those 4 days out of 10), it was too late & we were too busy battling the mosquitos. Also, because I reminded myself that you get what you pay for, right? Even so – I thank Wouter for hosting us & wish him the best!
Dear Annette, Sorry for the frustration you had. I didnt realize that you booked for 3 people and came with 4. I realized this after you wrote me the following in your email. "Yes, I'm very interested in your airport pickup service, if you are available! We fly in on Friday, August 21st, at 9:55pm. The airline is Volaris #941. It is a direct flight coming in from Chicago Midway. It's just my husband & I + our 2 kids, ages 2 & 4. " I dont think I said that this was alright and I cant find any correpondence (email) me saying this. I realized this as the last moment and I think there was a mis comunication. I didnt say that you had to cancel. I tried to tell you you had to change the reservation to 4 people. When we spoke about it over the phone I had no idea that you were only staying 4 nights. When you arrived you mentioned that you were going to meet some family in Michoacan. You were not sure for how long. You were leaving the next day very early. As I knew it would not have been very easy to find a taxi at that our I offered to talk you there for the price fo 16 USD. The evening that you arrived every thing was closed and I offered to talk your husband in the van to the center to get some groceries. He thanked me for this. I realized the children had nothing for the morning and as I had to pick some things up at the house brought for them for in the morning 2 apples and two yogurt. Thank you for letting me know about the fridge. I replaced it today as I just received your review today. See new photo on the pictures part. My sugguestion is never wait with telling the owner about any problems you have. Often things can be solved very quick and this will improve you vacation. I was not aware of the problems with the fridge as the last guests didnt mention any thing. When I took it out today I was not sure what was wrong with it as the everything in the freezer was still frozen and the fridge was still cold but I replaced it any way as it was an old fridge. I am sorry for the linnen. As far as I know everything had been washed but I will double check next time. You are right about the rooms can be warm. I will replace the ceiling lamps for ceiling fans. As soon as this has been done pictures will be placed on the airbnb site. I have looked in to screens but there is a small issue with the windows opening to the outside. I still have to think how this can be resolved. Sorry for all the inconviniences you had with your stay and If you would have mentioned it while you were here I could have resolved many or all. Best regards, Wouter Stut
---
My stay was excellent starting from the moment I arrived. Wouter met us at 7 AM to bring the keys and gave us a great orientation on the city and major transit routes we could take to get to the center of Guadalajara. He even provided some suggestions for activities we could pursue. Our stay was located conveniently close to Tlaquepaque plaza, which is filled with shops, bars, and places to eat. It was approximately a ten minute walk and a great reference point for taking taxis late at night. The house had a phone with unlimited calls to US and Canada and the wifi worked great. The residence was its own house on a charming street. I would definitely stay here again on my return to this city.
---
I loved the location of this home. The neighborhood was safe and a quick ten minute walk at home to the city center. The home was what I expected and very nice! Wouter was awesome as we lost the key on the bus and he was able to get us another key no problem! Wouter came quickly when we needed help getting the boiler on for hot water. He even has a phone that we could use to call the US. I would definitely recommend staying here. We stayed for a little over two weeks and felt very at home.
---
This is unfortunately the first bad experience I have had with AirBnB since joining several years ago. Let me start by saying that Wouter was a very nice man and quick and prompt with his responses. Wouter agreed to pick me and my family up for $31 (American Dollars), to be paid outside of AirBnB. Having lived and visited Mexico, I thought this was fairly high, but thought the convenience of being in a nice car with someone who would know where they were going would be easiest. However, we were picked up in a very old van with no AC and missing seats. While Wouter was nice and chatted, I was looking forward to the unit. I am Mexican and so is my family who joined me on this trip. We stayed in the unit for a total of 20 minutes because it was in a bad area of town (this was confirmed by my uncle who lives in Guadalajara), you could no flush toilet paper, there was dirt on the walls, and the living area was incredibly dusty. On the outside in looks like an abandoned lot with no care to the appearance. We were honestly afraid for our safety. I gulped, took my family elsewhere. Although I didn't expect to get any, I asked for a refund, which we didn't get. Wouter said we should have contacted him to fix things, but unless he could have picked up the house and placed in in another neighborhood, there's nothing he could have done to salvage this. So instead of arguing with someone about this or that, I decided to take a loss on the cost of this rental and simply move to another area. I would not recommend this unit to anyone. It's shame, because as you can see from my feedback, I have had wonderful experiences everywhere else. I have learned my lesson.
Pedro, I dont understand your concerns about safety. If you would have read the reviews of people who have staid here you would have know that the areas is very safe. Here some of the reviews of the place where people specificly talk about the safety of the area. You can read them your self as well on the airbnb site. Wouter was very friendly and helpful, his house is within walking distance from all the shops and restaurants and is in a very safe neighborhood. I would highly recommend staying at his house. Wouter was very friendly and helpful. He arrived within five minutes each time I called him. He was very responsive to my needs. The house was lovely and I really enjoyed exploring Tlaquepaque. The atmosphere was very Mexican and the neighborhood was safe and close to the center of Tlaquepaque which offers amazing experiences for all the senses! I recommend the house and the neighborhood, but do not recommend staying here if you have a car. Parking can be problematic and Tlaquepaque is easily accessible by foot. About the price of the pick up. I can tell you that the price for the pick up is not very high. If you would have asked for a taxi for 4 people with luguage you would have paid at least the same. I brought the van and took one chair out because I did not know how much luaggage you would have. I knew you were coming with 4 people so I assummed you didnt need the 5th chair. About not flusing TP. This is in most of the parts of Mexico. If you ask people that come often to Mexico you will see this is very often the case. About the refund. As I said before I took it up with airbnb and they told me that they contacted you and you never replied. You never mentioned any of the accusations you mentioned here except for it beeing durty when you asked for a refund. The house was cleened before you arrived and airbnb asked for the pictures which i made right away the same day and sent them to airbnb as they asked. I am sorry you had a bad experience but this was totally not my fault as the apartment is exactly as is mentioned on the airbnb website Wouter
---