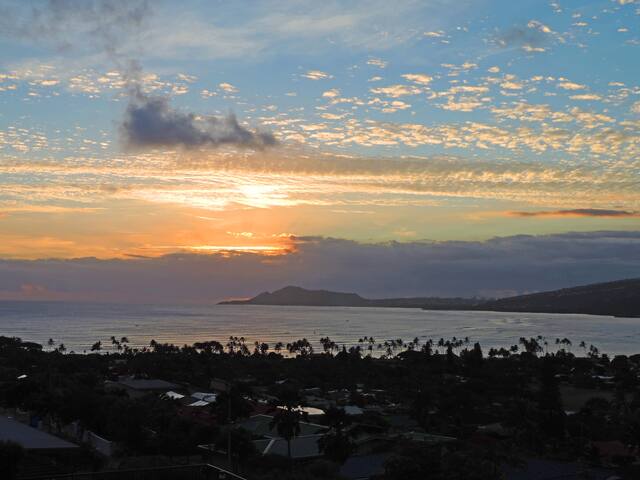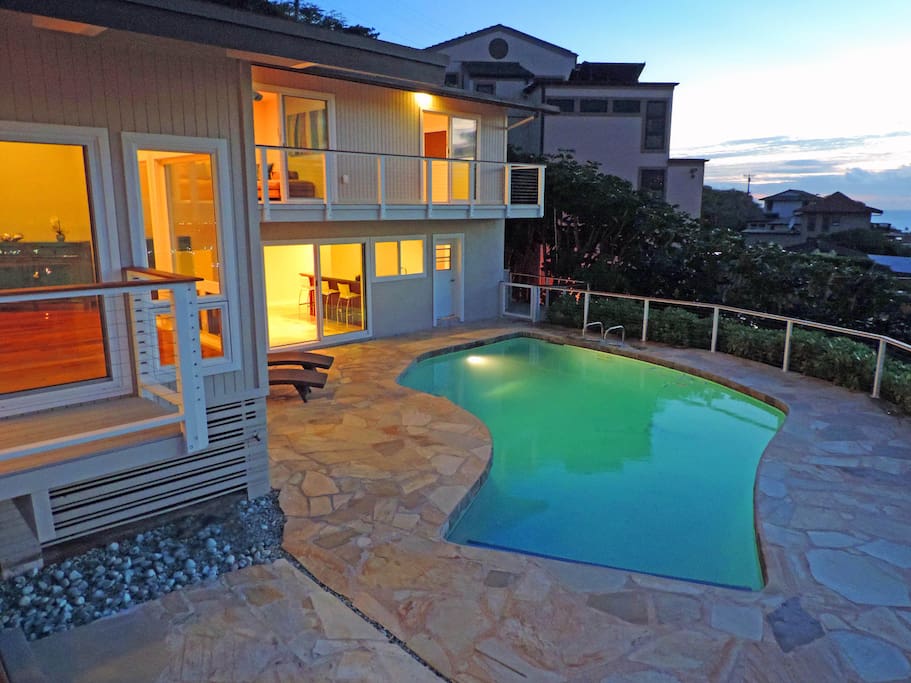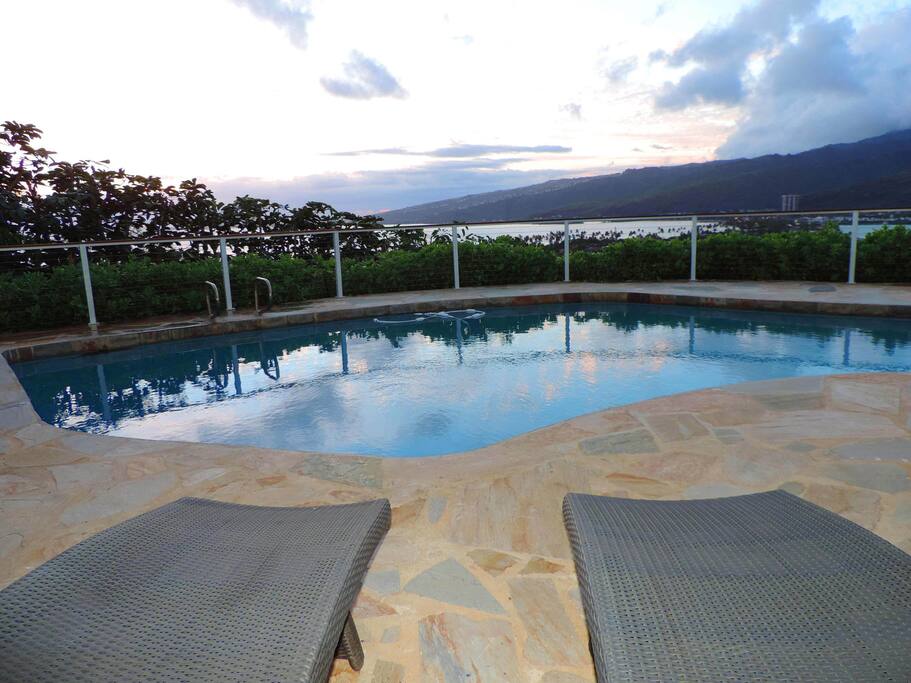 非常棒的房子,大平台上的景色没得让人觉得整天躺在躺椅上看风景就足够。女儿对游泳池也是非常满意。房间足够多,我们一行7个人,住得很宽松,每个人都能得到充分的休息。离最近的koko head shopping center也是步行大约十几分钟就能到的路程。可以买到基本的食物和饮料,还有中餐快餐可以吃。离waikiki海滩和商业中心区域开车也就是十几分钟的路程,相当便捷。 It's a wonderful place. The view is amazing!My daughter got crazy for the swimming pool! The house is spacious and has enough rooms for big group (family). It's about 15 minutes' walk to koko head shopping center and 16 minutes' driving to waikiki beach. I have recommended it to all my friends.
So happy to hear you enjoyed your stay with us at Hale Maunalua & especially happy to hear that your daughter had fun in the pool! Thank you for taking great care of our home during your stay & also for recommending it to your friends. We love return renters, so please come back & stay with us again someday so we can treat you to a return renter discount!
---
Perfect place for a family gathering. View is fantastic and the house is very well equipped and comfortable.
---
Amazing house, better views and even better pool. The house has everything you would want to enjoy a stay in Oahu, and Craig was a great host. The house is close to everything but far enough away from the busy Waikiki area. If your thinking about a vacation in Hawaii, make sure you check this place out first!!
Thanks for choosing Hale Maunalua as home base for your O'ahu vacation! We're so happy to hear you enjoyed your time at the house as much as you did. It really is a special home with some of the best sunset views imaginable. Please don't hesitate to look us up again on your next visit so we can offer you a return renter discount. Please send our aloha to the rest of your family for taking such great care of our home during your stay. Thanks again & come back again soon!
---
Our extended family of 9, three generations, had an absolutely wonderful stay at this amazing house. It was very well equiped with all the day to day necessities needed for a relaxing holiday. It was also very close to shopping and restaurants and easy to access all the sights of Oahu. Craig was extremely helpful with all enquiries prior to our stay and continued to answer any queries we had during our stay. The view from the house during the day was spectacular as were the sunsets over Diamond Head. The BBQ and pool facilities were well maintained and provided additional enjoyment for our family's stay. Thank you Craig for opening your beautiful home to us and we hope to return in the not too distant future. Lyn McMahon Sydney, Australia.
Thank you so much for staying with us at Hale Maunalua! It was our pleasure sharing our home with your family & we're so excited to hear you enjoyed your time staying there as much as you did. We're all about helping our guests make amazing memories on their Hawaiian vacations, so glad to hear we helped your multi-generational family do just that! I hope you do return soon so we can offer you a return renter discount & share some more aloha spirit with you!
---
Craig's place is amazing. Exceeded any expectation that I had. Great views from the common areas, great layout, comfortable amenities and such an enjoyable stay. Highly recommend you stay here and Craig himself was very prompt with replies to any questions. Thanks for a great stay!
We're so thrilled you enjoyed your stay at Hale Maunalua as much as you did! It was our pleasure hosting you & sharing our home with your family. Please come back again someday soon to enjoy more sunny days, epic sunset views & cool star-filled nights. If those things weren't enough to lure you back for another round of luxury living, hopefully a nice return renter discount will be!
---
What a great venue. Craig's house is amazing. The view is amazing. Excellent house for large family or 2 families. Craig was so so helpful. Very peaceful environment. Hang around the pool BBQ or cook in the great kitchen. Close to shopping centre and local restaurants. Would recommend and can't wait to go back. Our host Craig was so so helpful and assisted all the time - very impressed with the entire experience.
Thank you so very much for staying with us! We're always happy to share our home with respectful & appreciative guests like your family, so we're thrilled to hear you enjoyed your stay & hope to have the pleasure of hosting you again someday soon. If you do return, please let us treat you to a return renter discount. Thanks again & all the best to you & your family. A hui hou! (see you again)
---
The views are AMAZING!! Hale Maunalua was everything we asked for and much more! The pool and grounds were beautiful and the rooms were cozy and spacious! Craig was available for any questions or comments we had during our stay. Overall, my family and I enjoyed our stay tremendously.
So glad to hear you enjoyed your stay at Hale Maunalua! You & your family were truly a pleasure to host. Very polite & courteous, and you left our home in excellent shape after your stay. Please consider yourself welcome to stay at Hale Maunalua or any of our other O'ahu island rental properties any time. Be sure to mention you've stayed with us before so we can set you up with a return renter discount!
---
NO HIDDEN FEES: OUR PRICE INCLUDES TAXES & CLEANING FEE :)
Brand new home with drop-dead gorgeous ocean views, multiple view decks, pool & plenty of room for everyone to enjoy! Cool and breezy, but also fully air conditioned. Located in east O'ahu next to Haunauma Bay Nature Preserve for world class snorkeling & close to shopping & Waikiki fun. Enjoy Hawai'i in style!
房源
Hale Maunalua is a one-of-a-kind private hillside home with room for everyone to enjoy! The home has 3 levels with one-of-a-kind panoramic ocean views of the whole east side of O'ahu & offers daily sunsets over iconic Diamond Head. The home is cool and breezy, but if it gets warm, it's also fully air conditioned with an amazing new Mitsubishi system.
Located in east O'ahu, our home provides easy access to town, as it's just a short 15-20 minute drive away from Waikiki & Honolulu. The house sits just 1000 yards away from the entrance to Haunama Bay for Hawaii's best snorkeling. It's also very close to picturesque white sand beaches like Sandy Beach & one of my favorites - Makapu'u Beach.
It's less than a mile from Koko Marina Shopping Center which has a movie theater & just 2 short miles away from Hawai'i Kai Shopping Center with everyone's favorite.... Costco! Both shopping centers are packed with great restaurants, bars & shops.
Both shopping centers also connect to the ocean at Maunalua Bay via a private marina. Maunalua Bay is one of the main water sports hubs for the entire island. Choose from multiple different companies offering a myriad of activities like jet skiing, parasailing, snorkeling, scuba diving, surf lessons & the all new "Jet Pack" aerial flight system for extreme water sports fun!
It's rare to find a home that is so close to everything, offering you so many options for activities to enjoy your stay, yet is far enough away from the hustle & bustle of Waikik & downtown Honolulu.
This home can sleep 10 comfortably in 5 beds, plus 2 more on the sofa bed if needed. The home has all new high thread count linens, new beds, all new furniture & furnishings, with wonderful art to ease your eyes.
Enjoy 2 large 50 inch flat screen TV's & a private bar area downstairs next to the pool, complete with refrigerator. This area allows you to separate the loud happy people from the guests that want to have peace and quiet upstairs.
The home consists of the following rooms:
KING KAMEHAMEHA SUITE: Ocean view master bedroom with king size bed, ocean view deck, walk-in closet & private shower
QUEEN LILI'UOKALANI ROOM: Ocean view guest bedroom with queen size bed, closet & ocean view deck
PRINCESS KA'IULANI ROOM: Large garden view guest bedroom with 2 full size beds, armoire, bathroom & separate garden entrance
PRINCE KUHIO ROOM: Guest bedroom with 1 queen bed & close.
We also have a day bed couch in the pool room downstairs, a self-inflating portable queen size bed & a Pack-N-Play portable crib.
We promise warm days, cool nights & a great time with family & friends. Come stay with us soon :)
Transient Accommodations Tax ID#: TA-(PHONE NUMBER HIDDEN)% General Excise & Transient Accommodations taxes apply & will be added to all nightly rates
房客使用权限
Email 2 weeks prior to check-in date for address & check-in instructions.
与房客的互动
None unless house needs to be shown or repaired with notice.
其他注意事项
All vacation rental homes can be put up for sale by their owners at any time. We always try and sell the homes complete with their booking schedule and market them this way, but from time to time, some people buy a home and do not want to rent it. We give all our clients a 60 day guarantee that if the home is sold, all existing bookings that are up to 60 days out are guaranteed not to be cancelled. If your rental is sold and the booking is outside the 60 day guarantee window, will will inform you ASAP and you will be given other home options if available, or you will have all your monies refunded to you, less any airbnb charges which we do not control. We take no responsibility for cancellations due to the sale of a home. Please, we recommend to always buy travel insurance, which can save you from loss for a multitude of reasons other than just a cancellation. You can secure travel insurance from anyone you want, but here are a few options: (URL HIDDEN) (URL HIDDEN) (URL HIDDEN)
---
---
---
---
---
Keep noise levels down. No parties or events without permission from management in writing prior to booking. No loud music or noise before 9am or after 9pm. This is a quiet residential neighborhood, so please be respectful & quiet while enjoying the best of Hawai'i.
TERMS AND CONDITIONS
This agreement is made between the property owner, and above mentioned Guests.
-ALL INDIVIDUALS THAT WILL BE ON THE PROPERTY MUST BE REGISTERED ON THIS FORM. Guest certifies that only the individuals listed on the Registration will occupy the house. Any unregistered individuals will be considered unauthorized and additional fees of $100 per person per day may be charged. Guest may be subject to immediate cancellation and forfeiture of all rents received at the Agent's discretion.
-IF IT IS BROUGHT TO OUR ATTENTION THAT THERE ARE UNREGISTERED GUESTS AND/OR AN UNAPPROVED EVENT ON THE PREMISES AND/OR ANY VIOLATION OF OTHER TERMS AND CONDITIONS, AGENT RESERVES THE RIGHT TO ENTER THE PROPERTY TO REVIEW THE SITUATION AND IMPOSE FINES AND FEES, IF NECESSARY.
- Guest(s) agree to take the property as advertised on the website. Guests are responsible to learn about the area of the rental home. Owner is not responsible for relocating guests once possession of the rental is taken.
- Owner(s) reserve the right to cancel or rescind any rental agreement if it is found that the guests are conducting unlawful activities.
- There will be NO PARTIES, RECEPTIONS, FUNCTIONS, GATHERINGS OR OTHER EVENTS without the written consent of the owners. Guest(s) acknowledges that UNAUTHORIZED EVENTS WILL RESULT IN AN ADDITIONAL CHARGE OF A MINIMUM OF $1,500.00 PER OCCURRENCE.
- Guest(s) shall incur $100 charge for each instance of lost keys and/or garage door openers.
- Neighborhood Noise Restrictions- KEEP NOISE TO A MINIMUM AT ALL TIMES and in particular between 10pm and 8am. Please be extra courteous to your neighbors.
Remember: You are on vacation, but your neighbors live here and are going to work and/or school in the morning.
- Rates do not include daily maid service, gratuities, car rental, food, liquor, laundry, personal items or excessive cleaning upon departure (ie. upholstery or rug shampooing, etc.).
- No landlord-tenant relationship shall be created hereby.
- Guest(s) shall be liable for all acts of the family, invitees, guests present on the property. Should there be any, illegal action, arising from/relating to occupant(s) use of residence, Owner shall be entitled to recovery of all legal fees and costs.
- Owner(s) will not be liable under any circumstances, including substitutions, to refund any unused portion of booked accommodations or Services, except as noted in Cancellation Policy.
- Owner(s) will in no way be responsible or liable for personal property lost due to theft, flood, fire, unforeseen circumstances or natural disasters.
- Owner(s) or its agents may enter the property with a 1 hour notice to make necessary/requested repairs, show or inspect the property.
- Any misrepresentation about the nature or size of the group, use of the property or any other misrepresentation, or are in any way in breach Of any part of the rental agreement will result in fines or removal from property.
- Owner(s) reserve right to switch Guest(s) to another rental, based on availability, or offer refund (if house is not approved by the guest (s) due to an emergency, fire, sale, unforeseen Circumstance or natural disaster.
-ANY additional cleaning charges, damage, or theft of the property will be deducted from the security deposit and may, if necessary, be charged to occupants as an additional expense if the deposit or waiver is not sufficient.
- There will be NO LATE CHECK-OUTS without prior approval.
THERE WILL BE NO TRASH OR MIXED RECYCLABLES LEFT AT HOUSE UPON DEPARTURE. All trash & mixed recyclables must be bagged. Please bring all bagged trash & mixed recyclables down to the bins on the street DIRECTLY BELOW THE HOUSE (NOT AT THE BOTTOM OF THE DRIVEWAY). The grey colored bin is for regular trash. The blue colored bin is for mixed recyclables (cans, bottles, cardboard, paper, etc....). The green bin is for greenwaste only. You must roll the appropriate full bin out of the enclosure to the curb for pick-up by no later than 6am on the scheduled pick-up day (after 6pm the evening before is recommended) & then roll the empty bin back into the enclosure after pick-up. The refuse pick-up schedule will be emailed to you as an attachment with your welcome email 2 weeks prior to your check-in date. Please visit the City & County of Honolulu refuse website at (URL HIDDEN) for more information. Failure to remove all trash from the house before your departure will result in appropriate deductions from your security deposit, or additional charges if the amount exceeds security deposit waiver coverage.

- There will be NO PETS in the home or on the property at any time without written permission of the owner.
- There will be NO SMOKING in the home. If you smoke outside, please put the FULLY EXTINGUISHED cigarette butts in the garbage can.
- There will be NO CATERING OR OUTSIDE MUSIC PERMITTED without the prior written consent of the owners.
- There will be NO FIRES on the property at anytime due to extreme threat of forest fires.
- There will be NO SUBLETTING or ASSIGNING to other parties.
- THE ENTIRE DEPOSIT SHALL BE FORFEITED IF GUEST(S) VIOLATE ANY OF THESE TERMS AND WILL BE LIABLE FOR ADDITIONAL DAMAGES IF THE AMOUNT EXCEEDS THE SECURITY DEPOSIT OR SECURITY DEPOSIT WAIVER FEE COVERAGE AMOUNT.
- SOME HOMES MIGHT BE AVAILABLE FOR SALE AND MIGHT REQUIRE A REALTOR TO SHOW THE HOUSE. IF THIS HAPPENS, YOU MUST ALLOW A SHOWING OR ACCEPT THE NOTICE OF SHOWING. SHOWINGS ARE RARE AND ADVANCE NOTICE WILL BE GIVEN WHENEVER POSSIBLE.
- All Guests are responsible for adhering to the preceding Terms and Conditions.

OCEAN AND POOL DISCLOSURES
Agent hereby discloses that the ocean near the Island of O'ahu constantly changes with the tide, moon phase, time of year, weather conditions and other factors that are beyond any person's control. Agent cannot guarantee that there will be a certain amount of sandy area, nor can Agent guarantee the beach and water conditions during Guest's stay. Guest is hereby advised that the ocean and reefs are inherently dangerous, that Hawaiian waves and currents are much stronger than those existing in other areas and that extreme caution must be exercised by anyone who chooses to participate in any ocean activities. This property has a pool and no life guard, so you must swim at your own risk & supervise children in the pool at all times.
CANCELLATION POLICY/INSURANCE POLICY/SECURITY DEPOSIT
For Guest(s) own protection, it is strongly recommended that Guest purchase travel insurance. Travel insurance is available, and is the sole responsibility of the Guest(s) to secure. There are several companies that provide travel insurance, you should do your own homework, but here are a few that we have no association with: (URL HIDDEN) (URL HIDDEN) (URL HIDDEN)
-Any owner or guest (s) cancellation must be in writing and an e-mail with confirmation will meet our requirements. If the cancellation is at the owners request a full refund will be made to the guests.
-Should a Guest (s) cancellation occur, and the property is not rebooked, and all monies due have been received, all monies are non-refundable except for the security deposit and the cleaning fee.
-Should a Guest(s) cancellation occur and all amounts due have not been received, and the property is not rebooked, all monies are non-refundable.
-No refunds will be made for late check-ins, early check-outs or no-shows.
ADDITIONAL INFORMATION
1. We recommend renting a car / No Honking / Drive Slow and be quiet at all times. Please do not honk your horn at anytime or spin your tires when leaving the driveway or property. Also as a courtesy, please drive slowly in/out and around the surrounding streets.
2. SAND & DIRT - Please make sure all guests wash or wipe the sand & dirt off their feet every time before entering the house.
3. HOSES - Please make sure all hoses are turned off completely when you are finished using them and report any leaks.
4. BEACH & SAND - When going to the beach, please use the beach towels provided. Do not use bath towels for the beach. When returning from the beach, please rinse bodies and feet using the outdoor hose. Please make sure to shake the sand out of the beach towels and beach mats before coming inside.
5. WET SWIMWEAR - Please do not lounge in wet swimwear inside the house.

RELEASE OF LIABILITY AND INDEMNIFICATION AGREEMENT
In consideration for the right to occupy the vacation rental, the current occupants acknowledge and agree as follows:
1. Guest(s) agree to inform any and all people who will be on the property at the request of guest(s) or by invitation of the guest (s), of the terms and conditions, and to monitor compliance with terms and conditions.
2. Guest (s) agrees to hold owner(s) and agent(s) free and clear of any liability for damage to self or property, resulting from accident, injury, loss of enjoyment resulting from events beyond the owner and agents control (e.g., The weather).
3. Guest(s) acknowledges that the release and indemnity provisions in paragraph 2 apply to all claims for injury or damage resulting from any cause, including the negligence of any party released herein. I further acknowledge that this agreement shall be binding on all family members, guests, including minors, guardians, heirs and any executor or personal representative or beneficiary.
4. Guest(s) agrees that this Agreement should be enforced to the full extent permitted by law. If any section or part of this Agreement is held not to be enforceable under the applicable law, the remainder of the Agreement shall be enforced. The release and indemnification provisions of this Agreement do not apply to reckless or intentional acts. Unless such provisions are permitted by the applicable law.
5. This Agreement is subject to the laws of the state of Hawai'i. Any disputes are subject to be settled by binding arbitration in Honolulu, Hawai'i according to the rules of the American Arbitration Association. The prevailing party in any arbitration or litigation shall be entitled to recover reasonable attorneys' fees.
6. I state that I am 18 years of age or older and legally competent to sign this Release of Liability and Indemnification Agreement. I understand that these terms are contractual and not a mere recital. I have signed this document of my own free act.
7. Guest(s) agree to hold owner and agent free and clear of any liability for damage to self or property, resulting from accident, injury, loss of enjoyment resulting from the weather or inoperable appliances or equipment (including hot tub, barbeque, etc)
8. I HAVE FULLY INFORMED MYSELF OF THE CONTENTS OF THIS RELEASE AND INDEMNITY BY READING IT
This agreement is made between the property owner, and above mentioned Guests.

TAT#: W(PHONE NUMBER HIDDEN)
---
严格
旅程开始前的7天之前取消预订可以获得50%的退款。如果在旅程开始前7天内取消预订,该预订将不可退款。
---
---
---