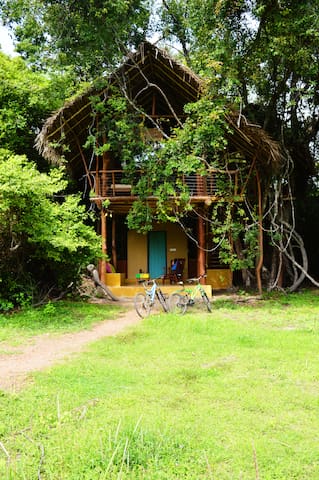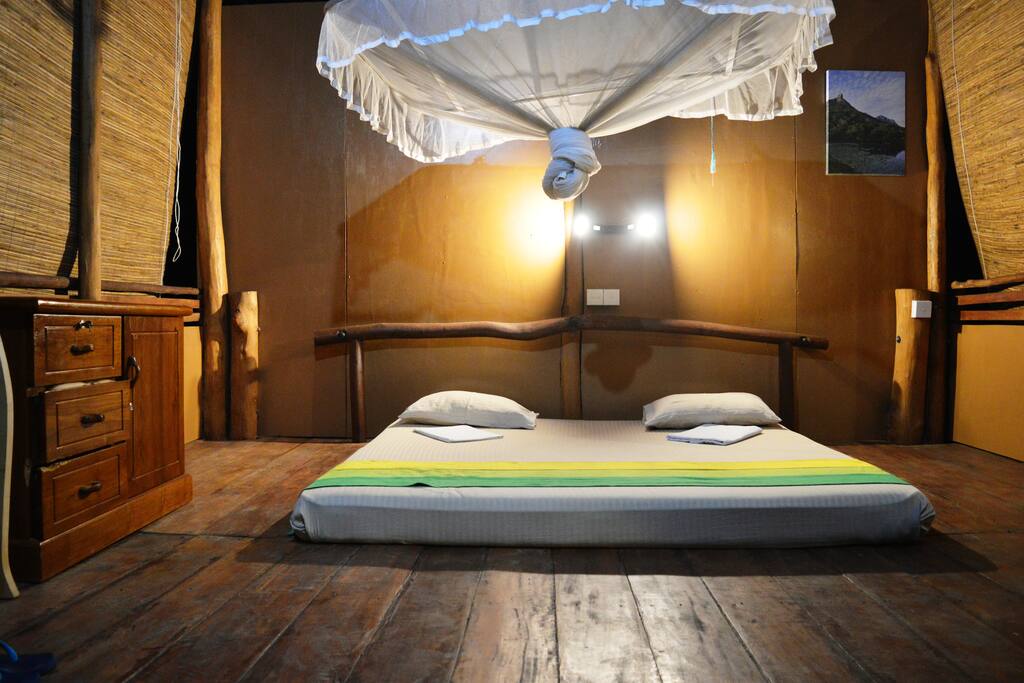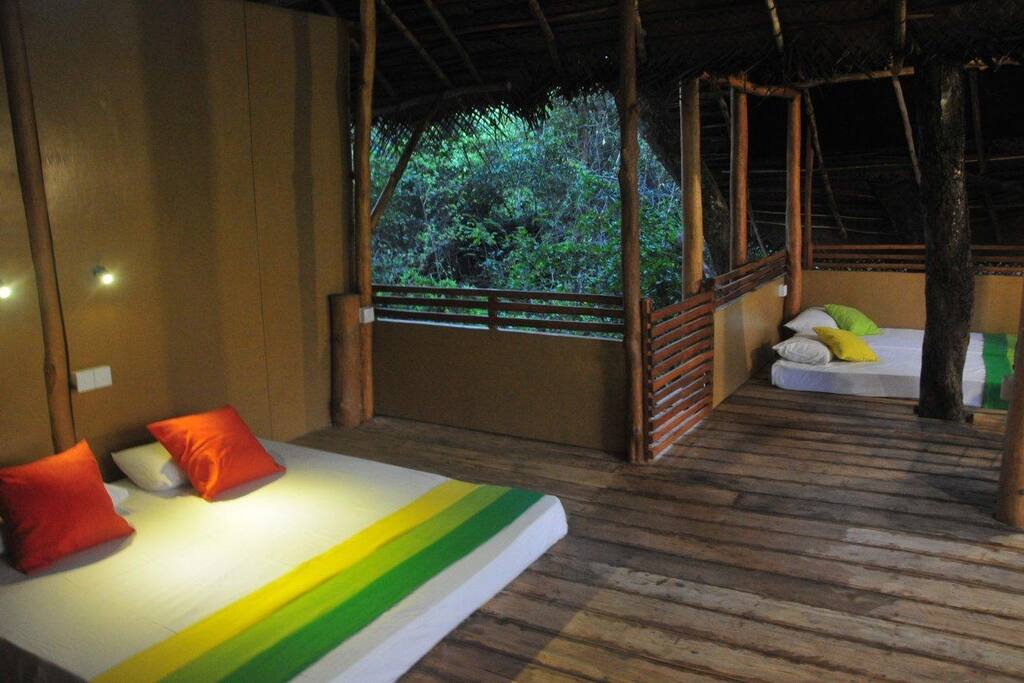 Back of Beyond, Sigiriya - Family Tree house
一个舒适的树屋,可容纳5人,位于大型丹巴树上。树屋有两个独立的睡眠区和顶楼的起居区,另一个起居区和一楼的浴室。
A cosy tree house for 5 persons on top a large Damba tree. The tree house has two separate sleeping areas and a living area on the top floor, and another living area and bathroom on the ground floor.
房源
我们的生态度假胜地,Back of Beyond Dehigaha ela,由3座树木屋,2栋巨石小屋和2座家庭小屋组成。提供的价格是一个新的丹巴树屋,而丹麦老树屋和家庭小屋分别列在AirBnB上。 设计高雅的树屋旨在最大限度地发挥周围环境的影响。接待处,居住区和用餐区是分开的,工作人员和司机宿舍也分开安置,以最大程度地保护客人的隐私。 早餐包含在我们的价格内。其他餐点可以从我们的菜单中订购。我们有一个优秀的厨师,可以准备东西方美食。 周围的森林是鸟类,小型哺乳动物和大型哺乳动物如鹿,桑巴甚至大象的天堂。客人可以在我们酒店边界的两条河流中沐浴。一条溪流开始关闭,因此有冰冷的水,而较大的河流则有较热的水。附近河流的清澈的水充满了小鱼,为我们的客人提供了一个自然的免费水疗中心。酒店还提供自然小径。 该物业还拥有一个充满荷花和睡莲的大型人造池塘。这也吸引了各种各样的鸟类和小鱼类。 最近也在德希加埃拉开始了一个蝴蝶园。 撤退提供许多活动,包括观鸟和远足。 游览 有一些高露头,提供优秀的远足选择。您不仅可以远足登山,还可以探索古代修道院和宫殿的废墟。日间野生动物园的野生动物园为大象观赏提供了极好的机会。 国家野生动物公园:从Dehi Gaha Ela开车一小时,到达Minneriya国家公园和Hurulu生态公园,1.25小时到达Kaudulla。 在超过200只大象的群众搬到开阔的草地和邻近的公园Kaudulla是美丽的公园,值得一游。最近开放的胡鲁乌维瓦公园也在等待探索。 考古储备 古代斯里兰卡擅长将自然与人类相结合的艺术。探索一个考古遗址实际上是惊叹于人类建筑如何能够增强而不是摧毁自然。 Sigiriya,Pidurangala,Nuwaragala,Kaludiya Pokuna,都值得攀登的努力,只是为了证明它可能与自然一样生活。您还可以参观Dambulla着名的洞穴。 Kalu Diya Pokuna:距离Dehi Gaha Ela不到30分钟车程。 Nuwaragala:距离Dehi Gaha Ela有30分钟的车程 锡吉里亚:距离Dehi Gaha Ela不到30分钟车程。 Pidurangala:距离Dehi Gaha Ela不到30分钟的车程。 Dambulla:距离Dehi Gaha Ela有30分钟的车程
Our eco-retreat, Back of Beyond Dehigaha ela, consists of 3 tree houses, 2 boulder cottages and 2 family cottages. The price provided is for a new Damba Tree house, whereas the older Damba tree house and family cottages are listed separately on AirBnB.

The tastefully furnished tree house is designed to maximise the impact of the surrounding environment. The reception, living and dining areas are separate, and the staff and drivers quarters are also housed separately to allow maximum privacy to guests.
Breakfast is included in our price. Other meals can be ordered from our menu. We have an excellent cook who can prepare both eastern and western cuisine.
The surrounding forest is a haven for birds, smaller mammals and larger mammals such as deer, sambhur and even elephants. Guests enjoy bathing in the two streams that meet at the border to our property. One stream starts closeby hence has icy cold water, whereas the larger stream has warmer water. The crystal clear water of the nearby stream is full of small fish that provide a natural, free foot spa to the delight of our guests. A nature trail is also available in the property.
The property also boasts of a large man-made pond that is full of lotuses and water lilies. This too attracts a wide variety of bird life and small fishes.
A butterfly garden has also recently been started at Dehigaha ela.
The retreat offers many activities including bird watching, and hiking.
Excursions
There are a number of high outcrops that provide excellent hiking options. Not only are you hiking up forested areas, you also get to explore the ruins of ancient monasteries and palaces. Day safaris to the Naltional Wildlife Parks provide excellent opportunities for elephant watching.
National Wildlife Parks: Drive one hour from Dehi Gaha Ela to reach Minneriya National Park and Hurulu Eco Park, and 1.25 hours to reach Kaudulla.
Minneriya, famous for its 'Gathering' when herds of over 200 elephants move to the open grass lands and its neighbouring park, Kaudulla are beautiful parks well worth a visit. The recently opened Hurulu Wewa Park is also waiting to be explored.
Archeological reserves
The ancient Sri Lankan excelled in the art of combining nature with human habitation. To explore an archeological site is in fact to marvel at how human construction can enhance rather than destroy nature. Sigiriya, Pidurangala, Nuwaragala, Kaludiya Pokuna, are all worth the effort of climbing if only to prove its possible for us to live as one with nature. You can also visit the famous caves of Dambulla.
Kalu Diya Pokuna: Less than 30 minutes drive from Dehi Gaha Ela.
Nuwaragala: 30 minutes drive from Dehi Gaha Ela
Sigiriya: Less than 30 min drive from Dehi Gaha Ela.
Pidurangala: Less than 30 min drive from Dehi Gaha Ela.
Dambulla: 30 minute drive from Dehi Gaha Ela
房客使用权限
客人可以使用整个场地,起居区和餐厅,两条沿着物业和自然步道的溪流。
Guests will have access to the entire grounds, living area and restaurant, two streams that border the property and the nature trails.
与房客的互动
I am based in Colombo but my staff will take care of all your needs.
其他注意事项
酒店距离Sigirya大约25分钟路程。它是在超越的背后,完美的大自然爱好者。这并不意味着那些害怕,不喜欢户外的人。通往财产的道路也是相当颠簸,但是到达后,这是纯粹的幸福。最好在高清清洁车辆上行驶,并计划在黑暗之前到达酒店,因为晚上可能有大象在路上。我们可以安排一辆吉普车从接近西贡里亚接送你,每次5美元。 计划在酒店至少花2天时间。 司机住宿和餐点每晚10美元。 保护自然环境对我们很重要。我们保留了每个财产独特的自然地形和植被,避免了在建造小屋时清理土地。我们试图用现代化的环境建设方法,持续地实行可持续的能源使用。超越物业的背后,大部分土地不变,或作为野生栖息地在需要时恢复活力。我们正在发现这些"野生口袋"对于野生动物来说至关重要,因为人们越来越多地控制自然景观 - 即使在最偏远的地区。请注意,最好以最小的干扰自然活动的方式静静地观察野生动物。 客人进行预约时,已经承认并接受进入野生动物区域,入住不受保护的财产,并且进行的住宿/旅游可能会使其接触野生动物(包括蛇,蜘蛛,野生动物)公猪,大象等)。超越工作人员,联营公司和/或代理商之后,不得对涉及野生动物行为的任何遭遇负责。因此,入境和进入野生动物区域和Back Back Beyond物业是您自己的风险和责任。 我们不在酒店出售酒精 - 欢迎您携带自己的酒
The property is around 25 minutes from Sigirya. It is in the Back of Beyond and perfect for nature lovers. It is not meant for those who are scared of and do not enjoy the outdoors. The road to the property is also rather bumpy, but it is pure bliss after you arrive. It would be better to travel in a high clearance vehicle and please plan on getting to the property before dark as there can be elephants on the road at night. We can arrange for a jeep to pick you up from close to Sigiriya for USD 5 per trip.
Plan to spend at least 2 days at the property.
Drivers accommodation and meals are provided at USD 10 per night.
Preserving the natural environment is important to us. We have retained the natural topography and vegetation that is unique to each property, and have avoided clearing land when building our lodges. We have tried to use modern methods of environmental construction and consistently practice sustainable energy use. Back of Beyond properties leave a major proportion of the land untouched, or rejuvenated as a wild habitat where needed. We are discovering how critical these 'wild pockets' are as refuges for wildlife, as man increasingly takes control of the natural landscape - even in the most remote areas. Please note that it is best to observe any wildlife silently with minimal disturbance to their natural activities.
By making the reservation, guests have acknowledged and accepted that they are entering a wildlife area, staying in an unfenced property, and that their stay / tours conducted might take or bring them into contact or vicinity of wild animals (including snakes, spiders, wild boar, elephants etc.). Back of Beyond staff members, associates and/or agents cannot be held liable for any encounters involving the behavior of wild animals. Thus, the stay and entry into the wildlife area and Back of Beyond property is at your own risk and responsibility.
We do not sell alcohol on the premises - you are welcome to bring your own
---
---
不适合婴幼儿(2岁以内)入住,或不能为婴幼儿提供安全的住宿环境
---
Back of Beyond is a special experience. We stayed in one of the private tree houses ( family of 5) . It was a magical time like childhood dreams. Nothing was too difficult for the staff who looked after us well. The breakfast and dinners were all wonderful meals. The bird song in the morning is amazing and the fish foot spa a fun treat that had us all squealing and giggling From here we travelled to Polonaruwa, Dambulla and Sigiriji and Kaudulla for 3 full days of activities. The drive in was over 30 min which adds to the travel each day but also provides the backof beyond experience. We would highly recommend others to stay here. It was a real treat for us all.
---
Fantastic place, definately our best experience in Sri Lanka so far. Very friendly welcoming, superdelicious food and a great experience to stay in the treehouse for the whole family (3 boys, being 3, 8 and 10 years old). We also recommend to try the naturewalk and the natural fishspa. Thank you so much for a wonderful stay!
---
We stayed in the family tree house and it was an unique experience. It's a very secluded place in a beautiful setting. The staff is friendly and the dinner we had was excellent. Be aware, that the one or other animal will find its way into the room, as the tree house is an open building and doesn't have a door.
---
I am the founder of Back of Beyond - eco lodges in Sri Lanka. Back of Beyond was an idea started due to my love for travel and nature, and the difficulty faced in trying to find suitable accommodation to suit my budget and taste. I am based in Colombo but I travel frequent…
语言:
English