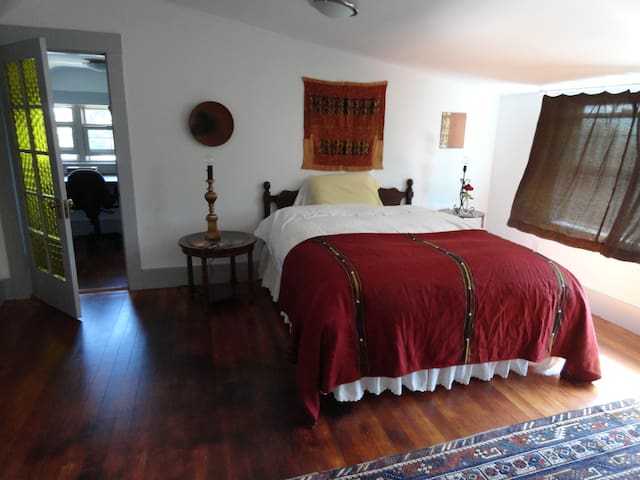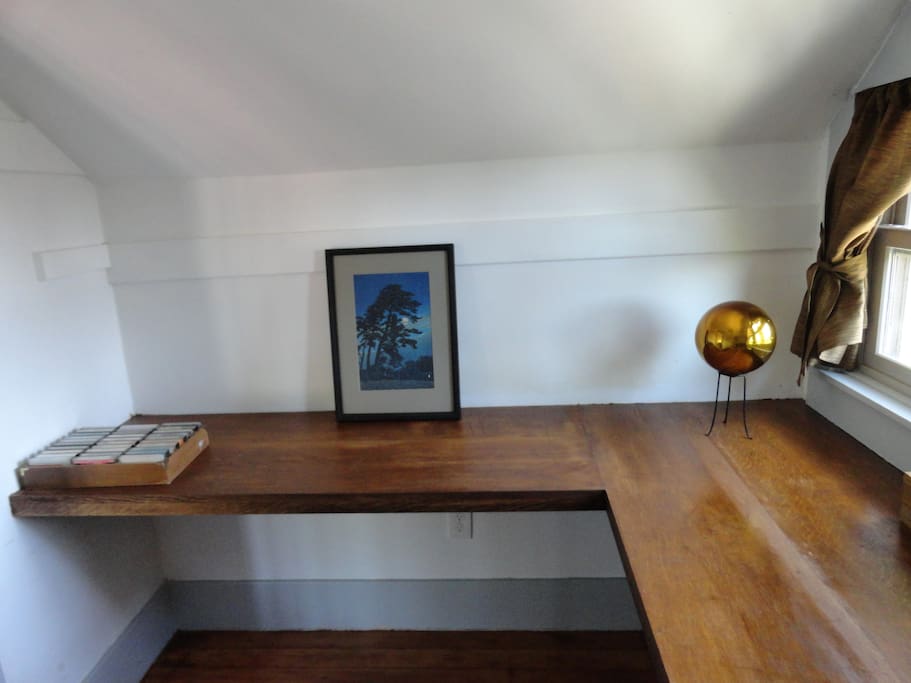 Spacious, sunny Suite with Views
---
---
---
Smoking is acceptable outside.
Parties and invitations can be arranged, but must be advised beforehand./
---
---
---
---
I really enjoyed my stay at Patrice's place for a month. All things are wonderful just as the pictures. The people are friendly and welcome, while you can stay quiet if you prefer so. There are two rooms upstairs, and two room downstairs. Her sons live in the room downstairs. This room is located on the second floor, it is very large and tidy, with a wardrobe for clothes. The view is fantastic, I can see the bay area directly from the windows. Also, the study room is really nice, the bathroom is clean and is shared with another tenant upstairs, but there is another bathroom downstairs. The kitchen is well equipped, have all things you need to cook. You will have a cell in the fridge, it's enough for storage but not that big. The location is also impeccable. This is the safest area in Berkeley. Supermarket and restaurants just in walking distance. The bus stop is 3 minutes away which will take you to the university or BART station, otherwise it will be like a 20/30-minute walk. The cleaning lady will come once a week to clean the house, she will change the sheet and towels every two weeks. As for the laundry, you have to go to a laundromat nearby, but only 5-min walk. One more thing: the monthly price does not include breakfast. Still, Patrice kindly invited me to her place next-door several times, for breakfast and chat. I really enjoyed this time, so glad I had chosen Patrice's place!
---
I just loved my stay. The room was large, very comfortable and the little alcove/study space was really handy. The toilet/shower room was shared but was spotless and I had no problems with sharing. I just used the kitchen for my breakfast but could have cooked all my meals there. Patrice is welcoming and helpful and willing to share and help to the level you need. The garden in the back has to be seen to be appreciated - it is stunning and a very pleasant place to sit and relax in. Location is great with good restaurants within 5 minutes walk and near to bus stop. BART station is a 20 minute walk. I am looking forward to my next visit.
---
Patrice was a wonderful host. She is a very warm, interesting person who was very attentive to our comfort and needs. The room was spacious and well appointed with an adjoining office area. Her breakfasts were wholesome and very nicely prepared and presented. The yard is a wonder of plants accompanied by somewhat off-beat, marvelous artistic touches. We highly recommend Patrice and her accomadation.
---
I spent two months at Patrice's house in Berkeley. Patrice and her family made me feel welcome from the first day on. The room is wonderful, above all I enjoyed the view to Golden Gate, Oakland Bridge, and San Francisco and the full sun in the afternoon. The adjacent study room was a good place to get some work done. The kitchen is well equipped and together with the dining rooms gives plenty of space so that no feeling of being restricted to only one room for weeks comes up. Also the garden contributes to this experience of generosity and freedom. It is wonderfully designed with subtropical plants and pieces of art. My husband come for a visit and the room was spacious enough to accommodate him as well. The neighborhood his good and quiet. To UC Berkeley and to downtown Berkeley it is a half hour walk. But shops and restaurants, even a very good bookstore and two bus stops are within a short walk of five minutes. It was a great time and I am glad that Icould spent it in this house.
---
I spent 3 months at Patrice's while visiting UC Berkeley. The house is in a beautiful location at North Berkeley in a serene neighborhood with stunning views of the Bay and 5mins from the gourmet ghetto with several exceptional restaurants, coffee shops, supermarkets and other shopping. It is a ~20 min of pleasant walk to downtown Berkeley Bart and the boundary of UC Berkeley. Patrice provided me with a bike, which made my commute to UC easy. The room itself is on the second floor of a two-story house. It is spacious, functional and well-decorated, comprising a main bedroom and a study. You'll share the bathroom with another guest on the same floor, and a kitchen and a dining area with another pair of guests on the ground floor. The house was kept very clean and tidy and it was quiet. A cleaning lady comes once a week. Last but not least the house has a beautiful garden where you can sit have a bite or meditate. As advertised in the posting the house doesn't have a washer and dryer so you'll have to go to a laundromat. The cleaning lady takes care of sheets and towels so you'll have to wash your own clothes. There is a nearby washer and dryer and it was quite convenient to walk to and have your clothes washed while having brunch or coffee. Patrice and her family were super-friendly and caring inviting me to their nearby house several times for breakfast and brunch and for Thanksgiving dinner also introducing me to their friends. While you can be left alone if you so prefer, Patrice will make you welcome to sort of be part of her family. They are all very interesting and engaging so I had a great time interacting with them. Overall I had a great experience and I hope to stay here again when I'm back to Berkeley. This is in fact is the case with several other guests who have stayed at Patrice's. You'll have a great time here.
---
Originally I am from Switzerland and have visited and lived in many different places in the world. Now I mostly share my time between Berkeley, California and Nayarit, Mexico.
I love to open my space to travelers, make them comfortable and show them what it is I find so special about the two places that I chose to live in.

I like the good things in life: an interesting conversation with friends, a good laugh and a glass of wine, or tequila to go with it. All kinds of Art, expressions of creativity, music, especially Latin & African rhythms, but also Opera.
But mostly I enjoy the quiet, natural surroundings, the gardens and the views both of my places offer. It brings me peace and happiness.



语言:
Deutsch、English、Español、Français