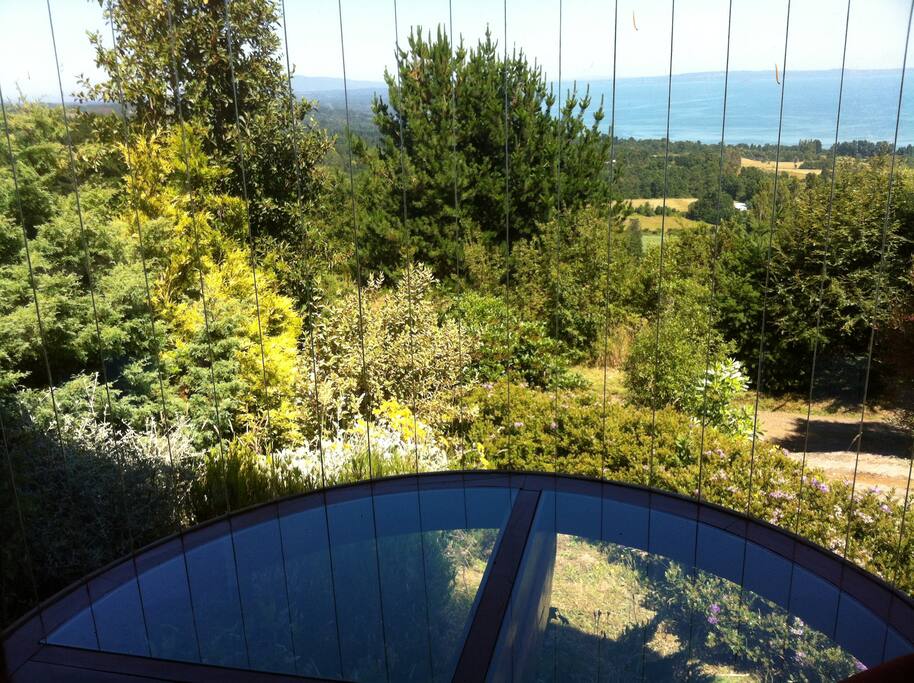 la casa de madera y piedras, una ventana redonda piso de vidrio techo de vidrio, puede ver las flores y las estrellas, frente lago una vista maravillosa en la noche las luces de Villa Rica,muchas plantas, en la punta de un cerro, buena terraza,asados
房源
A CREATIVE HOUSE ON VOLCANO WITH AMAZING VIEWS!

House in a quiet area, 100% nature. It has a bedroom with a queen bed and another area with 3 single beds. Beautiful decoration with a sloping ceiling and wooden beams. It is a romantic room, through the window you will definitely enjoy the lake view.

The hall is decorated with the best taste, enjoy a glass of wine, through the large windows you will see the sunset and sunrise. Sofa and armchairs.

2 bathrooms.

The two-story house with a fireplace, ideal for up to five people. It has a fully equipped kitchen as well as a bar.

There is a barbaque outside.
2 TVs.

10 min by car to downtown.
Can be rented also another house in the front for 10 people.
Big space for parking cars.

ABOUT THE PLACE:
Villarrica is one of Chile's most active volcanoes, rising above the lake and town of the same name. The volcano is also known as Rucapillán, a Mapuche word meaning "House of the Pillán". It is the westernmost of three large stratovolcanoes that trend perpendicular to the Andean chain along the Gastre Fault. Villarrica, along with Quetrupillán and the Chilean portion of Lanín, are protected within Villarrica National Park. Ascents of the volcano are popular with several guided ascents reaching the top during summer.
---
Do not be confused between these two listings. The "creative" house is much smaller and bear bones than the "Casa Cozy." We arrived late at night after driving all day excited to land, cook dinner, and take showers. We realized that this must be a cultural Air b n b difference between what we are used to in the states, as upon arrival, there was no soap to wash hands, no knife for cutting spatula or stirring spoon, no toilet paper, no oil or spices, no dish soap, no matches to turn the stove on, no line to dry clothes, no cork screw, no laundry soap, no plastic garbage bags and the list goes on to the basics that were not present upon arrival. Maura's comments were "go out and buy them on your own, those things are very cheap here in Chile!" The walls are thin and the floors are very creeky, there was black mold in the shower, there were yellow jacket hives in the roof below the front door, no screens on any windows, there was a blender but it did not work. We had to rush out the night we arrived to buy these things on our own in order to not be camping in the house. We had great communication with Mauro in multiple email exchanges before arriving, as we had many questions since we were traveling with two young kids. But, there were many surprises and especially the fact that he was managing it from afar and our point person, the care taker was not psyched on our requests. The house was not cleaned for us because it was "Sunday" when we arrived after moving out, and they do not work on that day. If you do not speak Spanish fluently I think this situation would be very difficult, as we had to have multiple conversations to get accommodated. Especially, finding the house in the first place was a bit tricky, it is up a pretty rutted dirt road that is hard to find. We loved the location, being out of town in a quiet neighborhood with a view of the lake and the volcano, but it is off the beaten path. And the two houses he rents "Creative" and "Cozy" are just 50 feet away form each other (not shown in pictures) so if you came for quiet but the other renters are partying, it won't be that way. We ended up moving out early of the "Casa Creative" as it really did not meet our expectations for our month stay. We moved into the other house "Casa Cozy" which was definitely set up for a vacation rental! We enjoyed our time time there much better. We spent 25 days total between the two houses, this review is for a long term rental.
---
Clean and spacious house with an incredible view on lake and sunset. We will definitely come back next time going to the south. Mauro answers emails within minutes and is a very friendly contact. Best greetings.
---
Esta casa en Pucon esta ideal para una estadía en familia arriba de la montaña mirando hacia el lago. Queda a menos de 10 minutos del centro de Pucon y esta muy bien equipada. La recomiendo mucho.
---
We are an Irish family living in Santiago. We stayed with Mauro for six days in early November. Lovely house nestled in the hills near Pucon. Weather was poor the day we arrived and Mauro had a blazing fire going in the living room, and plenty or firewood, which was much appreciated. We have two small girls and Mauro had a twin bedroom set up with kids bedclothes and extra blankets. House was spotless when we arrived and exactly as described online. All in all we were very happy with our visit and would recommend Mauro as a professional and welcoming host.
---
The house has an amazing view and it's very cozy. You need to take a little dirty road for ~5min but I had no problem at all (specially having rented a 4x4). It's a perfect getaway. There are 2 other houses right in front of it, one of them it's the renters. Pro: it helps if you need something. Con: You are not alone in the woods as you would think. The house was not clean when we arrived, full of dust and many other details. It would fit 2 couples, or a couple with 2-3 kids tops - there is only 1 restroom. Mauro was attentive. I would come back for sure.
---
I was born in Brazil, I am form Argentina and I had been living in Chile for many years with my beautiful wife and family.

I designed and built 2 amazing houses in the best spot in Pucon that I found. I searched for many years until I could get a place where is possible to feel the nature, enjoy inspired sunsets and still be able to reach downtown in 10-15 minutes. The houses were built with local materials, volcano stones and native wood. I used glass in different spaces to enhance the natural sunlight and enjoy the amazing Pucon landscapes (including lake views from the houses).

I enjoy horse riding, writing and my grandchildren.

I owned a hotel, to provide a place in the best conditions and help foreigns to have the best stay is my motivation. Expect to find a tidy, clean and cozy house.

I have a very little english but I try to communicate the best that I can (if I reply back in spanish please use the basic translation tool). My daughter Pamela helped me to translate in english.

I hope that you enjoy the cozy and beautiful spaces, and also be amaze by the stunning views as me.

Call me to explain you how to reach here before your check-in.

Best Regards
Mauro Maercovich

语言:
Español