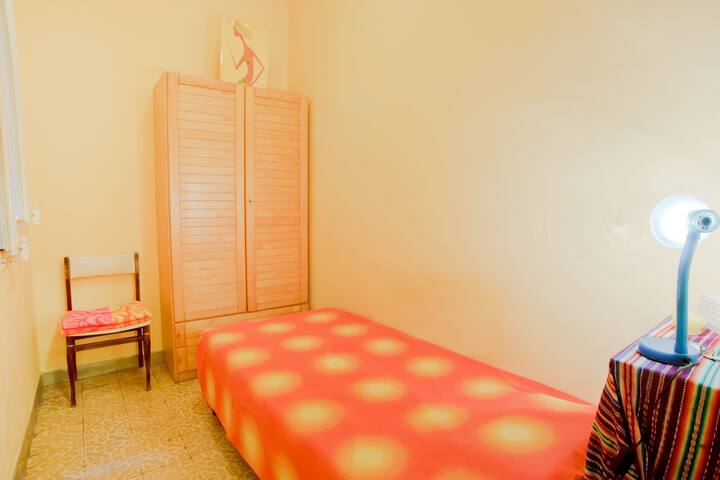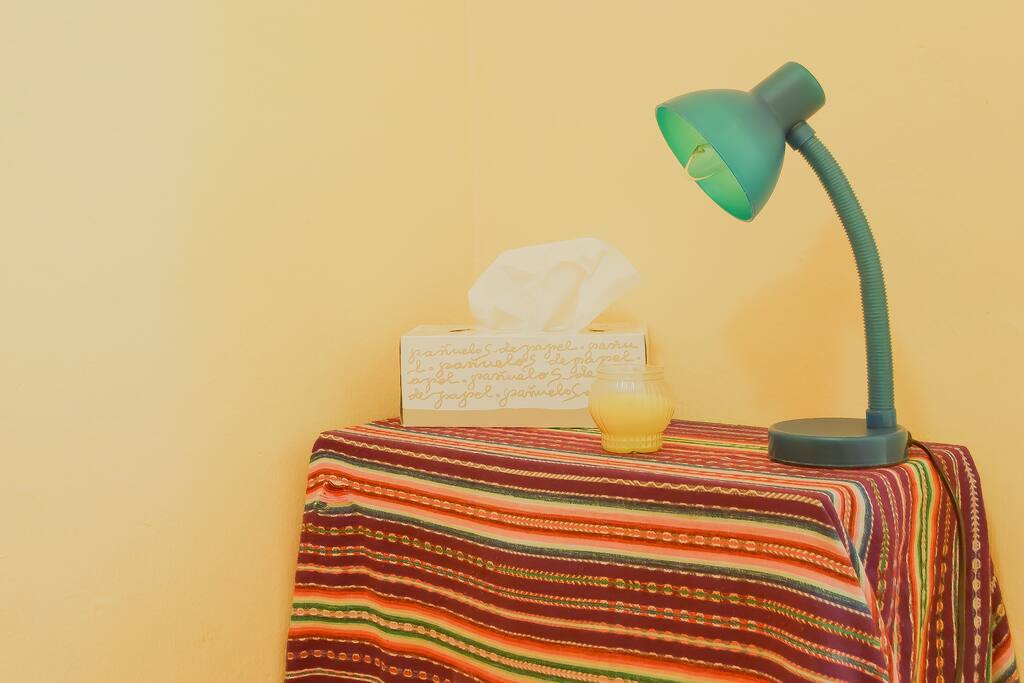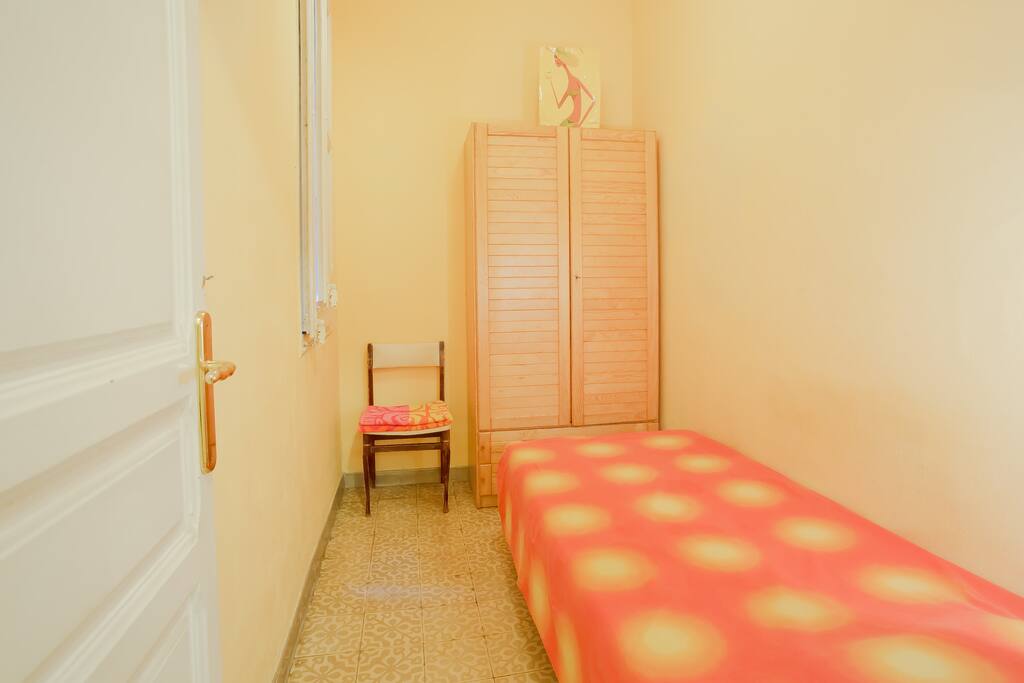 Single room in Nice&Spacious Flat
---
---
---
---
Hola,
Espero que vuestra estancia en casa como en Barcelona sea agradable.
Aquí van unas sencillas normas que seguir ;-)
No se puede fumar ni en las habitaciones ni en el piso, solo en el Balcón.
No personas extras fuera de la reserva.
Dejar las cosas como las encontraste ;-)
Un saludo,
Y hasta pronto.
Delphine
---
---
---
---
Bad welcoming, unsatisfied from the host and the services because the following: 1. Delphine lives in the same apartment, even in the separate room. She didn't tell this when we agreed the conditions. She was interesting in only to get the money from the first moment we came. she is very nervous and her boyfriend coming every day in the apartment where they are kissing each other in our presence... 2. The apartment is in very bad condition. It is not as it looks on the photos. The apartment smells very very bad, even we were open the balcony door every morning there was no chance to change that. The kitchen is ok but the toilet no. In general not well maintained apartment. 3. She didn't wanted to do us a favor when we were asking her to leave the baggage after the check out...just because we had flight at night. Location is good but for that money you can find better apartment. However, we don't recommend this apartment. Mal de bienvenida, no satisfecha de la acogida y los servicios debido a lo siguiente: 1. Delphine vive en el mismo apartamento, incluso en la habitación separada. Ella no le dijo esto cuando estuvimos de acuerdo en las condiciones. Ella era interesante sólo para conseguir el dinero desde el primer momento en que nos encontramos. ella está muy nerviosa y su novio que viene todos los días en el apartamento en el que se besan entre sí en nuestra presencia ... 2. El apartamento está en muy mal estado. No es como parece en las fotos. El apartamento huele muy muy mal, incluso que estaban abiertas la puerta del balcón cada mañana no había ninguna posibilidad de cambiar eso. La cocina está bien, pero el baño no. En general no está bien mantenido apartamento. 3. Ella no quería hacernos un favor cuando estábamos pidiendo que deje el equipaje después de la hora de salida ... sólo porque teníamos vuelo en la noche. La ubicación es buena, pero para que el dinero se puede encontrar mejor apartamento. Sin embargo, no recomendamos este apartamento.
YOU CAN BE UNSATISFIED BUT PLEASE DON'T LIE!!!!!! It's absolutly clear in the description of the add that I'm living in the flat. It's why you are renting rooms and not whole flat, so if you was surprised it's because you didn't read properly the information.... Bad welcoming ; You arrived at 23:00 (late by the way and not advising...) yelling and laughing in the stairs and ringing neighbors because you didn't follow instructions... I just asked you to be a little bit more quiet and respectfull for the neighbors... You say I'm nervious....you was overexcited and shouting.... About my boyfriend; He came only one day and we never kiss us in front of you!!!!! I really don't understand your comment!!!!! What's the matter????? Regarding money, I'm made you a favor regarding price and you perfectly known that you would pay in exchange of the (URL HIDDEN) The flat was smelling bad? You are the first one talking about that. Maybe it was because of the big mess and trash you left every where on the flat. I can upload some pictures if you want.... Even your friend complained about your behaviour and said sorry for you.... About the luggages, even if I was very disappointed and not happy with your behaviour I proposed you a check out at 14:00 (that's not bad and explaining why it was not possible later) but you still insisting very rudly during 10 min that in an hotel it's possible..... Elena, please next time take an hotel because you are not respecfull either reliable personn to share place with nobody!!!! I repeat DON'T LIE!!!!! PUEDES ESTAR NO SATISFECHA PERO POR FAVOR NO MIENTAS!!!!! Esta clarisimo en el anuncio que vivo en el piso. Si te sorprendiste es porque no leiste la informacion proporcionada. Llegaste a las 23:00 (tarde y sin avisar por cierto) chillando en las escaleras y picandoles a los vecinos porque no seguiste mis instrucciones... Solo te pedi que bajaras un poco la voz por respeto a los vecinos. Dices que estaba nerviosa? Tu venias sobrexcitada! En cuanto a mi novio; vino solo un dia y en ningun momento nos besamos en tu presencia!!! Asi que no entiendo en absoluto tu comentario???? Lo del dinero; tontamente te hice un favor...Sabias perfectamente que debias abonarlo al llegar pero te lo tuve que pedir ya que no te salio por ti misma... El piso olia mal? Eres la primera en mencionar eso...sera por la cantidad de basura y desorden que has dejado en todo en piso??? Puedo subir fotos si quieres... Hasta tu amiga se quejo de tu comportamiento y pidio disculpas por ello.... Lo del equpaje; A pesar de estar muy disgusta con tu comportamiento y trato te propuse un check out a las 14:00 (lo que no esta mal) explicandote porque no se podia mas tarde pero estuviste insistiendo de forma muy pesada durante 10 min .... Elena, la proxima vez, coge un hotel porque a parte de no ser respetuosa ni fiable no esta hecha para nada para compartir casa con nadie. Y repito; NO MIENTAS!!!!!
---
The location is good and Delphine is very nice a friendly. However the room is tiny and has one small window, that opens to the yard for ventilation, therefore there is no view, there is almost no light coming from there, a little air and you can hear the toilet splashes and neighbors all the time. I was not able to sleep without earplugs. In addition the internet connection in the single room is not so good. Next time in Barcelona I will look for some other place.
---
Hola,

Espero que vuestra estancia en Casa como en Barcelona sea agradable =)

Un saludo,

Delphine




语言:
English、Español、Français、Italiano