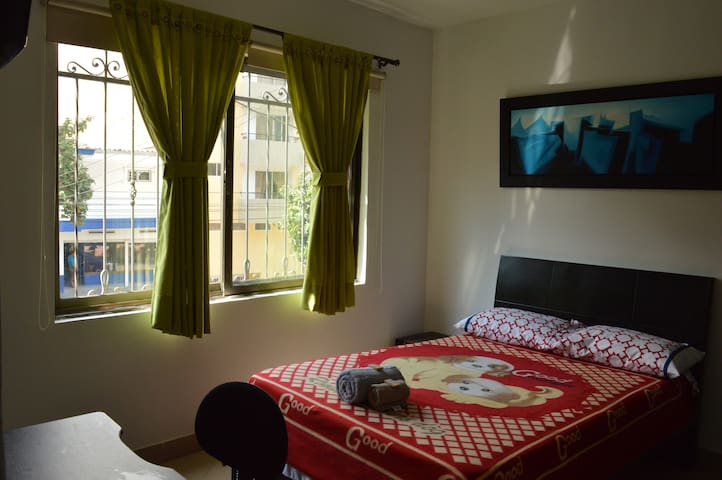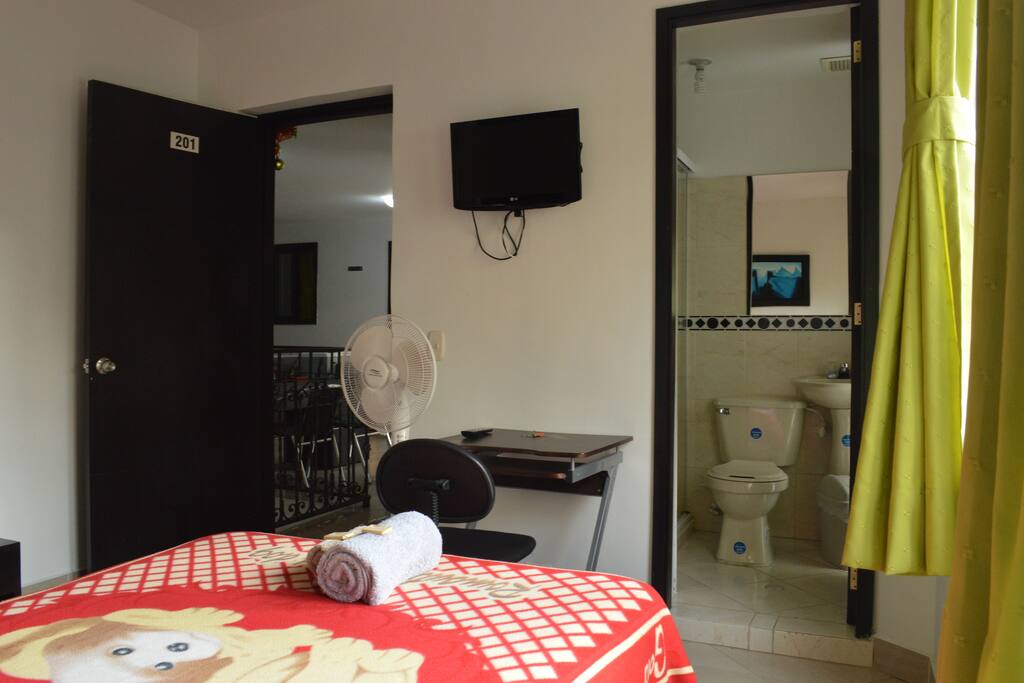 In This spacious house you can have your very own room and bathroom, equipped with all of the basics, TV, Cable, WiFi, bed sheets, towels and toiletries. In addition to this you have a shared living room, balcony, and fully equipped kitchen. Also we have a Laundry area equipped with a Washer and Dryer for you to use.
Every day from 7:30 to 9:30AM we have a table set up with some cereal, coffee, tea and fruits, so you don't start your day with an empty stomach.
房源
This is a very cozy room with private bathroom, equipped with TV, Cable, WiFi and all of the essentials.
房客使用权限
You have access to the entire common areas, such as, Kitchen, Laundry area, Living Room, Balcony, Dinning Area, and more.
And because we want you to have the best experience possible, we have a coffee table with cereal, fruits and tea as well, that is in service from 7:30AM to 9:30AM daily and free of charge for you.
I had a fantastic time staying at Ricardo's place. The rental is in a great location next to a popular area with a lot of nice restaurants, bars, stores, coffee houses, etc. Ricardo is very helpful and the staff is friendly and keeps the place very clean. I would strongly recommend staying at this place if you are visiting Medellin.
---
Ricardo's place in Medellin is absolutely wonderful, as was Ricardo. He made sure he went above and beyond in welcoming me to the city. The apartment is fully equipped down to the smallest of details. He has thought of almost everything that makes a guest feel at home. The place is cleaned weekly by paid staff. The location is very central to many amenities, including a shopping mall, university, and the Estadio metro station. El Poblado and some of the best shopping centers in town are only a 15/20 minute taxi away. Also, there're many restaurants and grocery stores around the neighborhood as well. Highly recommended place and host! If you stay, ask Ricardo to break out the Monopoly board. :)
---
My stay here was great. Very relaxed, like staying in a hotel. I liked the fact I could get breakfast, if I wanted, and also the layout of the apartment is such that you feel you can make use of the amenities comfortably. I washed and dried clothes comfortably and the maid was on hand to advise me where the iron was - very friendly lady... keep her Ricardo :) Ricardo himself is a great host. I felt really comfortable arranging my stay and had a nice short talk with him as I checked in. The apartment is good. Better than one other place in Laureles I stayed at but not as good as anothet I stayed at. Very much value for money, though. Just be aware that the bed has a plastic sheet over the mattress (it does mean it is certainly clean!) and the shower pressure is not the best I have had. I gave 4 star only because of these points. Overall, I would stay again. It was good value for the price!
---
Perfect spot for exactly what I required. It's a residence in a great location and with fantastic vibes. For me it's difficult to define exactly what type of accommodation it truly is, but that's what makes it, without a doubt, a unique and positive style of living arrangement. I guess it would be considered a hostel if it had a hammock. :) To me, it's a mature and tranquil place and I definitely recommend to anyone who wants to have their own space and experience all the fruits that Laureles has to offer. The Staff is awesome btw! cheers
---
Had a great stay and Rica do was very helpful from the beginning. Also he can recommend great stuff if you like. Loved the room and the house and all the amenities you got to use as well as the location. Love Laureles and think it must be the best place to be ;) will Def stay again if I return to medellin.
---
Even thou I'm not always at the property, I'm just a phone call away.
语言:
English、Español