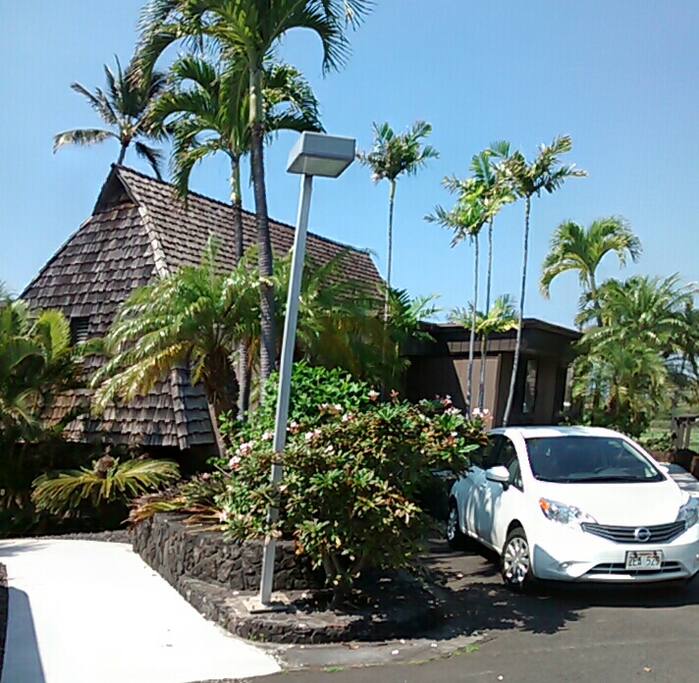 Bright, cozy one bedroom studio condo with ocean view. Comfortable & well equipped, walking distance of the Punalu'u black sand beach park and a short drive from Volcanoes National Park.
房源
Our ground floor condo was refreshed with paint, appliance, fixture and furniture updates in May 2017.
Situated among 75 Polynesian style units with great aesthetics and a private setting. Along the longest stretch of undeveloped coast in all Hawaii - 90 miles of ocean and the most beautiful and varied coast line in the state.
Our price shown in the listing is a total price and includes taxes. We are required by law to tell you how that breaks down: Our nightly rate is $96 plus $4 General Excise Tax and $9 Transient Accommodation taxes. The cleaning charge is the only other expense you have.
房客使用权限
条目是通过编码的锁定框。我们将通过电子邮件发送代码和PDF,并附有签入/退出说明。
Entry is via a coded lock box. We'll email the code and a PDF with check in / check out instructions.
其他注意事项
Before buying our condo in Hawaii, we stayed in Kailua-Kona and Hilo. After checking out other areas, we decided the Ka'u District is the best fit for us.
If you are looking for a riotous night-life...you will not find it here. In fact, you might be on the wrong island for the party experience; even Kailua-Kona rolls up the streets fairly early most nights (Try Oahu & Wakiki for big city bustle and hustle). We're not located in a city and the nearby towns are just as quiet at night . The pace of life here in rural Hawaii is slow, quiet and perfect...perfect for relaxation, exploration and the recharge you are looking for. Take time to sit and watch the sea breeze blow the palm trees in the tradewinds and be awed by the millions of stars in the blackness of the night sky. Kailua-Kona is an hour and thirty minute drive; Hilo is an hour away - that's each way. So, we suggest stocking up on groceries when you arrive in either airport.
None of the units at Sea Mountain have air conditioning - ours has three ceiling fans (two inside - living room and bedroom, one on the lanai) and generous ventilation with louvered windows for the famous trade winds. A blanket is provided, along with some extra pillows, should you want or need them.
High-speed Wifi is available in our unit. The condo features digital cable TV and we have a Samsung Smart TV for streaming from your own Hulu, Amazon or Netflix account. We'll provide the WiFi password after you complete your reservation.
The kitchen is equipped and efficient for a short or long stay. Relax and enjoy a movie or your favorite book and enjoy ocean view meals on the lanai. As a ground floor end unit, the location is private and has tropical plantings on the end garden. On the rare days when you would want to eat inside there is a built in island with two stools. We spend a lot of time on the lanai and you'll want to as well, I bet.
The separate bedroom has louvered bi-fold doors for privacy. The queen bed is incredibly comfortable (don't just take our word for it...read the reviews) has a memory foam topper with under bed storage for luggage. There are two three drawer nightstand dressers and a large double closet. Plenty of storage for any length stay.
The spacious, well lit bathroom has a marble and glass block walk in shower, a ton of counter space and large mirror. Hairdryer under the sink. Extra towel rods for your bath and beach towels to dry, hooks in the shower for wet swim suits...and hopefully just about everything you'll need while you are there.
You'll find two beach chairs, snorkel gear and a cooler in the upstairs closet. I may have mentioned it elsewhere, but, in case I didn't we also have two beach towels for you to use (red and white striped). We provide starter paper products, trash bags, dish soap, hand soap and similar basic items for your stay. We ask that our guests launder the beach towels prior to leaving in the coin operated laundry in the complex. Laundry soap is provided.
Hawaii TAT License #W65120406-01 s our License Number from the state of Hawaii.
执照或登记号码
Hawaii License W65120406-01
了解这一数字
---
---
---
Our expectation is that you will find a comfortable, prepared and clean space in good working order for your visit. In return, guests in our home are asked to return the space and items within the space in the same condition. This has worked very well for us over the past few years with our other Airbnb property and we're excited to offer another experience in one of the most beautiful parts of Hawaii. Detailed information on check in, check out, complex and unit rules will be emailed to you via PDF after you have made your reservation. It's all common sense stuff, but, we find it's best to have it in writing.
The condo complex and unit itself are non-smoking. There is a designated smoking on the grounds if necessary.
---
---
---
随时通过电话,短信或电子邮件向我们的客人提供。如果有紧急事情,你不能到达我们,我们在岛上有一个当地的联系。我们已经是Airbnb社区的一部分了几年,并相信,在旅行之前,之中和之后的良好沟通对于良好的体验至关重要。不要犹豫与我们联系。
We are available to our guests by phone, text or email at any time. If there is something urgent, and you can't reach us, we have a local contact on the Island. We have been part of the Airbnb community for several years and believe that good communication before, during and after your trip is essential to a good experience. Don't hesitate to contact us.
We are Christen and Tom Mizikar, owners of Beechwood Cottage in the historic Ligonier Valley of Pennsylvania and Beachwood Punaluu in beautiful Hawaii.

We have been providing vacation rental stays since before "Airbnb" was a verb! In our many years of hosting vacation guests, we've learned how to help you connect, relax, enjoy and experience two different, unique and special places.

Our cottage has an authenticity and style and setting that makes it special - from the 18th century chairs at the table to the giant stone fireplace to painstakingly hand-painted floors or hand-made draperies...we welcome you to respite under the shade of tall oak, hemlock, ash and poplar trees.

Our condo is in just as unique location along the last undeveloped coast in all of Hawaii. We love to share the star filled skies, black sand beach and tall palm trees blowing in the tradewinds. Sit on the lanai and listen for the sound of the waves crashing into black lava outcroppings...look as far as one may see and fill your eyes with nature's beauty at Punalu'u, Ninole Cove or all along the Ka'u coast.

When we travel, we have high expectations for both destination and accommodation. We wouldn't have you stay in anything less than perfect for us - and we hope you'll find either (or both!) to be just what you are looking for in a short term lodging experience.
语言:
English