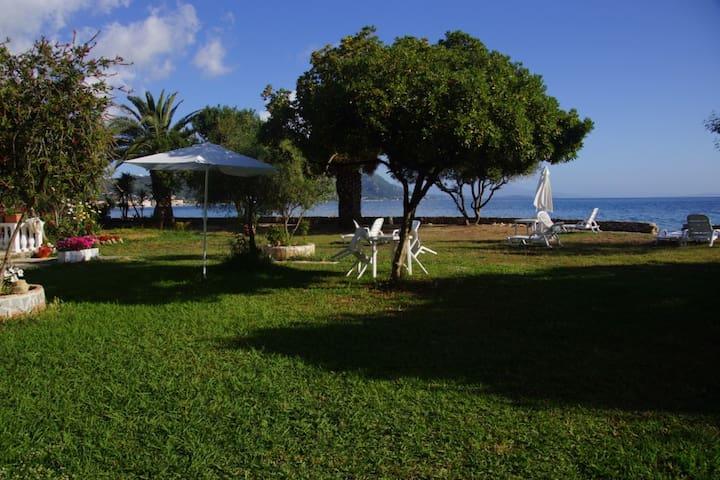 塔拉萨花园科孚原来是五十年代的咖啡屋,也是科孚镇海上交通工具,当时没有公路和公共汽车。原始风格的风格保持原样,但拥有所有现代化的设施。
Thalassa Garden Corfu was originally a coffee house during the 50s, and a point of marine transportation with Corfu Town, when there were no roads and buses. The original style of the pace is kept intact, but with all the modern amenities.
房源
海滨公寓和一室公寓设有一个广阔的花园和私人海滩,位于科孚岛的Psaras Messonghi。 原本是咖啡屋和50年代的海上运输点,已经变成了公寓和工作室的复合体,建于真正的Corfiot风格。有两间公寓和四间一室公寓,全都享有大海和花园的景致。两间公寓设有一张双人床和可以变成床的沙发。四间一室公寓设有大号双人床,如果需要,可以为12岁以下的儿童加床或婴儿床。都设有空调,设备齐全,组织良好的厨房以及带淋浴和卫生间的浴室。 公寓和花园内的所有客人都可使用免费无线网络连接和停车位。 该地块占地面积2.5万平方米,主要是绿色的(许多开普敦,天使,杏,无花果和石榴树的花园),位于Psaras和Messonghi海湾的特权点。 它是理想的人谁想要一个安静和私人的地方放松,但同样靠近一些鱼酒馆。你可以花时间在阳光下躺在阳光下晒太阳,或者隐藏在树荫下。或者,您可以自由使用我们的脚踏船和独木舟探索迷人的附近海滩,或只是去钓鱼。 Thalassa Garden旁边是一个小型海边传统的小鱼饭馆,一间专门设有传统希腊厨房(30米)的餐厅和一间格栅屋(50米)。 Messonghi市场距离超市场,旅游商店,面包店,咖啡馆和海滩运动设施有组织的海滩距离酒店仅有1公里。距离南部1公里是Kodrakas雄伟的海滩,隐藏在桃花les les和开城森林之下。 @公里外是中世纪的Chlomos村庄 Thalassa花园距离科孚镇和机场有22公里,我们也可以安排接送服务。这个地方也可以到Messonghi的公共交通工具。可能需要一辆车如果你想探索科孚岛的其他地方。
Seafront apartments and studios with a vast garden and private access beach, In Psaras Messonghi, in Corfu.
Originally a coffee house and a point of sea transportation during the 50's, has being turned into a complex of apartments and studios, built in the genuine Corfiot style. There are two apartments and four studios, all with view of the sea and the garden. The two apartments have a double bed and sofa which can turn into a bed. The four studios have queen size double beds, and if needed can be added an extra bed or babycot for children under 12 years old. They are all air conditioned, with fully equipped and well organised kitchens, and bathrooms with shower and toilet.
There is free wi-fi, and parking space for all the guests in the apartments and the garden.
The place consists of 2.500 square meters of mostly green (a garden of many pistacias, angelicas, apricots, figs and pomegranate trees), located at a privileged point in the bay of Psaras and Messonghi.
It is ideal for those who want a quiet and private place to relax, but at the same be near some fish tavernas. You can spend your time enjoying the sun next to the sea on a sunbed, or hide under the shade of a tree. Or, you can use freely our pedalo and canoe to explore the charming nearby beaches, or just to go fishing.
Next to Thalassa Garden is a small seaside traditional fish taverna, a restaurant specialising in traditional greek kitchen (30 m) and a grill house (50 m). The market, with super markets, tourist shops, bakeries, cafes and an organised beach with sea sports facilities, is just 1 km away, in Messonghi. 1 km to the South is the majestic beach of Kodrakas, which is hidden under a forest of myrtles and pistacias. @ km away is the medieval village of Chlomos
Thalassa Garden is 22 km away from Corfu town and the airport and we can also arrange the transfer.. The place is reachable also by public transportation from and to Messonghi. A car may be needed If you want to explore the rest of Corfu.
---
This place is incredible! The photos do not even begin to do it justice. The room, along with a small bathroom and kitchen, is clean and contains everything you might need. The surrounding garden is beautiful and has has an amazing view of the water. The family is very kind and caring and give wonderful tips on where to visit and what to see during your stay. We will definitely be coming back and recommend this place to anyone looking for a relaxing vacation.
---
Everything about our stay at the Thalassa Garden was wonderful. The main host was out of town so his dad took over while we stayed, and he was so nice and made our trip enjoyable. The view was extraordinary and if you get up around 6:30am, you can see the sunrise in front of you. It is truly breath taking. The gardens are only about a 20 minute walk from the town. I definitely recommend this Airbnb and will hopefully will be back myself soon!
---
Thalassa garden is paradise. We loved every moment of it. We were greeted by Soti and he sat with us for a while and showed us the local spots to go. Go to the spots!! Especially the mini Laguna. It is one of the most beautiful places I've ever been. The room was excellent. Comfortable with small kitchen, although we spent most of our time in the gardens or on the pedalo. Soti and his parents were great hosts! I would highly recommend staying here if you want a quite relaxed vacation. Note: It is a bit hard to find, it's very close to the "fisherman's haunt" which is a good landmark to keep in mind.
---
Our stay at Thalassa Garden was without a doubt the highlight of our trip to Greece. Soti, Spyros and Maria gave us the warmest welcome, a ride from the ferry station and our gorgeous studio greeted us with wine and home-made olive oil. If you are eager to experience Corfu in the local fashion while still having all the luxuries and independence of your own studio, this is an amazing find. Soti taught us how to fish for octopus and urchins, explained how to locate Corfu's hidden spots and shared some amazing food, beats and laughs with us. Every day, Maria greeted us with a different local treat. We were so excited to feast on eggs from her Mom's garden, stuffed eggplant, fresh pomegranates and foraged spinach. The spirit of the place was so warm and welcoming that by the end we were not only friends with Soti and his parents, but also with the amazing other couple staying on the property. We can't wait to come back!
---
We have recently returned from a wonderful week of peace and tranquility at Thalassa Gardens. The studios are typically Greek; basic but clean with everything you need for a simple, self-catered holiday. The garden is wonderful with an abundance of herbs, fruits and flowers. Our holiday highlights included breakfast by the sea shore, the company of friendly kittens and cats, pedalo rides across the bay and, of course, the hospitality of our generous hosts. We will definitely be returning.
---
I enjoy communicating with people and I also like to help them! I have a big interest in environmental, cultural and social matters. I believe in maintaining environmental balance together with the preservation of the local culture, through the traditional social and cultural practices.
语言:
English、Čeština、Ελληνικά