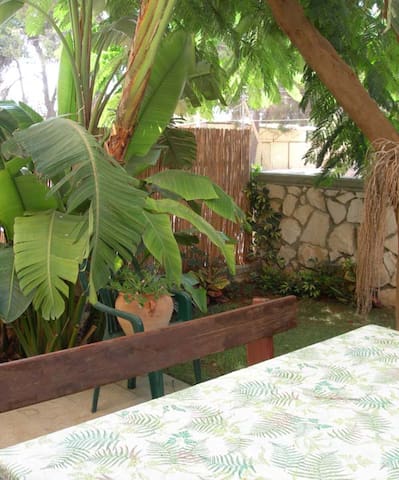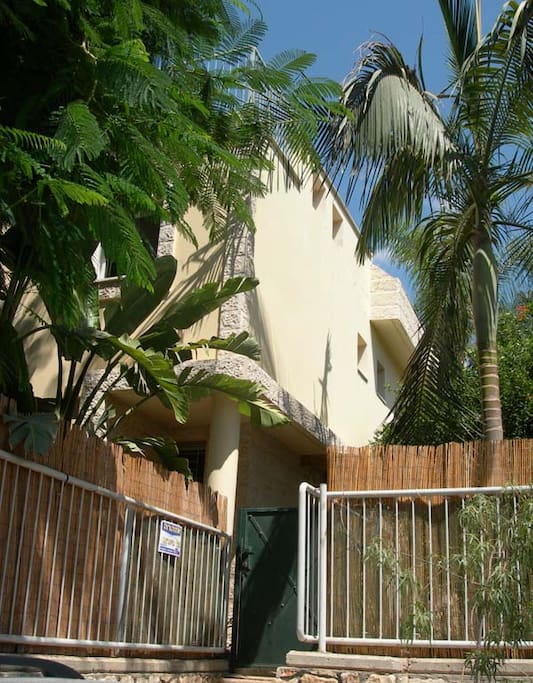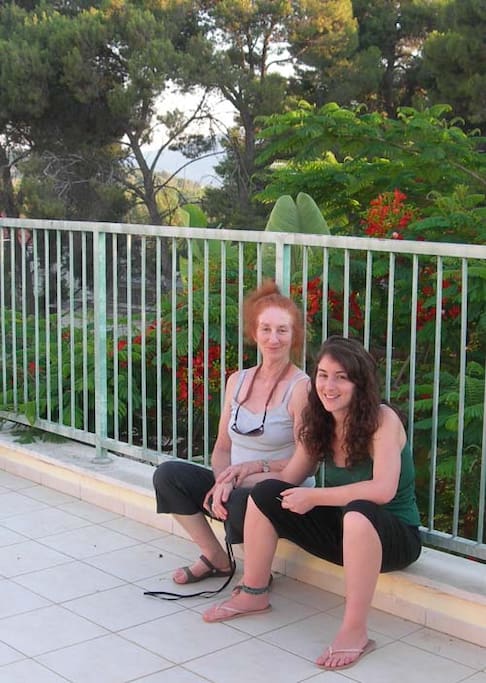 Private Room And Bathroom Near Haifa - Nazareth
Modern multi level home with comfortable double bed, and adjoining private bathroom with bathtub, shower, and toilet. Perfect for tourists that a base for touring Northern Israel or people visiting friends or family in the area. Close to Haifa, Yoknam, Kfar Tikva, Oranim, Afula, Kibbutz Harduf, and Nazareth. Lovely 3rd floor balcony with a scenic view. Abundant parking. Good access to public transportation.
房源
We live in a lovely modern townhouse located on a quiet tree lined street in a quaint community called Kiryat Tivon. We are close to walking and bike paths and shaded parks with great equipment for children to play.
There are buses and cabs across the street and down the block. We are 20 minutes (by car) from Haifa, 30 minutes from Nazareth, and 20 minutes from a train station to Tel Aviv Jerusalem, and the airport. We're also 10 minutes from Yoknam, the "Silicone Valley" of the North. You can also take the bus to each of these places. If you chose to come back on the last bus, we'd be glad to pick you up from the main Tivon stop. It's a 10 - 15 minute walk from our house, and it's safe and pleasant to walk even late at night.
There are two grocery stores close by. There are coffee shops, restaurants, a library with books/magazines in English, and a movie theater. You can walk to many of these or take the bus or a cab. I do it all the time. You can walk to the center of Tivon. There are more restaurants, coffee shops, places to get your hair cut, florists, and an assortment of interesting shops. There is a very large wonderfully equipped shaded park for kids.
You'll be staying in a bedroom with a double bed and a closet which is next to a bathroom that has a shower and a bathtub.
Our kitchen is comfortable for cooking and eating. You can sit either inside or out
We have a roof top porch with a nice view of the area. We recently got comfortable outside furniture & have spent many hours lying around & watching flocks of birds fly by. We spend a lot of time at our picnic table in our front yard which is shaded by lovely trees and full of all sorts of flowers. Our dog, Button, and our cats, Marsha and Caata, will be glad to keep you company. The 3 of them are good buddies. When the weather is nice, they spend most of their time in our gated front yard.
On the side of the house we have a lemon & tangerine tree. They give fruit in the fall/winter. We have so many sweet practically seedless tangerines, that I make tangerine & lemon juice.
I look forward to having you as our guests!
Based on an inquiry we had, I'd like to add something. We're not far from Tiberias and the Sea of Galilee. We once lived on a kibbutz in the area. It's possible to book an assortment of tours that depart from Tiberias. A woman I know, a travel guide, told me that she can arrange a variety of trips in the North which depart and return to Tivon. That certainly makes things a lot easier. It's nice to have options.
We have 2 rooms to rent. Each can accommodate 1 or 2 persons.
---
I very much enjoyed my stay with Lynn and Shlomo. They gave me a warm welcome and were very helpful and accommodating. From the first moment when I sent my request to Lynn, communication was great. I had a nice room in the first floor. On the third floor they have a roof terrace, a very nice place to hang out. Supermarket and Café/Pizzeria are nearby. There is also a bus Station at 200 m and at the main road (approx. 1,5 km - nice walk!) you have direct buses to Nazareth and Haifa. I would definitely recommend Lynn and Shlomos place.
---
My family is originally from Chicago. We've lived in Israel for almost 20 years. We have 3 kids all born in the States. It's interesting living part of your life in one country and part in another. It gives you a broader perspective on things.

We've lived a few places both in the States and now in Israel. I've had many different unusual jobs a far cry from my position as a programmer/analyst for the City of Chicago Data Center. I now bake sourdough bread, focaccia, cakes, and cookies for a kibbutz that is based on the spiritual philosophy of Dr. Rudolph Steiner.

I've always liked being in the kitchen. Now I'm into my sourdough bread stage. My family is glad to be my test audience. There's always something to taste!