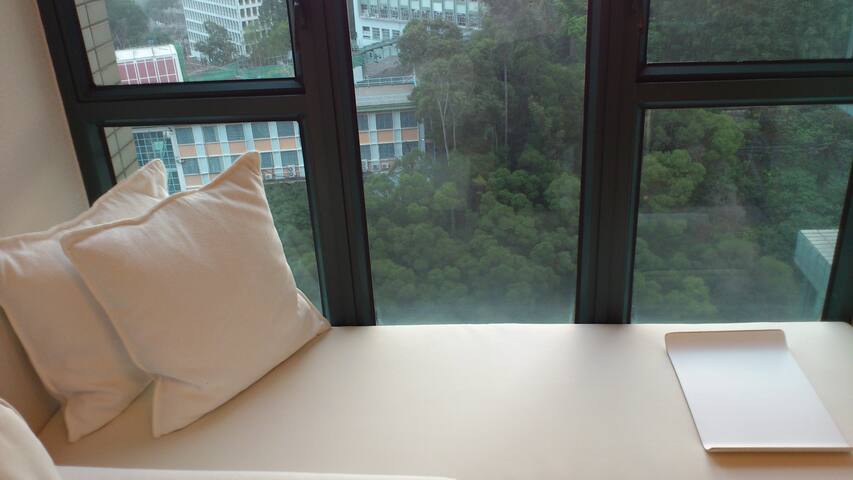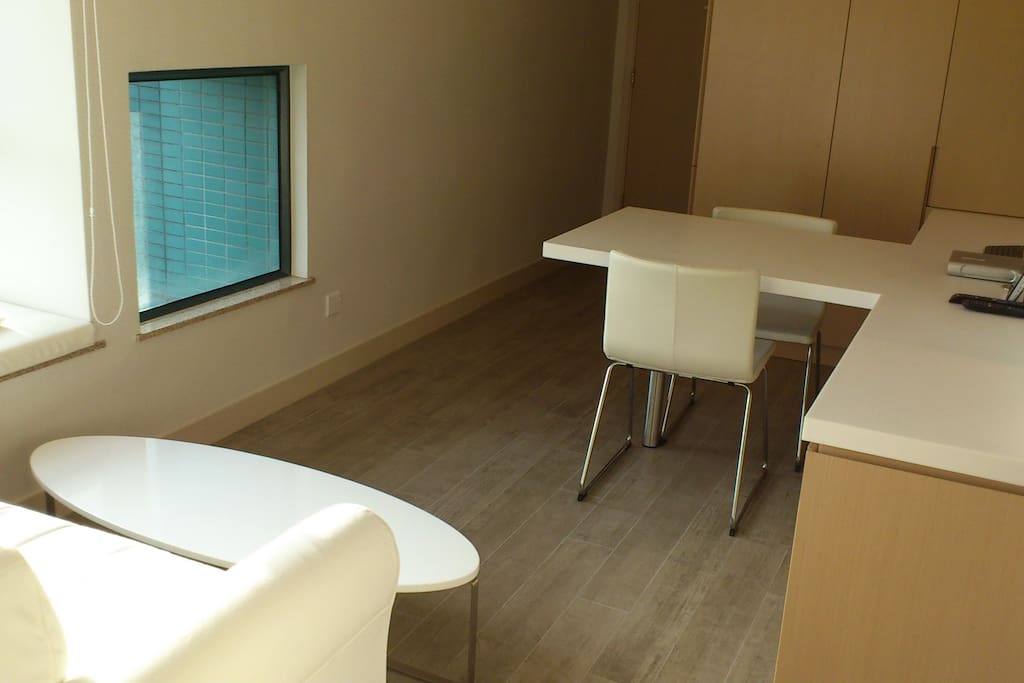 位于皇后大道东湾仔湾心脏地带的美丽保守的门童楼。高层,全面装修,四星级服务公寓规格。许多窗户无阻碍的看法。 1分钟到巴士,5分钟到地铁&电车
---
---
---
No smoking in the house. Adults only - no children.
There is a mandatory weekly two hour maid service for general cleaning at a cleaning fee at $50 for the week and $200 for the month. (The general cleaning excludes dish-washing and washing/pressing of personal laundry but includes out-sourced laundry fee for bed-linen and towels.) This cleaning fee should be paid to the maid on a weekly basis.
Kindly take off your shoes inside the apartment.
Please clean up the kitchen and cooking equipments after use.
Additional Charges will incur for
- lost keys
- lost or damaged inventory items
- deep cleaning for kitchen and cooking equipments
- abnormal staining or damage of upholstered furniture, towels and bed
linens.
---
---
---
Newly renovated apartment in a great location just off Queen's Rd East. Nice views and lots of natural sunlight which is rare in HK. Really enjoyed my stay and would definitely stay again. Louisa was a great host and very helpful.
Thank you Richard for re-assuring me that the construction of the Methodist Church down at Queen's Road East is not causing any noise disturbance to you. I went back to the apartment to stay after you checked out, and realised that the new building is topping off and we hardly can notice that there is any construction going on at all. Hope that you enjoy your new posting in Japan and look forward to welcoming you back to Hong Kong during your next visit.
---
I stayed at Louisa's lovely place for three months while finishing my legal training. The flat is very conveniently located, close to Wanchai underground station, the tram and numerous bus lines, so getting around the city is super easy. Wanchai is a great district to live in - a good mix of old and new, with a market where you can basically get anything, lots of eateries and cafes around and the Causeway Bay area with all of its retail stores is reachable on foot. The flat itself is very well designed with lots of storage space and a layout that makes it feel bigger than it actually is, which is a luxury in Hong Kong. Lots of natural light, too. The only downside is the construction site right next to it, where a new building is being erected, which means that between Monday and Saturday, from 7.30 am to late in the evening the noise level is really high. I was usually at work during the week so I thankfully missed a lot of it, but especially on Saturdays it was impossible to stay in or study at home, because of all the hammering and drilling. That said, the flat is usually reasonably quiet especially for the busy Wanchai area, so once the construction work will be done in a few months,  noise will not be a problem. Louisa is a great host and easy to communicate with and is very quick to answer to any issue or question that might occur. I definitely stay at her place again!
Dear Lili, Thank you very much for your review and your kind words. I am so very sorry to hear that you were at times disturbed by construction noise of the new Methodist Church Building on Queen's Road East which on airspace may seem very close to our apartment but is actually not on our street. I stopped leasing out the apartment for a month during its nosiest construction phase of piling/foundation work which finished mid January last year and since then I have had three long-term tenants (until September when you moved in) and fortunately none of them seemed to have been disturbed by the construction noise. I took your comments very seriously and had flown back to Hong Kong to stay in the apartment since January 2nd. I have observed the construction for two full days now. As my apartment is blessed with acoustically sealed windows on all 3 sides, I found the noise disturbance to be quite minimal when I closed the windows on the two sides closest to the construction. When I closed all the windows and used the a/c in each room, the noise is hardly noticeable. Hong Kong has very strict law controlling noise-generating construction to the hours of 7 a.m. to 7 p.m. Mon to Sat. and I have also checked with a couple of my neighbors in the building who told me that the Church has been such an empathetic owner that their building's construction noise rarely arose before 8 a.m. and lasted longer than 6 p.m. But again, noise tolerance differs greatly from person to person and I understand your discomfort which you brought to my attention. Please accept my sincere apologies once again and I would love to welcome you back for your next visit in a few months' time.
---
Louisa was a welcoming host and very helpful throughout our stay. Her apartment in Wanchai was centrally located and ideal for us. It was very convenient to get around either by walking or public transport. The apartment was efficiently designed with all the necessities that anyone would need while staying there. My partner and I had a very pleasant 3-months stay. I would recommend this to anyone who is going to spend some time in Hong Kong.
---
It was the most amazing flat I have ever been in. The view is stunning, everything in the flat is brand new and completely modern. It is a very bright flat with big windows. Of course the rooms and the flat aren't that big - Hongkong-Style, but it is completely sufficient. Louisa and her sister took care of us, were very helpful and gave us amazing tips. This flat made my stay in Hongkong one of the best 4 months I have ever had. The neighbourhood is perfect. Near to many bars, but is in a quiet street. The tram, subway and busses are located not more then 5 minutes away. Very convenient. I would recommend this flat to everyone.
Dear Gena, it was such a pleasure having you....I am glad that you enjoyed staying in our apartment, and that your internship in Hong Kong was a rewarding experience (as you have told me) .... your stay reminded me so much of my son/s intern experience in New York City - it is the least we could do to make your stay comfortable. Best of luck for your future career undertakings.
---
Hi, I am living in Bangkok and have been using airbnb mainly for travels to New York. I have a meticulously designed pied-à-terre in Hong Kong and two luxury one-bedroom units in the much sought-after LIV@Niman condominium off Chiangmai's trendy Nimmanhaemin Road for my family's own vacation use. Since we are not there often, we would like to share them with other airbnb travellers.