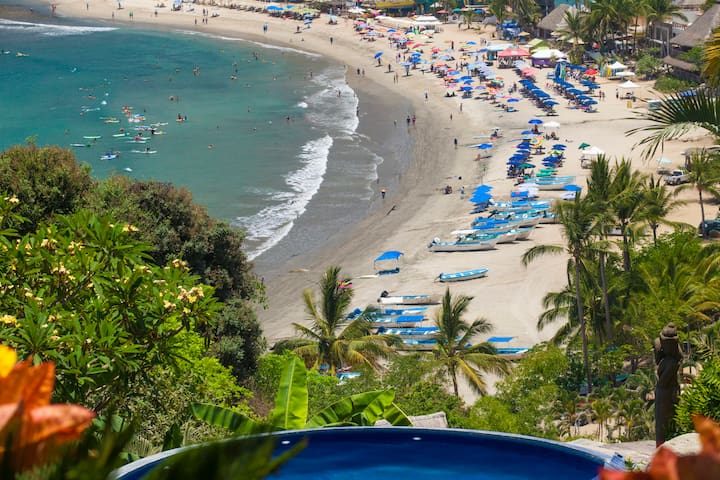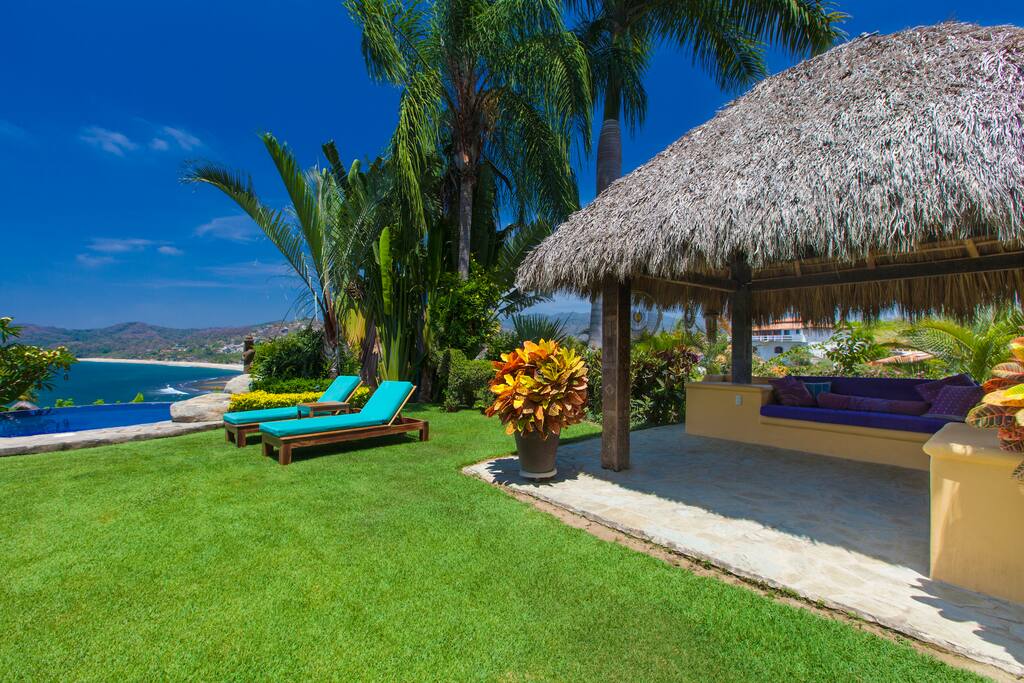 Casa Kukana - 3 Bedroom Sleeps 7
Casa Kukana has 2 bungalows which is perfect for groups. The Moroccan Bungalow sleeps 4 with two master suites over looking the ocean and Jungle. The English County Bungalow sleeps 2 adults and a child. Separated by private tropical gardens!
---
Last week my family and I had the wonderful pleasure of staying at Casa Kukana. I knew I was going to love it based on the photos online but the actual house/grounds far exceeded my wildest expectations. Our family of 6 rented all 3 rooms and had plenty of space. The yard is simply divine with beautiful and lush gardens, plenty of lounge chairs to relax in, an adorable shaded gazebo area and a gorgeous infinity pool overlooking the main beach of Sayulita. I loved that the home was up in the hills with a jungle feel and secluded from the hustle and bustle yet only a 5 minute walk or drive to town/the beach. I woke up every morning to watch the sunrise with the best view ever and LOVED watching the sunset and also some awesome thunderstorms from the yard. The rooms were all decorated with such great style (love the Moroccan vibe) and were kept very clean. Everything you can think of is provided (wifi, AC which feels amazing after a long day being outside, clean towels and beach towels, a BBQ, Smart TVs, a continuous flow of fresh water in a jug, everything you need to cook/eat, etc.). The owner, Suzanne, was so helpful and responsive when we were booking the place. We feel like she is one of our friends now :) Unfortunately we missed meeting her in person as she was out of the country but we had the absolute honor to meet Santiago and Asuzana (who live onsite) and they were overly helpful every single day and the hardest workers ever!!!! They took wonderful care of the rooms which were always immaculate when we came back. Santiago gave us rides anywhere we needed (even in the pouring rain). They made us amazing dinners and drinks (the best we had in Sayulita) and helped us with laundry (for a very reasonable fee which was 100% worth it). Meeting their family was the icing on the cake. They went over and above to make our stay even more enjoyable (including putting together a birthday party for one of the kids: pinatas, cake, games and all). Bottom line is CASA KUKANA IS THE PERFECT PLACE TO STAY. Our kids loved it so much and said we always have to stay at this house when we come to town. It is wonderful for couples and families alike. One piece of advice: do not rent a big car. Golf carts are much more convenient. Sayulita is now deeply engrained in my heart and I will 100% be coming back regularly and staying at Casa Kukana which is my definition of paradise!!!!! You will NOT regret making the choice to stay here! The best part is that it costs the same as a 3 star motel in California (where I live), SUCH A BARGAIN!!!!!! AMAZING PLACE with WONDERFUL PEOPLE!!!!!!!!!!!!!!!!!
---
Beautiful home that has a really great garden with an outstanding view towards the town and the sea as well. The housekeeper Santiago, is an amazing dude and funny too. He was a lot of help, and made our stay really easygoing and pleasant. Nonetheless, the photographs do not show you the whole home. The description listed by the host is really misleading. the description given to us, was that we would have the "whole" home to ourselves, but to our surprise, the whole home was not at our disposal. It is a very big and beautiful home, but the area where the guests stay is below the main house where the hosts family lives. They were extremely respectful and gave us freedom and space (we saw a couple swimming in the pool only once, who immediately went inside the main house, when they saw us come back from our afternoon surfing session). Bottom line we enjoyed our stay, it was a great experience, but in all honesty we were expecting a whole house to ourselves as mentioned in the description. Do yourself a favor and go meet Santiago .
Hi Mauricio: Thank you for your review. I am sorry if you felt I mislead you in any way. My property is very large, over 2 1/2 acres of beautiful gardens and large grass platform with amazing views of the coastline and ocean. My property is on the top platform and the Moroccan and English Country are on the bottom platform. We are never at home and normally try and give our guests all their own space. The only person you see is Santiago and his wife Suzannah who clean and take care of everything. Most of my guests appreciate that the owners are living on the property as if anything goes wrong than it will get attended to immediately. In spite of the fact it looks like you enjoyed your stay. I have other Villas that might have suited your needs better but were more expensive. Thank you for coming to Casa Kukana. Suzanne
---
We just returned from our first visit to Casa Kukana. The location high on the hill makes for fantastic views of the beach, town and the surrounding hills, both from the deck and the pool perched out on the north side of the property. The grounds are lush and the caretaker Santiago and his wife made our stay quite pleasant, showing us the path to a local secluded beach, helping with our bags and providing lots of local knowledge. The facilities were well decorated and comfortable, there was a great weber grill and the kitchen was adequately set up with pans, etc. to cook meals. We spent quite a bit of time just lounging on the property as it was a peaceful respite from the hustle and bustle of town. The a/c in the main bedroom didn't quite cool down as much as I would have liked and the toilets were a bit finicky, but I think that is just part of the challenge of local septic systems. We unfortunately missed meeting our hostess but she was very helpful in the communications setting up our visit and it's obvious that she has created a wonderful oasis at Casa Kukana. Will definitely want to stay here again upon a return to Sayulita.
---
Suzanne and Casa Kukana are great! Our plane was delayed and we missed a day and she was so helpful! She walked into town and found our family member who was supposed to be meeting us (no cell phone) and brought him back to the house for us! She went over and beyond! The house is incredible. The grounds and gardens are amazing and the view was beautiful! My kids loved playing with her dogs and granddaughter. The house was so nice and clean and the staff was awesome! Easy steps down straight to the beach, no golf cart needed! Highly recommend! Thank you Suzanne!!
---
Our stay at Casa Kukana far exceeded our expectations. The place is magical!!! The grounds are beautifully landscaped and meticulously maintained. The people working there were friendly and very helpful. We can't wait to go back.
---
I have the most amazing piece of property here in Sayulita...2 1/2 acres of gardens, lush grass and a infinity pool with views of the ocean and coastline. You will love it. I bought this property 28 years ago when Sayulita was just a little fishing village and it has now turned into the most amazing town with great restaurants, shops and many things to do, surfing, kayaking, paddle boarding, horseback riding, zip lining, and many more adventure. Perfect place for families, adventurous and active people who love the outdoors.