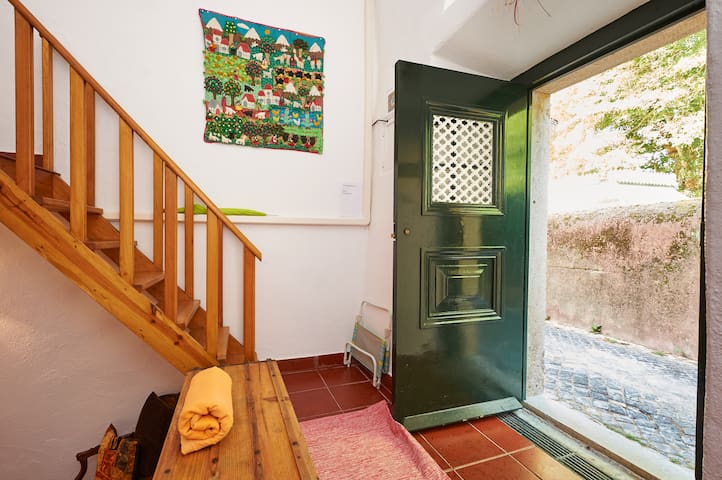 In the heart of the historic centre in Sintra a special place to sleep on a very quiet street.
Cleaned and equiped for simple needs.
Bedroom, kitchen and tiny bathroom in an open space mezzanine with a real touch of the rock mountain of the Sierra!
---
---
不适合儿童(2-12岁)入住,或不能为儿童提供安全的住宿环境
---
Luis and his friend Teresa were fantastic hosts! Teresa picked us up from the train station and gave us a quick tour around town. They gave us great advice about taxis, the must-try restaurants and pastry shops, and the best routes to get to the main sites in town. We really enjoyed the layout of the apartment. There's no stove in the kitchen, but we were able to refrigerate and reheat leftovers, make tea, cut fruit, etc. The only down side to the apartment is the humidity. It feels a bit damp and musty, but it was no big deal for our 3-night stay. All in all, this was a great home base to explore Sintra and we had a wonderful stay! Thanks Luis!!!
---
What a wonderful hidden gem in the heart of Sintra!!! Book the Love Nest right now!! My boyfriend and I stayed here for 2 nights, and we could not have been happier that we did! As soon as you walk in, you feel like you're in an adorable tree house of some sort. For starters, though we never actually met Luis, my boyfriend did talk to him on the phone when we arrived and before we ended our visit, and he was extremely kind, friendly, and helpful. He went out of his way to make our visit comfortable and smooth. Realizing that no one had booked the home for the last day of our visit, he even offered to postpone our check out, allowing us to stay there all day/keep our things there while we explored more of Sintra. The street is very quiet, quaint, beautiful, and traditional. If you have a hard time walking up and down hills (and you don't have a car of course), this probably isn't a good home for you, since there's a lot of that with the streets to get there. Then again, all of Sintra is very hilly, and it generally isn't a great place to visit if that's a problem for you. Also, the shower is quite small, and it would have been great if the doors opened fully to make it easier to get in/out since the toilet is pretty much blocking the door. The location is such a great perk with the Love Nest. The main historic center/downtown of Sintra is about 2 minutes away walking. Quinta da Regaleira (our absolute favorite place to visit!) is less than a 10 minute walk. The National Palace is also about 2 minutes away (though we weren't as excited to visit it). Basically everything you would want to do and see is about 2-10 minutes away. As for the places that aren't as close (like most of the palaces for example), the bus stop is right nearby in the center of town. On a side note, I definitely suggest that you let yourself get a little lost in the nearby neighborhoods/streets. We did, and we found some beautiful views. Being able to stay inside a converted wine cellar is a pretty unique opportunity. The decorations are just absolutely adorable. We loved all the art on the walls of the bedroom, which gave it a really homey, quirky sort of feeling. You can tell a lot of detail and thought went into decorating the Love Nest. On the walls by the front door, the owner has written little tips about the best places to visit around Sintra (very helpful!), as well as any other info you might need during your stay like phone numbers, emails, wifi password, etc. Even the way that this info was conveyed, being written on the walls, was adorable. The bed was very comfortable. Honestly, we thought it was more comfortable than our own bed at home! It did seem...
---
This flat is in a great location - a quiet street very close to the National Palace, many shops and restaurants. It was a short walk to the train station but Luis picked us up there, gave us a quick tour of town and took us to the flat. I really like how accessible he was and it was a comfort to me that he lives nearby. He gave us recommendations on where to eat and what to do which were incredibly helpful and on point! The flat itself is the perfect size for two, with all the comforts of home. I highly recommend booking, don't delay!
---
Our experience with Luis, Teresa, and the Love Nest was pleasant from start to finish. We called Teresa when we first arrived, and she was kind enough to pick us up from the restaurant where we were at, then drove us to the AirBnB to check in, then drove us to our event. She knew we were there for a wedding, and brought us an iron, along with a suggestion for a private car. Later, Luis stopped by just to check how we were doing. They were both so kind. The space was cozy, and we loved the art in the bedroom. If we're ever back in Sintra, we HAVE TO stay here again. The space has everything two people could possibly need.
---
Lovely small apartment in a quiet area, walking distance to the center of town, restaurants, tours, etc. We did not met Luis in person, just via email but he had Teresa pick us up from the train station and that was so appreciated when it's your first time here. She also responded right away to any questions via imessage. We truly enjoyed Sintra with this apartment as our hdq. Luis left fresh fruit, crackers, coffee and tea supplies in the kitchen, plenty of towels and kitchen stuff. You will be ready to settle as soon as you get there. FYI, the bathroom is small and getting out of the shower a bit challenging. Thank you Luis and Teresa for offering such a wonderful place to enjoy beautiful Sintra.
---