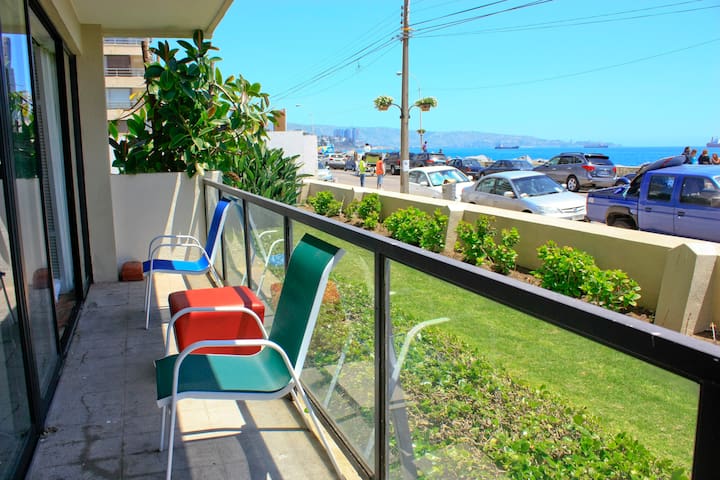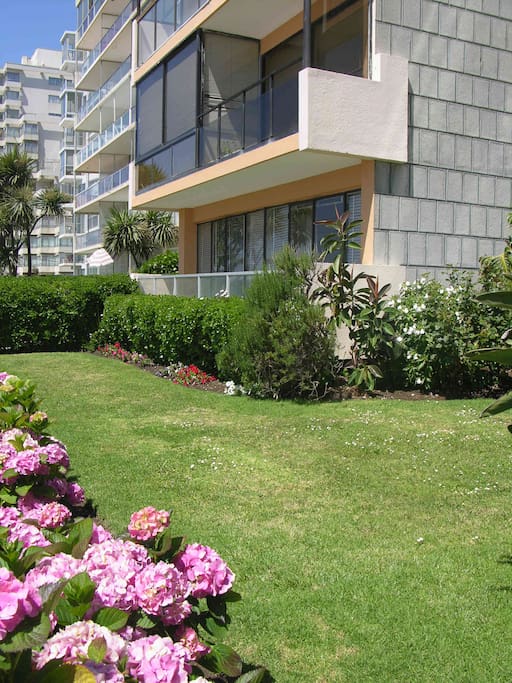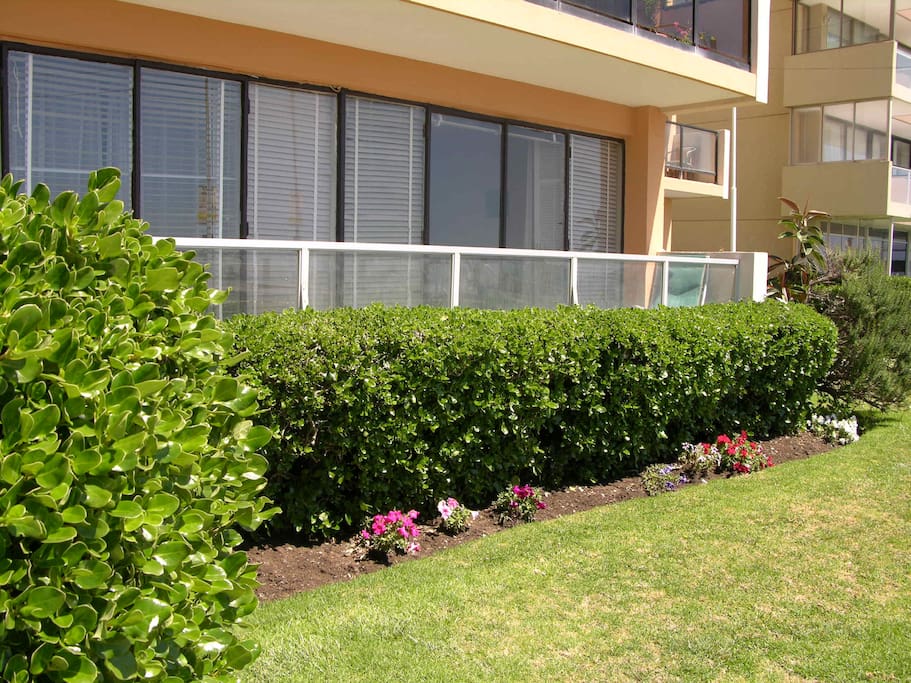 This beautiful Ocean front apartment is located in the heart of Viña del Mar. Has a spectacular view of Vina and Valparaiso. It is one block from the beach and 1 block from Vina's Casino.
房源
This spectacular apartment is located in Vina del Mar, just overlooking the Pacific Ocean. It has a beautiful balcony with a garden facing the Ocean.
It has 2 bedrooms, 2 bathrooms, a great living room a dining place and a kitchen. Just 1 block away is the Casino and the greatest beaches of the Southern Pacific. Also, from walking distance, you can find the best restaurants of the zone.
Viña del Mar has a very mild weather year round. Highest temperatures during the summer (december through march) reaches 25c (83f) and during the rest of the year averages between 15 and 20c (65-75f). Vina del Mar and Valparaiso are famous for its New Year's fireworks. Also, during February takes place cultural and musical festivals.
Just in front of the apartment, you can take a nice trip aboard a 19th century Horse Coaches. Ideal for lovers or children. If you like jogging, in front of the apartment there is a 10 mile long sidewalk road overlooking the Ocean and in front of the beach. Take a look to the photographs included!
I can assure you that you will have a great time renting this beautiful apartment.
房客使用权限
Easy guest access, specially for senior or handicapped guests. Bathrooms with special handles for senior guests. No steps, and direct access to the apartment.
---
---
---
This is a NON SMOKING apartment. No smoking is allowed in unit or in shared areas of property.
Maximum guest capacity is 5.
Arrival time is 4 PM (might be earlier: check with owner). Departure time is 11:00 PM. No pet allowance. Number of guests should be checked when making the reservation.
Guests shall not make or allow any disturbing noises in the unit by family or guests, nor do, nor permit anything by such persons, which will interfere with the rights, comforts or conveniences of other persons. All musical instruments, television sets, stereos, radios, etc., are to be played at a volume which will not disturb other persons. Ad-hoc policies are available on request regarding special holidays.
Even though there is $65 fee for cleaning the apartment, it should be returned in a "reasonable" fashion.
Internet and PC are available on request (unlimited connection for $100 per one month period).
This is a senior "friendly" apartment: first floor and easy access; bathroom with holdings and floors with anti-slipery devices.
The activities and conduct of Guests, Guests guests and minor children of guests, outside of the unit on the common grounds, parking areas, or any recreation facilities must be reasonable at all times and not annoy or disturb other persons.
The unit must be kept clean, sanitary and free from objectionable odors.
Guests shall assist management in keeping the outside common areas clean.
No littering of papers, cigarette butts or trash is allowed.
No trash or other materials may be accumulated which will cause a hazard or be in violation of any health, fire or safety ordinance or regulation.
Garbage is to be placed inside the containers provided and lids should not be slammed. Garbage should not be allowed to accumulate and should be placed in the outside containers on a daily basis.
Furniture must be kept inside the unit. All personal belongings must be kept inside the unit, or in storage areas approved in writing by Concierge. Any items outside the unit (unless approved in writing) are subject to removal by Concierge. Guest may be charged for the cost of removal.
Articles are not to be left in the hallways or other common areas.
Clothing, curtains, rugs, etc. shall not be shaken or hung outside of any window ledge or balcony.
All doors must be locked during the absence of Guest.
The use or storage of gasoline, cleaning solvent or other combustibles in the unit is prohibited.
The use of charcoal barbecues is prohibited unless consent is obtained from Concierge.
No personal belongings, including bicycles, play equipment or other items may be placed in the halls, stairways or about the building.
Children on the premises must be supervised by a responsible adult at all times.
Candles may not be burned in bedrooms. Candles used in common areas must be attended at all times.
Costs of repair or clearance of stoppages in waste pipes or drains, water pipes or plumbing fixtures caused by Guest negligence or improper usage are the responsibility of Guest. Payment for corrective action must be paid by Guest on demand.
Guests shall advise management, in writing or directly to the Concierge, of any items requiring repair (dripping faucets, light switches, etc.). Notification should be immediate in an emergency or for normal problems within business hours. Repair requests should be made as soon as the defect is noted.
---
---
---
I like traveling a lot. Also like swimming and playing golf. I am a Pediatrician working in Santiago, Chile.
语言:
English、Español