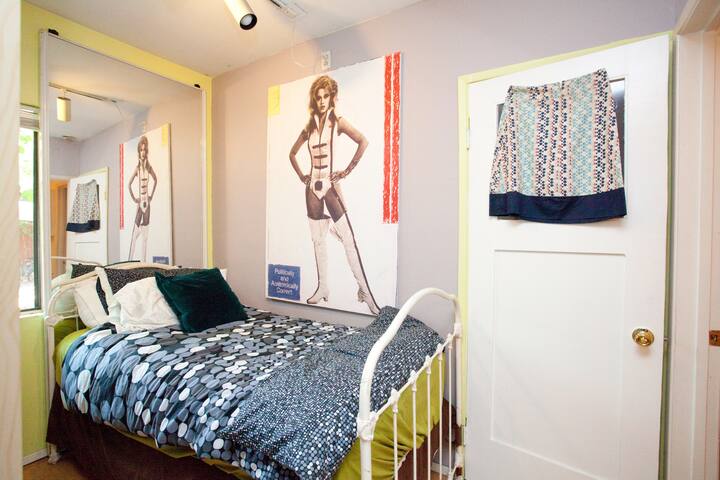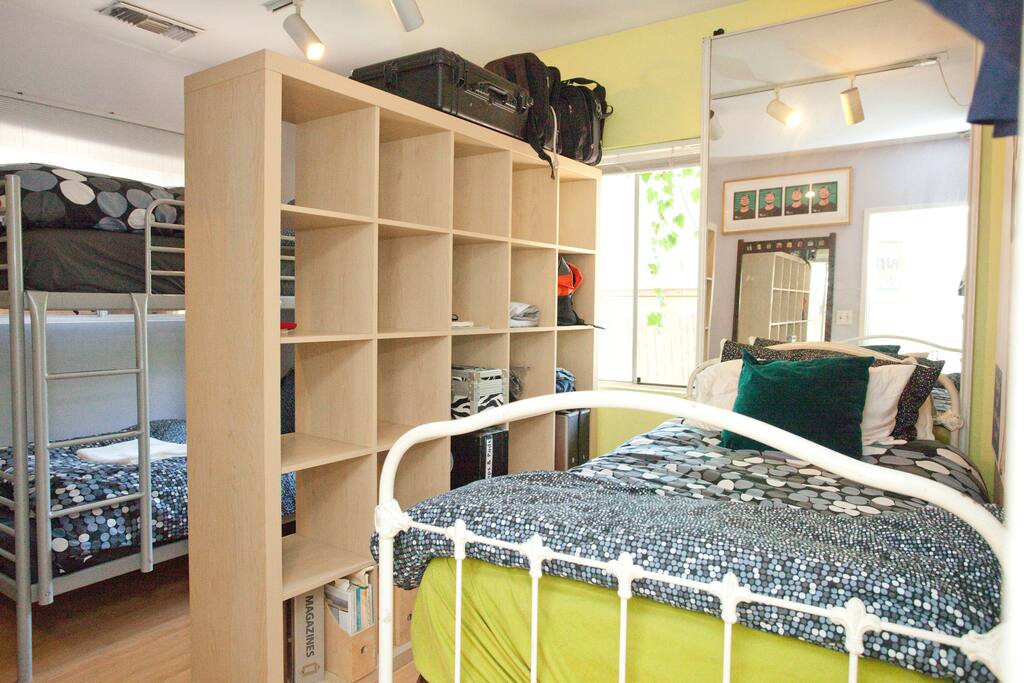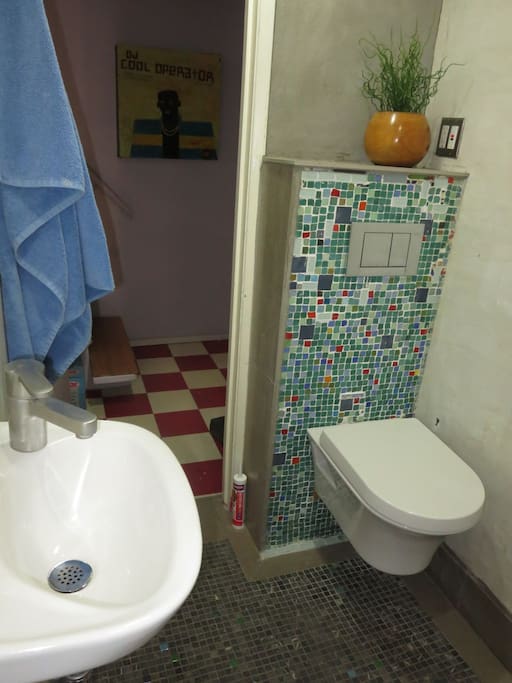 Cool Clean Central BUDGET SHARE
This is a lovely property in the most safe & central neighborhood in LA. It's a SHARED ROOM, with bunk beds and gorgeous outdoor living room and kitchen. Great for interns and those traveling on a tight budget. Lots of cool peeps - it's nice here!
房源
This is a lovely property in the most safe, quiet and central neighborhood in LA. It's a SHARED ROOM, with a couple of sets of bunk beds set up and a cool comfortable place to rest your head for a few bucks.
Film Producer, Artist, Airbnb hostess with the mostest is opening up the studio with a couple sets of bunk beds for those of you who are traveling on a very tight budget.
I was insprired by a recent guest who told me about an airbnb 'hostel' he stayed at in Brooklyn - well, here we go folks. I have several private luxury spaces on and off the property that are renting very well and I had one last room I was going to put up on the site and decided to make this the EVERYMAN ROOM.
So, for a wee price, I offer you the latest addition - a place to rest your head, check email, chill in the garden and communal areas and take Hollywood by storm.
Just a few minutes from just about everything in LA, we are located near Beverly and Vine, close to Melrose, Hollywood, Downtown, Beverly Hills, theaters, shopping areas, and walking distance from a gourmet market, shops and restaurants.
The room will be shared by one or two fellow travelers. We have ultra high speed wi-fi, full bathroom dedicated to this room, full kitchen, washer and dryer, easy parking - the works.
We're friendly and social, and also respect your privacy if you like.
Come check it out!
房客使用权限
There is a full-sized refrigerator and outdoor kitchen with electric range/oven, cooking and serving utensils available to guests located just outside the backdoor of the room. There is a microwave and coffee machine as well.
I make the laundry facilities available to the guests for free as long as they bring their own supplies.
与房客的互动
I live on the property but in a separate part of the house. The nature of the room promotes contact and a certain amount of sociability, however, for those who are working hard or otherwise needing their space, that is always respected.
其他注意事项
As you see from the pictures the room is rather small and set up 'hostel-style'. The closet and storage space is limited and is shared by all occupants equally. There are many other lovely indoor/outdoor areas on the property in which to work, eat, have a friend over or just chill out and get some sun.
---
---
---
We are friendly and reasonable people and expect our guests to be the same. Common sense, cleaning up after yourself, good manners and and a healthy respect for the other residents and the property are tantamount.
If an issue arises, inform me immediately, day or night. We love happy guests and it is important that you leave with a big smile. Feel free to ask for anything you need to make your stay complete.
Parking: is free, unrestricted (other than a few hours of street cleaning - observe parking signs) with no permit required on the street. There is no parking in the driveway at any time, unless specifically cleared with the owner in advance.
Your space will be provided to you in very clean condition and excellent repair. We expect you to keep your space picked up, and for long-term guests, wash your sheets and linens regularly. For those who would prefer, room cleaning is available for an extra charge. Laundry facilities are $1 per load for guest use.
Since we employ no pesticides, it is important you keep food and other 'insect attracting items' in the refrigerator, sealed trash receptacles and out of the living areas.
Plumbing: VERY IMPORTANT: Nothing other than toilet paper in the toilet please! No hair, dental floss, q-tips, feminine products etc. NO "FLUSHABLE WIPES"! Any plumbing repairs attributable to a guest will be charged to the guest and/or be taken from their security deposit.
Energy conservation is just a good idea for the planet and it is expected that each guest will be conscious and cooperate in this effort. Basics like turn off lights/air conditioning/irons/electric rollers/hair tools etc when not in use or not present on the property.
Guest spaces are respected by the owner at all times. Your private space will remain so unless there is an emergency, an obvious problem, or violation of the house rules.
---
---
---
---
Staying with Jamie was a moment in my life I won't forget. Living outdoors was fantastic - there is an outdoor kitchen and common room. Loved it!! I stayed in the "tree-house" in the backyard. It had it's own private kitchen and living space but it was great to be able to hang-out with other people staying there. And that is the other thing! I loved that there were many people to meet and hear their stories. The location was great. I was a student with the RIE program on Melrose. I was able to walk everyday. The bus system is also easy to use and just around the corner from her place. Mosquitoes at night were my only problem. I had not thought LA would have mosquitoes. It was also quiet. For there being a lot of residents it was quiet at night. I didn't hear a thing. There were perhaps 7 guests there when I was there. Being an introvert it was great, that with all the guests, I could disappear and not be noticed so much. Other classmates of mine were the only guest in their airbnb. It was noticed if they came and went or hid in their room to do homework. Jamie is very helpful. As are the other residents. Ask for anything you many need, or can't find. If you have an opportunity to stay here you will enjoy every minute of it. This airbnb offers a nostalgic experience of LA that you won't forget. It is warm, welcoming, comfortable, clean, convenient to tourist attractions and transit. You will be glad you stayed.
---
This is a great place to stay. Jamie is a kind host offering a peaceful, charming, comfortable and clean environment to enjoy a stay in Los Angeles. The house is close to restaurants, public transportation, central and its located in a safe area.
---
This place is really cool. I work in Beverly Hills which is about 10 or 15 minutes away depending on traffic, and I love to hang out in Hollywood which is right up the street. Not to mention Larchmont Village, with which I was previously (URL HIDDEN) my new favorite place in LA! I love the people, the bed is comfortable, clean and well appointed, and the artistic relaxing outdoor living area is unique and magical. Highly recommend!
---
Jamie's place was the perfect home to stay for my first month in L.A! She is the best host I have ever had and made me feel like this was my home too. People living here have now become my friends. I will definitely recommend The Pond to anyone who wants to not just have a place to sleep but also for it to be an experience in itself.
---
Jamie lives in a beautiful home, in a beautiful neighbourhood, and I had a wonderful time walking around the area, I wish I could have stayed slightly longer. The communal areas are kept clean, everyone staying there was nice and helpful. Would love to come back, though would maybe stay in one of Jamie's bigger rooms, had I not been on a budget.
---
Jamie was so friendly, accommodating and lovely! Not to mention, her dogs are welcoming and adorable as well. The neighborhood is very walkable and safe, and parking is easy to find. Location was so convenient -- I was never more than 30 minutes away from where I needed to be, whether it was Hollywood, WeHo, Beverly Hills, or even Glendale! Jamie was a wonderful host, I highly recommend.
---

This is a wonderful HUMAN experiment. Throw a combination of friends and travelers from all corners of the World (potatoes), each creative in their own special way (spices), into the same proximity (pot), and see what happens.

As much as I love and make use of all the wonderful aspects of 'Virtual Life' (internet, texting, social media, gazing endlessly into the deep blue screen :-), there's nothing like flavorful vegetables simmering, taking on each others' aspects, together in the same 'pot', and the delicious 'Human Stew' that ensues.

Arden Pond is my personal residence. It is a 'compound' that houses the following listings within her gates: Hopewood, The Clubhouse, Sunny Central, Chill Artistic, Garden Room with View, Fun Artsy Spot and Budget Share. It is a place for people from everywhere to come together, create, collaborate and enjoy the pleasure of good conversation and real contact with other human beings. We have an international family of guests and on any given evening you likely find a happy bunch sitting in the communal outdoor living room - whether they are guests, friends or previous guests, it's a place of inspiration, love and sharing.

I have been an artist, photographer and filmmaker of one sort or another for all of my adult life. I have contributed significantly to the creation of such distinguished films as Reservoir Dogs, Secretary, and The Painted Veil, among others.

I have long been fascinated with the concept of Boutique Hotel meets Parisienne Salon. Arden Pond, Hopewood, and it's various satellites, are creative, fun-loving, healthy and supportive environments. As a guest you can have as much privacy as you desire; and are also invited to join in various "house family" dinners or outings.

Experience the MAGIC! Ask anyone who's stayed here!

Hope to see you soon!

语言:
Deutsch、English