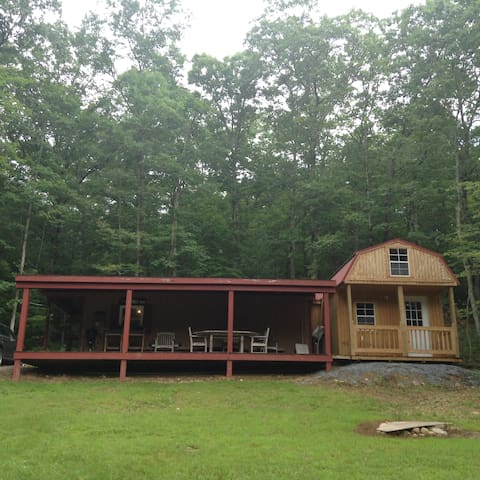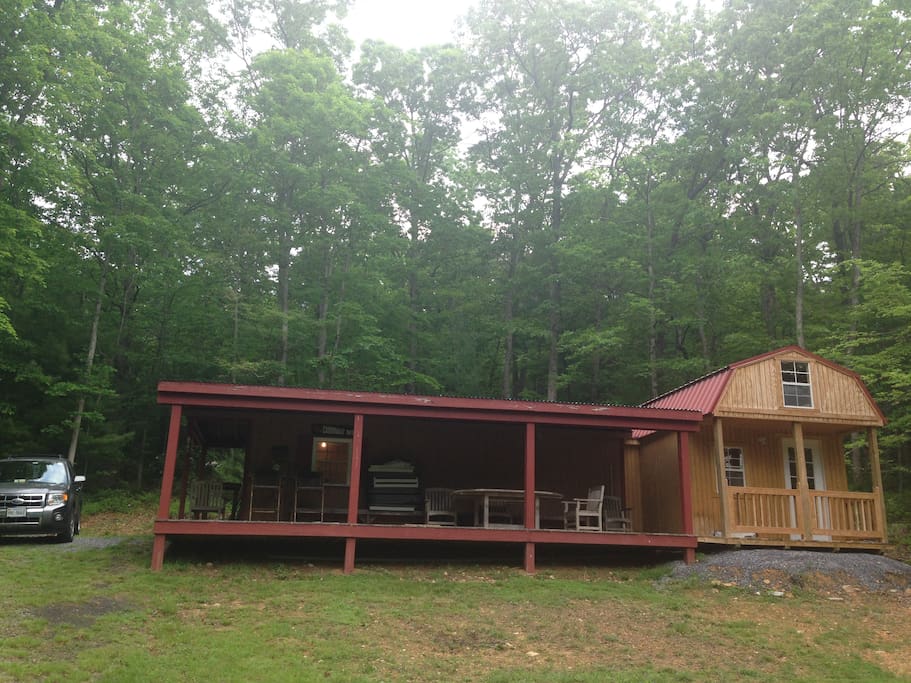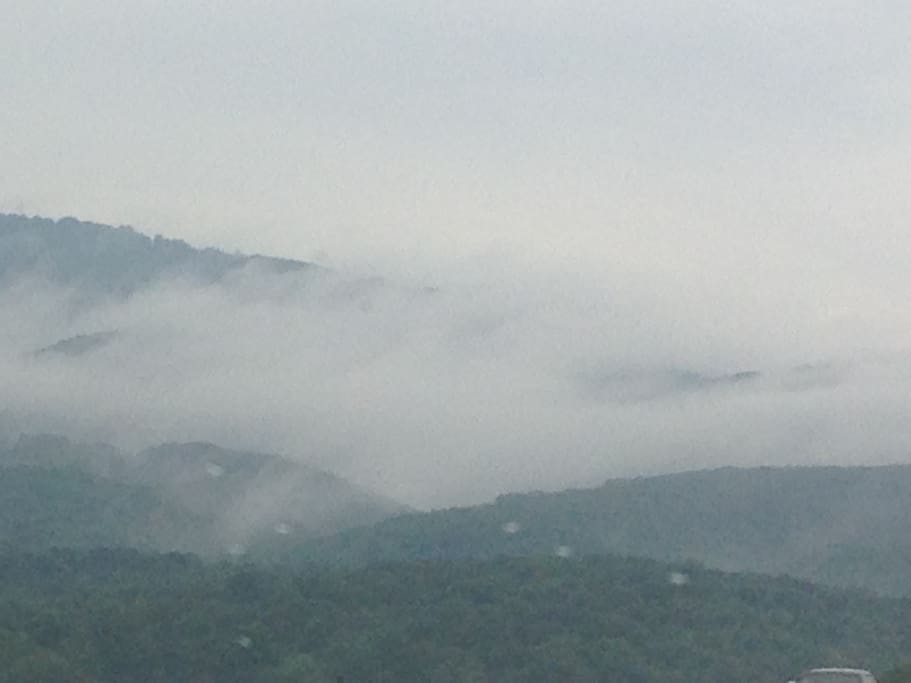 Cardinals Nest, Lost River, WV
Dog Friendly! Very remote. 2+ hrs from DC. Cardinals Nest is in George Washington National Forest, & my personal retreat... We welcome respectful, diverse folks.
You'll see some very old properties upon approach to my cabin, but Not once on my land.
房源
This fully furnished, fully stocked, approx. 600 sq ft cabin has a full (yet super simple) kitchen, full bath, and 3 semi-private separate sleeping areas. (One semiprivate bedroom, and 2 open sleeping lofts (best accessed by the agile and nimble/and comfy with treehouse like camping experience) that are built across from each other in the great room-- so not a 3 bedroom in the traditional sense. re: the lofts ---NOT good for small children. NOT safe for children. But for a creatively built tiny cabin, it's 3 separate sleeping areas with plenty of space to spread out...) The semiprivate bedroom features a full sized bed. The lofts are accessed by pull down attic ladders and feature recessed Edison lighting. Each loft has a window, foam mattress (approx 3" thick). The wood finishing details in this room are gorgeous.
There's also brand new a/c unit, hunter ceiling fan with light, large leather sofa and matching chair.
The huge 10x30 covered front porch has a large teak table and chairs. There's also 2 zero gravity chairs you can put out and use on the porch. Please put them back in the house before you leave. it'll keep them in better condition much longer.... The porch is where I find we spend a lot of our time when there... (There's also 2 smaller 4x8 covered porches...)
房客使用权限
You will have the place to yourselves. This area is very remote/rural. You may/will see wildlife both large and tiny, and your dogs may smell something great and run off... Please be very mindful and keep them under your control out here.
与房客的互动
I'm based in Alexandria, VA, and will NOT be onsite, however I'll only be a phone call away. There is a hard line phone in the cabin, as cell service is a no go in the forest. My cell number is on the phone in the kitchen if you need to call me. If you use the phone for anything else, I ask you please keep it short, and use the brass honor box in the kitchen, leaving a bit of cash if used. Local and Long distance calls are both charged for out there.
其他注意事项
Big House Rule -- **Leave no trace.** Bag up all kitchen and bathroom trash and take it with you upon your departure... There is no trash service out here. If that's not your style, you may want to book elsewhere. I sincerely thank you for understanding. Cannot emphasize this one enough. I'm super easy going, but this is the "main" rule.
I will provide bedding and basic towels.
****Please be VERY mindful of water conservation when using sinks and the shower. The ONLY water source here comes from rainfall collected into a small cistern.
Bring your own food and drinks, including the drinking water if you're unsure about drinking water that comes out the side of a mountain. I Do have some fresh spring water stored in the kitchen. It comes from a spring on rte 55 (it's tested annually for purity). I love it. Ive been using it for 12 years... It's totally up to you if you want to try it. (But seriously, don't drink the tap water)
- Please, help yourself to the books, arts and crafts, while you are here. Work on one of the vintage needlepoints, play a game, use a coloring book, etc.
- A note about the phone. Once you pick up the receiver, it'll take a few seconds before you get/hear the dial tone.
---
---
不适合儿童(2-12岁)入住,或不能为儿童提供安全的住宿环境
**House rules about cleaning.*** Please be in agreeance with - and happily willing to do --**Take all trash out/away with you and dispose of it at home or at a dump/trash site on way home*** Leave No Trace. Please wash and put away any dishes you use and wipe down anything that needs it. All necessary supplies are there. Please strip any bedding you use and put bedding into the hamper. Please hang any damp items over the shower rod. If any dog hair or accidents, a quick vacuuming and cleanup Please. (it'll only take you 10-15 minutes, I swear. The place is blissfully small!!!)
Yes, I know I charge a cleaning fee, but that covers only what I have to pay for somebody to drive out to the cabin, do an inspection/check it's condition for damage and report back to me, and take the laundry into town (1/2 hour away) and return it. So it's really and inspection and drive into town for doing laundry fee :)
- If we've agreed you can bring your dog, you Must crate your pooch when you leave for activities. I have provided the crate, so this should be an easy rule for everyone.
- No smoking in the house. If you Must smoke, do so outside, and put the butts in a can of water or the provided ashtray (on large table)that you will clean out later. Do not throw butts around the property. It can start a major fire, and harms the wildlife.
- No candles unless they are in a glass jar. NEVER leave unattended.
- Do not skin/dress your hunt/kill on the property.
- Please don't bring your shotgun and skeet shoot all over my property. So not cool. (Yes, it just happened... Took me three weekends to clean up all the casings and clay)
- If you are an LEO or military, we can discuss where to practice targets. Handguns& Rifles. No shotguns/birdshot/buckshot, etc. --If you're not in one of the fields mentioned above, please don't use my property as a shooting range. I had a recent guest almost destroy some pipes and septicfield running into house because he couldn't shoot, and he caused damage, so......
- This is not a party house. It's purpose is for hikers, nature lovers, or hunters who desire to completely disconnect and have some solitude.
- No fire pit fires on windy days, or otherwise harmful (dry) days. Keep gallons of water outside if you do use the pit. Fully extinguish each fire before going inside, leaving, etc...
-Please only use the grill in the driveway, not on the porch. Use the extension cord and pull It onto the driveway. It flares up sometimes.
-Housetrained dogs may be ok, let's discuss it. All certified Service dogs/working K-9s, therapy dogs, Welcome!!!
-Take your perishables out of the frig/freezer -- but feel free to leave non perishables there for the next guest to enjoy... It's kind of fun to discover new foods/beers/wines that way. Think honor and share system, hostel style, if you will...
-After your departure, email me and let me know if any supplies are running low, so I can get out there and replace them, please.
- Please also let me know if anything was broken, stained, etc. ahead of time, before I find out on my own. I will probably be much more forgiving if you are honest up front.
- And any ideas/suggestions welcome!
---
I live in a high rise in Alexandria, VA, but this little cabin in WVA is my heart.... For my career, I work in Global stuff, and I love to travel for fun. Love (obsessed with) cabins, small homes, good coffee, wandering with NO real agenda, and my rescue dog, Fibi. I'm s…