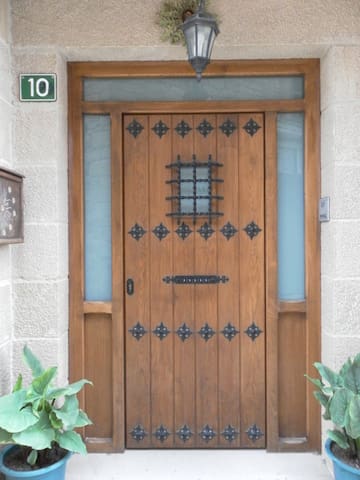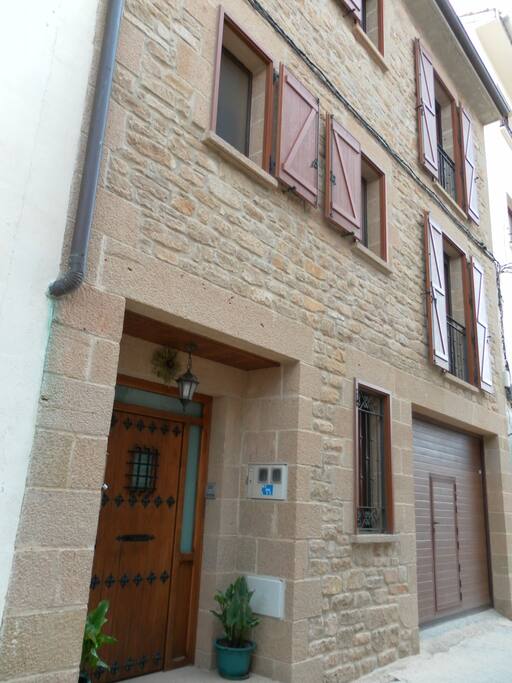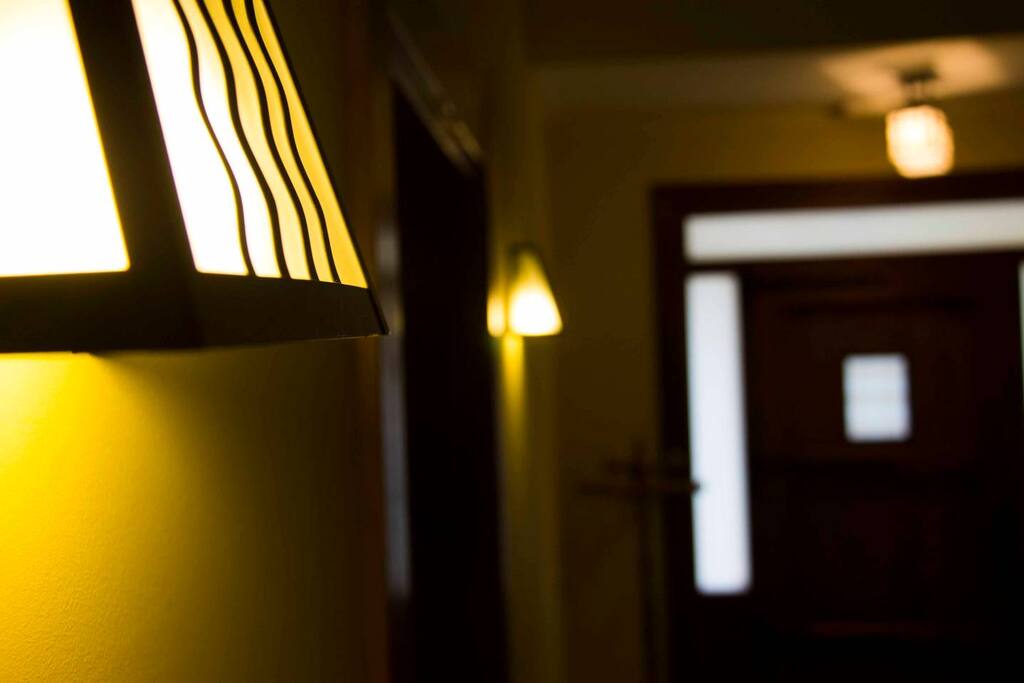 房源
Arantzaenea is a new rural house, inspired by a typical rural arquitecture. It has pretty rooms from which you have great views, You will find a tranquil and peaceful space to relax and enjoy your vacation.

The house is well located in the middle-south region of Navarra. It is a perfect location for any day trip to capital cities as Pamplona, Logroño,Vitoria, San Sebastian or any other excursion around.

THE HOUSE:
It is located right in the middle of the town and it can host 8 people.
Rooms are like:

Ground floor:
Big Living room and Kitchen
Games room
Rest room
Spacious Terrace

Top floor:
2 DoubleBed rooms (+1 additional bed)
(URL HIDDEN)Triple Bed room
1 Spacious Bathroom with bathtube.

Amenities:

Kitchen:
Washing machine, iron, dishwasher, big oven, microwave, fridge, stove, coffee maker, grill, juicer, toaster, mixer and full cutlery.

Living room:
Chimmeney, Tv-Usb reader/recorder, Home cinema.

Bedrooms:
Bedclothes, towels.

Bathrooms:
Hair dryes, towels.

Game room:
Table games, music stereo, books, mags...

Extras: Floor Heating system, FREE WIFI, baby hammock...

Environment:

Located in the middle region of Navarra, on the south-west slope of the Mountain of Montejurra. Great starting point for any excursion around the hill.

The town is 550 m high and there are living around 1200 inhabitants. Despite its little population, Arroniz offers loads of services. Medical health service, Pharmacy, Library, Typical Basque country sport building (fronton), Taxi service, Bus, Food store, market, winery...


Nature Activities:

Trekking, Mountain Bike routes, water sports, climbing...

. Montes: Montejurra, Monjardín, Peña Costalera, Yoar…
. Despoblado de Baigorri
. Sierra de Lokiz
. Parque Natural de Urbasa-Andia
. Nacedero del rio Urederra
. Vía verde del Ferrocarril Vasco-Navarro
. Encinas milenarias en Mendaza y Eraul
. Embalse de Alloz (deportes acuáticos)
. Peñas de San Fausto, Eraul (escalada)
. Observatorio de las aves en el embalse de Las Cañas
MONASTERIOS Y SANTUARIOS
. Ermita de Mendia
. Ermita de Santa Maria
. Monasterio de Iratxe
. Monasterio de Iranzu
. San Gregorio Ostiense
. Santuario de Codés
FIESTAS TEMÁTICAS
. Día de la tostada en Arróniz, último fin de semana de febrero
. Fiesta del esparrago en Dicastillo, Mayo
. Batalla de Lacar, Junio
. Semana de la Brujería en Bargota, Julio
. Semana Medieval en Estella, Julio
. Fiesta del toro ensogado en Lodosa, Septiembre
MUSEOS:
. Museo del aceite. Ekolo de Arroniz
. Museo etnográfico Julio Caro Baroja
. Museo Gustavo de Maeztu en Estella
. Museo de la Trufa en Metauten.
. Museo del vino de Bodegas Iratxe
OTROS:
. Visitas guiadas al Trujal Mendia (Telf. (PHONE NUMBER HIDDEN))
. Villa de las Musas de Arellano
. Circuito de Navarra de Alta velocidad, Los Arcos
. Paintball, en Carcar y Zurucuain
Camino de Santiago
. Cerco de Artajona
. Visitas monumentales a Estella, Los Arcos, Viana, Olite…
---
We loved the remote location for being quiet and romantic. The Flat is fully equipped with everything you need. Game room, Full kitchen, fireplace, car parking, wonderful patio with hammocks and a glorious view of the surrounding farms. Comfortable beds and again a great view from the window. Shared bathroom w/shower, toilet and bidet. The negatives are no air conditioning and it gets hot – a ceiling fan would be wonderful. The town has a very small grocery & pharmacy. But the two restaurants were only serving snacks and liquor due to the festival. So food options are at a minimum unless you have a car and can go to another town. There is a table in the Game room with tons of local information – restaurants, tours, maps, etc – but it is ALL for outside the town and there is not really any bus service. We had to take a VERY expensive Taxi to Arróniz. Oh also there is a winery and olive museum – both closed and two beautiful churches. Finally the wifi is spotty at best – really needs to be improved. All and all – if you have your own car, stay at a different time other then July 6-14, don't need wifi and want a romantic, quite getaway – this place is perfect.
---
La casa tiene todo previsto, las máximas comodidades. La higiene de lugar exelente. La ubicación brinda una muy bonita vista del entorno. La terraza , las plantas , los detalles que la anfitriona ha tenido en cuenta lo hacen un lugar encantador. Y sobre todo la amabilidad y disposición de la anfitriona. Muy recomendable. Sin duda repetiría.
---
La casa es maravillosa, toda nueva y decorada con un gusto exquisito. La terraza es una delicia. No le faltaba de nada, hasta batidora tiene!!! Nos encantó la ubicación pq está a una hora de muchas cosas que quisimos ver. Ella, aunque estuvimos poco con ella, nos pareció una muchacha muy "enrollá", nos vino a explicar que podíamos ver y nos facilitó un montón de información.
---
Our host was very welcoming and even if we only stayed one night, this didn't seem to bother her. The house is very clean, the rooms are large and nicely decorated and the bathroom modern and very pleasant. We could even have used the kitchen if we had intended to, for our host doesn't seem to live there and her mother suggested to do so. It was a nice stop in our trip! There is a large swimming pool near the house where you can go on foot... the children enjoyed it !
---