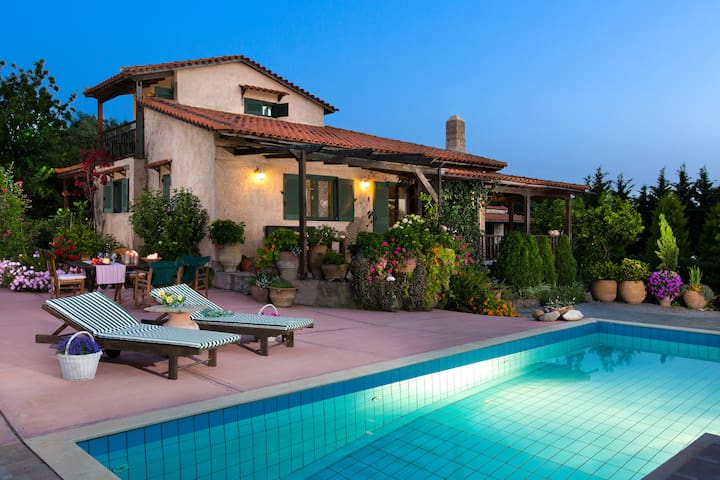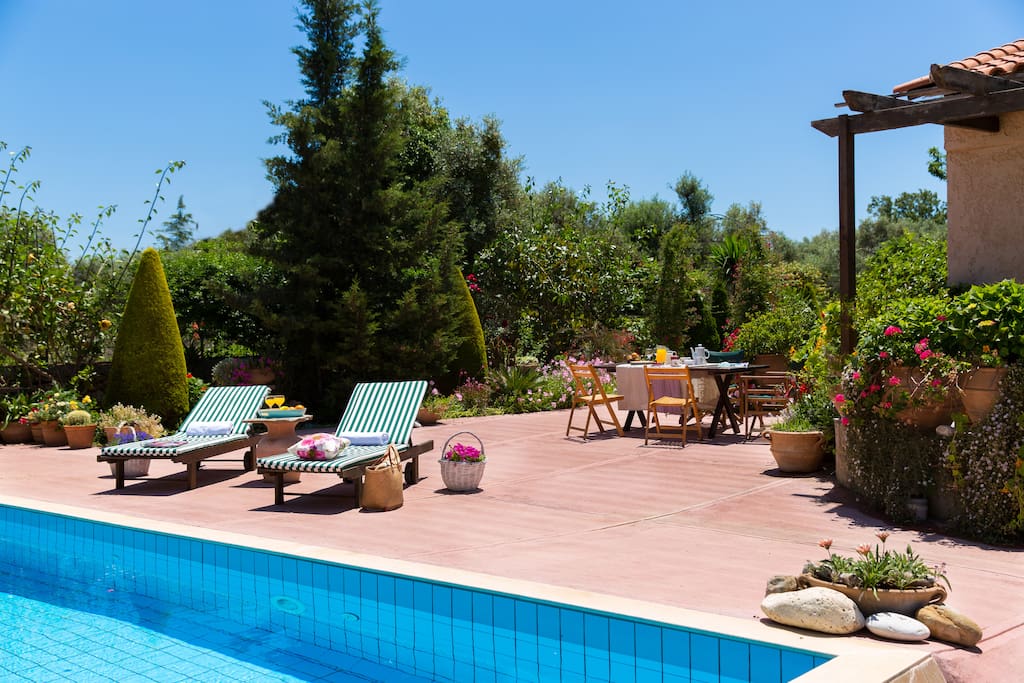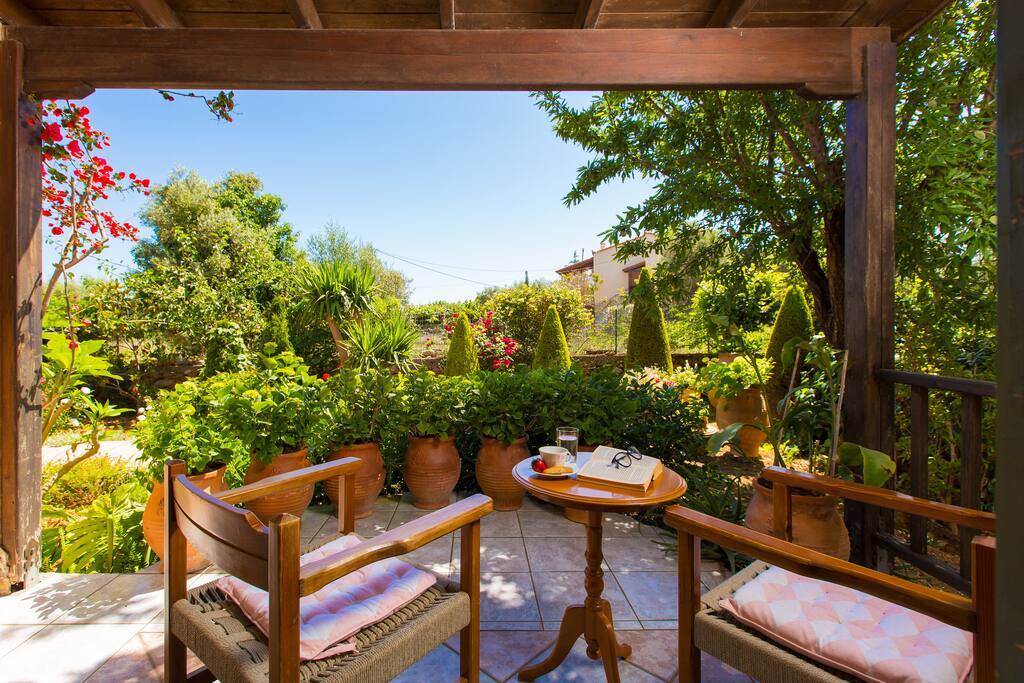 Villa Elli is ideal as a peaceful hideaway and combined with a car a perfect start point for any of your Cretan adventures. Prines village is at the center of Crete making it easy to visit the whole island. It also has easy access to all amenities.
---
Villa Elli is a beautiful place in the Rethimno country side, secluded and quiet. We were very pleased with our choice, especially since Rethimno is a very central location to visit Crete. You definitely need a car but it was worthwhile. We would also like to mention the excellent service provided by Kostas, all our needs were answered almost immediately by his staff, even when we were in urgent need of a dentist, they found us an excellent one in a few minutes. Many many thanks.
---
Everything was just fine. The villa is in a convenient location, everything is clean and tidy The house had everything you need to relax. The only drawback is that the villa is a bit out of the way and you need a car. We are very well rested and think what else we will order again if we want to visit Crete again
---
The accompaniment of Kostas and his colleague Sophie were very good. Both were available at any time by phone or via whatsup. All requests and inquiries were always answered to our complete satisfaction.Our accommodation - Villa Elli - has not only met our expectations. No, it was actually more beautiful and better than expected.The owner - she lives next door - is a very loving and very friendly woman.We can only thank her, as well as Kostas and Sophie. We had a very nice holiday. The accommodation is in our opinion very well near Rethymno (10 min by car), Plakias in the South (40 min by car).In the village Prines itself there is a very nice and good restaurant (ionnis tavern), which we can recommend - especially because of Ionnis and his very friendly and friendly dealings with his guests as well as his good food. Here we were not only once a guest. As recommended to all who seek peace and at the same time the proximity to Rethymno and its beaches Villa Elli. It was very nice to be a guest here. AND, we will surely come back. Absolutely recommendable! PS: We had the offer from Kostas used , the car rental "Best Cars Rental Crete" and can recommend this absolutely. It was all for our best. All best wishes from Hans, Christoph and Jutta
---
Our stay at Villa Elli was really very nice. We arrived late at night and the host had left us groceries and a bottle of wine. Elli also baked us a gorgeous cake. We spent most of our time outside in Elli's beautiful garden - which is really very special - we were early in the season, so it's wan't so warm - but were happy in the sunshine around the pool. We had forgotten to bring a British adaptor and Kostas was kind enough to organise getting one for us, and also printing our boarding passes - everyone was really very helpful and friendly. This was our first visit to the island of Crete & we will certainly return as there is so much to explore. We will definitely book Villa Elli again if it's available.
---
Vi hadde et fantastisk opphold på Villa Elli! Vi var en familie som reiste med et lite barn. Det var masse fine leker i huset som kom godt til nytte og barnesengen stod klar når vi kom. Vi ble veldig godt mottatt av eieren, Mrs. Stella, som gav oss ferske grønnsaker fra hagen sin:-) Kostas ordnet alt det praktiske med veibeskrivelse og gav oss tips til ting å gjøre på Kreta. Han var veldig imøtekommende på e-post og svarte alltid raskt. Huset var rent og pent, hadde en fantastisk hage, et fint basseng og lå fint og skjermet til. Takk for et herlig opphold! Vi kommer gjerne tilbake:-)
---
La anfitriona Elli es lo mejor que tiene Villa Elli, nos trajo a regalar preparado por ella mismo deliciosos platos tipicos, exquisito!. Nunca nos faltó nada, todo limpio. Cerca de la casa en Prines hay una Taverna "To Steki tou Giannikou" donde se come riquísimo. Recomiendo a "Villa Elli". Muchas gracias por todo.
---
Lovely villa surrounded by idyllic gardens. The Eco garden is a fantastic touch and the vegetables are delicious!!! Although on a main road, the area in quiet and relaxing. Kostas was helpful throughout and his communication is great. The pool lights only stay on for an hour at night but I'm sure Mrs Elli would be happy to extend the time. The house is very traditional but the modern amenities (air con, wifi) work well. The bathroom shower is handheld and would be better fixed to wall but this didn't dampen our experience. We requested a shop before arrival, which was perfect, as we landed very late. Mrs Elli left us traditional Greek delicacies in the fridge which we could enjoy on the nights we barbecued. It's 6km from Rethymnon, so you would ideally need a car, although there's a good bus service from the town of Prines. Prines is a 10 minute walk from the villa and there's a fantastic taverna called Giovanis and a great little convenience store near the wine bar. Rethymnon is stunning, lovely shops and great restaurants! Mrs Eli or Giovanis will call you a taxi into Rethymnon, as many taxi drivers do not know where the villa is. It should be around 10-12 euros into reythmnon, agree a price before to avoid being ripped off. Overall, we had a fantastic time and would return to this lovely villa.
---
My name is Kostas Vasilakis and I have studied marketing and business management. Being already an owner of two successful villas and co-owner of DesignGraphic, a well known web development company in Greece, I started to manage other villas in 2012.

I have the full management of all the villas that I represent, knowing everything about them and the areas where they are located.

My aim is to help the homeowners to manage their vacation properties better and guests to relax and have the best experience on their holidays with 24/7 service providing advice for all the matters during their stay.

Let me be your personal advisor for your holidays and let's start organising your trip in Crete together!

My company which called "etouri" is located in 271 Arkadiou Str. Rethymno, Crete and it is approved by the Greek Tourist Organisation.
语言:
English