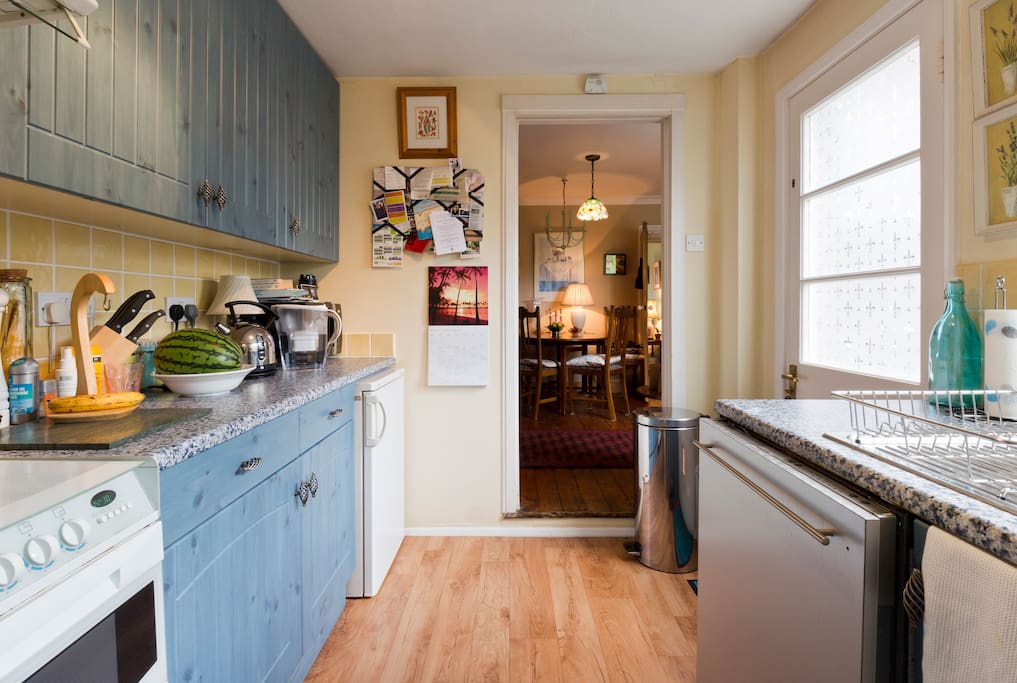 Pretty double bedroom in charming Cobham cottage.
I love my Victorian house with its period features and charm in up market Cobham, the best location in Surrey. Your bedroom has private loo and washbasin, my sitting room with original fireplace, dining room, shared bathroom, pretty south west facing cottage garden and parking. It only takes 4 minutes walking to the very attractive high street, Waitrose, shops and many restaurants, river Mole and on to beautiful Painshill Park.
---
The loo in the room is VERY small and there are no hooks to hang things. Stairs are steep. Room is smaller than it looks. Breakfast is good; Carolyn is gracious and accommodating.
Thank you Ro, I do welcome constructive criticism but in this instance I feel it is unwarranted. Yes the loo in the bedroom is small (at least you have your own) but you can close the door unless you are a very big person in which case you can use the loo in the roomy bathroom. There are 14 coat pegs/hooks on the two bedroom doors along with provided coat hangers so that is plenty for one night. Guests who need to can use the wardrobe. The bedroom measures 11ft x 12ft so in the property profession that classes as a double bedroom which is what I advertise so it is not misleading. The pocket sprung bed is a double and room to move round. Plenty of cupboards and chest of drawers account for this space. Regarding photography this was done by the AIR BNB professional photographer and is an ACCURATE reflection of the property, they use an angled lens sometimes. The property is an English Victorian cottage and the rooms are never huge, the steep stairs are typical of 1890 but I do warn older people to take care. I received £47 from Air BNB to accommodate you both and serve breakfast which is very cheap for the town centre in upmarket Cobham. The Hilton or Woodlands Park Hotel charge £130 per night so I guess you can take your choice for the money! My house is not perfect of course but for the location and facilities it is excellent value. I am glad you enjoyed breakfast and hope you will return to appreciate my hosting.
---
Carolyn is absolutely lovely! I fully enjoyed my short stay with her and wished I had stayed longer. Her home is charming and quaint! Love the style and the way it's decorated! So many flowers, clean safe and just lovely in every way! She made me breakfast and gave me tea and tar…
---
Carolyn is one of the most hospitable Airbnb hosts I have met! She ensured our stay was extremely pleasant the minute we walked through the door. Her cottage is delightful and the bedroom had everything we needed (including robe and slippers!) not to mention how comfortable the b…
---
Carolyn was an excellent host. Very clean, updated cottage. Great location in the middle of Cobham. A very short walk to shops on high street Cobham. I highly recommend staying at Carloyn's Cottage. Thank you Carolyn for an enjoyable stay.
---
Friendly, honest and totally considerate. My home is definitely my castle. I worked in central London for over 20 years as an estate agent for a high profile company so I know what people like (well most of the time!). I will make you very welcome and you will love my home and…
语言:
Español、Français