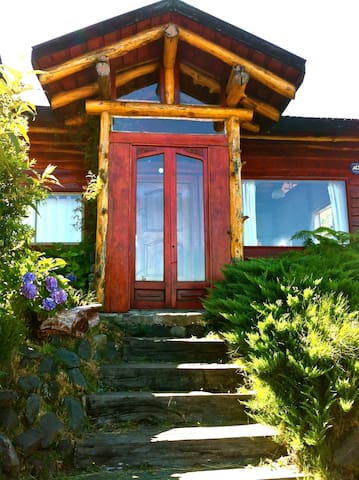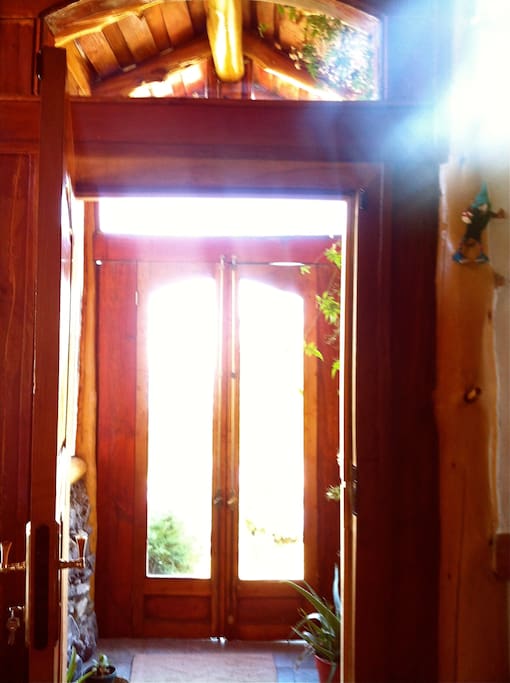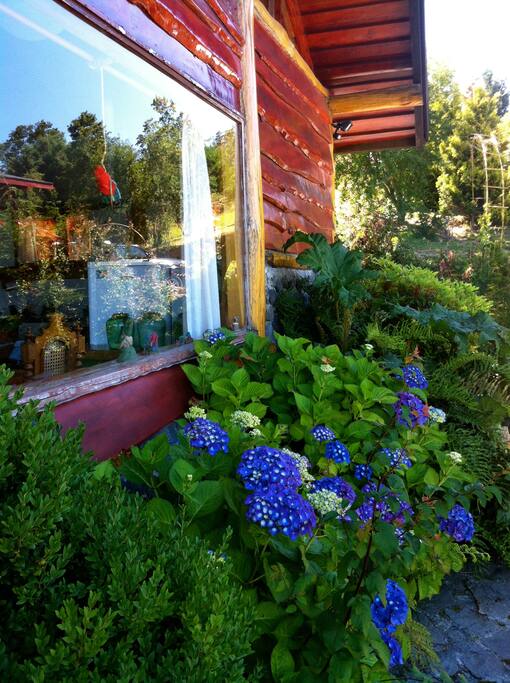 casa es de 2 plantas, en el primer piso hay un dormitorio en suite con una estufa a leña,vestidor y baño. un gran living con cocina americana, una estufa a leña para calefacción, una cocina a leña, una cocina a gas, heladera,microondas ,vajilla y elementos para cocinar,ollas,bandejas etc.un baño para visitas,una lavadora de ropas.
segundo piso tres dormitorios con baño y un pequeño living.
estacionamiento gratuito para varios autos. internet mediante un modem.
vista al lago y volcan.
房源
This beautiful & sunny house is on the way to the volcano. With the most awesome views in the area. Huge garden. Can suit to 10 people.
Fully furnitured, cozzy, mountain style.
We may help picking you from the airport (for long term). There are 3 bedrooms & 1 bathroom on the 2 floor and 1 massive bedroom with beautiful bathroom on the 1 floor. All the house is very open & bright.
Parking for 4 cars.
An open area for barbaque outside (made of lava rocks from the volcano) in the middle of trees.
With a wood stove in the kitchen & 2 fireplace.
Distances: 10 min. to downtown Pucon (amazing bushwalk to go walking), 15 min. to Volcano, 30 min. to Villarrica, 1:30 to Temuco (airport).
Bills, internet & satellite TV included.
The lanscape photos where take from the house.
In the front there is another amazing house:
https://www.airbnb.com/rooms/691710 special price for renting both.
ABOUT THE PLACE:
Villarrica is one of Chile's most active volcanoes, rising above the lake and town of the same name. The volcano is also known as Rucapillán, a Mapuche word meaning "House of the Pillán". It is the westernmost of three large stratovolcanoes that trend perpendicular to the Andean chain along the Gastre Fault. Villarrica, along with Quetrupillán and the Chilean portion of Lanín, are protected within Villarrica National Park. Ascents of the volcano are popular with several guided ascents reaching the top during summer.
Looking forward to hear from you....
与房客的互动
estare disponible para solucionar cualquier ayuda.
---
We had a wonderful experience in Pucon at Mauro's place. This is one of the most gorgeous cabins I have ever seen, with an absolutely breathtaking view of Pucon that is hard to capture in words. Completely wonderful and beautiful home. The place is very difficult to find and unfortunately Mauro was out of town that weekend for reasons beyond his control so arrival was a bit challenging (mostly because of my botched Spanish). Once you are there though it's easy to get to from town - about a 10-15 minute drive. DO have a car that can handle a bit of a bumpy, uphill road though. It's totally doable but the drive can get a bit hairy, especially in the rain. There is no wireless internet but Mauro provides you with a modem to connect to your laptop. This surprised us a bit and we had to go into town to get the modem but Mauro could not have been more kind and communicative throughout this process. This was one of the best weekends of my life -- I highly recommend this place if you want to stay in a natural, removed setting with dear friends taking in some of the most beautiful landscapes our planet has to offer.
Gracias Nick por tu atenta evaluación, te pido disculpas por el internet pero para disfrutar de la montaña, es la única opción ya que tecnicamente por el momento es imposible. pero el modem ayuda bastante. espero si algun dia regresas tenga resuelto el tema. Un fuerte abrazo y mucha suerte en tu vida.
---
We enjoyed our stay at Mauro's house in Pucón. The house is lovely and has amazing views!! The large dining table and comfortable sitting area are not common for Chile -- a nice treat. The drive up on the dirt road was a bit rough; I recommend 4x4 if possible. We had some issues with the internet that took us a couple of days to resolve, but in the end we got it sorted out. Mauro was easy to communicate with throughout our stay and showed genuine concern for our comfort and enjoyment. Please note, the listing indicates there are five bedrooms but there are actually four: master bedroom with queen bed, another room with queen bed, one with two twin beds and one with two sets of bunk beds.
---
The house was lovely, spacious and clean. The views were superb. The location was about 10 minutes from the town of Pucon, including 5 minutes down a dirt road. Mauro was very courteous and prompt in his communications. Since the house was so well laid out, we would have appreciated a few more amenities in the kitchen & bathrooms. Overall, we had very good experience at Mauro's home.
---
We had an unbelievable time staying at Mauro's truly cozy Pucon home. Typical days included leisurely breakfasts on the patio outside of the house with the beautiful lake and sunrise in the distance, for lunch we would make the short drive (10 mins) into the quaint town of Pucon, in the afternoons we would return to the house for wine and food overlooking the most beautiful sunset I have ever seen, and we would cap off the cool/chilly Pucon nights with a log fire (inside or outside, whatever you prefer). Mauro was incredibly helpful and stopped by numerous times to make sure we had everything we needed and helped coordinate local activities, like horseback riding and sailing. We all hope to make it back one day! Also, we managed with a intermediate automatic rental without 4x4, but would definitely recommend if cost is not prohibitive like it was for our group.
---
We spend a week at the Big Cozy Home with my family (8). And we enjoyed every moment there. The house is located in the middle of the road between Pucon and Villarrica Volcano. If you like the outdoors and be in a quiet place and enjoy the views and vegetations but also close to the town (10min in car) this is the place. Also the house is full equiped , big kitchen and dinner room and the possibillty for barbecues outside. The house is exactly how looks in the picture, clean and perfect views. I will comeback for sure, but next time for longer period of time. Ah and Isabel is the best, super nice and helpful.
---
Mauro and his place are fantastic! We stayed for 2 nights in the large house and the space is a full sized house. With 5 adults, it was nice to be able to spread out after a week on the road. It has a rustic/cowboy type feel and has every amenity you could need. We were grateful for the washing machine, full dining table and very large kitchen. Mauro built the homes on this property from native woods, stone, etc. and it is just beautiful. He is a talented, hard working man. The location is a quick drive outside of town (not walkable for groceries, etc) up a good sized, gravel hill (4x4 very helpful) and just as beautiful and peaceful as can be atop a hill overlooking the lake in the front and the volcano in the back yard. Sunsets are breathtaking. Comfortable, large, rustic describe best. While the home and location are ideal, the real beauty of Mauro's place is Mauro! His kindness and charm equal the beauty of his surroundings. He has built a wonderful hamlet on this spectacular hilltop outside Pucón and he was so thrilled to share it with us.
---
I was born in Brazil, I am form Argentina and I had been living in Chile for many years with my beautiful wife and family.

I designed and built 2 amazing houses in the best spot in Pucon that I found. I searched for many years until I could get a place where is possible to feel the nature, enjoy inspired sunsets and still be able to reach downtown in 10-15 minutes. The houses were built with local materials, volcano stones and native wood. I used glass in different spaces to enhance the natural sunlight and enjoy the amazing Pucon landscapes (including lake views from the houses).

I enjoy horse riding, writing and my grandchildren.

I owned a hotel, to provide a place in the best conditions and help foreigns to have the best stay is my motivation. Expect to find a tidy, clean and cozy house.

I have a very little english but I try to communicate the best that I can (if I reply back in spanish please use the basic translation tool). My daughter Pamela helped me to translate in english.

I hope that you enjoy the cozy and beautiful spaces, and also be amaze by the stunning views as me.

Call me to explain you how to reach here before your check-in.

Best Regards
Mauro Maercovich

语言:
Español