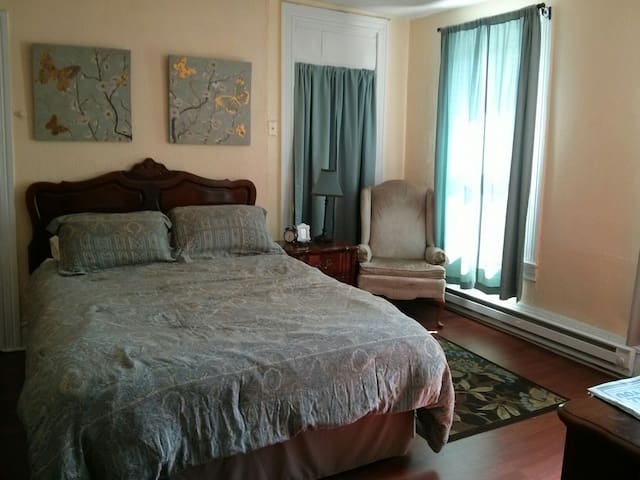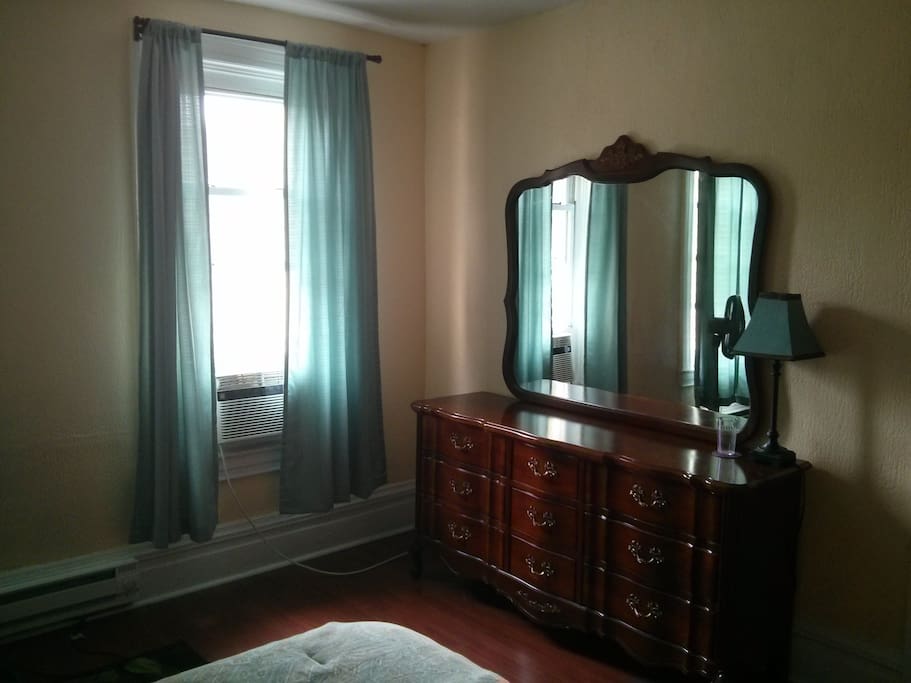 ---
---
---
• Per Airbnb's policies, THIRD PARTY BOOKINGS for personal travel ARE NOT PERMITTED. This means that the Guest whose account was used to make the reservation must be part of the traveling party and will remain in residence during the reserved period. If you make a 3rd party booking, you will have to cancel it yourself (or you agree that we may request that Airbnb cancel it on your behalf), and you will be subject to the cancellation policies that were in effect at the time you made the booking.
• Immediately upon booking, the booking Guest will provide us with the full legal names of ALL individuals who are included in the reservation. For liability reasons and also for the safety and security of our home and everyone in it, YOU MAY NOT AT ANY TIME BRING ANYONE INTO OUR HOME OTHER THAN THOSE GUESTS WHO WERE ACCOUNTED FOR AND PAID FOR IN YOUR RESERVATION AND WHOSE FULL LEGAL NAMES HAVE BEEN PROVIDED IN ADVANCE. 
• All adults included in the booking must be prepared to provide their unexpired US driver's license (or unexpired state-issued ID card, if they don't have a valid US driver's license) or a valid passport upon check in. If you have made an Instant booking and we have agreed to allow a self-check in or we agree to remotely check you in, we require the ID be provided prior to us to your arrival (you can scan the ID or photograph the ID with your phone, as long as it's legible, and text or email the ID to us). 
• For the safety and security of the property, and to ensure that guests are not bringing unauthorized extra visitors into our home, we reserve the right to install and utilize security cameras to monitor the exterior and the entry hall of our home. Guests can rest assured that there are no security cameras in any of the guest's rooms or in the bathrooms. 
• Unless we have agreed to a self-check in, check in is to be scheduled in advance for a time between 4 PM and 10 PM. In order to coordinate our schedule to best accommodate the check in time that you request, at least 7 days before the arrival date (or immediately upon booking if your stay will begin within the next 7 days), you must send an Airbnb message to schedule a more specific 1 hour time window to ensure someone will be available to meet you when you arrive for check in. 
• If you plan to arrive later than 10 PM, you must BEFORE BOOKING confirm with us whether we can accommodate the late check in request. Requests for a later arrival will be considered, but will be dependent on our schedule. Unless we agree IN ADVANCE to a later arrival time, you must arrive for check in by no later than 10 PM on the scheduled arrival date. 
• ABSOLUTELY NO ACCESS WILL BE PROVIDED TO OTHERS IF THE GUEST WHOSE ACCOUNT WAS USED TO MAKE THE BOOKING IS NOT PRESENT FOR CHECK IN. 
• Entry into the front door of our home is via keypad lock; information regarding the access code will be discussed after you have booked. We do not provide a physical key to the front door, so please keep this in mind if you are someone who does not feel comfortable using a keypad lock. 
• The exterior door of the home is to be kept locked at all times, and is never to be propped open. Please double check to ensure that you have fully closed and locked the door each time you enter or exit the home. 
• One bedroom key will be provided; on arrival, you will find it hanging on the hook next to the inside of your bedroom door. Upon departure, return the key to that hook. If you fail to return the bedroom key upon check out, you will be liable for and agree to pay a $10 missing key fee. 
• Airbnb's terms of service specify that the property is to be left in the same condition as you found it. We expect guests to maintain the bedroom in a clean and sanitary condition during their stay, to clean up after themselves in the bathroom and dining room, and to exercise care to avoid damaging our home or anything in it. 
• As the bathroom is shared with guest(s) in the bedroom next to your room, guests in both rooms are expected to clean up after themselves in the bathroom. You may keep a hand towel on the bathroom towel rod, and you will be assigned a shelf in the bathroom cabinet for personal toiletries; please keep all other personal belongings in your room, and your bath towels and washcloths on the door hooks in your bedroom.
• Upon check out, leave all used towels and washcloths hanging on the hooks on the door in your bedroom. Do not at any time place wet or damp towels on the furniture or on the bedroom floor, and do not leave them in the shared bathroom.
• If you encounter any problems at the house, please inform us promptly (by sending a message via Airbnb) so a solution can be worked out. Please don't wait until your departure date to let us know if something needs repaired or if arrangements need to be made to obtain a replacement for any of our items that you've lost or damaged. Even if the problem is something you feel isn't inconveniencing you, we still need to know ASAP so the issue can be remedied and we can have the room ready before our next guests arrive. 
• Be courteous to others in the home; no unnecessary loud noise at any time. QUIET HOURS ARE 11 PM TO 8 AM. Keep in mind that this is a 100+ year old single family home, and like most homes the rooms in our home were not built to be soundproofed. Please take care to avoid disturbing others' sleep if you are an early riser or stay up late, and especially when returning to the home late at night. Other than as necessary to pass through while going to and from the front door and their own room (for guests staying in rooms that must be accessed via the dining room), guests are not permitted to be in the dining room during these Quiet Hours, as it adjacent to our home's 1st floor bedrooms. 
• Recycling is MANDATORY in the City of Pittsburgh. In the "House Manual" section of your Airbnb itinerary you will find the URL for the City of Pittsburgh recycling guidelines. If you would like to review the recycling guidelines before deciding whether you want to book with us, let us know and we'll ask Airbnb's customer service to send the URL/link to you. The Airbnb system will not allow me to directly share a URL or link with you before you book, but by booking our listing you are agreeing to, and are acknowledging that you are legally obligated to comply with, the City of Pittsburgh recycling policies. You can also find these policies online yourself by going to the City of Pittsburgh's website. There are blue bins in the bedroom and dining room for recyclables; do not put any non-recyclable items in the blue bins, and do not put any recyclables in trash cans in the bedroom, bathroom, or dining room. 
• Other than toilet paper and bodily wastes, no items are to be placed in the toilet. Place all feminine hygiene products and their wrappings/applicators, and all incontinence products, in the bathroom's trash can. Toilet paper is to be flushed, not put in the trash. Wipes, facial tissues, cotton balls or swabs, and other non-recyclable items can be placed in the bedroom or bathroom trash cans. 
• Any meals brought into our home must be consumed in the dining room. In order to help prevent household pests and avoid staining of our linens, the only foods permitted to be stored or consumed in the bedroom are dry items (pretzels, chips, crackers, or similar) and water and other non-staining liquids. All other foods, and any beverages that would tend to stain, must be consumed in the dining room. 
• If you stain our towels or bedding to the extent that the stains cannot be removed during routine laundering with our usual laundry additives, or if you cause other damages, you agree that you will be liable for and agree that you will reimburse us for the full replacement cost of the stained/damaged items. 
• Please turn down the electric baseboard heat or turn off air conditioning in your room while you'll be out, and turn off lights/fans/TV when not using them; if you forget to do so, you may return to find that we did it for you :-) 
• During the heating season, TO PREVENT FIRE HAZARD do not place clothes, luggage, or any other items near the wall where the electric baseboard heater is located. 
• TO PREVENT FIRE HAZARD guests are not permitted to bring any type of kitchen appliances or other cooking devices into our home. 
• Except for hair care appliances, TO PREVENT FIRE HAZARD guests are not permitted to bring into our home any steam or heat-producing devices (including but not limited to vaporizers, humidifiers, space heaters, electric blankets, electric mattress pads, heating pads, cooking or water heating devices, or guests' own irons). Hair care appliances are to be unplugged immediately after use. 
• TO PREVENT FIRE HAZARD and risk of other damage, ironing is to be done on the ironing board only, not on the bed or any other surface. So they are available for others, the iron and ironing board are to be returned promptly as soon as you have finished using them. 
• Windows are to remain closed during the winter months and any other time that the heat is in use. Also, do not open the window when you have the air conditioner turned on. 
• The basement is NOT a common area; it is our private space and is completely off limits to guests. 
• Use of our kitchen is NOT included with this listing. 
• If we find that you or your traveling companion have entered any bedroom other than your own, or have entered any other part of our home that was not included in this listing as a guest accessible area, for any reason other than a bona fide emergency (i.e., a fire, medical emergency, or similar situation that involves potential serious property damage or risk to human life), or if you or your traveling companion create a disturbance at our home, you may at our discretion be required to immediately vacate our home. 
• If any action by you or your traveling companion engage in any significant violation of our House Rules, or otherwise cause a situation that we feel is serious enough to warrant our requesting that you vacate our home, you agree to do so immediately upon our request, and you agree that we shall be authorized to on your behalf request that Airbnb immediately cancel the remainder of your reservation. When we contact Airbnb, we will notify them of why we required you to leave. If Airbnb agrees we were justified in our action, you agree that any future charges or refunds will be made solely under the same cancellation policy conditions that would have applied if you yourself had on that date cancelled the reservation, and your security deposit may be also forfeited. 
• By using our internet service and/or sharing the log in info with your traveling companion, you are agreeing to accept full legal responsibility for any internet activity that you or your traveling companion engage in while using the internet connection at the house. No torrenting, P2P (Peer-to-Peer) file sharing, or similar bandwidth extensive online activities are permitted. Harassing or illegal internet activities are strictly forbidden. 
• We provide WiFi access only; guests are not permitted to attach any devices to the modem/router, nor are guests permitted to attempt to change any modem/router settings. 
• We assume no responsibility for guests' belongings. Any guest who leaves valuables or personal items unattended in the house does so at his/her own risk. Please lock your door when you are not in your room. 
• OUR HOME IS NONSMOKING, including the porch/sidewalk/yard. We also DO NOT permit vaping, e-cigarettes, or use of smokeless tobacco. THIS IS NOT NEGOTIABLE. Any evidence of you or your companion having smoked inside our home (including noticeable smoke odors confirmed by a 3rd party) will result in an automatic fee of $100 to cover the time and expense of cleaning and odor removal, and depending on the severity may result in forfeiture of your entire security deposit and possible additional charges if the smoking resulted in any physical damages to the property or furnishings. If you do smoke out on the parking area or public sidewalk, please respect our neighborhood by fully extinguishing and properly disposing of your cigarette butts. Please do not litter the ground with cigarette butts, matches, or empty cigarette packs. 
• No pets are permitted on the property, not even temporarily. 
• Lighting of bonfires, grills, fireworks, sparklers, candles, incense, oil lamps, tiki torches, mosquito coils, or similar items is NOT permitted in the house or anywhere on the property. 
• Illegal activity of any kind is forbidden in the home or anywhere else on the property, including but not limited to illicit substance use, possession of illegal drugs or any controlled substance for which no one present has a valid prescription, and underage drinking. 
• You are responsible for reimbursing the full replacement value of any furnishings or other household items damaged by the acts or omissions of you or your traveling companion, regardless of whether such action was intentional or not. 
• If any action or omission by you or your traveling companion results in damage to the home or its mechanical systems, you are responsible for the full costs of the repairs, regardless of whether such action was intentional or not. 
• You are fully responsible for your own behavior and actions. You are also responsible for the behavior and actions of your traveling companion while they are on the property, and for ensuring that they are fully informed of and abide by the House Rules and any additional conditions as specified in the listing or in our communications via the Airbnb messaging system. 
• The booking Guest (or another adult who is part of the reservation, if the booking Guest is rendered incapable of doing so) is to notify us immediately of any occurrence on the property that involves an injury requiring medical attention that is sustained by the booking Guest or other traveling party member, or any occurrence they are part of that involves a call to 911 and/or is responded to by an ambulance, the Police, and/or the Fire Department, and at our request shall also for our records complete and sign a written statement to document the circumstances of the injury or occurrence. 
• The booking Guest is fully responsible for any and all accidents, injuries, deaths, or property damages on our premises that occur either fully or partly as the direct or indirect result of use of any substance (i.e., alcohol, illicit substances, and/or any other substances that could cause mental or physical impairment) by the booking Guest or other traveling party members, regardless of whether the individual(s) involved used the substance on the premises or elsewhere. The booking Guest is also fully responsible for ensuring that anyone in their traveling party who consumes any alcohol while on the property does so in a responsible manner and is of legal drinking age (which is 21 in Pennsylvania). If any traveling party members engage in underage drinking while off the premises, the booking Guest is responsible for ensuring that the underage individual does not enter our property while under the influence of alcohol. 
• Guests are not permitted to use our address to open bank accounts, open any other type of accounts, file forms with an employer or any school or government agency, have packages delivered, sign up for mailing lists, enter online contests, or for any other purposes that could potentially result in mail being sent to our address. Guests will not have access to our mailbox, and guests are not permitted to list their names on our mailbox. 
• As the booking Guest, you are fully responsible for ensuring that all members of your traveling party are made aware of and abide by the House Rules, any conditions included in the listing, and any additional conditions specified in our communications on the Airbnb message thread. You are also fully responsible for the actions of and/or any damages that are directly or indirectly caused by the acts and/or omissions of yourself and/or by the acts and/or omissions of members of your traveling party. The booking Guest and other adults in the traveling party may be required to sign off on a printed copy of the House Rules when you check in. 
• Failure to comply with the House Rules, any conditions included in the listing, and any additional conditions specified in our communications on the Airbnb message thread may result in additional charges and possible forfeiture of your security deposit. If we discover the violation prior to the end of your reservation period, it may at our discretion also result in immediate cancellation of the remainder of your stay, and no refund shall be given for any unused nights. 
• As per the terms of the Airbnb Host Guarantee, we are hereby informing the "Responsible Guest" (guest who booked the accommodation) that he/she has an express obligation to pay the host for damages or losses for any Covered Property caused by such Responsible Guest or Invitee. This obligation applies regardless of whether the cause of the damages or losses was intentional or accidental. 
• None of the above statements in any way limit or restrict our rights to pursue legal action against any party whose intentional or unintentional actions we believe may have been the direct or indirect cause of any losses or damages to the property or household items. 
• By completing the booking process, you are agreeing to all the terms contained in these House Rules and in the rest of the property's Airbnb listing. If any of the above House Rules or any terms in the listing are found to be legally invalid, or to be contrary to the policies of Airbnb, this shall not in any way affect the validity of the remainder of the House Rules and listing terms.
---
严格
旅程开始前的7天之前取消预订可以获得50%的退款。如果在旅程开始前7天内取消预订,该预订将不可退款。
---
---
---
Big private clean beautiful room with nice decor, bed was so comfortable, close to bathroom, no problems with sharing. The area is bakery square with lots of stores resturants and bars, and my favorite gym. I like to run, felt safe in the neighborhood great location to everything. Lisa and Lee were very nice, booking again for another week. Perfect for a professional travelers like myself
---
Lisa is a great host. She answered our many questions during checking in. They provide coffee and snacks in their dining room. The room and the bathroom is clean. The location of the house is great. It is no more than 20 Mins to downtown (with personal car). Very close to zoo. I definitely recommend staying at Lisa's place.
---
Hi we're Azhar (but everyone calls me Lee) and Lisa. Lisa usually handles the bookings and other communications on our listings. Our listings include an entire dome home, 1 & 2 BR apartments, and Private Rooms (please note that if you're viewing one of our "Private Room" listings, most of those are for rooms in the home we live in, which is NOT the dome house... we only very rarely offer "Private Room" rentals in the dome home, as it is usually offered only as a whole house rental).

One of our listings, our Yaca-Dome, has been featured in Pittsburgh Magazine, and it may be the most unique Pittsburgh property that is offered on Airbnb. We call it "The Igloo" (take a look at the listing photos and you'll see why), and it's usually available only as a whole house rental. With 3 bedrooms, the home can accommodate up to 6 guests. The Igloo offers a relaxing, private setting while still being within the city limits and close to all the great amenities and attractions Pittsburgh has to offer.

The private apartments we offer are located on bus lines that provide easy access to Oakland and Downtown. There is also free on-street parking available.

While we occasionally offer private room rentals in the Yaca-Dome or in the 2 bedroom apartment, most of the private rooms we offer are at the home we live in. In our home, you can rent individual or multiple rooms (including one room with its own private en suite bathroom), depending on availability. Our home is conveniently located near all the amenities Pittsburgh's East End has to offer, and is less than a 10 minute walk to Bakery Square/G**gle. We are also located near a CMU and Chatham shuttle stops. And if you bring a car, plenty of free street parking and off-street parking is available.

Lee has already added numerous green features to our properties, such as an in-floor radiant heating system (in the 1st floor and basement of our home), changed all the lighting to LED & CFL bulbs, installed many low flow water fixtures, etc. We plan to use part of our Airbnb earnings to add more green features. Ultimately, a Net-Zero house is Lee's goal.

Thank you very much for considering us for your Pittsburgh stay,
Lee & Lisa
语言:
Bengali、English