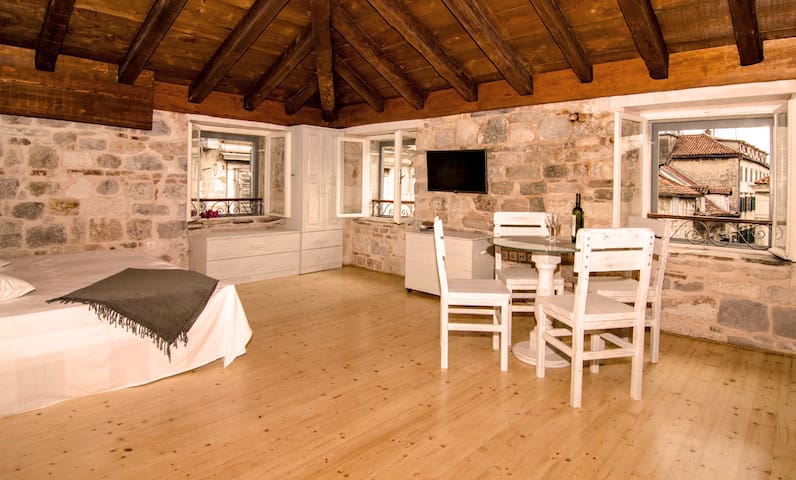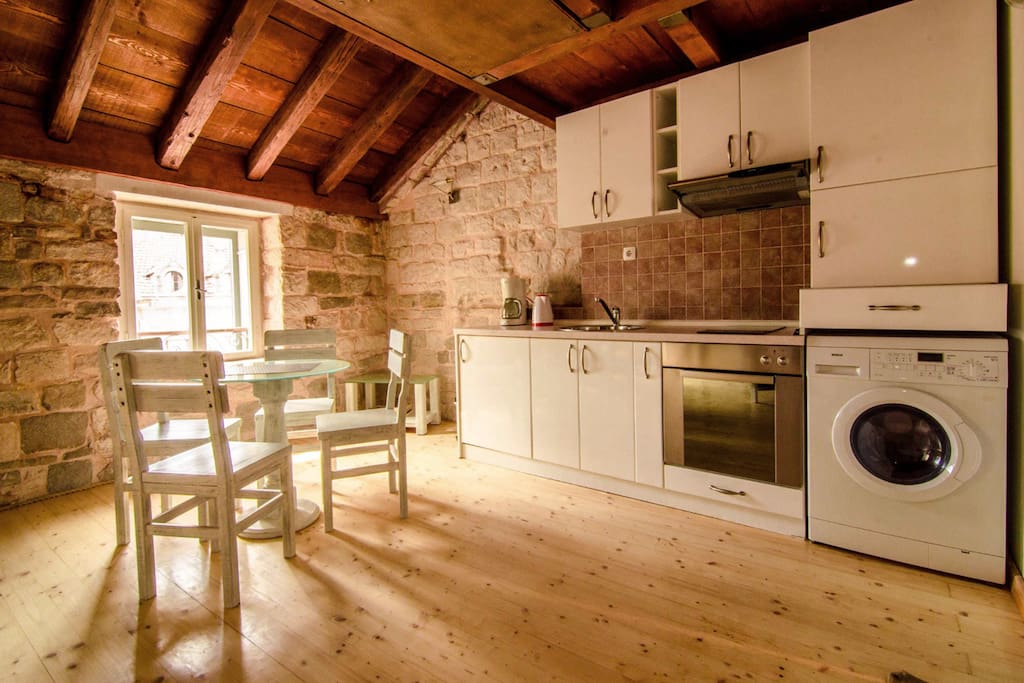 Wonderfully located in the heart of the old town of split, and overlooking the delightful hustle and bustle in the Narodni trg square, this 2 bedroom, studio is ideal for travellers looking for close proximity to everything combined with comfort.
房源
This beautiful, sunny and modern studio apartment was just newly renovated in January 2016. It is on the 4th floor of a historic building in the centre of old Split. The two bedroom (one single bed is a loft/attic), one bathroom is a mix between the typical pale stone architecture, characteristic of the area of the old split, combined with modern new amenities.
Located in the heart of the old town and overlooking the famous square of Narodni trg, it really is in a prime position for walking distance to all the major attractions such as Diocletian's palace with its cathedral and bell tower of St. Domnius, Peristyle square, Procurativa , Split's waterfront and many others. The studio is also just a few minutes walk to delicious eateries, shops, pharmacies and breakfast on the riviera.
Includes: Fully furnished, decorated studio made up of 1 double bed, 1 loft/attic single bed, fully equipped kitchen washing and drying machine, dining table, renovated bathroom, wifi, cable TV and air-conditon.
与房客的互动
Gorana, who checks you in is here to help you with any questions you may have during your stay and of course I would be glad to give you any advice you may need whilst you are visiting my dear home town
---
---
---
We kindly ask you to take care of the property, it is built with love and we would like you treat is as you would your own!
Please respect your neighbours in the building and keep the noise to a minimum.
Please do not smoke in the apartment. There will be a small fee if the studio smells of smoke for our next guest.
Please make sure you always turn of the air-conditioning, stove, candles etc before leaving the property.
Please make sure you always lock the apartment and close any windows. Also use the safe provided as we are not responsible for any lost items.
If you are accompanying small children please always provide supervision near windows in the studio and on the staircase.
---
---
We spent 8 nights in Croatia in airbnb apartments and this was by far the worst stay we had. The apartment is much smaller than it looks, the pictures use "generous photography." There was no place to sit as the couch is made into the bed. The place was not particularly clean, with lots of dust and some cobwebs noticeable. It was very poorly outfitted - no dish towels, or papered towels or even a dish drain in the "kitchen." Fine if you don't even plan to boil water, as there wasn't even a kettle for tea. Probably the most inconvenient and annoying issue was the broken wifi. We let Gorana (seemingly a representative from a commercial rental company) and Jordana know the password was incorrect within an hour of arriving on Tuesday afternoon. On Wednesday it still wasn't fixed, and on Thursday they used the excuse of it being a national holiday. This was a major problem for us as were not able to use wifi as needed for texting and calling and were not able to make other travel plans. We were able to use the hotspot in the square below, but it was a major inconvenience to walk down 4 flights of stairs every time we needed to. It seems like this is are urging issue as another review mentions wifi problems. The "loft" was a rickety stair with an even more unstable railing - and it was very dirty/dusty up there. We brought the mattress down to the main space as it did not appear safe for my daughter on the old stairs and railing. On the positive side - the location was great, in the main square, and there is a washer with dryer combo that was very convenient.
Dear Lisa, thank you for your reveiw, there are few things I would like to say. Firstly, our studio is 35sqm and is like shown on AIRBNB offical pictures. The bed is sofa/bed so you could easily make it couch when you wake up. There are always dish towels, also the kettle for boiling water, obvioiusly you didnt open drawers in the kitchen in order to find same. I was sending you messages re wife,technicians came and fixed problem,it was impossible to find them on Thursday and I appologized to you few times,nobody in building had internet. Wife worked perfectly after they fixed the cable outside the building.Studio is renovated few years ago so everything is in perfect condition including wooden stairs for the loft. The most ennoying thing to me is that Gorana advised me that you left earlier then agreed to meet with her and that studio was in such a mess that she never ever saw someone leaving it in such a bad condition. She spent 4 hours cleaning after you. I understand your frustration regarding wifi (and that is the only thing I am really sorry for) but that is not a way to treat our studio and for that reason we surely can not recommend you to our other friends on this site.
---
Welcomed by Gorana who was friendly and informative. The area was gorgeous and we had lovely time. There were cafes, shops and bakery's on the doorstep and was only a minutes walk from the sea with plenty of tourist attractions in the area. The room itself was finished to a high standard and had a very homely feel. Kitchen was very well equipped, could have cooked every night if we wanted to. Our safe was unfortunately unusable but Gorana answered our messages promptly and came round to look at it the next day. It did get loud outside in the evening with a club/bar in our area so if you are a light sleeper or have children it might be an issue but other than that we really enjoyed our stay and would happily stay again.
---
My husband and I really enjoyed our recent stay at Jordana's place. Jordana was very easy to communicate with, the directions she provided to the apartment were very helpful and check-in was a breeze. The apartment is just as shown in the photos, very nice and clean. It was great to have a kitchen so we could make our own breakfasts and a washer/dryer so we could do some laundry. The location is great, right in the middle of Old Town, but because of the prime location it is definitely noisy at night (bring ear plugs).
---
We had a very good stay with Jordana (and Gorana). Apartment is in very good shape and located pretty much as centrally as can be in Split. If you are sensitive to sounds at night, could be a good idea to bring ear plugs but nothing that really disturbed us during our stay. Check-in and check-out both very smooth as well.
---