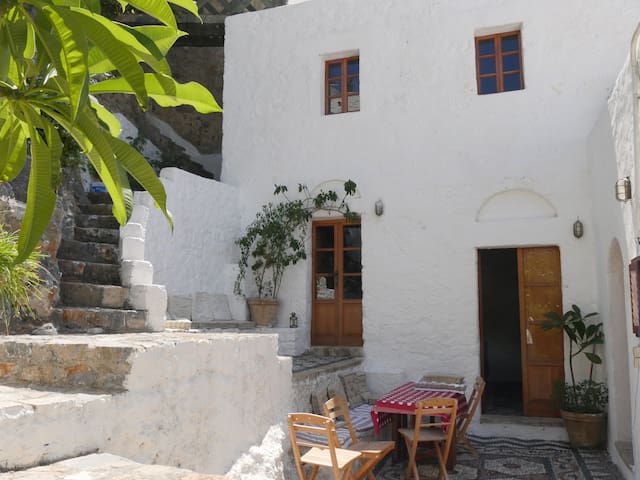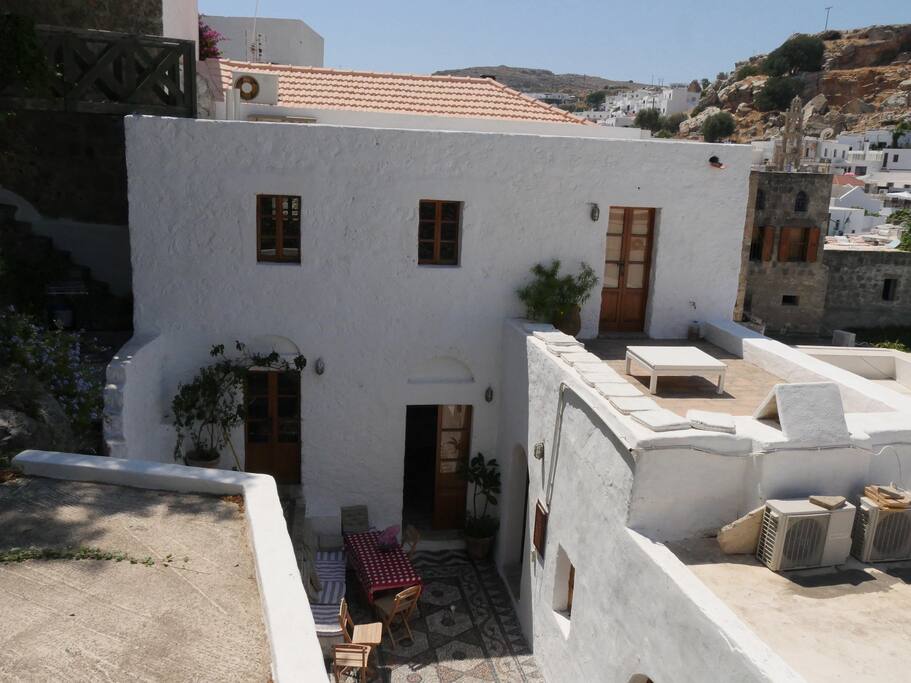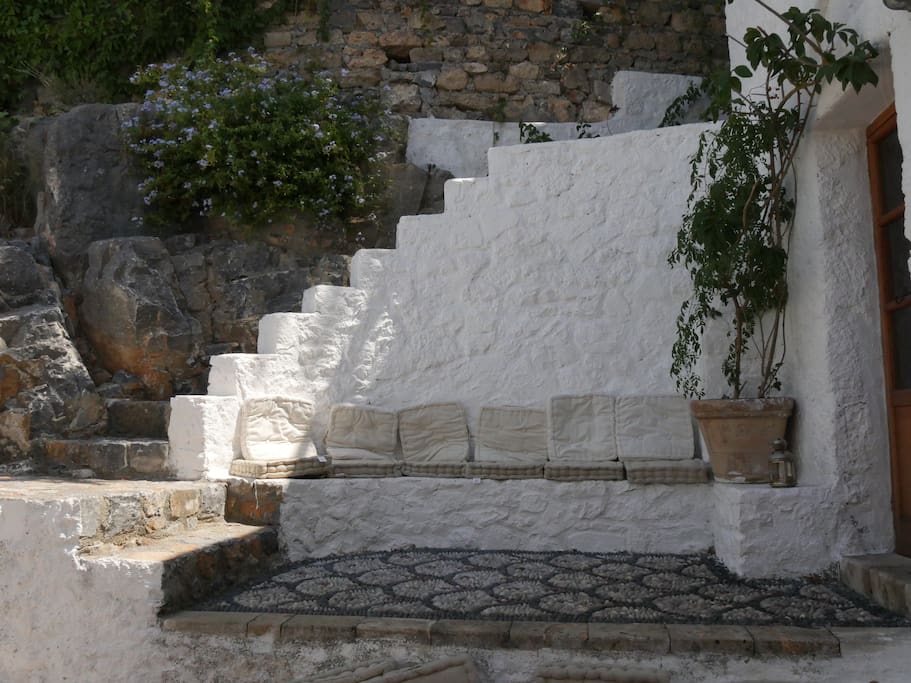 Nel cuore dell'antico borgo di Lindos, con spiaggia, ristoranti e negozi raggiungibili a piedi. Casa tradizionale con ampio cortile privato, grandi terrazze, mobili tipici, cura dei dettagli, tutti i comfort per un indimenticabile vacanza.
---
We visited Nicola's house in mid-November, when Lindos is very quiet and the touristy shops and most restaurants were closed. That was fine with us, and there was a great supermarket (Ena's) open, as well as an ATM and a few other shops and one or two restaurants. We had the beautiful acropolis to ourselves and could swim off the beach or the rocks down the headland, where there is a ruined windmill to explore. Nicola's house is lovely, simply yet stylishly decorated, with all needs taken care of. We particularly liked having hot showers after a swim and then lounging on the cushions on the sitting room platform or dining in the patio. All rooms are off the courtyard and some up outside stairs. Even in November it is warm enough not to mind being outside. Although the houses in Lindos are close together, there is a sense of privacy and security. Our only visitors were the local cats, who are very affectionate.
---
A charming rustic villa in a great central location near the main beach and Pallas beach. Lots of Lindian character and it has all the things you need in the kitchen. The terraces are lovely with lots of cushions to sit and relax. The only downside to our stay was that we realised that the maid only came once during the stay and the heat means that really you need to empty the bins every other day at least. Once we asked Sheila to tell us where to take rubbish (it's very close near the Rain Bird bar a seconds walk away) it was better, extra days for the maid can be arranged at an extra charge. However we just washed towels and sheets in the machine there which dry so quickly in the heat so it's not entirely necessary. Overall a lovely stay we all thoroughly enjoyed it and would stay again.
---
Si tratta di una bellissima casa indipendente, in stile tipico, situata al centro di Lindos. I vari ambienti si affacciano sul cortile centrale, pavimentato a ciottoli così come tutte le aree al pianterreno. La camera con bagno al primo piano è raggiungibile attraverso una scala esterna un po' ripida. All'arrivo Sheila ci ha atteso in piazza, ci ha accompagnato fino al parcheggio pubblico gratuito e poi a casa, caricando i nostri bagagli sul suo motorino a 3 ruote (anche al ritorno, al termine della vacanza). Malgrado una certa scomodità dovuta comunque anche alla conformazione del territorio, è una casa da consigliare per vivere un'esperienza nella Grecia più tipica.
---
We had a wonderful time at the villa. It is an absolutely charming place with great character and wonderfully close to the beach and lovely restaurants. We would certainly recommend it to others and come again on a future holiday. Both Sheila and Nicola were wonderful and so helpful whenever we had any questions. This villa really enhanced our Greek experience.
---