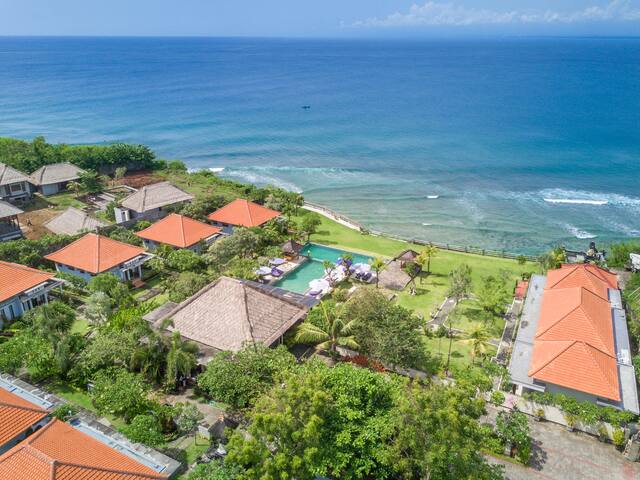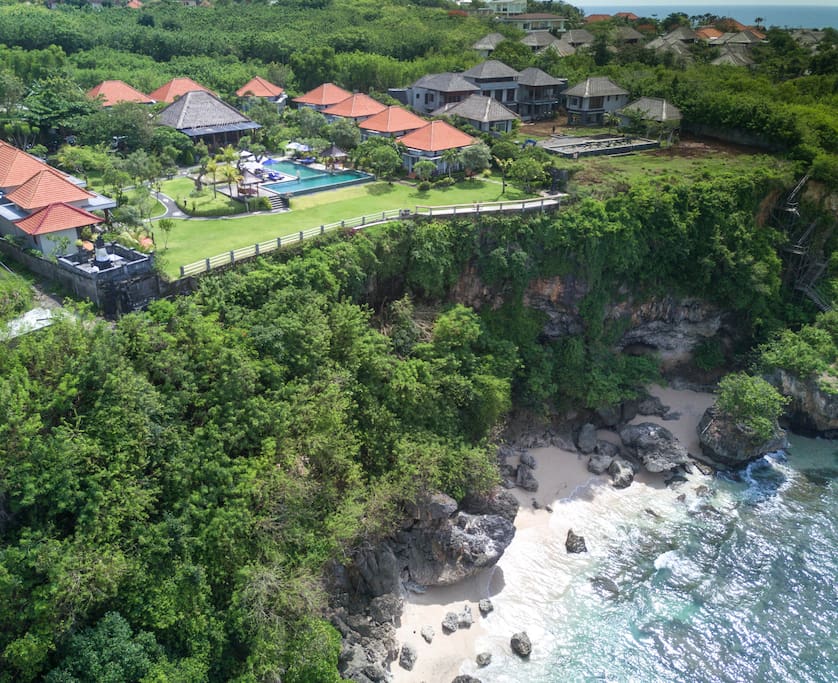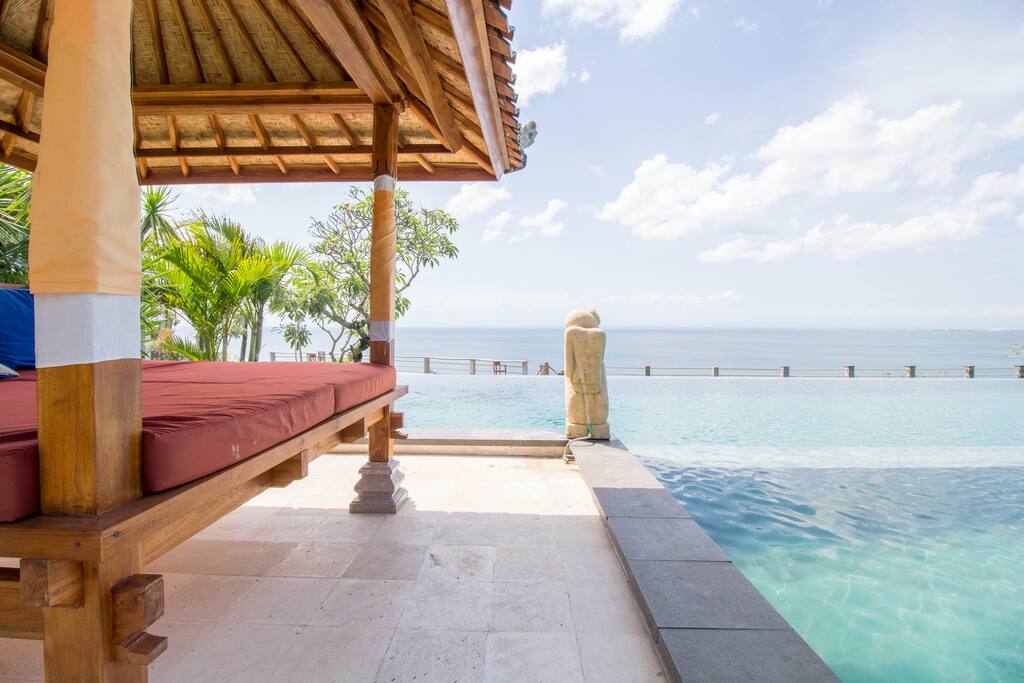 This place was beautiful, great food at very reasonable prices, happy, prompt service, amazing views and short walking distance to Uluwatu and Padang Padang beaches. Pool is wonderful. Gardens are beautiful and a credit to the gardeners who create and maintain them. Great spot, highly recommend but can't see why you would book through airbnb contact direct.
---
This villa and area was by far my favourite part of the trip. We stayed in 4 different areas of Bali, and Uluwatu was my favourite. The villa was nice and clean, all that we needed as we where out most of the day. The outside pool was very enjoyable. The VIEW was amazing it sat right at the edge of a cliff and was perfect for watching the sunrise and sunset. It was off a main road so it wasnt in a busy area. But close enough you could walk to some restaurants. I would suggest getting a scooter to get around tho it's a lot easier. They have them for rent right at the villa so super convenient. I would totally stay here again.
---
What can I say...I had only ever dreamed that I would stay at such a beautiful place. The view of the ocean from the infinity pool is simply unforgettable. The staff are lovely, breakfast was yummy, the rooms air-conditioned and cleaned daily. You could also conveniently rent scooters at reception and explore the various beaches and restaurants nearby. I will never forget this place, and I will miss it.
---
We stayed two nights at this place. The best is the stunning clifftop view and the pool! The room was okay, we got the last one on the left side. The shower is a little old and in one with the toilet that's why after having a shower the bath-/shower room is "under water". Unfortunately there were noisy constructions of the neighbors which were for us annoying... Anyway, the pool area is fantastic!! Renting a scooter next door is very easy. Take a trip to Uluwatu Temple and the area... For dinner there are some restaurants to reach in approx 15 min by foot. Concerning breakfast you can chose between three options which is okay. The staff is very friendly and we could use the pool area after check out. We enyojed staying at this place!
来自Jing, Wayana + Bukit Vista Hosts的回复:
Hi Lena! Thanks for your great words to our property and hospitality service. It was our pleasure to host you during your memorable experience in Bali. Glad to know that you enjoyed your stay and looking forward to welcoming you back in our charming little paradise! Cheers-Rafik
---
Maybe its because you're are really spoiled by all the oustanding Bali experiences but this one was in sum (small breakfast, no minibar, safe not fixed, no towel hooks ...) not as a good as the rest. Not bad but just not really good. Even though the view is a blast. That is what you pay for in the first place.
---
Absolutely stunning! The infinity pool and ocean view is to die for. Rooms are clean and comfortable with air conditioning and spacious. Breakfast included is very generous and tasty. Staff are friendly and the place itself is only walking distance to the Yoga Searcher, Single Fin and other restaurants/mini marts/pharmacy. Amazing value for money, definitely recommend this place!!
---
Jing, Wayana and the Bukit Vista team want to make your trip to Bali awesome. We have a collection of some of the most iconic accommodation options in Bali. Tree Houses, Beach Villas, Cliff Lodges, Tropical Apartments and Rice Paddy Cabins. We are a hospitality startup here on the sunny island of Bali. Our mission is to "inspire delight". We want our guests to see our island home through local, authentic hospitality.

Instagram: @bukitvista

Bukit Vista Hosts:
Jing and Wayana are the founders. Rafik, Denny, Jan, Bastian, Bayu and Kris are part of our hosting community. Bukit Vista lives for happy guests. We love to experience the world through our guests. We're cheerful and solution focused. We make a point to try and meet every guest. Allow us to be the ambassadors to our neighborhood, local culture and attractions.

We collectively speak 7 languages: Mandarin Chinese, Bahasa Indonesia, English, Portuguese, Japanese, French and Spanish. We're learning Russian and German.

语言:
Bahasa Indonesia、English、Español、Português、中文、日本語