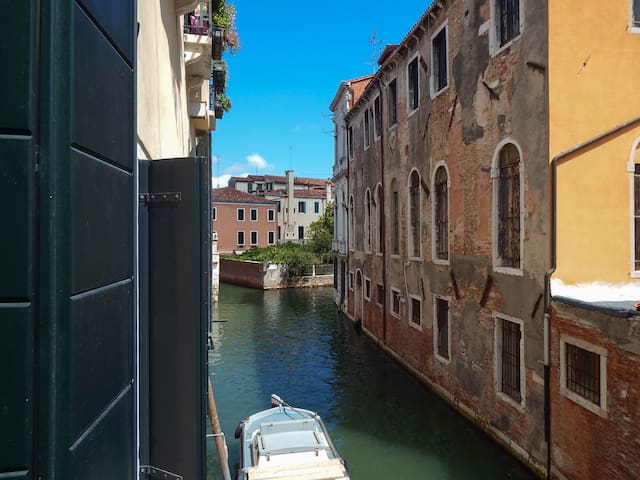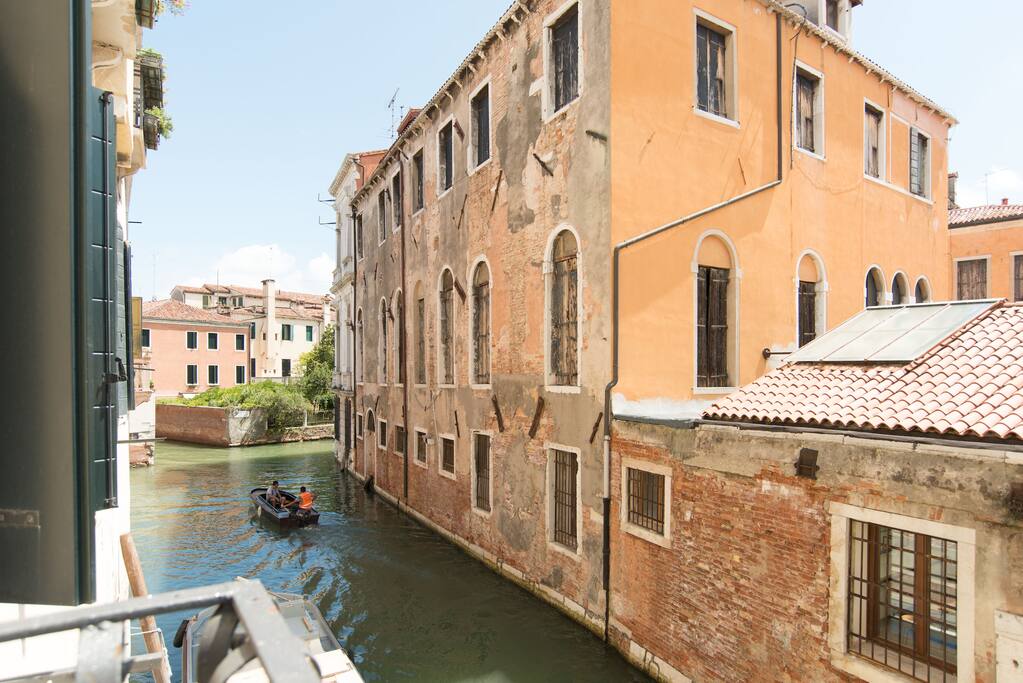 此房源的描述已由谷歌翻译从英语翻译成您的语言,但谷歌翻译并不能保证翻译的准确性。
真正的大公寓(110平方米)俯瞰着Campo San Giacomo dell'Orio的一步之遥
我的房子(我出生,部分在这里长大)是一个典型的威尼斯人的房子,但风格完全疯狂,经典,流行,工业,像我一样的好运,像我的tempe!图片不能正确地描述房子,如果你亲眼看到这个地方好多了!
阳光明媚,相当高高的cielings,所有的舒适,你需要一个伟大的留在威尼斯加上我,一个主持人的讽刺幽默。
房客使用权限
洗碗机,洗衣机,水壶,烤面包机,a / c,wifi,烤箱和微波炉,4个燃气灶
和我的个人手册关于威尼斯充满了一个伟大的留在城里的提示!
没有铁 - 由于一些客人的一些客人(一旦公寓被烧了)造成的损害,根据业主,我们决定不提供任何熨斗安全的原因
其他注意事项
抵达时客人必须支付旅游税:每人每晚1.5欧元,最多5晚。 10岁以下的儿童可获豁免
入住后21.00欧元30额外
24.00欧元后额外支付额外费用
如果你放弃了20欧元的新品
如果您在公寓开了30欧元,那么您将要开放
禁止抽烟
PETS不允许
我们要求客人礼貌和尊重公寓和邻里。
---
---
---
---
抵达时客人必须支付旅游税:每人每晚1.5欧元,最多5晚。 10岁以下的儿童可获豁免
入住后21.00欧元30额外
24.00欧元后额外支付额外费用
如果你放弃了20欧元的新品
如果您在公寓开了30欧元,那么您将要开放
禁止抽烟
PETS不允许
我们要求客人礼貌和尊重公寓和邻里。
---
---
---
最少住宿2晚。
从2017年10月07日 - 2017年10月08日起最少住宿2晚。
---
The unit is spacious and located right in the middle, walkable to all the things you'd want to see. It's on the second floor of the building. The canal view is a plus, of course. There is well-written guidebook for guests to learn about the city. Marco recommended us a very good restaurant, perhaps one of the best in the city. However, we couldn't say our stay was positive as we didn't have such a good feeling from the start. The interaction and communication with the host wasn't good and friendly. We were asked to meet in front of a restaurant, that appears to have no name in the front and could be easily missed. We couldn't find the restaurant as the GPS lead us to somewhere else. Nevertheless, we were no more than 5 minutes late. When we finally found Marco, he seemed irritated and told us that tourists often blame GPS when get lost. Then, we were rushed to the apartment. Walking in to the apartment, we felt uncomfortable. It was dark and stuffy-smelling. Most of the windows were closed, not much sunlight in the unit like posted pictures, besides the kitchen and and the dining area and a little from the bathroom. The living room and master bedroom can really use some renovation. In fact, we ended up sleeping in the smaller bedroom. Other rooms are fine and renovated. Kitchen is well-equipped, which is great for long-stay guests. Bottom line, we would not recommend.
dear van, really suprised and even much more upset and disappointed of your review. it seems a blackmail because not based on the truth. i am very sensitive and i care being a good host. if you read my other reviews, thank god are extremely good, is clear that what you see in the pictures is what you have and fortuntaly many guests wrote that the place is much better in real than in the images. (guess all of them are wrong and have a bad sight and you only are right, completly right). the meeting place is quite clear,. anyway without trusting gps and (SENSITIVE CONTENTS HIDDEN) maps there is the old good school: paper maps and ask people. really suprised about master bedroom that has been renovated togheter with the other room. what was wrong? the old wood night table?is very nice and original piece of furniture, maybe the design coat holder made of just one piece of bended steel pipe of the 70s? 100 italian design or maybe the bed head made with recycled board of a fishing boat? the 17th century original venitian terrazzo? sorry if in the linving room the naval engravings of the 18th century dont match with your personal taste. or the 18th century dresser and small table too. you saw them in the pictures. all is shown i dont lie. ah the closed windows and low light. DID YOU REMEBER THE RAIN? a big rain started as you entered. as i am not an indiot if rains hard i close the windows and the shades. probably you prefer to have the house flooded. anyway was too difficult to open the windows? is not forbidden. stuffy smell...there is bottle of essential oil spreading a nice cent in the apartment. let's analyze what happend on arrival. you changed your travel plans the day of your arrival. i was available to let you drop bags before check in but you decied few hours before to arrive later. i ve always been in touch with, message history witnesses this. you said when we met whe rushed to the house. what else did i have to do? stay outside waiting for the rain? seems we ran a marothon but the trip is 125 meters from the meeting point. i did seat with you as i do with all the guests giving you the best advicece to hava good times in town. i spent at least 15 minutes. was a bit of struggle to give you some pefect ideas because you spent in venice 15 hourse including the sleeping hours. i am very cheerful and nice, everybody knows it. you should have noticed as your husband seems to have no idea of words like smile, homour, laugh etc. thank god many guests keep on returning, even for the third time so this erases completly your irrational meaningless review. hope to welcome you again so i will have the chance to write you the worst feedback ever without any objective reason. ciao
---
Great host - great apartment. Marco met us at Valporetto stop and took us over to his over the top wonderful, spacious, beautifully decorated apartment - gave us lots of tips. Loved our stay - apartment had everything we needed: cooked a few meals, did laundry etc. wonderful location away from tourists (except for gondoliers on the canal below the living room windows which was colorful and fun). Great stay - book with Marco, you will be so glad you did.
---
hi guys!

my name is marco I am just a 100% venitian, good-natured and cheerful. I love venice; i know is not the perfect place on Earth, she has many qualities and many shortcomings as well but she is my hometown, my home and she is so beautiful. (yes i wrote "she" and not "it" because Venice is like a charming timeless lady)

I like trying to teach my guests how and what to appreciate of her and her lagoon.

Besides venice i love nature, wildlife, expecially africa where i spent half a year working in the tanzanian bush as a safari camp manager. I love to travel, observe, learn, understand and love the good food, expecially i have a very very very sweet tooth. i like good paintings and to paint (well i still have to start painting but i hope to do it soon)

I am 100% italian, tea-totaler, actually i don't like even coffee, better a cup of good tea.

i strongly belive in sustainability, so if you choose to be my guest make the proper waste collection ;)

two degrees: business administration and natural sciences
FGASA LEVEL 1 qualification as a professional safari guide

job: real estate agent
语言:
English、Italiano