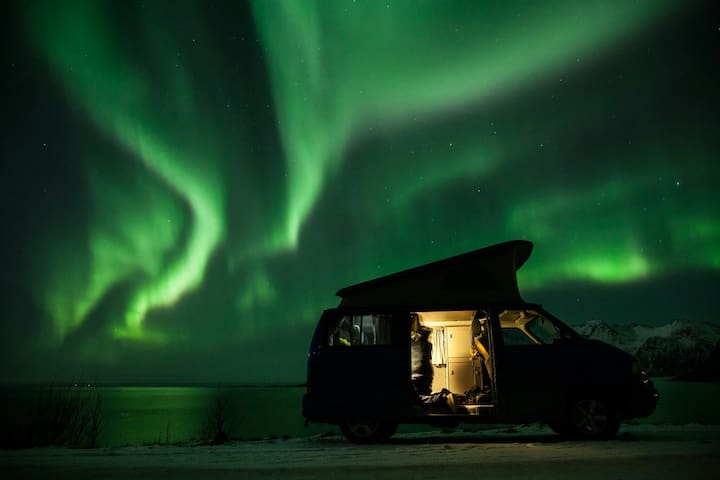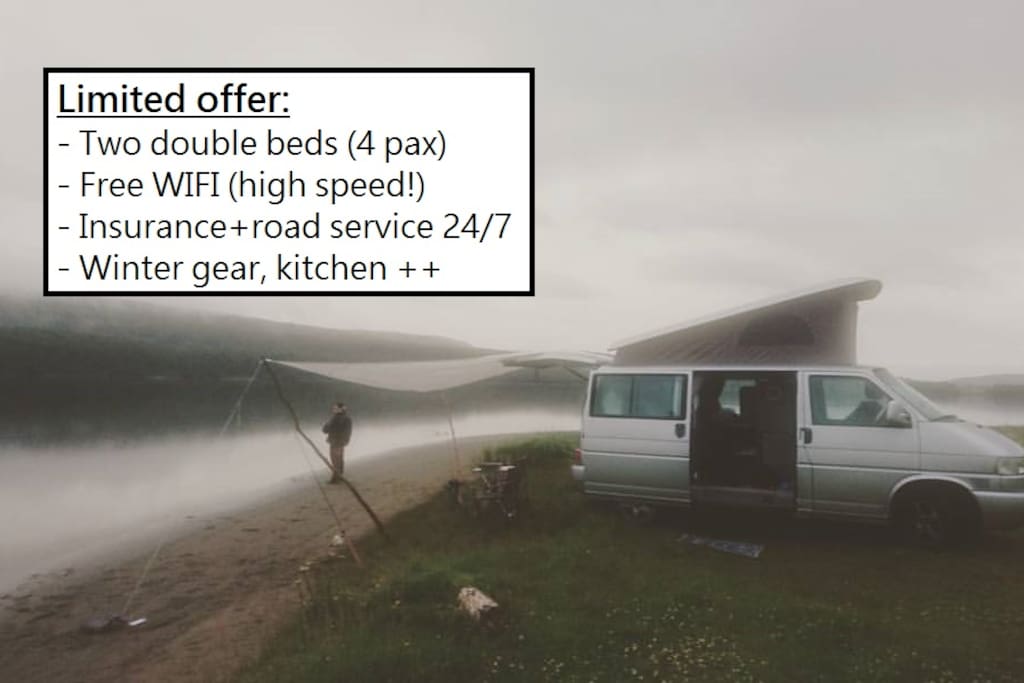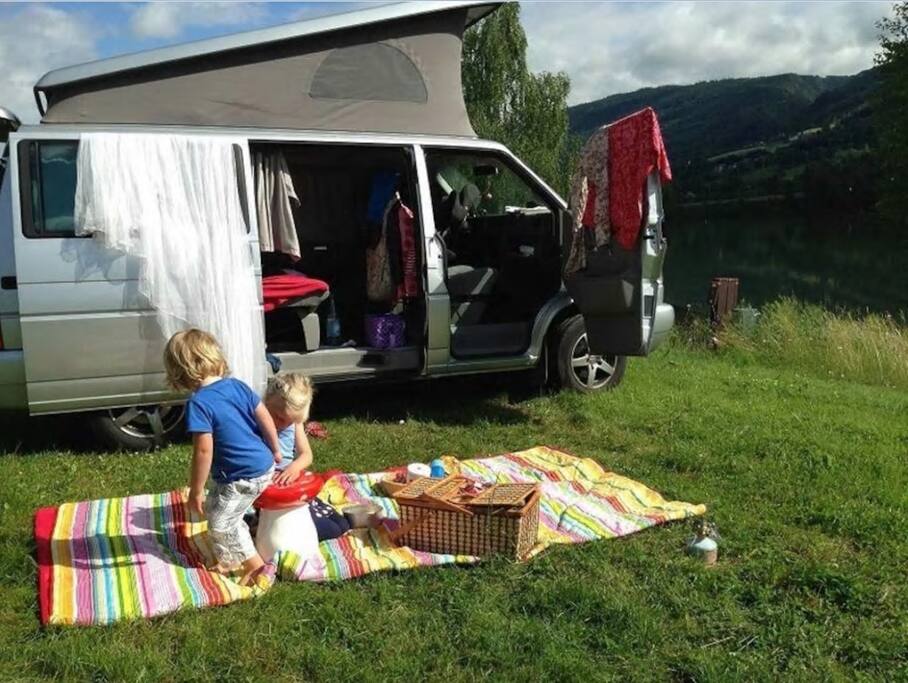 这是体验挪威的最佳方式。一切都准备好了。把钥匙放在任何你想要的地方去!包括保险。追逐北极光或午夜太阳。开车,停留,吃饭和睡觉,无论你想要什么。免费高速无线上网,其快速省油。容易驾驶与正常许可证。设定自己的时间表,享受真正的自由!我们将在机场接您,您可以在机场送回车。这是最好的交易。
This is the best way to experience Norway. Everything is ready. Put the keys in and go wherever you want! Insurance is included. Chase the northern lights or the midnight sun. Drive, stay, eat and sleep wherever you want. Free high speed WIFI onboard, its fast and fuel-efficient. Easy to drive with a normal license. Set your own schedule and enjoy real freedom! We will pick you up at the airport and you can deliver the car back at the airport. This is the best deal available.
房源
这是你得到的: - 5个座位。屋顶上加一张双人床+加床! - 免费无线上网(高速) - 包括地图和航点的GPS导航 - 5L新鲜饮用水容器 - 燃气灶(Primus) - 锅,锅,简单的炊具,床垫 - 保险(是的,真的!) - 综合表 - 额外的露营桌 - 电气箱 - 笔记本电脑和相机的逆变器/充电器(230V + 12V) - USB充电器 - 在后面读灯 - 干净的床单,干净的羽绒被,干净的枕头。 这是体验挪威的最佳方法,因为: 1.)您的旅行已经排序,您可以随时随地随时随地随时随地停车。追逐北极光或体验午夜的阳光。感受真正的自由和完全的沉默。 2 :)你不是旅游者。你是旅行者你可以坚持自己的计划,你可以做任何你想要的。 3.省钱。坚持你的预算。保持食物成本容易。你不必吃饭,有很多便宜的食物,你可以在一个很小的空间快速,轻松地准备。此外,挪威的许多露营地都有免费供公众使用的烧烤场。 自由 - 你不必坚持一个行程安排。如果你看到一个标志指向一条看起来很有趣的小路上的东西,你可以去那里。如果你停在海滩旁边,你的露营者就成了你自己的私人海滩小屋。你可以留在任何你想要的夜晚。露营是合法的,当然是免费的。 5.)在机场接机。不需要公共交通工具。您可以在相对舒适的氛围中体验极好的户外活动。做自己的冒险。 你可以和你的家人或朋友度过愉快的时光。车内的5人可能有点狭窄,但舒适。面包车是完美的朋友或一对夫妇一起旅行。 7.快速,低油耗。 2,5 Turbo Diesel。坦克是一个70升长程坦克。 0,67L / 10公里,这对你的钱包很好。星期天和星期三,特罗姆瑟的燃料便宜。 8.)最好的冬季轮胎配有金属螺柱。冬天甚至在冰上都是安全和容易的。为了您的安全,每个轮胎有190个金属尖峰。良好的握力和最小的断裂距离。
This is what you get:
- 5 seats. One double bed inside + extra bed on the roof top!
- Free Wifi internet connection (high speed)
- GPS navigation with maps and waypoints included
- 5L of fresh drinking water container
- Gas Stove (Primus)
- pots, pans, simple cookware, mattress
- insurance (Yes! Really!)
- integrated table
- extra camping table
- Electrical coolbox
- inverter/charger for laptops and cameras (230V + 12V)
- USB-chargers
- reading lights in the back
- clean sheets, clean duvets, clean pillows.
This is the best way to experience Norway because:
1.) Your travel is already sorted and you can drive anywhere you want, in your own time, stopping whenever you want. Chase the northern lights or experience the midnight sun. Feel the real freedom and the complete silence.
2:) You are not a tourist. You are a traveller. You can stick to your own plans and you can do whatever you want.
3.) Save money. Stick to your budget. Keep the food costs down easily. You don not have to eat out, and there are many cheap meals you can prepare quickly and easily in a small space. Plus, many campsites in Norway have barbecues that are free for the public to use.
4.) Freedom – you do not have to stick to a set itinerary. If you see a sign pointing to something down a side road that looks interesting, you can go there. If you park up next to a beach, your campervan becomes your own personal beach hut. You can stay the night wherever you want to. Camping is legal and of course free.
5.) Pick up at the airport. No public transport needed. You get to experience the great outdoors in relative comfort. Make your own adventure.
6.) You get to spend quality time with your family or friends. 5 persons in the car can be a bit cramped, but cosy. The van is perfect for good friends or a couple travelling together.
7.) Fast and with a low fuel consumption. 2,5 Turbo Diesel. The tank is a 70 liter long range tank. 0,67L/10km which is great for your wallet. The fuel is cheap here in Tromsø on Sunday and Wednesday.
8.) The best winter tires with metal studs. It is safe and easy to drive in the winter, even on ice. 190 metal spikes in each tire for your safety. Good grip and minimum breaking distance.
与房客的互动
24/7的道路援助,主持人将永远在电话上提供您的帮助。你有私家车,我们会离开你自己的。
24/7 road assistance, the host will always be available on the phone for your assistance. You have the van in private and we will leave you to your own.
其他注意事项
Check in and check out times.
Northern lights.. Midnight sun..
---
---
- Two years drivers experience
- Normal licence on all drivers
- ALWAYS park with the hand brake on
- Follow instructions on arrival
- Check out time is 12.00AM (noon)
- Any damage will cost 2000 NOK
---
The camper van of Therese & Jorgen was perfect for us. We are a family with 2 boys (9 & 10 years old) and we were traveling from Tromso to the Lofoten and back. We spent to weeks with the camper van and it never left us in the rain. Eventhough it's small for 4 people, we felt cosy and comfortable. Also; it's convenient to have a small vehicle, because you pay a lot less on ferrys etc. The camper was equiped with everything we needed, except that there were only 2 camping chairs. Therese made certain that we could buy 2 more chairs and that they would pay for it. But we finally managed without, because often there are wooden tables & chairs provided at the campgrounds. Our Norway-holidays were fantastic; and we will be back for sure!
---
This is possibly the BEST way to see the surrounding area of Tromsø / the fjords and take in the vast and incredible beauty of the mountains! If it's wintertime, You will not be cold inside the van, but be prepared to rough it a bit! Take advantage of the contact you have with Therese/ Jørgen-- it helped us get through a two-day snowstorm! The van was fully equipped like stated, and quite clean-- Highly recommend.
---
Our stay in the Savage II was epic -- we drove for hours and camped in several blizzards and were perfectly cozy under all the covers while free camping with our toddler. The van has everything you need and the owners are very accommodating and helpful. Would definitely recommend this adventure to anyone, although I would make sure that you are comfortable driving in snow if you come during the winter or spring. Summer would likely be the ideal time for this particular type of adventure!
---
The #savage2 is an amazing vehicle. The car: It is very comfortable for two people. The bed folds in and out easily, and camping felt very natural. The car has a manual transmission and it drives like a dream. It was snowing the whole time I was driving the car and I had no problems with grip or anything. The defroster and wipers worked great. I felt very safe, and had a good time driving too. The caper is stocked with all sorts of things that I was very surpised and glad to get. The hosts put in coffee, and a few snacks, and provided a big jug for holding water. It had fast water boilers, a nice pot, knives, cutting boards, etc. (we we're able to cook a whole delicious stew!) The van also comes with wifi that works shockingly well, even in what seemed like the middle of no where. It comes with GPS as well, which we did not even need because (SENSITIVE CONTENTS HIDDEN) maps was no problem to access on our phones. We were able to keep everything charged as well without a problem. The car also has a long range tank, so in 3 days of driving, we did not have to fill up the tank. We just filled it at the end to return it full. The experience: The hosts are incredibly nice! They are super accommodating. My friend has a feather allergy and they were able to provide us with enough synthetic and cotton sleeping gear so we weren't cold - even in the middle of January. Also - they were in direct contact the whole time able to answer questions about the car or even recommend restaurants and things to do. The hosts also will pick you up from the airport or meet you at a hotel downtown. It was really easy to coordinate a good plan around our airplane schedule with them. I had an amazing experience and I'd strongly recommend seeing Norway with this van!
---
After almost a year on AirBnb we've met a lot of different people and learned a lot about hosting. We fell in love with the concept, love hosting and to show people what this part of Norway has to offer.
语言:
Dansk、Deutsch、English、Español、Français、Italiano、Norsk、Svenska、中文、日本語、한국어