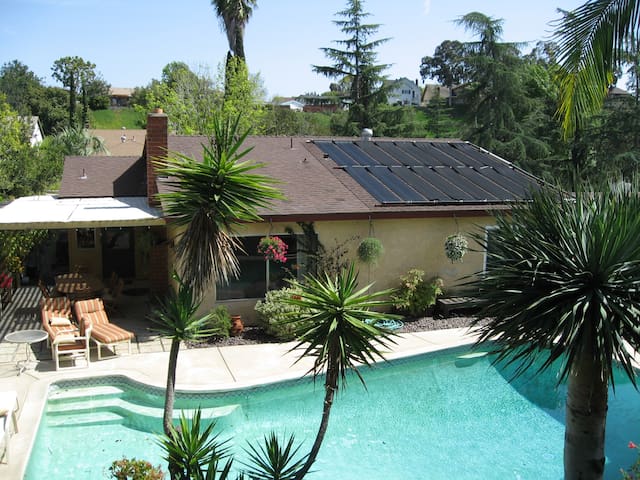 ---
---
---
1. 15:00 check in, 10:00
2. Leave the furniture as it was when you arrived in the home
3. Absolutely NO SMOKING in our home
4. Private fireworks, firecrackers and other incendiary items are prohibited
5. Guns, pellet rifles or sling shots are prohibited in our home
6. Please place paper, cardboard, (containers; tin, aluminum, glass,plastic, clam-shell) in the green plastic container by the door in the kitchen or in the blue recycle container
7.Place trash in the black trash container in the front/north side of the driveway
8. Place all the sheets and towel that were used on the washer/dryer in the garage
---
---
---
This is a great place to stay while you enjoy the San Diego area. It's located in a quiet neighborhood within a short drive of downtown, the beach, wineries and all the area attractions. The pool and hot tub make the backyard a true oasis and there's plenty of room for family gatherings both inside and out. The beds are very comfortable and the kitchen is well equipped for all your cooking needs. The owners, Penelope and Arturo, are lovely people who go out of their way to insure that you enjoy a pleasant, worry-free stay.
---
Penelope and Arturo were gracious and welcoming hosts. It was a pleasure to meet them. Their home was very clean and ready, and we appreciated how much effort they put into making guests feel at home. For example, the bedroom dressers were emptied so we could use them instead of living out of a suitcase. We stayed for five days with six people total. The house was plenty big enough for us all to spread out and do our own thing, and the hottub was the perfect way for us all to unwind at the end of the day. We also enjoyed walking around the neighborhood, which was very quiet and felt very safe. Lots of things to do nearby and grocery shopping was super convenient just around the corner. We would absolutely stay here again next time we're in San Diego.
---
I put a picture of my husband Arturo and myself because we often travel together.
We live in San Diego California. We are very lively 70 somethings! I am a licensed psychotherapist and published my first book several years ago, Emotional Medicine Rx: Cry When You're Sad Stop When You're Done, Feel Good Fast (check We travel in Europe and the US in part to promote my book and in part for pleasure. I also travel in the US for professional training in AEDP (Check My husband Arturo is a retired Federal Probation Officer. Arturo manages our vacation rental near the Kern River and Sierra Nevada Mountains in California (check We travel frequently to the East Coast (NYC and DC) for business and to see our grandchildren. We love to travel to Mexico and Costa Rica, Nicaragua. The 5 things we can't live without are love, laughter, health, organic food and homeopathy (though champagne and good beer are right up there!) We love Blues, Jazz, Classical music. Last Book that blew Penelope's mind (besides her own) was Circling the Sun by Paula McClain. Isabel Allende is a favorite author. Although the spirit is willing for adventure, the flesh is looking a bit more for comfort these days.
语言:
Deutsch、English、Español