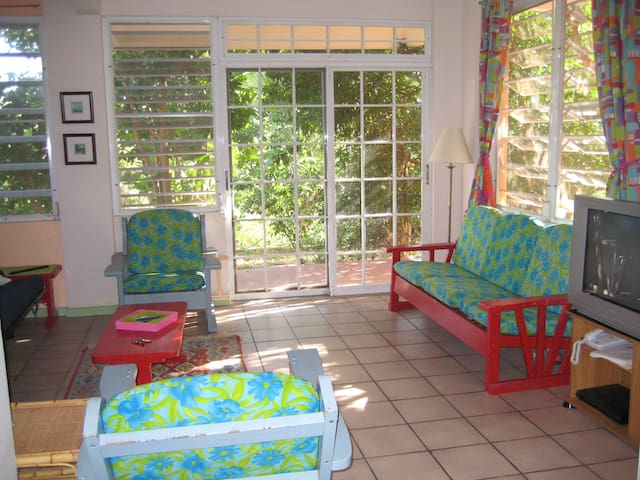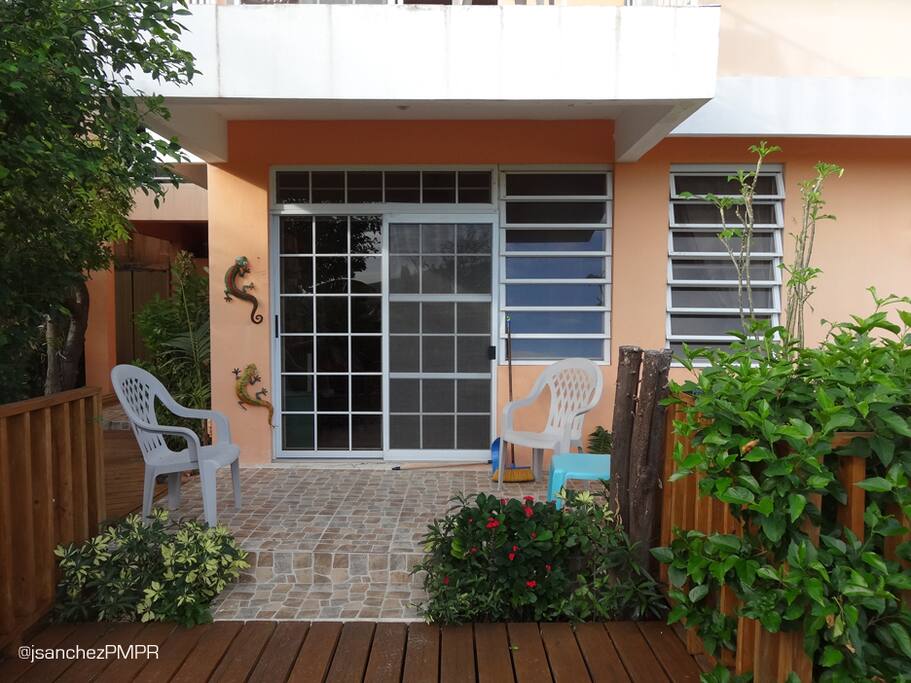 Our house is located on the sunny, secluded southern coast of Puerto Rico within the Guanica Dry Forest Preserve and is the perfect place to get away from it all. The garden apartment is quiet, is fully furnished, and has a private entrance.
房源
This listing is for our garden apartment which offers solitude and decks for relaxing in the garden. The apartment has 2 bedrooms, one bath, a fully furnished kitchen, and a living area. The living area is the largest of our three apartments. There are beds for 4 guests with additional sleeping space for 2 guests on the pull out couch in the living area. Each of the bedrooms is air conditioned. The living room and kitchen are not air conditioned but are very well ventilated and take advantage of the relaxing tropical breezes. Please note that the apartment is intended as a comfortable beach getaway but not as a luxury apartment.
房客使用权限
The apartment has it's own entrance, kitchen, bath, living room, and garden decks. The only areas that are shared with other guests are the laundry room on the ground floor and the outside shower for rinsing off after going to the beach. The apartment also has it's own gas grille outside on the deck.
与房客的互动
The house belongs to my mother and she spends most of the winter there in the garden apartment. She is very friendly and loves to chit chat and enjoy a rum drink if you are interested but is perfectly willing to give you your privacy. When she is not there and none of our other family members are in Puerto Rico we have a very nice lady who takes care of the house and guests for us. Sylvia speaks English very well and is very helpful to guests.
其他注意事项
While we spend most of our time at the house and going to the beaches when we come down to Guanica, lots of our guests use our house as a home base for touring the sights of the southern coast of Puerto Rico. Two things not to miss are Guilligan's Island (you can walk to the ferry from our house) and the bioluminescent bay in La Parguera. If you'd like ideas of other things to see in the area just let us know.
---
---
Please enjoy yourselves, relax, and be nice to animals.
---
Casa Alejada was great! We loved how close it was to the ferry to Gillian's Island, very comfortable and safe place to stay. Clean, and comfortable, quiet neighborhood. Beautiful scenery on the drive there. It's important to follow the directions given by Cris on how to get there because the GPS doesn't seem to recognize the area well, but if you use the ferry address as a reference it will be easy to find.
---
I stayed at the garden apartment with 2 other girlfriends for 2 nights and the place was very spacious. Both bedrooms had A/C and there is also another unit in the main room. The location is great for exploring the many small beaches in Guanica. We checked-in in the afternoon, and got our key from a lockbox, which was super convenient. However, when we returned back to our apartment after dinner.....we were horrified and disgusted to find gigantic COCKROACHES! They were literally the length of my finger!! Like 3 inches long! YUCK. We found them in both bedrooms, the kitchen area, and the main room. My other friend and I were both horrified. Thankfully, my other friend grew up in Florida and was brave enough to be the "designated roach slayer". If not....we would have definitely moved that first night! I am typically okay with killing bugs, but those were just TOO big. I was still very uneasy and slept with the bedside light on...I did NOT want one of those things to be crawling on me in the night!!! I left a message with Chris that evening, and the following morning he left me a message, apologizing for the roaches, telling us that he understood if we wanted to cut our stay short and cancel on our 2nd night. If we chose to do so, he said he would reimburse us for the cost of our 2nd night. If we were staying in Guanica longer, we would have definitely moved. However, since we only had 1 more day (and it was our last day in Puerto Rico before going home)...and the days prior had been rainy/overcast and that day was clear and sunny......we decided to stay the 2nd night. We didn't want to "waste" the beautiful day packing up our stuff, trying to find a new place, and getting re-settled in. We wanted to enjoy our vacation! But....knowing the situation, we did take precautions: we always kept our suitcases zipped up, and when we came back to the apartment in the late afternoon to get cleaned up before going out to dinner, we turned on all the lights and left them on, so we didn't see any the 2nd night. I know we were staying in a tropical area and that the place is more "rustic". There were smaller bugs in the bathroom, and we saw 2 small lizards in the house, and honestly, we were okay with that. But....the huge roaches was just too much! The next day, Chris said that he would refund us $80 for our troubles (we originally paid $215 for 2 nights), and also said he would send over pest control to the house after we left. However, we noticed that there are 3 units for Casa Alejeda, so hopefully all 3 units are exterminated, to truly get rid of the roaches. If if weren't for those roaches, I would have rated our stay much much higher. The house overall is charming and nice....
---
I love to travel but unfortunately we don't get to go as much as we would like to. Now that my son is getting a little older hopefully we can see more places. I enjoy being outdoors, listening to live music, making beer, cooking, visiting with friends, and drinking good wine (s…
语言:
Español