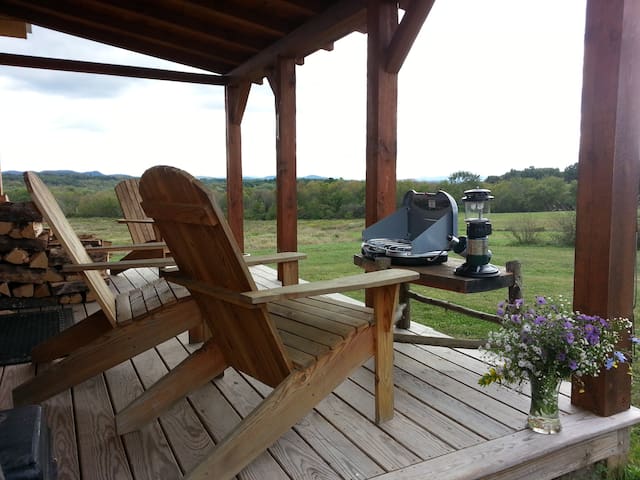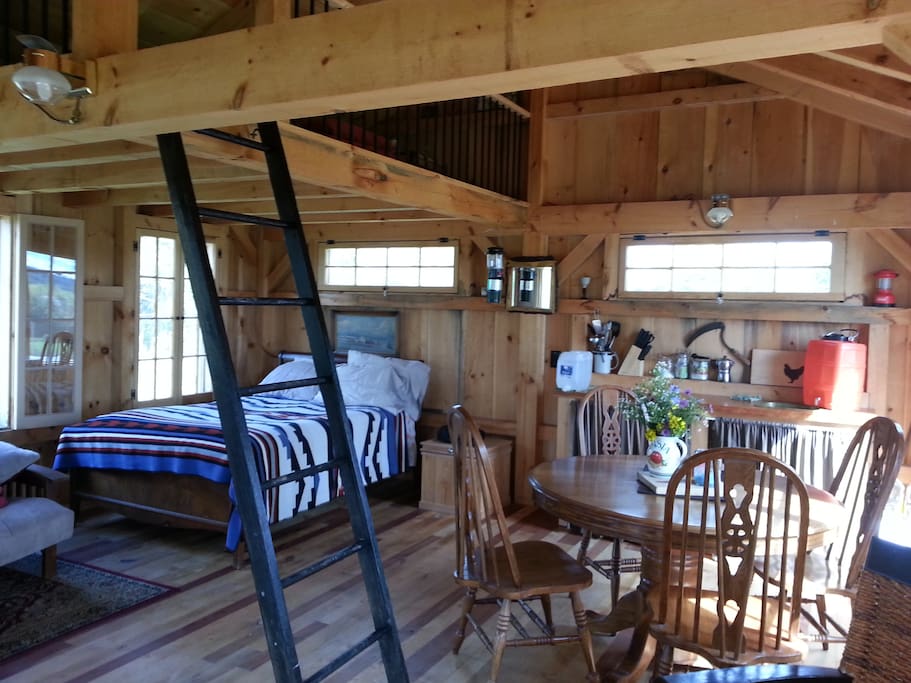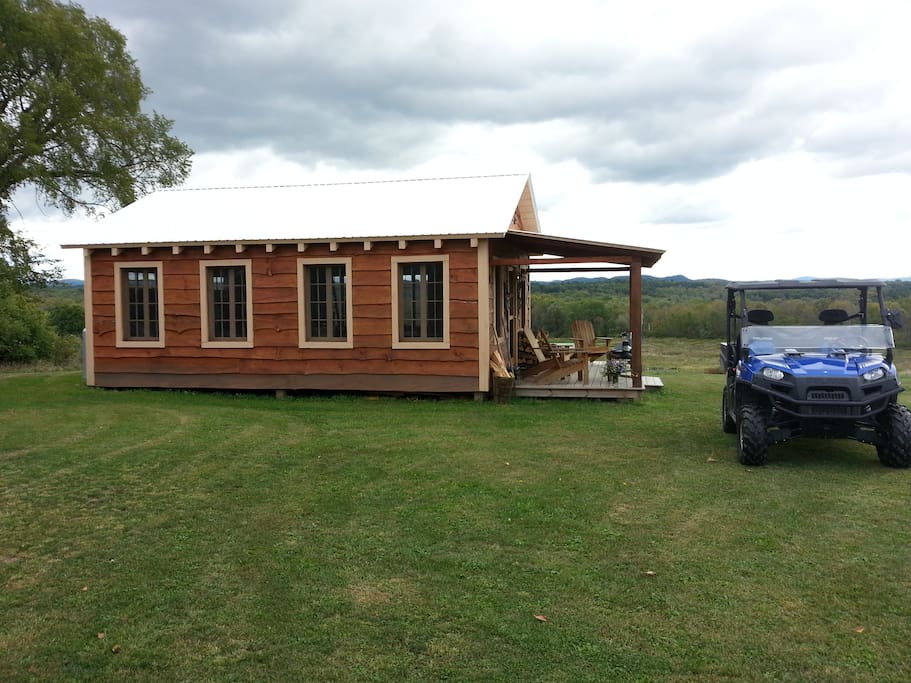 Post & Beam cabin on the hill
房源
非常私密的2年前,在美丽的100英亩农场俯瞰着郁郁葱葱的哈德逊河谷,建造了Post&Beam客舱离开电网(无电)。在距离萨拉托加(Saratoga)或格伦斯瀑布(Glens Falls)15公里的私家路上享有Vt的美丽景色,距离I-87分钟路程。私人码头为皮划艇/划独木舟的哈德逊河和美妙的乡村道路骑自行车。内部的密封woodstove保持东西toasty温暖,可用木柴,水,亚麻布和未加热的室外淋浴。阿克山距离酒店不远。丙烷车内,不加热外屋旁边的小屋。定制烧烤炉用于荷兰烤箱的钩子,请户外烹饪。阁楼,被褥和大号床。来享受我们的小天堂。这是享受户外温度较低的一年中最好的时光,以及数十间美味的餐厅供您选择。来自Verizon和AT&T的优秀3G和4G信号。提供所有的烹饪和餐具。 必做活动: Airway Meadows的跳伞和高尔夫(3英里) 2.赛马和赌场/夜总会(15英里) 萨拉托加表演艺术中心。世界级娱乐 不需要办理入住手续,客舱的前门总是开放的,所以继续上去,让自己在家,如果由于某种原因,我或我的妻子在你到达时不在那里,我们的看守Allan很可能会。 请不要因偶尔存在飞虫而感到震惊,毕竟农场里有一个小屋。 机舱完全绝缘,并具有较冷的温度的风暴窗。我们已经舒适地睡在0华氏度! 客舱没有电。 PS在潮湿和潮湿的天气中,有可能需要在步行的短途(50码)的小屋路上。 我们很抱歉,但是因为农场里有很多动物,所以我们无法邀请宠物客人。
Extremely private 2 year old hand built Post & Beam cabin off the grid (no electricity) on a beautiful 100 acre farm overlooking the lush Hudson valley. Gorgeous views of Vt. on a private road 15 miles from Saratoga or Glens Falls, minutes from I-87. Private dock for kayaking/canoeing the tranquil Hudson River, and wonderful country roads for cycling. Airtight woodstove inside to keep things toasty warm,available firewood,water, linens and un-heated outdoor shower provided. Adk mountains minutes away. Propane lanters inside, Un-heated Outhouse next to cabin. Custom built BBQ pit with hooks for Dutch ovens, outdoor cooking only please. Loft, futon, and Queen size bed. Come and enjoy our little slice of heaven. This is the best time of year to enjoy the outdoors with cooler temperatures, as well as dozens of fantastic restaurants to choose from. Excellent 3G and 4G signal from Verizon and AT&T. All cooking and eating utensils are provided.
Must-do activities:
1. Skydiving and Golf at Airway Meadows (3 miles)
2. Harness horse racing and Casino/Night club (15 miles)
3. Saratoga Performing Arts Center.World class entertainment
No need to check in, the front door of the cabin is always open so go on up and make yourself at home and if for some reason myself or my wife are not there when you arrive, our caretaker Allan most likely will be.
Please don't be alarmed by the occasional presence of flying pests, it is after all a cabin on a farm.

The cabin is fully insulated, and has storm windows for chillier temperatures. We've slept in it comfortably down to 0 Fahrenheit !
The cabin has no electricity. PS during wet and soggy weather, it's possible that the short (50 yard) road to the cabin may have to be done on foot.
We're very sorry, but because the farm is home to lots of animals, we're unable to invite pet guests.
---
We had a great weekend at Matthew's rustic cabin. The pictures are very accurate, and it was just what we expected. Matthew brought us firewood and a lighter as soon as we asked, upon our arrival, and we had a lot of fun cooking over the fire. We also each had very successful experiences with the gravity shower, which made the stay even more pleasant. As the pictures suggest, the view from the front porch (and the windows) is gorgeous and serene. We'd love to return some time!
---
You know how sometimes Airbnb houses post photos that end up not truly representing what the house is like? I was skeptical that the surrounding views could be as beautiful as the pictures showed, but I was wonderfully wrong! I took videos and pictures of everything, because I knew no one would believe how awesome it was. The cabin is just as promised in the listing, and better. We had freshly-cut wildflowers waiting for us, games to play, and books to read. I got to fulfill my childhood fantasy of being Laura Ingalls Wilder for the night. Totes awesome cabin, highly recommend.
---
I'm a fun-loving, outgoing, adventurous person who enjoys hiking, biking, water sports, telemark skiing and Happy Hours !