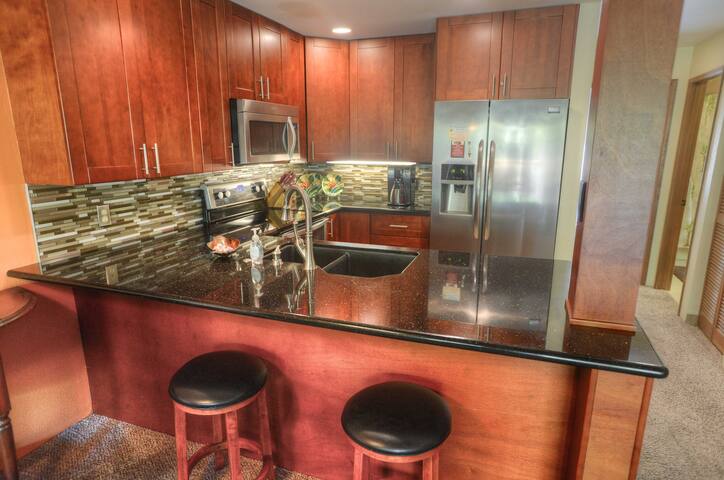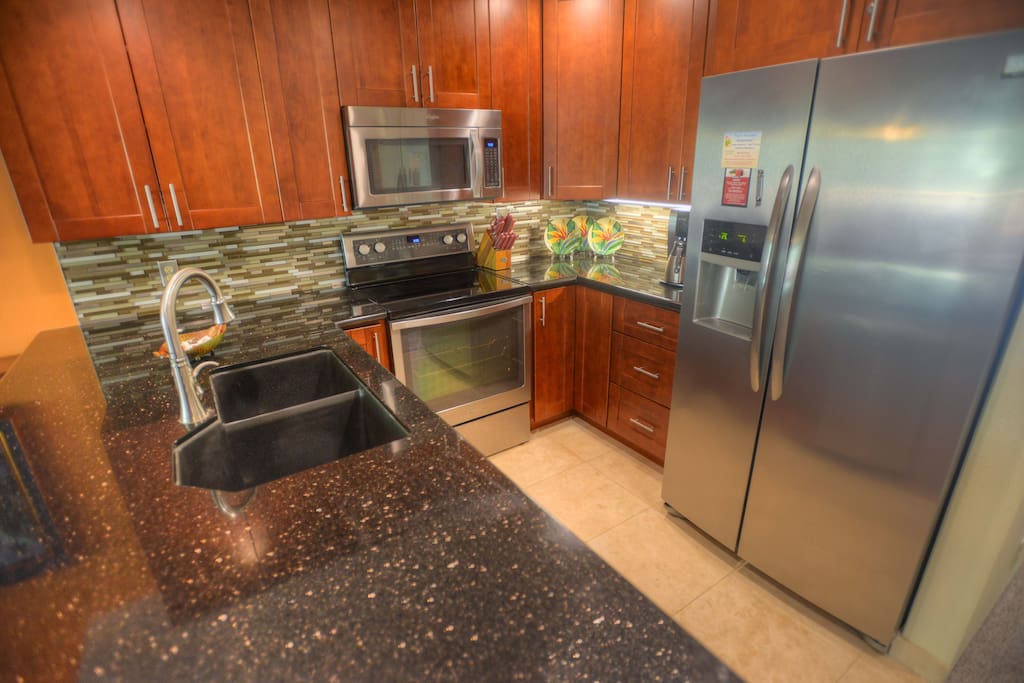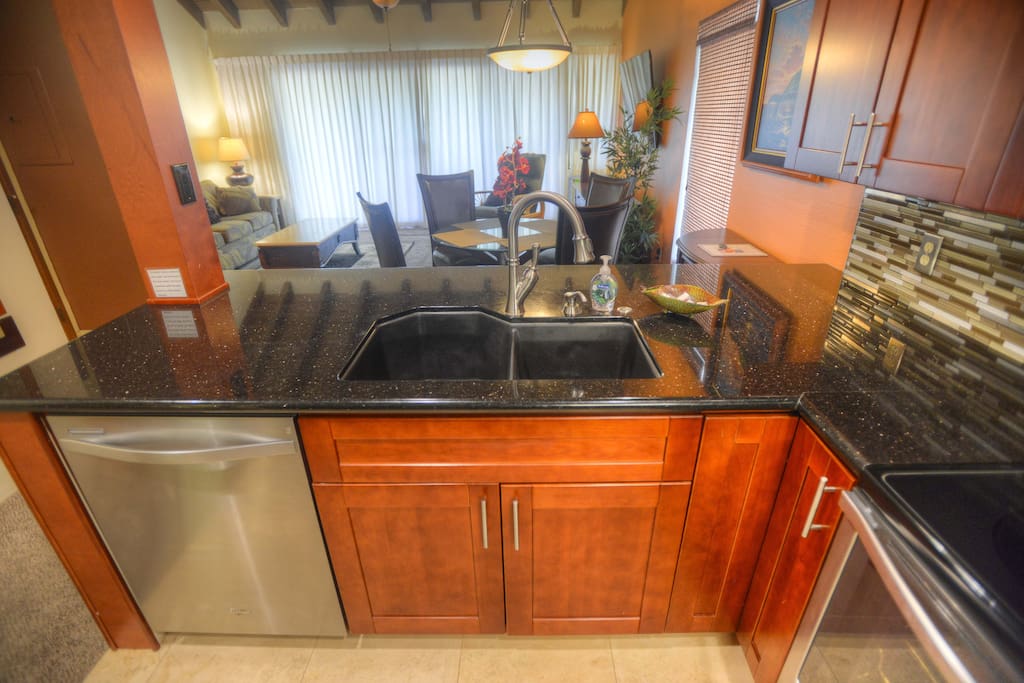 Maui Kamaole C-206 - Spacious Renovated Condo
PLEASE NOTE: Our daily fee already includes the mandatory Hawaii State Tax of 13.42%.
BEAUTIFUL remodel, kitchen has granite counters,new wood cabinets and stainless steel. The living room, has a 60" flat screen HD TV and new sofa-sleeper. The condo features a California King and two twins. There is A/C thoughout.
---
---
---
---
---
Maui Condo and Car's Airbnb Terms and Conditions
Check-In Time: 4pm
Check-Out Time: 10am
LATE CHECK-OUT - In order to obtain a late departure from the condo/home, you may wish to request the time in advance. Once your reservation is confirmed, please contact our office for more information regarding late departures.
UNAUTHORIZED LATE CHECK-OUT - In order to prepare the space for subsequent guests, standard check-out time is strict at 10am. Failure to comply will result in a minimum fine of $100. Late check-outs must be arranged in advance with the HOST.
LOST KEYS - For our condos that have hard-copy keys (metal keys), GUEST will be provided with THREE (3) keys. One key will be present in the front door lock-box, and two additional keys will be located inside the condo. For liability purposes, there is a minimum $150 charge for lost keys, as locks must be changed if all keys are not accounted for. Please contact our office immediately if there are less than the specified number of keys upon arrival. Condos utilizing electronic keypad entry systems (ie - Schlage or Kaba locks) do not have hard-copy keys, and are exempt from this policy.
LOCKOUTS - GUESTS may be assessed a $50 fine for lockout services. If it is determined that a lockout is caused by a fault of the locking mechanism (ie dead batteries in an electronic lock), fines may be waived. GUEST is responsible for carrying keys to the condo with them during the duration of the stay to avoid accidental lockouts.
PAYMENT - Please refer to the help center for any questions on payment or payment methods: https://www.airbnb.com/help/topic/222
CANCELLATIONS - Maui Condo and Car listings are subject to a strict cancellation policy. For outlines on this cancellation policy, please visit https://www.airbnb.com/home/cancellation_policies#strict
FALSIFIED RESERVATIONS- Any reservation obtained under false pretense will be subject to forfeiture of advance deposit and/or rental money and the party will not be permitted to check-in.
PENALTY FOR VIOLATING MAXIMUM OCCUPANCY PROVISION – Violation of the maximum occupancy provision can result in serious health risks directly related to overuse of the sewer. Therefore, in the event the GUEST allows the premises to be occupied by more than stated maximum occupancy, GUEST shall be responsible to pay HOST the sum of one hundred dollars ($100.00) per person in excess of the stated maximum occupancy per day for each day the GUEST is in violation. Exceptions may be made with prior written consent from the HOST.
POOL AREA - All persons using the pool area to do so at their own risk and sole responsibility. Children under the age of 18 must be accompanied by adults in the pool area at all times. HOSTS assume no responsibility for any accident or injury in connection with such use. Persons using the pool agree with the Owners for and in consideration of the use of the pool, to make no claim against the owners for or on account of any loss of life, personal injury, or damage to or loss of personal property. Do not hang towels, linens, clothing, or other items on balconies or in the yard.
LANAI/BALCONY - GUEST will refrain from hanging items over lanai railings, including, but not limited to, towels and swimwear. GUESTS will refrain from leaving unattended personal items in common walkways or within sight on balcony/lanai.
DAMAGES – GUEST is responsible for any and all damages that occur to the property or its contents by GUEST or traveling companions while registered occupant(s) of the property. Damages will be claimed in accordance with the Airbnb security deposit policy (https://www.airbnb.com/help/article/140) for incidentals including, but not limited to loss, theft or damage. If HOST discovers that there has been damage to the property or its contents during occupancy, HOST will capture an amount from GUEST security deposit through the Airbnb Resolution Center. The amount captured reflects an estimated cost of materials and labor to replace or repair damaged item(s). HOST will provide a statement of the damages and the receipt for the repairs after they have been completed. GUEST and/or HOST will have the opportunity to invite third-party mediation from an Airbnb customer service agent.
GUEST and/or their guest(s) shall not disturb, annoy, endanger, or inconvenience neighbors, nor use the premises for any immoral or unlawful purposes, nor violate any law or ordinance, nor commit waste or nuisance on or about the premises. Loud music systems and other disruptive noises are not permitted.
GUEST agrees that during the term of this lease and such further time as he/she occupies the premises, he/she will keep the leased premises clean and free of trash, garbage, and other waste; and all pipes, wires, glass, plumbing and other equipment and fixtures in the same condition as at the beginning of, or may put in during the term of the lease; reasonable wear and tear and damage by unavoidable fire and casualty only exception.
PETS ARE NOT PERMITTED in rental units under any conditions.
NON-SMOKING POLICY – State Law prohibits smoking in all areas open to the public, including, but not limited to, restrooms, lobbies, reception areas, hallways, bars, vacation rental rooms & lanais, restaurants, retail service establishments and retail stores. All accommodations provided by HOST are NON-SMOKING. GUEST will be assessed a smoke/odor elimination fee of $475 for smoking, permitting smoking, or otherwise causing the odor of smoking in accommodations managed by HOST.
GUEST agrees that any tenant who is found using drugs or allows others to use drugs on the premises will be immediately denied occupancy at these premises, and that illegal activity may result in an immediate cancellation of reservation and forfeiture of any and all deposits made.
INDEMNIFICATION AND HOLD HARMLESS - GUEST acknowledges and understands that each and every guest or guardian is solely responsible for any property damage, accident, injury, or loss sustained to any person while in-residence, and neither the HOST nor the Owner accepts legal or financial responsibility. GUEST and guardians assume all risk of injury or other losses resulting from the use of residence or any other recreational activity while staying at the residence and will hold the HOST and/or Owner harmless with respect hereto. GUEST hereby agrees to indemnify and hold the HOST, Employees, Officers, Contractors and/or Property owner harmless from any claims, including those of third parties, arising out of or in any way a result of GUEST use of the premises or items therein.
GUEST agrees to indemnify and save HOST harmless from all liability, loss or damage arising from any nuisance or harm made or suffered on the leased premises by the GUEST, tenants, or guests or from any carelessness, neglect, or improper conduct of any persons entering, occupying or visiting the leased premises.
GUEST agrees that he/she shall not paint or make alterations to the property, including adding to or changing existing locks, without the HOST'S written consent.
Upon not less than 24 hours' notice, GUEST shall make available to HOST or his agent for the premises of entering to make necessary or convenient repairs and to show the premises to prospective tenants. In an emergency, HOST or his agent may enter the premises at any time without securing prior permission from GUEST.
GUEST may not let, sublet or assign this lease for all or any part of the premises without prior consent of the HOST.
If GUEST abandons or vacates the premises, HOST may at his option terminate this lease, enter the premises, and remove all property.
In the event that any action shall be commenced by either party arising out of, or concerning this lease or any right or obligation derived there from, the prevailing party shall be entitled to receive attorney's fees as fixed by the Court in addition to all relief at law or equity.
Either party may terminate this lease in the event of a violation of early provision of this lease by the other party in the manner and as provided by law.
GUEST assumes full responsibility for fulfilling the terms of the lease for the period stated and assures the HOST full recourse for the payment of any amount outstanding from the total amount due in accord with the terms as stated above including any outstanding or unpaid charges that are the responsibility of GUEST.
GUEST assures the HOST that the tenants will observe all conditions and terms of this lease as to maintaining the premises in good order and appearance and will conduct themselves in a manner inoffensive to neighbors.
GUEST assures the HOST that any tenant who violates any of the terms of this Lease shall be immediately denied occupancy and shall remedy any damages or other expenses, which are caused by the tenant and/or the tenant's guest(s).
The Policies and Procedures above are meant to protect our guests and owners alike. All guests and owners are required to conform to all Policies and Procedures.
---
严格
旅程开始前的7天之前取消预订可以获得50%的退款。如果在旅程开始前7天内取消预订,该预订将不可退款。
---
---
---
This is a great unit. Spacious and well appointed. End unit adjacent to the pool, which was in no way an issue with noise. On the contrary it was super convinient as the kids like to swim multiple times a day and in the evening. The front stairs are just steps away from a bank of very nice grills which we used a lot. Great pool, nice hot tub. The complex is one of the last on the south end of Kihei across from the marina. Across the street from Kamaole 3 which has a huge park and great beach for little ones and lounging. With Kihei traffic everything is walking distance and walking or bike riding is just as fast as driving so the car is not needed much unless shopping or leaving town. 15 minute walk to Wailea if upscale is your thing. The unit is very spacious. Giant smart TV with a network connection for Netflix etc. Good wifi. Small but super well appointed kitchen with everything you need for cooking there which we did. Be aware that anything food related is stripped bare at each cleaning. Yo will need to get any condiments, spices etc that you may need for the stay on your initial shopping trip. Nice little patio with a large table that could seat 8 if needed for dining. The storage room out on the porch is LOADED with gear. 6 boogie boards from adult to teen to little kid. A large bag of little kid beach toys. Tommy Bahama beach chairs, several umbrellas and a bag of assorted snorkeling gear. This unit was a great find and we will be using it again soon.
---
Los baños deben de ser renovados a fondo. Duchas viejas, los grifos pierden Las hormigas corrian por la encimera y habian muchas. Un dia al recoger la basura encontre una cucaracha. Es un problema importante. Revision del plomero; en dos ocasiones adverti que quizas no estaria en casa y que era el dia de mi marcha. Su respuesta fue que "los plomeros estaban fuera de su control y que eso me llevaria poco tiempo". Vamos que era mi obligacion estar en casa para la revision. Aun y asi nunca se presento ningun plomero. Espero que la revision ya este aprobada. Sus respuestas por mail deben de mejorar y siempre se debe de responder a los mails. Es muy importante tener siempre una respuesta. Eso te hace sentir seguro. Creo que con estos puntos su apartamento mejora mucho. Espero haberle ayudado
---
Maui Condo and Car were very responsive and concerned that we were set up properly. Communication was via AirBNB email system and AirBNB app. Emergency messages came through fine. Self check-in includes a parking space (get permit and pool gate codes from the office by the pool). The apartment was in a convenient central location. It is walking distance to a great boogie boarding and snorkeling beach (Kama'ole III). Saw some sea turtles, colorful fish, and tons of sea urchins. 45' away: Lahaina along a coastal road that gets water during storms. Haleakala was 2+h but spectacular. 25' away: Maui Tropical Plantation is free to enter with an interesting tram tour for a fee (find a coupon to get a free pineapple cup). 30' away: Iao Valley is a short day trip. 30' away: Kahului with its 2 shopping centers (one covered for the rainy days), movie theaters, Whole Foods, and Costco (get food after landing, and get VERY cheap gas before leaving). 5' away: Foodland and Safeway (Recommend: the owners should leave club cards in the unit). The unit was stocked and generally clean except for the carpet (Recommend: steam clean). We enjoyed its nice lanai with a narrow view of the ocean. AC and fans kept us cool. The unit had boogie boards, foam noodles (good for snorkeling), beach chairs/towels/umbrellas, ice chests-VERY useful. There are starter supplies for the kitchen, bathrooms, and laundry. Fridge makes ice. The onsite pools were warm and very relaxing (note: property has some strict pool behavior rules). There are BBQs and a book swap. The unit also has a bunch of books. I left some maps (grab the map packet at the airport). The neighborhood was quiet and seemed safe for walking. FYI: Upstairs king mattress is very soft with little back support. If you turn on the fans, watch out for falling dust.
---
Wonderful condo! I stayed here with a group of couples for a week and we have NO complaints. The condo was very easy to access for the whole group due to a code entry door. We were located 15 steps from a newly renovated pool/hot tub area with BBQ access. Included were boogie boards, beach chairs, umbrellas and ice chests. The beach, a 10 min walk, had perfect sand and gentle waves great for swimming. Air conditioning was crucial during the night. Bathrooms were very clean and kitchen (as you can see from pics) is beautiful. No complaints and would stay again!
---
Had a great stay in the condo. Easy checkin and helpful staff at resort office. Condo was well equipped with all we needed to cook breakfast and a couple of dinners. 4 boogie boards a pair of fins, two beach chairs and two umbrellas was also very handy to bring to the beach. AC is a bit noisy, but we wasn't bother too much. All in all a very nice experience.
---
We have a Vacation Rental Company in Maui where we deliver clean units by the beach at a great price. Contact us anytime to get a great deal on Maui!

Maui Condo and Car is an on-island property management company. Our attention to detail is second to none. We have the BEST cleaning service on island, 24/7 emergency services available, and friendly, attentive staff to meet your needs. With an "excellent" average rating of over 1200 reviews, and returning guests year after year, we're confident that you will be happy with the level of customer service you receive with Maui Condo and Car.
语言:
English、Español