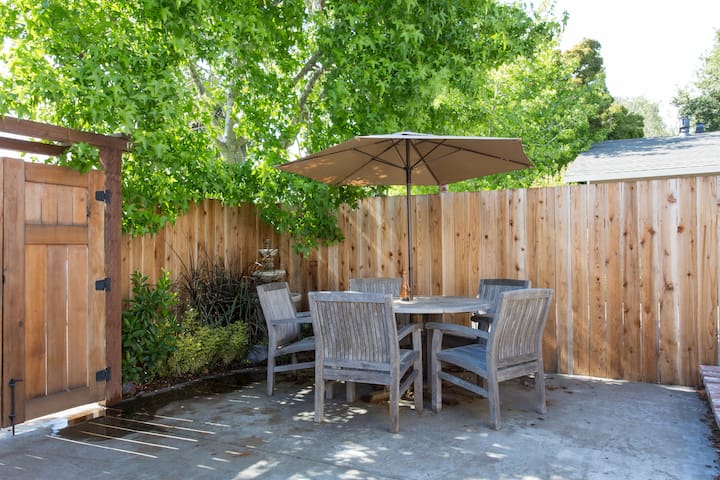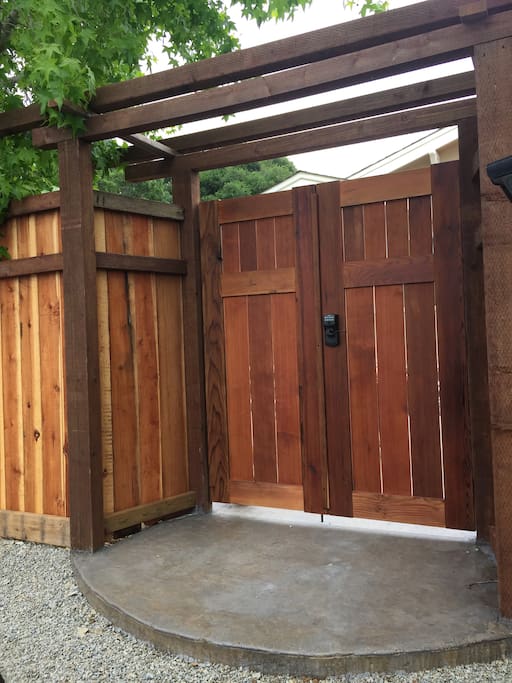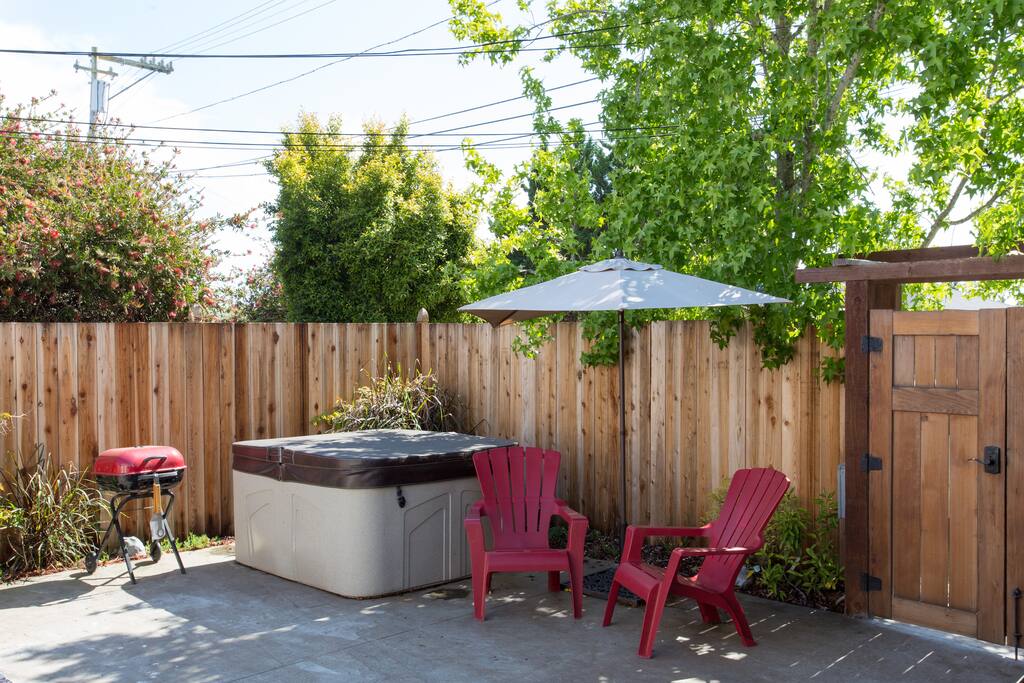 Santa Cruz Cottage w/ Hot Tub
Our one-bedroom cottage features a spacious outdoor garden patio area with hot tub, BBQ, and patio dining table. The cottage is equipped with a bedroom with a queen size mattress and large closet. It also has a living room with a leather couch, queen size pull out bed, full kitchen and a bathroom with a shower/bath. This property is centrally located, just blocks from twin Lakes Beach and the Santa Cruz Yacht Harbor and a short drive to the Santa Cruz Beach Boardwalk.
---
---
---
---
Santa Cruz has a strict noise ordinance and so please not loud gatherings or noisy late nights. We want to be good neighbors.
---
---
---
---
Enjoyed staying in this place with quick and easy access to Boardwalk/wharf and beaches. That being said the street was noisier than I expected but was fixed with earplugs for sleeping. It was pretty warm inside in afternoons that the A/C couldn't overcome but opening up in evening cooled it down for sleeping. Great to stay in a place that allows pets with a fenced in patio so they aren't cooped up in the house with you at all times like you would get with a hotel. Enjoyed our stay in Santa Cruz!
Julie, thank you for your kind words about the property. For folks looking at the property – it has forced air heating that does not have air conditioning. Julie was here during a record-setting heat wave in Santa Cruz and usually in the evening summer temperatures are in the mid 60s or lower. The property is set back off the street with the house about 45 feet and set within a patio that has a 6 foot fence and gate surrounding it. I think you'll find that it is quite private.
---
Cute cottage stocked with everything you need for a nice stay. Cynthia provides chairs, bikes and boogie boards for the beach. Kitchen stocked with basic necessities to cook. We had a nice relaxing time sipping wine and BBQing in the lovely tree covered patio area and ended our days with a nice jacuzzi. We had a fantastic stay.
---
House was in great shape. I was expecting a single family residence, but it was a duplex. Not quite as private as I was expecting. AC unit was hard to use and ended up opening windows instead. Everything else was great. Though we didn't use them, there were pedal bikes to use. I thought that was a nice amenity. Cynthia left us a welcome care package that was over the top!
Devin, thank you for your kind words. Just an FYI for future guests.... The property does not have air conditioning. The average temperature in Santa Cruz at night is in the low 60s during the summer and it is very unusual for a property to have air conditioning. Another note, the property is the front half of a duplex but does not share any walls with the other half.
---
We had a wonderful stay at Cynthia's place. It was nice, clean and the gift basket was a great treat. We enjoyed the quiet ambience. It was great for our 15th month old during nap time. Cynthia's suggestions for places to go were spot on and her place was close to everything. We had such a wonderful time, we forgot to buy a lotto ticket. I blame my husband for missing out on $700 million dollars. We would definitely stay here again.
---