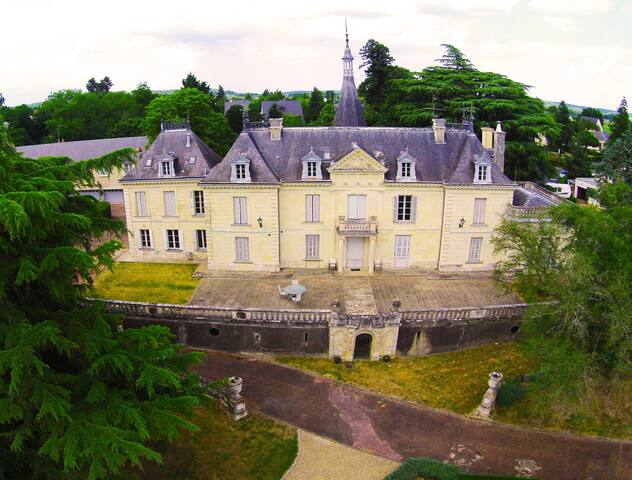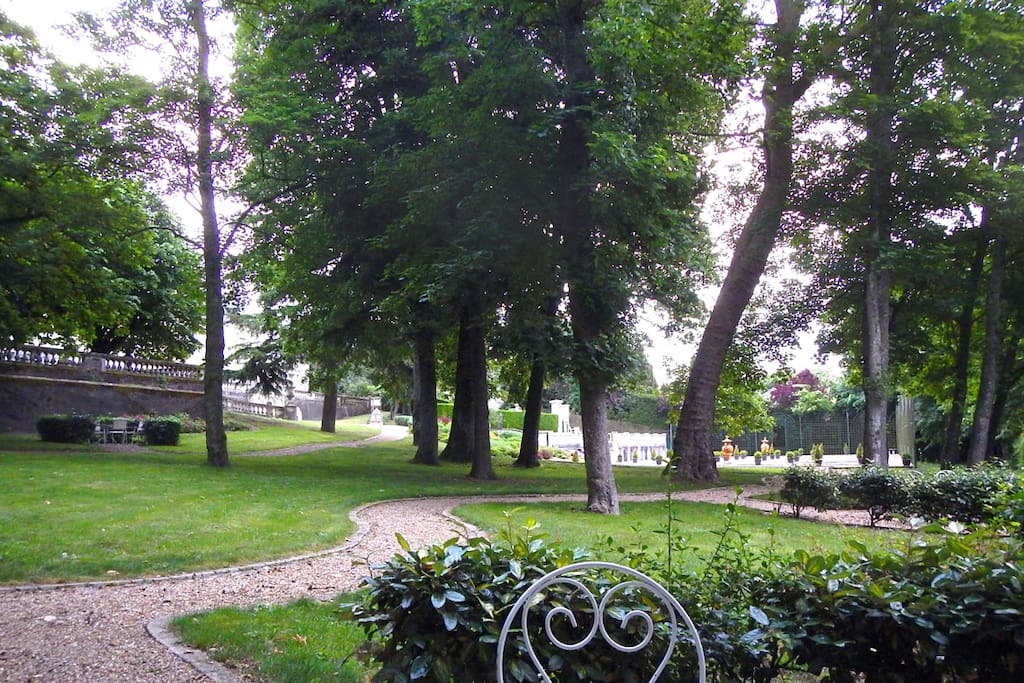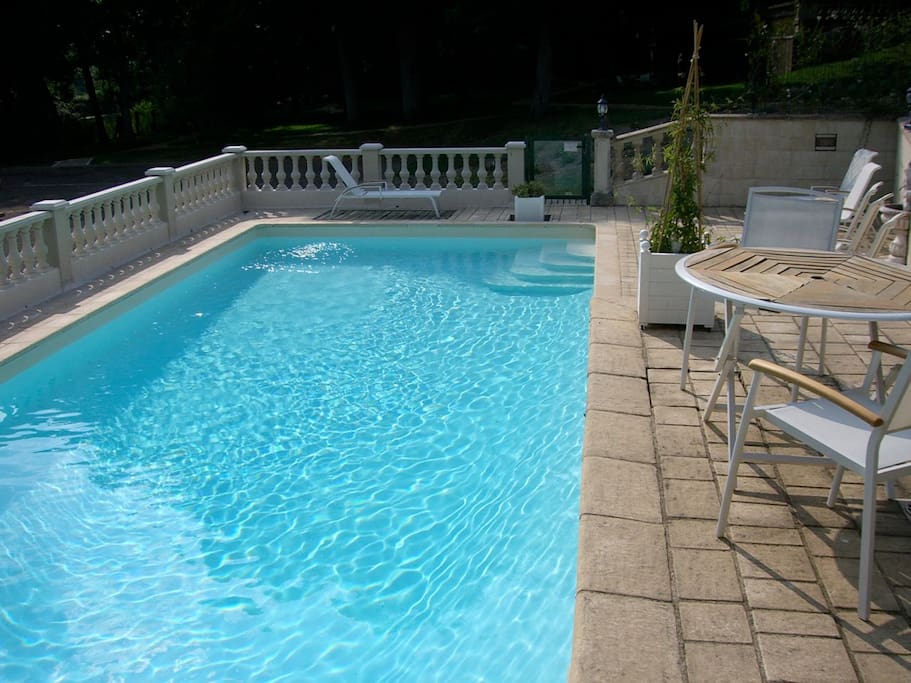 The Long View Suite is a two-bedroom suite that offers the tradition of a château stay with the style of a completely modernized apartment. The Château des Sablons, located in the heart of the Loire Valley, is perfect for experiencing old-world charm
房源细节
Highlights:
Conveniently located in the heart of the Loire Valley in Bourgueil at the Château des Sablons
Two bedrooms each with a king-sized bed
Delightfully-terraced swimming pool
Perfectly situated for sight-seeing and many outdoor activities
Overview:
Château des Sablons is a beautiful 18th century château with a white stone façade. It is ideally situated on the edge of the medieval market town Bourgueil which is amidst some the greatest castles in the heart of the Loire Valley.
The Long View Suite is a two-bedroom suite that offers the tradition of a château stay with the style of a completely modernized apartment. It is located on the top floor in the main wing of the château, and has beautiful views of the grounds and the surrounding countryside.
This suite accommodates up to four guests, and allows for the perfect vacation no matter your pleasures.
Activities also abound in the area. Visit other châteaus, tour museums, and taste the area's fine wines and cuisine.
Enjoy numerous outdoor activities that include: watersports on the lakes and rivers (swimming, windsurfing, waterskiing, canoeing, and sailing), hunting, fishing, golf, and walking or cycling in the beautiful countryside and forests.
Details:
Located on the top floor of the Château des Sablons with access via the circular staircase in the main tower of the Château on the 2eme etage (French counting) or third floor (American counting)
Comfortable king-sized bed in each of the two bedrooms which are situated picturesquely in the old combles. Each has a window looking out to the Loire countryside
Private bathroom features marble floors along with a shower, sink, toilet, and a heated towel rack
Charming living/dining area offers cozy seating spaces for four, and is open to the marble-floored kitchen area
The kitchen area is meant to serve light cooking needs, and includes: a refrigerator, sink, microwave, two-burner electric stove top, and a coffeemaker. Please note that there is no oven available in this suite. There are other suites available if more cooking facilities are needed.
Services include:
Linens
Towels available for 10 Euros per person per week
Iron and Ironing board
Parking available
WiFi Internet Access
TV with an Apple TV on demand entertainment system that includes access to an extensive library of over 500 English language movies and TV shows, and access to international news podcasts.
Sightseeing:
You can choose to visit the area by foot, bicycle, train, or auto.
By Foot:
The Château des Sablons is only a 15 minute stroll from the center of Bourgueil. The town is well endowed with shops, including three butcher shops, five bakeries, three café-bars, five restaurants, a wonderful patisserie and a good newsagent's shop for newspapers, etc. In addition there are two supermarkets, one in town that stays open Sunday morning and one just on the outskirts, the huge HyperU Supermarket.
The town is prosperous and enjoyable, and a center of wine production. The A.O.C. of Bourgueil is present on every wine list of any size in France and visiting the neighboring wineries (you'll pass vines on the way into town) is one of our guest's favorite activities.
By Auto:
The Château has a very convenient location, being only 3.5 km from an exit from the A85 motorway. This allows you immediate access to the motorway and speeds you to some of the further distance châteaus such as Amboise (less than an hour), Chenonceau (45 minutes), Langeais (15 minutes), Villandry (20 minutes), Chinon (15 minutes), Saumur (25 minutes), Montosreau (15 minutes), Angers, Azay le Rideau….
By Bicycle:
The Loire Valley in the part of France which is the most bicycle-friendly. A separate bike path has just been constructed beween the center of Bourgueil and the Loire. This kind of construction is becoming more common in the area. (A several hundred kilometer bike path runs along the south bank levee of the Loire.)
There are plenty of guides for visiting the region by bicycle, but the immediate area has three bike circuits of about 40 km that provides visitors with a unique visit to the area. One focuses on the vineyards and wine-producing areas, another on the old ports on the Loire, and another takes you up into the hills and along the Chaungeon to see the mills, etc.
You can also combine bicycle tours with the train to extend your range. Almost all local trains from the Port Boulet station 3.5 km from the château carry bicycles. This allows you to ride to Saumur on the bike and then take the train home, for instance.
Owner / Operator of Historic Rentals that owns individual vacation apartments and suite rentals in a variety of locations that include New Orleans, LA, and several locations in France: Paris, Loire Valley at the Chateau des Sablons, Alps / Lake Annecy, and Provence / Menerbes.

We've been helping guests enjoy their trips for more than twenty years, but are new to Airbnb. Since we love to travel, we know what guests appreciate, and try and provide a warm local experience.

Remember that wherever you choose to stay you will have a great time. Planning should be half the fun! Relax and choose a property that seems right for you. We encourage potential guests to contact us with questions since we think that's the best way of finding out if a property will meet your needs.

We've chosen to own these properties since we like to stay there ourselves. So if you like museums, good restaurants, and places with a sense of history, you'll find they will probably fit with your taste.

Helpful tips, clear instructions, and guide information are provided for the local areas unique to each apartment location.

For full information about each property, including testimonials, FAQs, and additional photos, please visit our website. You may also do an internet search on HISTORIC RENTALS SELECT A SUITE to learn more.

Enjoy your vacation like a native with Historic Rentals!
语言:
English、Français