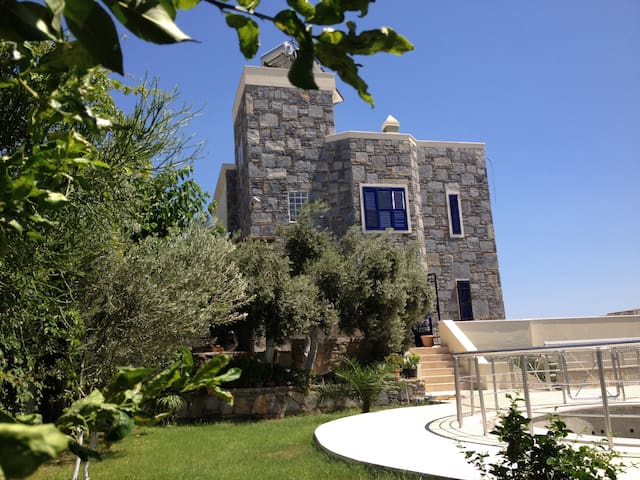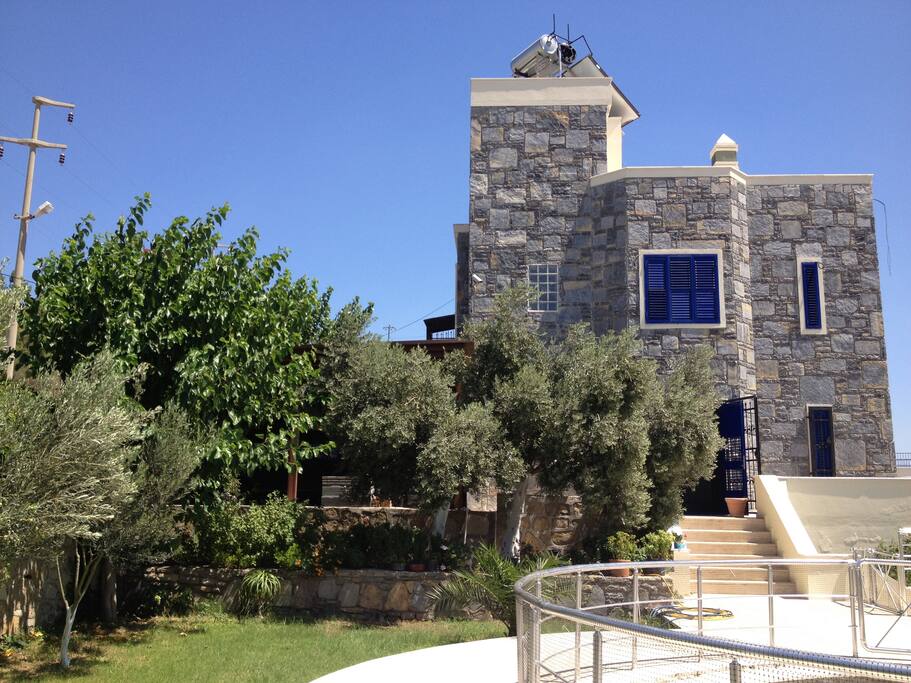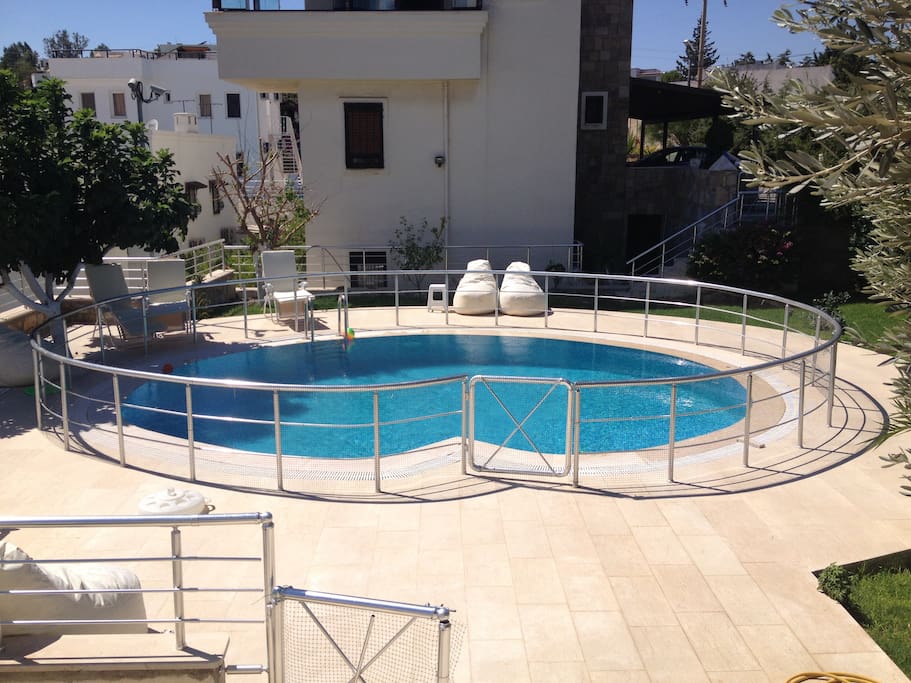 房源
5,000平方英尺(470平方米),5间卧室,3 1/2浴室地中海风格的别墅和私人游泳池,距离博德鲁姆市中心仅数分钟路程。 我们的房子位于Bardakci湾,在Bodrum和Gumbet Bays之间偎依。下城镇博德鲁姆距离酒店有20分钟的步行路程或5分钟的车程。 建筑是现代化的,设备齐全,配有现代化的现代化厨房。房子有自己的院子,游泳池,有盖的汽车港口,是门控非常私密的。我们的家坐落在Bardakci湾的顶端,在博德鲁姆炎热的夏天,可以欣赏到美妙的景色和微风。 我们的3层豪华Bodrum家庭设有带有线,无线网络和工作电话的等离子电视。 在博德鲁姆,很大的房屋很难找到,因为空间非常有价值。有2间宽敞的主人套房,带有自己的浴室+ 3间卧室,加上1个完整浴室和1个1 / 2bath客厅/厨房区。一间卧室设有两张单人床,可以转换成4张单人床或2张大号床,1间卧室配有一张全尺寸的床,最后一间卧室配有一张单人床。 Bardakci海湾拥有3间豪华酒店,设有游泳池,咖啡馆和餐馆。 Bardakci海滩距离我们家的山丘有3分钟的步行路程。巴尔达克海滩拥有罕见的"蓝旗",这意味着海洋的自然生活保留在海湾最好的地方。 出租车每天24小时提供,并在您通话几分钟内到达。 还有一个当地的巴士服务(dolmus),每隔15分钟就可以到达主要街道的Bardakci(步行2分钟)。 此外;海滩南端有5分钟的步行路程,5YTL(约2美元)左右的水上出租车,您可以乘坐10分钟的班车到达博德鲁姆镇,经过码头,船只和Bodrum城堡。 在我们看来;我们的豪华住宅是最好的住宿地点之一。在博德鲁姆,你在后街走进不同的时间;你可能会期待通过一个橄榄园,一千年的破旧的树木从炎热的阳光下遮掩着你,然后旁边还有一小片种植着橙树的小鸡,一边跑着跑着,一边抓着鸡。人们坐在安静的阴影后花园喝茶;木匠在一棵巨大的树下建造一条船外面。沿着码头进一步向下进入博德鲁姆市区,酒店,商店和餐馆,夜总会和小型沙滩都藏在所有俯瞰博德鲁姆城堡的餐厅和商店后面。 我们的博德鲁姆别墅是最大,宽敞的别墅之一,装饰高雅,设有私人游泳池。距离Bodrum镇仅有数分钟路程,拥有Bardakci湾的最佳景观。
5,000 square feet (470 square meters), 5 bedrooms, 3 1/2 baths mediterranean style villa with a private pool, minutes from downtown Bodrum.

Our house is located in Bardakci Bay, which snuggles between Bodrum and Gumbet Bays. Down town Bodrum is a 20 minute short walk or 5 minute car ride away.

The construction is modern, is fully air conditioned, furnished and has a fully fitted modern, state of the art kitchen. The house has its own yard, pool, covered car port, is gated and very private. Our home sits on top of the Bardakci Bay and benefits from amazing views and a nice breeze in the hot summer days of Bodrum.

Our 3 story luxury Bodrum home has Plasma screen TVs with Cable, wireless internet and a working phone.

Big homes are very hard to find in Bodrum as space is very valuable. There are 2 spacious master suites with their own bathrooms+ 3 bedrooms, plus one 1 full bath and 1 1/2bath in living room/kitchen area. One bedroom has 2 twin beds that can be converted in to either 4 single beds or 2 queen beds, 1 bedroom has a full size bed and the last bedroom has a single bed.

The Bardakci bay is home to 3 luxury hotels with pools, cafes and restaurants. The Bardakci Beach is a 3 minute walk down the hill from our house. The Bardakci Beach holds the rare "Blue Flag" which means that the natural life of the seas is preserved at its best in the bay.

Taxis are available 24 hours a day and arrive within minutes of your call.
There is also a local bus service (dolmus) that stops on the main street to Bardakci ( 2 minute walk) every 15 minutes.
In addition; there is the water taxi available at the south end of the Beach ( 5min walk) and for 5YTL ( about $2) a person, you will enjoy a 10 minute boat ride to down town Bodrum, passing the marina, boats and the histrorical Bodrum castle.
In our opinion; our luxury home is one of the best places to stay. In Bodrum you step into a different time on the back streets; you may expect to pass beside an olive grove with 1,000 year old decrepit trees shading you from the hot sun, then alongside a small plantation of orange trees with chickens running and scratching about; people are sitting in quiet shaded back gardens drinking tea; a carpenter is building a boat outside under a huge tree. Along side the marina and further down towards downtown Bodrum there are hotels, shops and restaurants, night clubs and small beaches tucked behind all the restaurants and shops overlooking the Bodrum castle.
Our Bodrum villa is one of largest, spacious villas that is tastefully furnished and with a private pool. It is minutes from down town Bodrum and holds the best views of Bardakci Bay.
---
---
---
BODRUM VILLA RENTAL TERMS AND CONDITIONS
Osman Nuri Bilgin Cd, Sapel Sokak, Bodrum, Muğla, TURKEY
1.AGREEMENT: The homeowner, and Tenants agree as follows: Tenant is over the age of 25 and will be an occupant of the unit during the entire reserved period. Other occupants will be family members, friends, or responsible adults. Use of the premises will be denied to persons not falling within the foregoing categories, and as a result they would have to vacate the property immediately without any refund. No keys will be issued to anyone who is not an adult. Furthermore, for unforeseeable reasons, if a vacation home becomes unavailable, even if you have reserved it, due to circumstances beyond our control (house being sold, damaged, double booked etc.) We will make our best effort to offer other accommodations if available. If not available, we will issue a full refund.
2. PETS: We do not allow pets at the house or on property.
3. PAYMENT SCHEDULE AT TIME OF BOOKING:
Full payment is due at the time of booking/rental. Airbnb.com holds the funds until the day after guest move in date. Then the funds are transferred to the host's account.
Credit card account will be held in airbnb.com for future charges in case of damage and or breach of this contract.
4. CANCELLATION: Should you wish to cancel this reservation, notice of cancellation MUST BE IN WRITING AND RECEIVED MORE THAN 60 DAYS PRIOR TO YOUR CHECK IN DATE. We will refund the sums you have paid, less a Euros50 cancellation fee. If your notice of cancellation is RECEIVED LESS THAN 45 DAYS PRIOR TO YOUR CHECK IN DATE, you will forfeit 25% of the sums paid, except your security deposit. There will be no refund within 30 days or less of arrival, no exceptions.
5. CHECK IN: Check in time is 3:00 PM.
EARLY CHECK IN TIMES ARE ALLOWED ONLY WHEN THE PROPERTY IS CLEANED AND READY FOR OCCUPANCY AND PRIOR APPROVAL IS REQUIRED. Keys will be ready for pick up at property location. Keys WILL NOT be issued without a signed rental agreement in the owners, or owner's representatives, possession.
6. CHECK OUT: Check out time is 10:00 AM, THERE IS AN EXTRA CHARGE FOR LATE CHECK OUT AND PRIOR APPROVAL IS NEEDED.
If you would like a later checkout time, please ask the day before and we will accommodate you if possible, depending on cleaning schedules.
You will be charged for not checking out on time (unless otherwise/ previously agreed upon) at a rate of 15 Euros per 15 minutes. (our cleaning service cannot clean until you leave) A 50 Euros per item fee will be charged for each lost key and remote control.
7. CLEANING: Each property will be inspected, sanitized and cleaned after your departure. The cleaning fee (200 Euros) will provide normal cleaning so that you can enjoy your vacation up to the last moment. HOWEVER, YOU ARE REQUIRED to leave the property in the same general condition that you received it by making sure, dishes are in dishwasher, and the home is generally picked up and ready to be vacuumed, dusted and sanitized. If additional cleaning is required, appropriate charges will be deducted from your security deposit at the rate of 30Euros per hour. ALL OF OUR HOUSES ARE NON-SMOKING. If there is evidence of smoking inside the house, you will be charged an additional 300Euros.
8. HOMES WITH TELEPHONES: Telephones may be used to make as many local calls as you wish and may be used for long distance calls if a sign at the house you are staying at states domestic calls are free.
9. WHAT WE SUPPLY: The property is equipped and set up as a fully furnished property that will include bedspreads, linens, blankets, pillows, towels, as well as a fully equipped kitchen. THERE WILL BE EXTRA CHARGES TO YOUR SECURITY DEPOSIT OR CREDIT CARD FOR REPLACING THESE ITEMS IF FOUND TO BE NECESSARY.
10. WHAT YOU SHOULD BRING: Plan on packing your personal toiletry items. Since we provide a limited supply of toilet paper, paper towels, and other dispensable items to get you started on your first few days of vacation, you should plan on making a trip to the grocery store to replenish these items as you need them.
11. TENANTS LIABILITY: Tenant agrees to accept liability for any damages caused to the property (other than normal wear and tear) by Tenant or Tenants guests, including, but not limited to, landscaping, misuse of appliances, and/or equipment furnished. If damages are in excess of the security deposit being held and/or are not covered by the damage insurance if purchased, Tenant agrees to reimburse the homeowner for costs incurred to repair/replace damaged items, furniture, kitchen equipment, etc.
12. SLEEPING CAPACITY/DISTURBANCES: Tenants and all other occupants will be required to vacate the premises and forfeit the rental fee and security deposit for any of the following: A. Occupancy exceeding the sleeping capacity stated on the website (10 people). B. Using the premises for any illegal activity including, but not limited to, the possession, serving or consumption of alcoholic beverages by or to persons less than 21 years of age. C. Causing damage to the premises rented or to any of the neighboring properties. D. Any other acts which interferes with neighbors' right to quiet enjoyment of their property. E.) Violation of the 12:00 PM Noise RULE. F.) No parties of any kind. If you have a party ( 20 or more people)you will be immediately evicted, fined 2000 Euros and WILL BE charged for your full reservation.

13. HOLD HARMLESS: The homeowner does not assume any liability for loss, damage or injury to persons or their personal property. Neither do we accept liability for any inconvenience arising from any temporary defects or stoppage in supply of water, gas, electricity or plumbing. Nor will the homeowner accept liability for any loss or damage caused by weather conditions, natural disasters, acts of G-d, or other reasons beyond its control. Do not allow children to go upstairs to the upper deck on top floor unattended, do not allow children to roam the property unattended.
14. ADDITIONAL TERMS AND CONDITIONS: The tenant, for himself/herself, his/her heirs, assignors, executors, and administrators, fully releases and discharges Owner from any and all claims, demands and causes of action by reason of any injury or whatever nature which has or have occurred, or may occur to the undersigned, or any of his/her guests as a result of, or in connection with the occupancy of the premises and agrees to hold Owner free and harmless of any claim or suit arising therefrom. In any action concerning the rights, duties or liabilities of the parties to this agreement, their principals, agents, successors or assignees the prevailing party shall be entitled to recover reasonable attorney fees and costs.
15. Payment by Credit Card through (URL HIDDEN) This acceptance confirms authorization for the home owner to hold Credit Card Account for the Required Security Deposit and the required down payment to confirm the reservation, and then subsequently the remaining balance to complete the full payment of said reservation. Also note that your credit card will be charged any excess charges if deemed necessary from any damages, or by damages.
16. MAILING ADDRESS: This signed agreement, should be scanned and emailed to (EMAIL HIDDEN) and mailed to the address to be provided.
_________________________________________________________________________
PLEASE REMEMBER THAT YOU ARE RENTING A PRIVATE HOME. PLEASE TREAT IT WITH THE SAME RESPECT YOU WOULD LIKE SHOWN TO YOUR OWN HOME.
ALSO, AS STATED IN ITEM 18 ABOVE, YOUR CREDIT CARD ON FILE WILL BE CHARGED THE REMAINING PAYMENTS (IF ANY ARE REQUIRED) WHEN THEY ARE DUE, UNLESS WE HEAR OTHERWISE FROM YOU.
__________________________________________________________________________
By signing the terms "I have read and agree to the rules and restrictions" on this agreement and booking this rental, you and your party are accepting the above terms and agree that this contract is binding and by physically signing and dating this contract below.
Amount paid_______________(at time of booking)
Signature___________________Date_______
Print name_____________________________
List all occupants staying on the property below:
First Name, Last Name
1.________________________ 7.________________________
2.________________________ 8.________________________
3.________________________ 9.________________________
4.________________________ 10._______________________
Note: Maximum Capacity at units is strictly enforced

---
---
From the minute I first inquired about the property, Ayca was amazing and helpful. Our family has used airbnb as well as other private rental sites when traveling all around the world. It can be confusing and intimidating when planning a vacation so far away in a country where you have no first hand experience. I emailed back and forth several times with Ayca, and she was extremely helpful with ground transportation options, flight options, activity suggestions...just everything! As for the property: the photos do not do it justice. It is huge, clean, upscale and fully equipped with all my family of six needed to be comfortable and feel pampered. The on site property manager was nearby, and he tended to our every need and question. The house was filled with linens, towels, kitchen cooking utensils and accessories. The laundry room was huge and modern and made our stay so much easier! The locations and views are amazing. We were lucky to visit with perfect weather, so the doors and windows were upon most of the time with no need for air conditioning. We walked to the water taxi, which we took into town. The cab rides were short and VERY affordable. In fact, everything in Bodrum (and Turkey) was unbelievably priced compared to what we pay in California or when we visit Maui!!! We were all in shock. Turkey, and this specific property in Bodrum, were more than worth the 13 hours nonstop flight from SFO into Istanbul, and I would go back in a heartbeat! Thank you Ayca and Sedat and best wishes for your property operations into the future. I hope it will be available to us again!!! We LOVE Bodrum!!!!
---
I recently stayed at this 5 bedroom villa with 2 friends for a few days as we relaxed in Bodrum and the towns surrounding. The villa is fantastic. It is truly better than the pictures show with three floors and plenty of space. If you are a group of close friends, a few couples, or a family this villa will suit you perfectly. The location is great, nestled at Bardakci Bay between Bodrum and Gumbet. A beach is a short walk from the house and water taxis take you right to Bodrum center in 5-10 minutes for 6TL. While you can easily walk to town in 15 minutes, this is definitely the best (and most beautiful) way to get there, particularly at night. Cabs are also easily accessible and there is a stand a close walk away. The villa has a balcony with seating for breakfast with a great view of Bardakci and Gumbet. The kitchen appliances, washer/dryer, bathrooms, etc are all in great condition. Overall, the apartment is very clean and modern. We didn't use the pool much since the beach was close by, but it looked very nice and well-maintained. Aycha was very responsive to any inquiries we had. Her uncle lives next door so any problems with had he was there to help shortly. Overall, if I make it back to Bodrum, I definitely plan to stay at this villa again. Separate to the house, my only recommendation for you is to rent a car! There is a gated driveway at the house and you will be able to do excursions to Turkbuku and Yalikavak, which are both about 20 minute drives from the villa. Beautiful bays and beach clubs at both. Also, this will help with picking up groceries (which are a short 10 minute drive to large grocery stores). 5 stars!
---
We had a great time in Ayca house . The house is spacious and light . Location is just perfect . Muhsin( lives next door) is always there to help . Azka hotel is next door - we used their beach , went to lunch and spa. I would renovate the showers . It is just small thing which is does not spoil the whole picture.
---
Wir hatten eine unglaublich tolle Zeit in Aychas Haus. Wir haben uns sehr willkommen gefühlt - die Kommunikation war sehr sehr gut, der Hausmanager ist ein Schatz von einem Menschen. Das Haus ist sehr gut gelegen und der Blick auf das Meer ist vom Balkon aus einfach großartig. Der Poolbereich hatte die richtige Größe für uns. Die Zimmer, die Küche, die Badezimmer - alles sehr sehr gepflegt und liebevoll eingerichtet. Ein fantastisches Haus! Wir kommen wieder! Danke Aycha und ihrer ganzen Familie!
---
I am a Turkish native living in the US for almost two decades. I have been vacationing in Bodrum for as long as I can remember. I have worked on the commercial side of real estate industry for over 9 years. Being an avid traveler and having rented tens of homes each year via travel websites I understand and work hard to cater to the expectations of our beautiful home's guests.