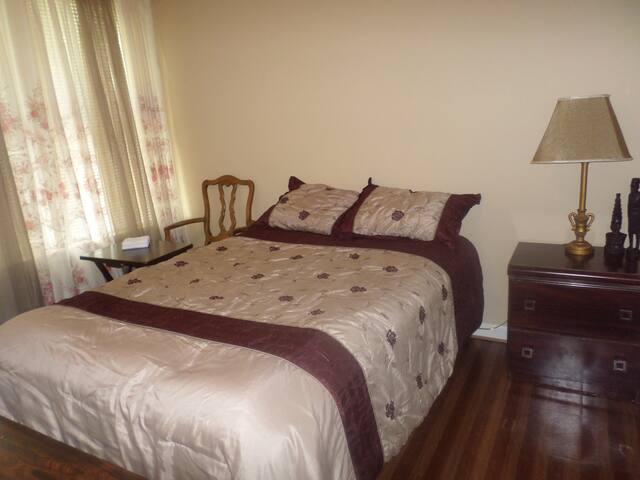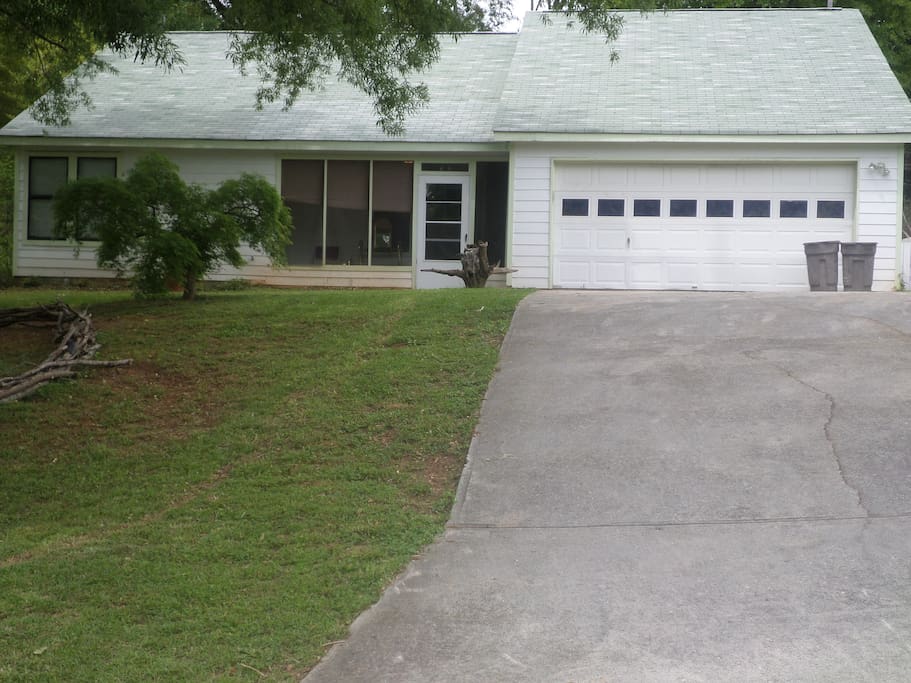 #2 DoulaHouseOfRefuge. SharedBath
Thanks for considering us. (Before you go any further, read my Profile,Reviews,Houserules& Description)
This location includes SharedBathroom with guests. PrivateCommunityEvents&Activities. For short term guests.
房源
The space is a flat 3 bedroom ranch on a hill. This bedroom is for single occupant and short term travelers. There is moderate interaction between the host and guests. This space is also more accommodating to traveling professionals between the ages of 26 - 40. Guests will share bath with other guests.
房客使用权限
Community events and activity may take place in the common areas during you stay. Keep your private rooms locked and secured.
与房客的互动
Moderate interaction between host and guests. However, you will have all the help you'll need. I will provide a list of contacts, internet code, eateries and much more to make your stay easy breezy.
其他注意事项
All utilities are included in the rent (water, gas, electricity).
Conserving usage of the utilities keeps this Airbnb location at affordable rates.
We are an Airbnb. Not a hotel or a maid service. Please tidy up behind yourself and bring or buy the additional supplies that may not be provided at this particular Airbnb.
---
---
始终通过爱彼迎进行交流
为了保护您的账号隐私和付款安全,请不要相信其它任何平台的折扣或优惠券代订,并始终在爱彼迎站内转账和交流。
了解更多
---
HOUSE RULES AND REGULATIONS
-Our rooms are for short term travelers only.
-You will be given a key to your private room to lock up your personal items while you are away.
- Private events and appointments are subject to be held in the common area at this location during your stay.
- Lock you private doors. We are not responsible for any lost, damaged or stolen items.
-No pets!
- I hold a space for single mothers with small children in emergency situations. No guests inside the house or on property EVER!
-No smoking in rooms! Smoking is permitted in designated areas (front porch only).
-Lock the front door behind you every time you exit or enter the house.
-Report maintenance and repairs immediately.
-The occupants and visitors must ensure orderly conduct with no disturbances to other occupants and neighbors.
-No guest on property or inside the house. EVER!
- DO NOT LEAVE YOUR CHILDREN UNATTENDED EVER!
-Cannot use address. Must have your own mailing address or P.O. Box.
-Rubbish must be wrapped and put into the garbage bins.
-Tidy and wipe down all common areas after usage.
-Light interaction with host.
KITCHEN
- Kitchen needs upgrades and is not included in the package. But feel free to use it. Its completely functional
-If you decide to use the kitchen please clean up behind yourself and keep counters clear at all times.
ADDITIONAL EQUIPMENT
-Iron and ironing board.
-Cleaning products.
-Broom, dust pan, mop and mop pale is in the hall closet near private rooms.

BATHROOM (SHARED WITH OTHER GUESTS)
- ALWAYS KNOCK BEFORE YOU ENTER.
-This is an Airbnb. Not a hotel. Please tidy up after yourselves.
-Clean toilet after major usage.
-Clean tub after shower and bath.
-Clean up mirrors and sink after toothbrushing, hair, makeup, etc.
BEDROOM
-Any snacks must be stored in plastic containers or room refrigerators(additional $20.00 to bring your own refrigerator).
-Do not bring anything into the room that does not fit in the closet or drawers.
-No hanging of pictures, posters, boards of any kind in the room. Do not bring any furniture into your room.
-Turning off the overhead lights in your room at night saves energy. Lamp will work for studying or reading.
-Please let us know if anything is not working or might need attention.
-All bedding is provided; however feel free to bring your own. You must wash your own linen.
-If you damage or break anything you will be charged for any repairs and replacement cost and will need to be paid immediately.
OTHER COMMON AREAS
-Do not leave any remnants of you anywhere in these area for they are subject to be thrown away. Common areas include living room, dining room, front porches, front, back and sides yards, kitchen, and bathroom.
AREAS OFF LIMITS
-Attic, garage, the back yard
PERKS!
-All utilities are included in the rent (water, gas, electricity).Please conserve usage.
-10 minute walk from South Indian Creek Train Station
-Near by shopping plazas, eateries, and gas stations.
OCCUPANTS MUST
1. Abide by HOUSE RULES
2. Consider other occupants.
3. Do not adjust thermostat.
4. All rules and laws regulated by city and state also apply to all occupants.
您还必须确认以下情况
可能会有噪音 - I have clients that visits this property.
需公用某些区域 - Your private room is the only space that you exclusively have.
便利设施缺陷 - (see detailed description)
---
---
---
Greetings and thank you for considering The Doula House of Refuge through Airbnb.

Take note that Downtown Atlanta and Midtown and other surrounding areas are a 20-25 minute drive. If you are taking public transportation the commute can be up to an hour and 10 minutes. I highly recommend having your own transportation or using Uber/Lyft.

ATTN SINGLE MOTHERS OF UP TO 2 CHILDREN AND EXPECTING SINGLE MOTHERS!
I'm a Doula and I have affordable rooms available for single mothers in distress.

I also accommodate other guests who are in a life transition.

Get the total package today through my Doula House Program through Airbnb. (up to 8 weeks)

ATTN CURRENT GUESTS!
If you have questions or requests, review house rules/manual, my profile, and my reviews before contacting me. Thanks.]

If this is your first time...
Thank you for considering my Doula House of Refuge.
Before you go any further, you will need 4 verifications. Be sure to read my profile, house rules, detail description and house manual in its entirety. There may be a few things you may not like about me or my listings. I want you to have a fair shot when experiencing Airbnb. This space is designed to include you in lives of those who I assist through my community outreach. My reviews, my profile, and my house rules gives great insight to the type of host I am, how my team works, and how I run these private rentals.

Be prepared for a moderate text exchange. It is my duty as a host to make sure that you are a good fit for me and my community. I will pre approve or decline your request depending on your reviews, our communication over the Airbnb thread, and your verifications. You must have 4 verifications. If you attempt or even slightly suggest to cut Airbnb out of the deal, I will automatically decline your request.

All rooms remain listed until you make a payment and book through Airbnb. No adjustments will be made around inquiry's payment or life schedule.

I am FAIR.
I will provide a clean, cozy, and affordable place to accommodate guests. ALWAYS. I'm guaranteed to clean all private rooms and bathrooms upon checkout. That includes running all linen through the laundry cycle once, sweeping, dusting, a wipe down of all knobs and light switches.

I am HONEST.
The living here is simple and at times, highly sociable and interactive. Although I reach out to those who are in transition, I highly recommend my location for short term traveling guests who ultimately need a clean, cozy, and affordable place to lay their heads for a few nights.

My home may not be as clean as you like it. Make sure you look through it carefully before officially checking in. If you are looking for professional maid results, seek another Airbnb. If you are the type that travels with a white glove and a critical eye, this may not be the Airbnb for you. I give this home a deep cleaning on my own terms and time.

If you are coming with children you are required to clean up after them immaculately and immediately. This includes inside of your private room.

I am not here to pity anyone. I am here to simply provide a temporary and affordable place for my guests to sleep comfortably with dignity.


If you are looking for more excitement, more amenities, more of the hotel experience, I would recommend seeking another airbnb.

I am HUMBLE.
What I like most about hosting, is discovering just how unique and different we all are. My house has been reviewed as too little. Sometimes its too big. I have a review that says my airbnb is cheap. While others give me rave reviews for my efforts. Some guests want to talk and chit chat over breakfast. Some guests want to be left alone and prefer not to eat breakfast at all. My Airbnb has been described as tacky. I can see that. Lol. But I like it. I ultimately have discovered that it all depends on the person, where they are coming from, and what they are looking for. We are just different. I keep this in mind during the review process.

I live by the FOUR AGREEMENTS.
1) I'm impeccable with my words.
2) I don't make assumptions.
3) I don't take things personally.
4)And I always do my best.

I UPDATE.
My Airbnb is very affordable and there are reasons for that. Please read the details in the listing thoroughly to make sure this is the right place for you.

I EXPECT you to read my profile, houserules/manual and reviews in its entirety. I will always refer you to see my profile, houserules/manual and reviews.

I EXPECT for you to respect me and my home by following ALL the house rules. No exceptions!

I EXPECT for you to keep me and my property free of your personal problems and hang ups. I am not a counselor nor am I your mother.
No guests on the property or inside of the house. EVER!


Cheers!
Tae


BEWARE! I live in the South. I am surrounded by trees. My home is not infested with bugs, but will receive a few southern critters from time to time.
So if you see a bug, kill it, flush it down the toilet, or pick it up and set it free and continue living your beautiful life. It's that easy.

BEWARE:
If you are sickly, this may not be the place for you. There are multiple listings at this location and there are people in and out of here all the time. There is no professional maid service.

BEWARE: I wash all my linens in off brand laundry detergents. So if you have sensitive skin or anything else that may be sensitive, please bring your own linen or seek another Airbnb.

BEWARE: House rules only apply to Airbnb guests.
Not me.

BEWARE: Small children are first priority guests here. You are never allowed to bring guests on this property or inside this home. EVER! Not your parents, partner, family...NOBODY! I am the ONLY person that will have guests on this property. My clients and my community outreach program meets on this property and when this happens, guests will receive a message from me in advance.
DO NOT LEAVE YOUR CHILDREN UNATTENDED! EVER!


Thanks in advance!



MORE INSIGHT
" i burn insense and sage and such/i hope thats not too much /if it is.../it is what it is/
im an artist/an activist/ im a doula/ i listen to erykah badu/justin beiber if i want to/i like tibetan bowl soundscape and i hope you do too cuz i plays it all\ busta rhymes i make sure everything remains raw/and when you step up in my place i hope you step correct.





[LISTINGS AND PROFILE LAST UPDATED APRIL 2017]