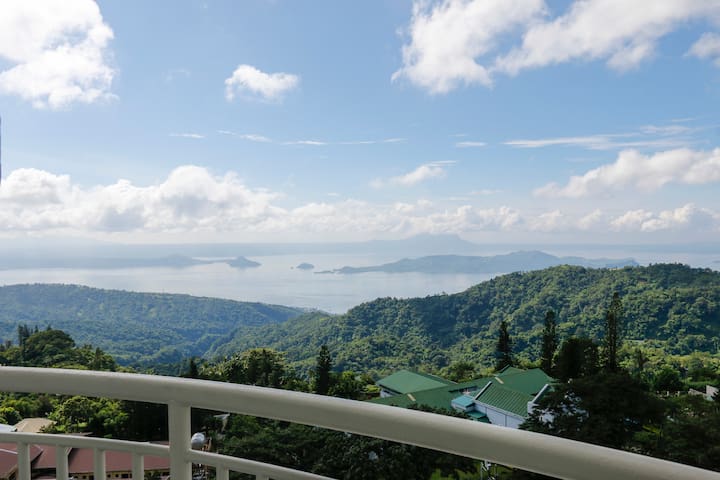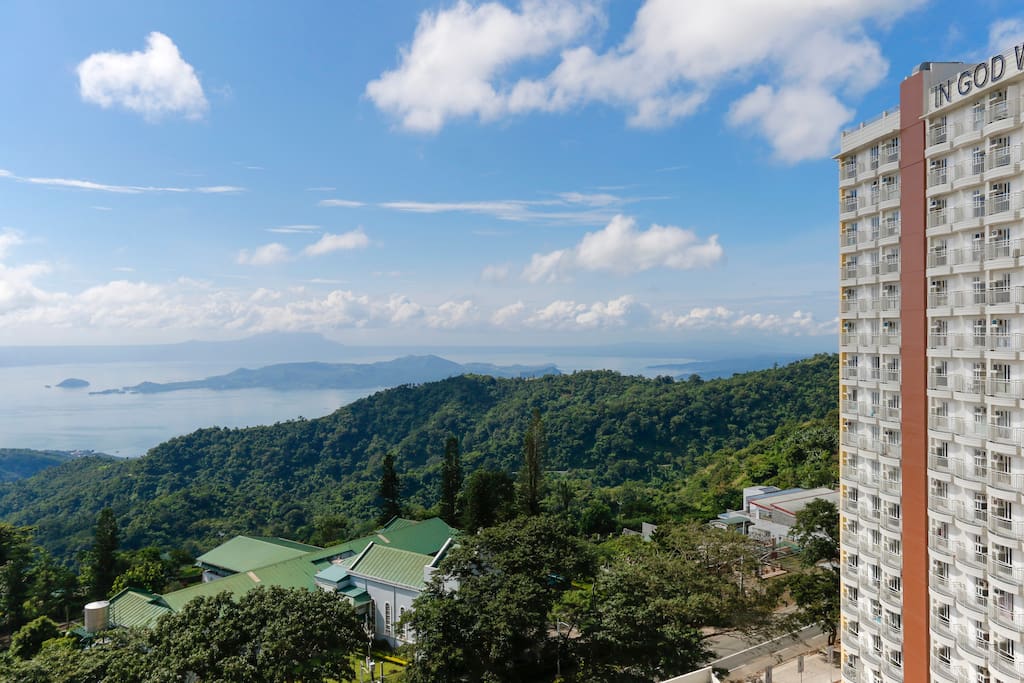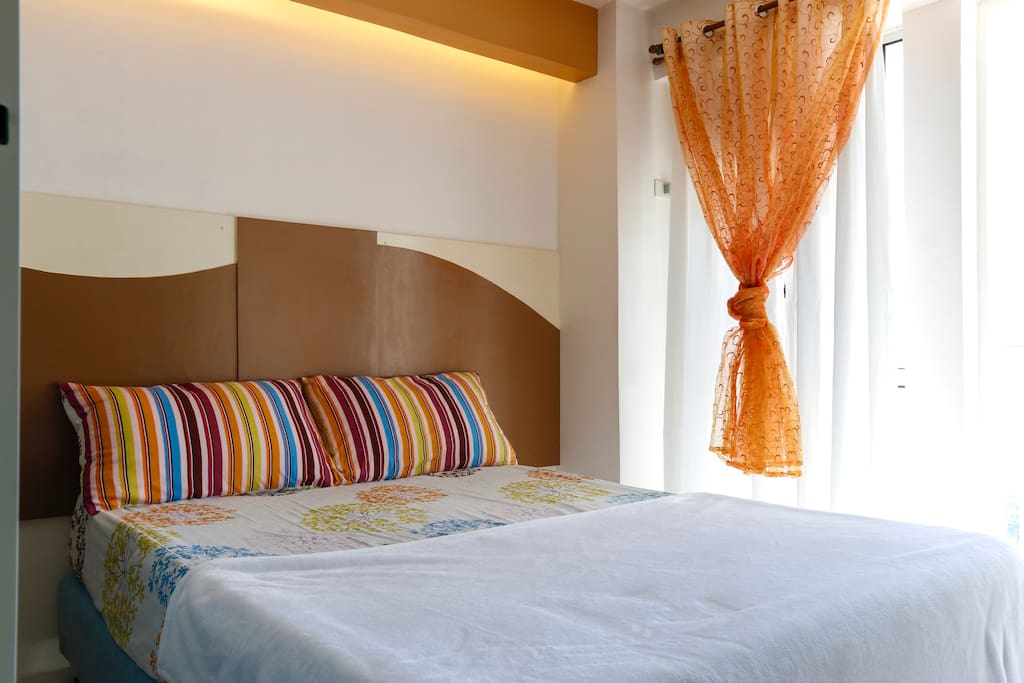 This condo unit offers you a magnificent view of Taal Lake. You will be mesmerized every time you step in its balcony.
Recharge your body and spirit! Enjoy your stay in Tagaytay at affordable price.
Fast Internet & Cable TV&Free Pool Use
房源
It is facing Taal so just plank or sit in your bed to be amazed with the view. It is a 26sqm condo that will fit for 3 people.Longer kitchen so you can comfortably prepare for your meals when you plan to stay longer in Tagaytay.
We DON'T provide towels and toiletries. (Bring your own.)
房客使用权限
Guests can use pool for free
Can go to roofdeck to catch sunrise and enjoy the sunset while looking at the entire Tagaytay
---
we have been using airbnb for some quite now and yes... it's always been a hit and miss... Kate's place is definitely a hit!... LOCATION: Just perfect. accessibility and comfort. it's just perfect for the location. the view is just right. the title of this unit should java been "a room with a view". I must admit that you may hear some noises coming from the street amidst being located quite high (18th floor).. But it's bearable. I believe the host can't do anything about this... I also presume this is brought about due to the direction of the wind. But we really like the location and we wouldn't stay on any other place if given the chance. THE UNIT: yes it's quite small or I would rather describe it as CUTE and let's say romantic. the bed (which is impt to us) has just the right softness. not too hard, not to soft. and the most important of all is that the unit comes with a 3MB speed wireless internet and international channels in the cable tv. Unfortunately we were not able to use the induction cooker, rice cooker and microwave which is provided but we did use the medium size fridge. the unit also has good water pressure with a hot and cold shower. Ahhh. the best is that we were provided 4 pillows. Yes you do need to bring your own towels and toiletries as this is not provided but you may arrange with Kate prior to your check-in date. she and her staff are always available and ready to accommodate your needs and wants with a super smile. the place was clean and smells great. The air condition was fat cooling and noiseless. CHECK-IN / CHECKOUT we were lucky that amidst the host busy sched, she found time to check us in even if we arrived quite late but I was assured regardless of who does the checks-in... they always make sure that is as hassle free as possible... this same experience during checkout. THE HOST Communication was fat from the booking stage up to checkout stage. she checked on us if every thing was ok and to our liking or if there was anything else we need. she was concern as if we have been friends for a long time. she also has other super discounted tour trips in Tagaytay. and also knows a super masseuse who can take away your tired feeling after a long day of trekking and venturing the city... thanks so much Kate. OVERALL The unit was right for the price and compared to other hotel accommodation that don't even have aircon or wifi adding the host personal touch and knowledge.. it's like having a good place to stay with a standby tour guide. This is really a good value for your money. we will definitely not hesitate to stay here again of given the chance or of the unit is available.
---
Stayed over at the condo over-looking Taal for three nights, four days. To start off, the place itself is very convenient from groceries/restaurants and the staff are very nice. but i've had a few problems: Security Deposit 1,500 PHp : When we arrived, Kate called and asked if we got in okay and then asked about a security deposit of 1,500 pesos. Now i've been using AirBnb for awhile and as far as I know, I have never heard of physical security deposit, hence the credit card is on hold from the website (everything is done through airbnb) so that was kind of unappealing. I refused to give Kate the money what she is asking for and seemed to be okay with it. Bathroom: the first day we got to the condo, there was a funky smell that was coming from the toilet area that lingered all the way to the bedroom. You would think that the host made sure that this was taken care of upon arrival of guests. But her Staff cleaned it the following day. Flood: I found that while showering, the drain is not working properly so it overflows which then leads to the water coming out and drenches the mats and creates a funky smell afterwards. Toilet Paper: I know that essentials were not included with this unit but it would have been nice if toiler paper we're provided. Other than what is mentioned above, the unit itself was good enough for a few days. It had fast wifi connection and no noise to be concerned of.
Hi Anjella, thank you that you liked the place and the fast internet. We really spend money for the internet so it will be stable and fast. With regards to your concerns, my apologies for any unmet expectations. But because we only talked on the phone and I did not meet you in person so we want to give your idea why we asked for the security deposit. We sent you an e-mail regarding it prior to the day you will check in but unfortunately you were not able to check it. So we had in mind that you understood since you didn't send an e-mail back or call us. We know that Airbnb holds security deposit as well but it is just an option for our guests if they will agree to give us physical deposit. Security deposit is very important for us. We give our guests options to do physical deposit since there are immediate things we need to replace if in case they unintentionally damage something in the unit. Plus, we charge it 4,500 full for whatever damages thru airbnb. It means having physical deposit has more advantage for them. Plus, it is always optional. For the toilet smell, I am sorry about it. That is why I discourage guests to come earlier than the check-in time unless we had prior arrangement. But according to my staff, you came 2 hours earlier than the set time. They had to do the cleaning fast. Perhaps, they forgot to open the windows and the air didn't circulate well because they had cleaned the bathroom and we always give special attention to it. The smell of what the previous guests cooked food, perfume, or their foods linger in the room when it was not properly ventilated. For the toilet, you have to remove hair in the shower drain so it won't clog. We advise our long term guests to inform us so we can do the drain cleaning if your hair clogged the drain. Hope we make things clear and you will be happy next time you visit us.
---
It was a great decision booking Kate's place for 3 days. We saved so much money because the place is strategically located. It's close to everything. Restaurants, malls, Starbucks etc. The place has everything you need. We enjoyed staying in, cooking our food, watching tv since it was election day, and appreciating the beautiful view from the balcony and the cool breeze. Wifi speed was decent too. The place is perfect for a couple although a group of 4 will not have any problems too. Parking spot was very near the lobby entrance and for 150 pesos a day I think it was worth it knowing your car is parked in a safe place. There's also a nice small thai/viet/cambodian restaurant in the building premise that you should try. We enjoyed the food. Thanks Kate for having us and being very responsive..looking forward to staying there again!
---