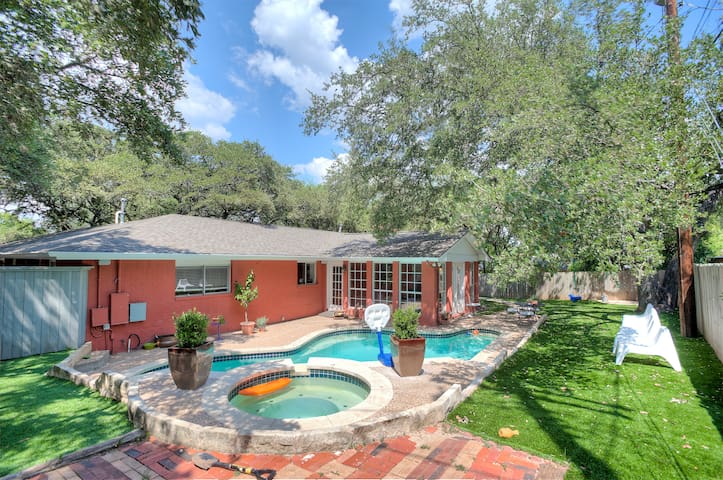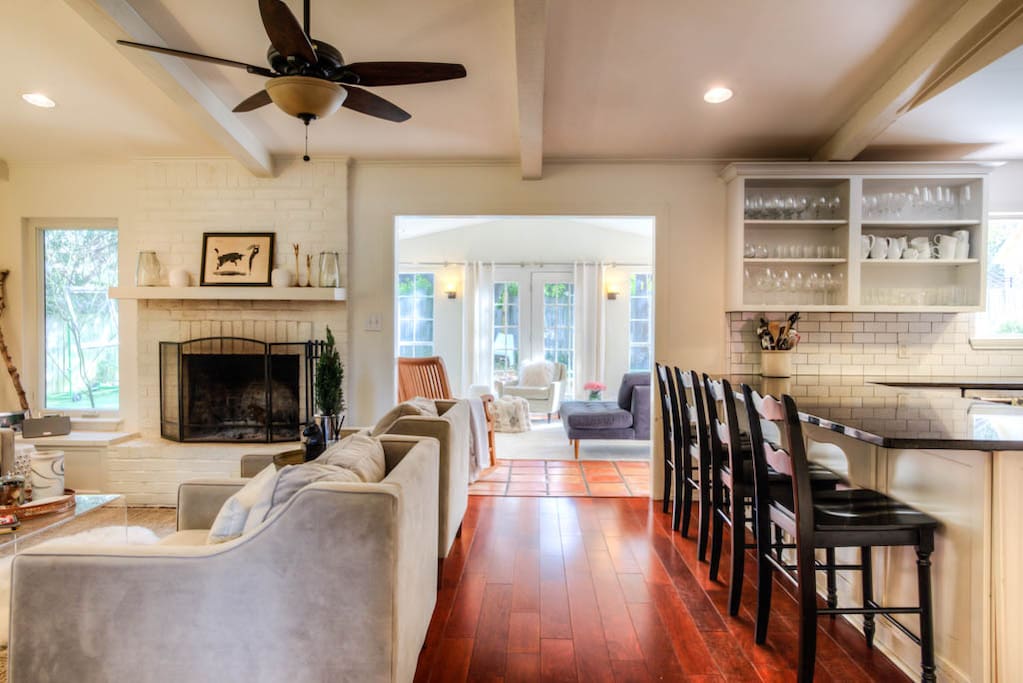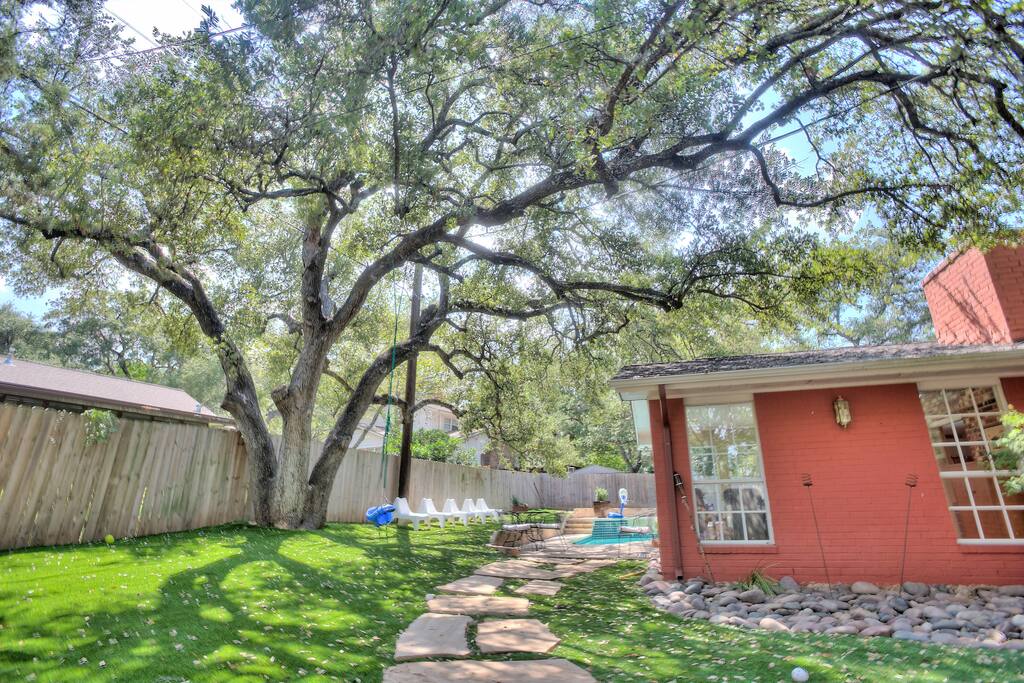 A great getaway home 15 minutes from downtown. It's a beautiful, fun, easy, relaxing home for anytime during the year. Great for any one of Austin's many events. Ideal corporate getaway. #SxSw #XGames #F1 #UTGames #AustinCityLimits #ACL #AustinTexas
房源
2831 Sq.ft., 5 bedrooms, 3 bathrooms, sleeps 10 guests
Great Location and Affordable – This house has it all!
Whether for a Romantic Getaway, a Family Vacation, or an Austin City Limits, Formula 1 or SXSW visit to this great city, this vacation home will exceed your expectations. The home is driving distance (6 miles) from the heart of downtown, beautiful Zilker Park, Long Center for Performing Arts, Palmer Event Center, Lady Bird Lake, Barton Springs Pool, wonderful restaurants (including Restaurant Row), famous South Congress shopping, beautiful trails and so much more!
5 bedrooms, 3 bathrooms, sleeps 10
In the very beautiful Northwest Hills neighborhood, this classic luxury private home is located just off of Far West and Mopac, about 7 miles from the heart of downtown. We are one story, 2,831 square foot home with 5 bedrooms, 3 baths. We can sleep up to 10. We have pool and hot tub with an outdoor gas grill. Perfect for outdoor sitting and hanging out after a long day out. Beautiful shade trees and landscaping to make you feel right at home. The kitchen / bar area is perfect for cooking a fun meal or just hanging out having wine and appetizers before heading out. Our neighborhood is perfect for a morning or evening walk. Convenient taxis or bus service if you are not renting a car.
---
---
---
---
Professional, responsable guest need only apply.

DETAILED RULES

A reservation deposit of $(PHONE NUMBER HIDDEN) is required. This deposit is due upon booking the reservation. The deposit automatically converts to a security/damage deposit upon arrival. The deposit is NOT applied toward rent; it is fully refundable within (14) days of departure, provided all of the following provisions are met:

Renter may use the property only for residential purposes. Renter may not assign this lease or sublet any part of the property.
No damage is done to unit or its contents, beyond normal wear and tear. Spills on the property, furnishings or floors are expected to immediately be cleaned by guests.
Anything broken, damaged, disabled or not working properly must be reported to the owner immediately. Do not wait until check-out to inform.
All debris, rubbish and discards are placed in garbage and recycling, and soiled dishes are placed in the dishwasher and cleaned. Used towels, washcloths, etc. are placed in bath tub or shower.
No charges are incurred due to contraband, pets or collection of rents or services rendered during the stay.
The remote is working and the entertainment system has not been adjusted or tampered with.
There are no damages, stains or scratches on floors, appliances or furniture.
There are no damages to landscaping or exterior premises.
All parking passes are returned to owner and home is left locked.
All charges accrued during the stay are paid prior to departure.
No linens are lost or damaged. Tissues are provided for make-up removal. Do not use wash cloths or towels for make-up removal.
Neighborhood quiet hours are from 10:00PM to 8:00AM. Because of proximity to neighbors, guests must remain indoors during these hours.
No owner or household items are taken or missing from the home.
There is no evidence of smoking inside the home (including smell) OR cigarette butts left outside.
No gatherings or parties without written agreement; specific arrangements and separate insurance. A gathering is defined as more than four (4) additional guests. Any gathering or party without prior written consent may result in termination of contract, eviction from property and forfeiture of full deposit and full rent.
This space shall not be used for commercial ventures/publications without written permission.
Renter(s) act respectful and do not cause disturbances likely to bother the surrounding property owners. Complaints from surrounding neighbors may be grounds for immediate termination of this agreement, eviction and loss of Total Rental Payment and Security/Reservation Deposit.
Law enforcement called to the house for any type of disturbance will result in loss of Total Rental Payment and Security/Reservation Deposit.
The renter is not evicted by the owner, representative of the owner or the local law enforcement.
Notes:

Private Chef, in-home massage and housekeeping service available at extra charge and all business center amenities available upon request. Items available for use upon request – crib (Pack n' Play), children's toys and books, coolers, Ipod docking station. Weber outdoor grill available for your use as well.
---
---
---
---
Our hosts provided a gift basket for when we arrived, such a nice touch! We had plenty of towels and toiletries. The outside space was great for laying out and playing yard games. The pictures of the house do not do it justice. It it amazingly furnished and has large living and kitchen space.
---
Tanner was a great host! We were a group of 10 ladies in town for a much needed girls weekend, and this house was perfect! All of us were in love with the style of the house, and it was very spacious. The pictures don't do it justice! The neighborhood was cute and was situated half way between downtown and Lake Travis, which was exactly what we were looking for. You won't regret booking this place!
---
Tanner and his wife were wonderful hosts. They made sure we had everything we needed and even provided us with a nice welcome package! The house was exactly as pictured--a beautiful home with ample space. Thanks again for everything!
---
We had such a great time here! Both Tanner and Angie were super helpful (didn't even make fun of me when i couldn't figure out the TV) and very nice. They welcomed my family - and my dog - so that we could hang out and celebrate my out of town sister's birthday. We have children - who loved the playroom and the pool. They left us a welcome gift and it felt like we were staying at a friends house instead of a short term rental. I sort of want to go back and hang out with them!
---
This was a fantastic rental! We wanted a nice casual but indulgent space, and this was it. The bedrooms were spacious, with three having large beds and plenty of amenities, including iPhone charge capabilities in master bedroom. the kitchen was fantastic. The indoors layout and hard wood floors made for quiet mornings too. 5+ can really spread out without bothering each other when needed. the outside area is fun for kids or just lounging around. There's a great BBQ and nice front area in a very traditional and old school neighborhood. Proximity to town is about 15 mins, but being up the 1 makes it easy to get west, north, or south quickly. Lots of convenient shops are around too. We will be back again next year. Tanner and his family really made us feel at home!
---
The Shepard house was tremendous.....and the family could not have been nicer!!! It has a beautiful open format that is very conducive to celebrating "group space" in the kitchen and a couple of different living rooms, while having VERY private bedroom spaces when everyone needs to catch a few Zzzzz's before heading off to SxSW again. It was much closer to downtown than expected and an easy shot. They were super kind in opening their refrigerator to us and even spotting us for some wine if wanted. The place could not have been more spotless and nicely decorated. They made us feel like we truly had a home away from home. They also helped us in arranging for some shipments to be made to their house and were extremely proactive in making sure we had everything we needed in advance. I went on several runs in the neighborhood and enjoyed the area and it was very safe. Also Starbucks etc for those who are addicted like we are!! I'm sure the pool is very lovely when the weather finally warms up. Thanks Tanner for all you did for us to make our SxSW so exceptional!!!!!
---