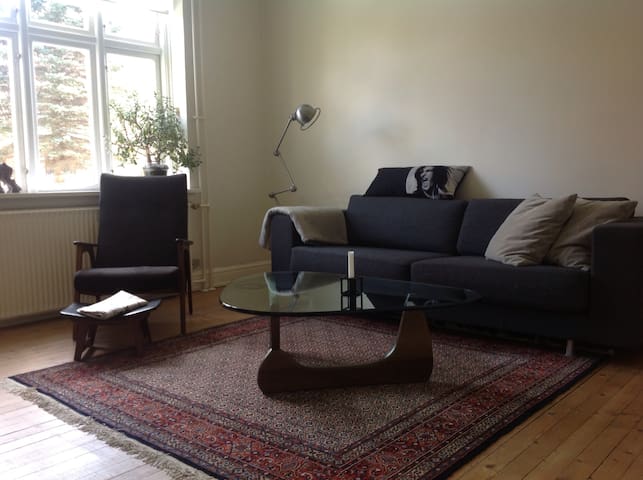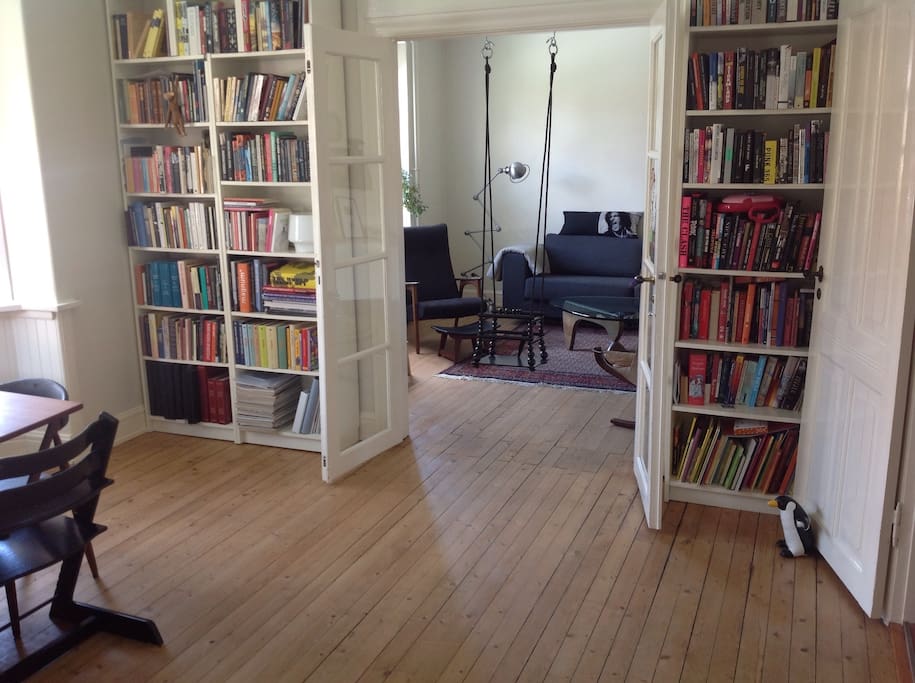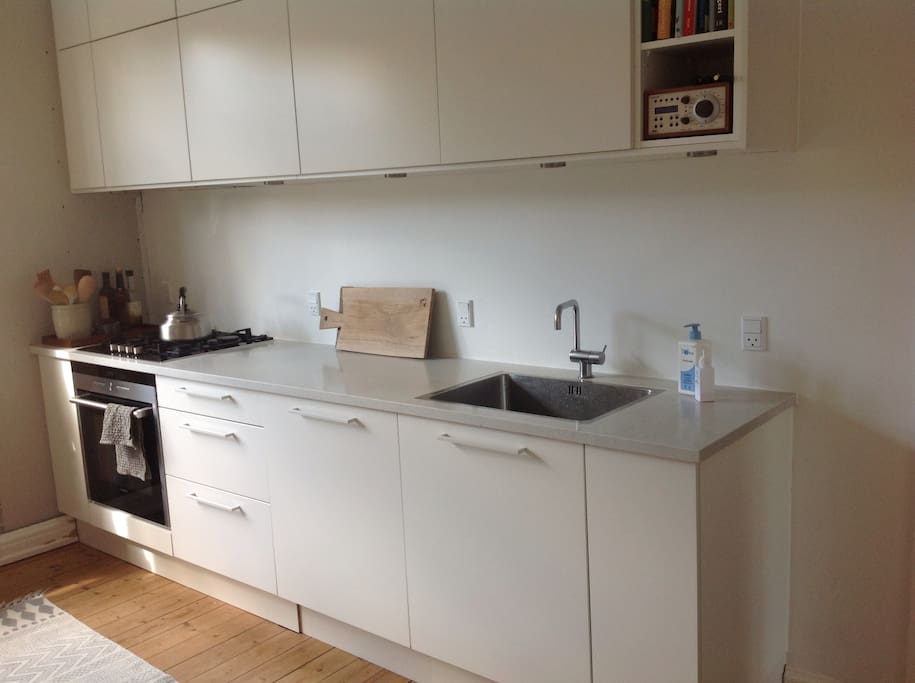 Charming home in two floors with a garden and private terrasse. 3 bedrooms, bathroom with tub and a gourmet kitchen - all bright and spacious. Free parking in a pleasant neighborhood. Less than 10 min walk from city centre and harbour. Kids welcome.
房源
Central and quiet - our home is located in a great neighbourhood only a short walk from the city centre, the harbour, parks, shops and restaurants.
Public transport is easy, parking is free right outside the door and you are even welcome to take our Christiania bike for a cruise around town.
The house is an old and charming villa, restored with care and respect of its fine architecture. It is split up in three separate apartments.
Our garden is closed and offers swings, a tree-hut and sometimes even play mates as it is shared with the neighbouring family. For peace and quiet, head for our private terrasse with lounge furniture and afternoon sun out back.
---
---
We like our home and hope that you will too. We also hope that you will respect a few house rules during your stay :
- Please do not smoke inside the house.
- Please consider our friendly neighbours and keep the volume down at night.
- Please go to a bar if you wish to party. We will be happy to recommend a few places to you.
- And most importantly: Please enjoy your stay.
---
Nice house close to the city center and easy acces to the big roads. Ideal if you want to expore te north of Denmark. Quit neigborhood with easy and free parking in the street. Very cosy home. nice rooms and great bathroom. Everything you need for a pleasant stay Contact with Hanne was clear and fast!
---
Hanne's apartment was perfect for our family of three children. Kids were exited of the toys and bath as well as the yard and christiania bike. The stylish apartment is located near centre and parks as well as supermarkets. Hanne's written tips of how to explore the city and its surroundings were useful. The hosts were really kind and helpful.
---
Vi var meget tilfredse med vores ophold. Kommunikationen fuldstændig fejlfrit og hurtigt. Savnede en klassisk kaffemaskine, men det var bestemt i småtings-gaden. Hjemmet er hyggeligt og stemningsfuldt. Billederne var retvisende, kvarteret hyggeligt og downtown Ålborg er indenfor gå-afstand. Vi vil til enhver tid anbefale venner og bekendte at bo hos Hanne.
---
My family stayed at Hanne's place and it was just perfect. Hanne and her family made them feel very welcomed, everything was in perfect order at their arrival, communication pre and during the stay was excellent. My dad stayed in the room with the drum's set (at the same level than the kitchen, dinning and living room and bathroom with one toilette, which was great since he cannot go up and down too many staircases due to back problems); my brother stayed at the main bedroom, same level as the girl's bedroom (where a recently renovated spacious bathroom with bath tub and shower is located, same level as the washing machine) btw, a previous review mentions "steep staircase" but actually that's not the case, the staircase is spacious enough and i didn't see it as giving risks to my 4 years old daughter (who would play in the girl's room where my niece stayed :-). I really recommend Hanne's house if you would like to experience how is it to live in a Danish family house (including biking around in a classic christiania bike ;-). The location is great (I myself live in Aalborg and if I had the chance, I would buy a house in this area: residential, yet still close to the city center and the near by attractions: stadium, fjordpark, supermarkets, library, indoor swimming pool).
---
Vi var fem rejsende - forældre, to børn og en bedstemor. Lejligheden er fordelt på to etager, kælder og stue, forbundet med en stejl trappe. Den er nyrenoveret, lækkert indrettet, og med luksusbadeværelse i kælderen, hvor to af soveværelserne også er. Hanne og Jesper var særdeles varme og opmærksomme værter, og vi følte os hjemme.
---
We stayed at Hanne's for a week in July. Our oldest kids played football at DanaCup in Hjørring, and Hannes house was a perfect base for the rest of us. The house is spacious and cozy as described. Neighborhood is quiet, but close to city centre with all off its amenities. Communication with Hanne, both in front and during our stay was easy quick and precise. We didn't have the chance to meet with Hanne, but checking in and out was easy. There was even some snacks and refreshments ready for us when we arrived. We would recommend Hannes place for families or groups who wants an alternative to hotels. This place would easy be our choice if we were to visit Aalborg again.
---
We spend great holidays in Hanne's apartment. It is large enough for a family of 5, cozy, well equipped and clean. The bathroom is especially really spacious. The house is located in a nice and quiet neighborhood, not too far from Aalborg very center (you can reach it by walking) and there are two convenient supermarkets at 10 minutes walk. Parking is available in the street and free. We hadn't the pleasure to meet Hanne but she was very welcoming, always easy to contact and quick to answer. If you come in Aalborg, don't miss Skagen, no doubt it's worth the visit : the village itself, the Kunst Museum and the beach at the very northern part of Jutland. We recommend Hanne's apartment without any hesitation !
---
We will be happy to welcome you and give you a tour of the place when you arrive if at all possible. If not, we will arrange for another way to pass over the keys and make you feel at home. We will of course be reacheable by phone during your entire stay.