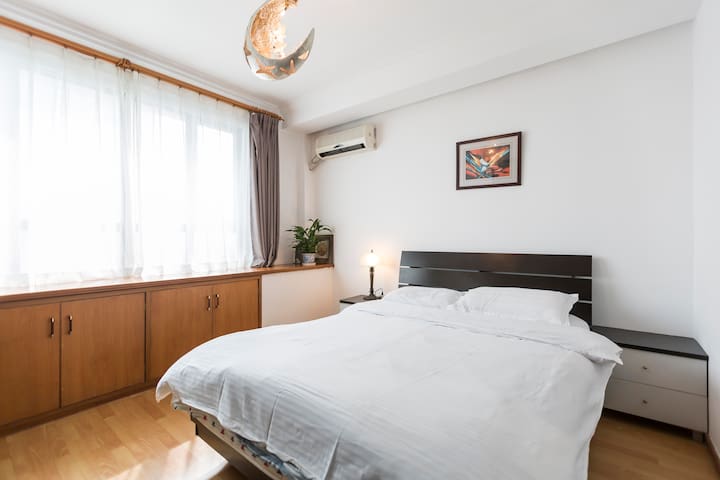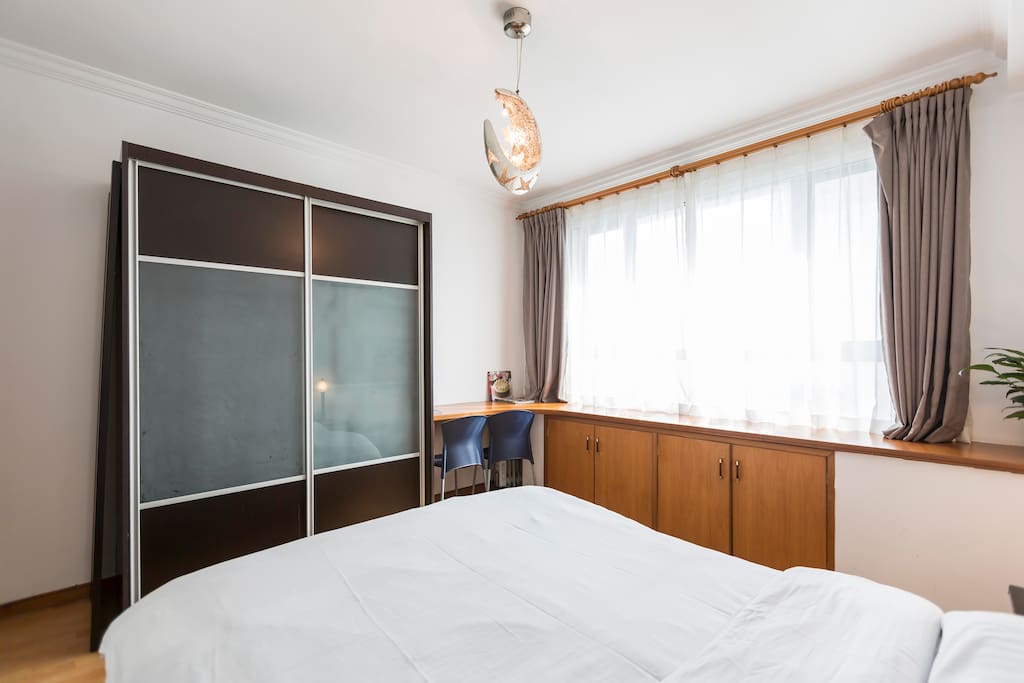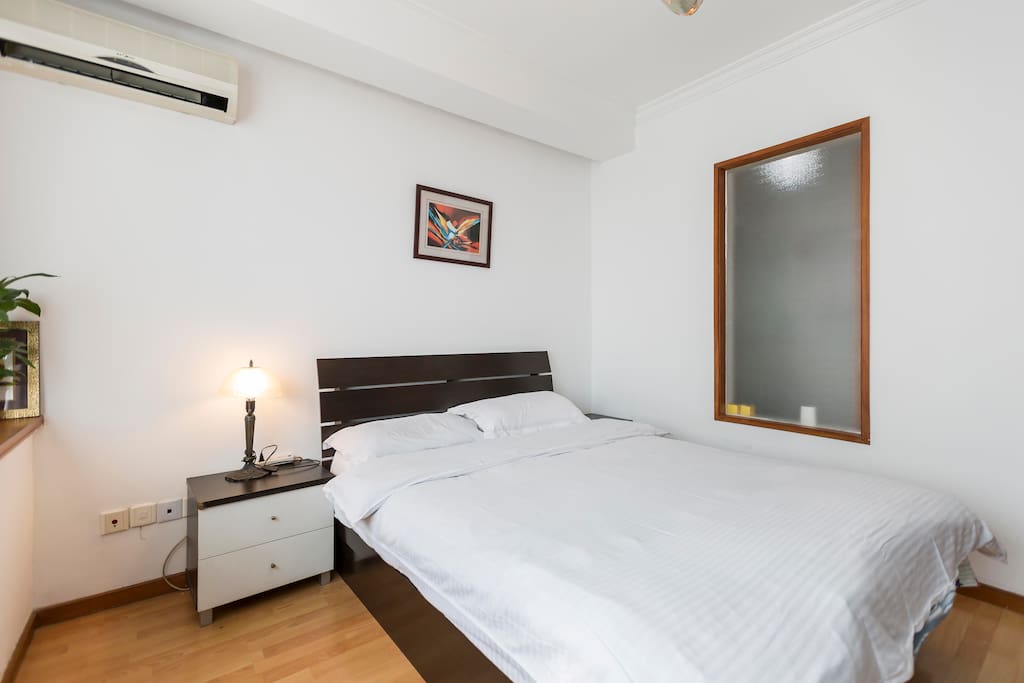 上海忆倍居(静安店)——【经济两房】坐拥4条轨道交通、市中心超便捷、超高性价比、整套出租
上海忆倍居(静安店)坐落于共和新路天道俪晶国际公寓。
房源
LOCATION
The building is located in the center of Shanghai. We are located at Gonghexin Road and Zhonghuaxin Road.
The apartment is 15 minutes to The Bund, People's Square, Huaihai Road by subway or by taxi directly.
The apartment is a 8 minute walk to THREE stations: Zhongshan (north) station, Shanghai Railway Station, and Zhongxin Road
This is a modern apartment with a fully equipped kitchen and a full bath. It will accomodate 2 people comfortably.
ABOUT THE APARTMENT
1) Fully equipped kitchen
2) Automatic washing machine (Not include Dry)
3) Microwave oven
4) 24 hours hot water
THE ROOM RATE INCLUDE:
1) Broadband / wifi
2) House clean one time per week.
3) Change bed-sheet every two weeks in summer; 1 time per month in winter
4) Help you register in the police station
EXClUDE:
Ulity Bills - Charged by actual cost
TRAFFIC:
- 8-10 mins walk to Subway station: Line 1 Zhongshan (North) road; Line 3/4 Shanghai Raiway Station;Line 8 Zhongxin road.
- Bus stations: 2 mins walk
- Pudong Airport: 48 km
- Hongqiao Airport: 20 km
DATES / AVAILABILITY
Dates in the calendar are for reference only, they are subject to change. Please inquire directly to confirm availability.
---
---
---
---
1) Pets forbidden
2) Need to pay the deposit for room facilities guarantee. (will give it back when check out)
3) The price include free house clean 1 time per week; change bed sheet every two weeks in summer, change bed sheet per month in winter. 25rmb for extra house clean, 10rmb for extra change a bed sheet. Not include the utility bills, charge by actual cost.
4) Inquire and booking acceptance time is 9am-9pm. (China time zone)
5) The client need to pay the room rate once check-in, we don't accept payment at leave.
6) All the bookings be completed by Airbnb online. We promise all the pictures from our apartment.
7) We hold the objection to whom unreasonable booking request.
8) If the client extend staying, we will free upgrade rooms for your booking in the same building.
---
---
---
---
We found this listing to be for numerous apartments that are for rent. They have you sign a short term lease in which you are expected to pay for Water, Electricity and Gas usage. They will read the meters and then you are charged for what you use. 3 of the photos listed were of the apartment and were very dated. One wall had a large mark from the paint being scraped off the concrete. There were no hand, bath or dish towels and we had to ask for them. We had reserved to be there with our kids and they only supplied us with 2 bath towels after we asked.(no hand or dish towels) Garbage bags and toilet paper are not readily supplied. Much of the apartment was not clean. Most of the bathroom may have been wiped down in the last week or so at most and not scrubbed at all. They have furnished apartments for rent and when not rented you get what is left over. The key did not work for the outside of the building and we had to wait for other residents to open the door for us. The refrigerator was a small bar size and the kitchen was well worn with a single gas burner and a sink. There was a lot of cigarette smoke coming into the apartment. We unfortunately reserved to stay there for our last week of our vacation when we booked the first week and would prefer to not stay there again. After checking with nearby local hotels we found we could have stayed for less at a hotel. We did not meet with Olivia, Howard and the other staff only spoke Mandarin. Cheers, Art & Margo
Art is a rigorous captious customer; his family with 5 persons only spent $45.7 per day, lived Shanghai downtown with convenient traffic's apartment for aliens. There are 2 king-size beds, 2 air conditioners, 24 hours hot water shower, Sofa, cable TV, wifi, automatic wash machine and full fitted kitchen. From our opinion, it's a good choice for most of travellers. We provide an apartment with full function and short term rental model to you. You just need to take personal bath product. And you can buy anything you need at downstairs 24hours store. The apartment may be not the newest, but it's safe and clean. If you are not rigorous critics you will be happy to stay at Shanghai. To be honest, Art's request to us is like 4 star hotel request, but with economy price. There is no perfect in the world; rigorous critics just can bring bad mood and luck.
---
My three friends and I had a wonderful stay at Howard and Olivia's place. Their staff was wonderful, kind, and helpful. The entire checking-in process went smoothly and the rest of the stay was smooth as well. The apartment complex was located in a nice neighborhood very conveniently located near restaurants and the center of the city. We were able to walk to the metro about 8 minutes away and take the metro straight to People's Square, the center of town very easily. After a long day exploring the city, we got to relax in the apartment. Everything about the apartment was clearly stated and the directions given to get to the apt from the train station were easy to follow. This place was definitely worth the price and just what we wanted!
---
Olivia and Howard are great hosts. The twins and I traveled to China for the first time. We were excited but worried about everything. Olivia and Howard were wonderful and resourceful. We couldn't have asked for better hosts. The apartment is in an area that has little to no foriegners so keep that in mind. Frankly I enjoyed that part. My kids were taught Chinese by everyone at the local stores and at the local restaurants. It was great. Also keep in mind that you are traveling to another part of the world and that Western aesthetics aren't always the same. The bathrooms are not first rate but the service is. It's a smoking building but really I didn't find any place in China (unless you pay a lot of money) that is smoke free. The room itself was smoke free and the air conditioners worked well. I wasn't able to cook for my family since there is only one burner but we had a huge amount of options for eating around the area. I would recommend the apartments and think that once you get to know the metro system it's easy to get everywhere. You should also know that there is a park right next door with a little bit of everything for the local tourist who wants to really get to know the culture. There is dancing in the evenings and Tai Chi in the morning. People are friendly and seemed to welcome us. We joined in a few times and the kids just LOVED it! Howard and Olivia are very good people and that makes it worthwhile.
---
Hey,欢迎来到魅力之都——上海。

06年以来,我们一直体验民宿方面的点点滴滴,深知出门在外的你,最想要的居住体验是什么。。。希望能为行走在这座城市的你,提供一套有温度的房子。

Hey,
Here are Howard Hao and Olivia Han, welcome to Shanghai.

Our apartment founded in March 2006. As the provider of short-term accommodation, it has set up a series of ways to meet with the demand of those people who always trip to Shanghai for a week, or even for a month.

So far, we have built up excellent reputation among guests and have gained loyal support from them. Our cozy service and precision have been positively publicized by our customers. We have built nicer friendship with most of our tenants.

We are look forward to hosting you soon!
语言:
English、中文