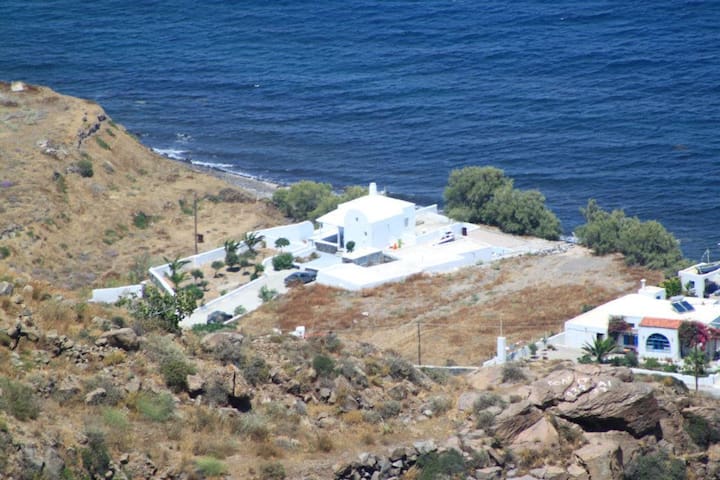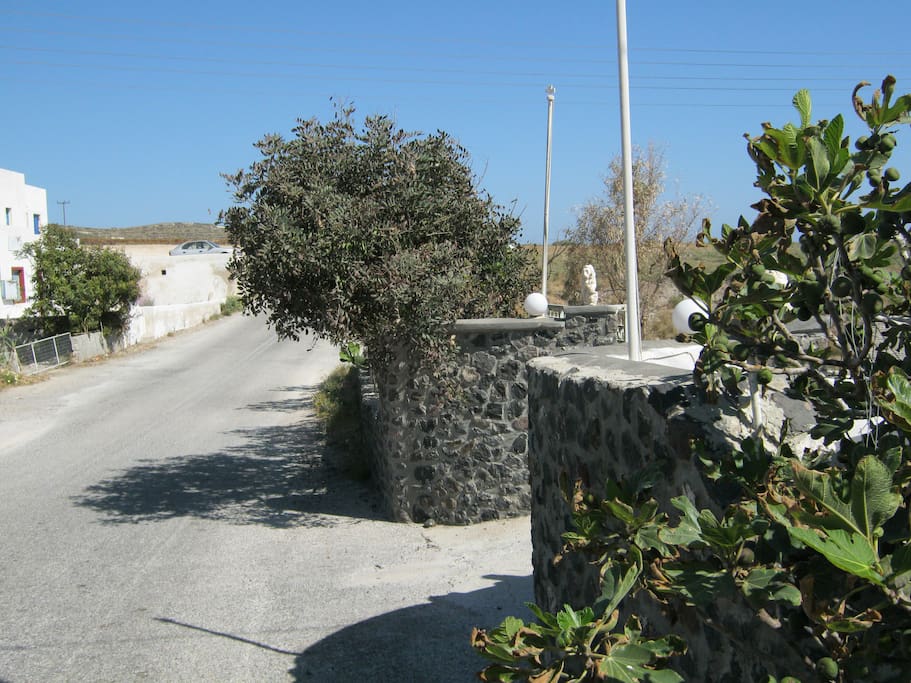 Grace别墅No1位于海滨的最自然和美丽的黑色海滩,在靠近OIA村的北部的北部,距离首都fira有6公里,距离火山口一侧有3个。Grace别墅是一个真正的别墅,一切都需要一个房子更多的别墅周围的土地4000 sg.meters是与季节性蔬菜为客人salats免费,因为距离Fyra首都只有6公里相同从oia这是非常容易的客人享受夜生活和他们可以在别墅做同样的
Grace villa No1 located over the beach in the most natural and beauty black beach of Santorini in the North side of the island near OIA village 6 km from capital fira and 3 from caldera side.The Grace villa is a real villa with everything needs a house further more the land around the villa 4000 sg.meters is with seasonal vegetables for guests salats free as the distance from Fyra capital is only 6 km same from oia it is very easy for guests to enjoy night life and same they can do in the villa
房源
别墅拥有62平方米的海景,设有一个40平方米游泳池的大型露台。 电视,CD播放机,无线网络连接以及带大火车的大型沙龙的厨房和一个大沙发(两位客人)。有一个阁楼连接到沙龙,顶部有一张双人床,一张双人床rea 这栋房子是完整的传统岛屿风格。别墅的一楼是71平方米的完整的房子和二楼62平方米也完成房子两个房间的房子。62平方米是格雷斯1。 该地区被认为是特别的,自然美景! -Santorini原始景观围绕着葡萄园。 - 希腊传统小酒馆 - 可爱的小渔民 - 老教堂蓝色。 一个你找到和平和沉默的地方,并邀请每一位客人去钓鱼(散步),以及所有寻找一个地方练习瑜伽和充电"电池"的人。 探索圣托里尼岛的最佳方式是租一辆汽车或自行车。美国国际开发协会的着名日落只有8分钟。开车离开。国会大厦锡拉只需10分钟。 我们使客人独一无二,因为: - 你有自己的海滩旁边的房子。 - 你有一个私人花园,有自己的国家鸡蛋和时令葡萄,茄子,西红柿等, - 私人船只钓鱼活动(天气允许) +包括烧烤派对。 最后但并非最不重要的是,业主也愿意组织演奏音乐的夜晚,也被称为"希腊之夜"。别墅的位置在安全的地方,距离火山口一侧的地方,如发生地震,这些地点需要特别注意,因为晚上不安全睡觉,甚至在白天是危险的,因为从来没有你知道新的地震再次来了,因为这是更好的从安全的地面,远远地看到火山口,而不是睡觉,或穿过火山口一侧的建筑物或道路,这样的条件,你的生活没有考虑安全,我们建议从安全的地面和安全的距离看看好好睡在岛上的安全区,这些条件是格雷斯别墅的保证也为客人生活在夜间睡觉或白天。几分钟只有从格雷斯别墅看到火山口一边,休息或喝在安全岛屿的部分实际上是130 S.Meters,但分为两层,每个完整的房子有独立的入口和面包,所以两个朋友的家庭可以留下,每个部分有任何事情需要一个房子第二部分是GRACE VILLA No.2的部分。两个部分是两个房间的房屋,每个4人都可以游泳池进入。 为什么选择Grace别墅为我的假期圣托里尼答案如下AAA安全的位置睡眠由于安全的地面,万一发生地震,我没有睡在火山口的房子或酒店与破坏不安全的地面。 BBB我没有留在酒店与一张床和浴室我很舒服,喜欢在我的房子.CCC我非常接近圣托里尼感兴趣的地方像Fira / oia只有6公里.DDD我靠近海面35米beach.EEE相当的地方没有噪音和烟雾像kamari(每天从机场附近一百次烟雾)DDD海和山脉呼吸只有很远的机场烟雾和气体.EEE我的homeFFF前面的海上活动与Fira的夜生活密切距离以防万一可以回到我的家/海滩步行35公里远不像佩里莎/阿克罗蒂里。 GGG我有免费的季节性西红柿/蔬菜/水果从别墅花园5000平方米的土地.HHH免费使用我的饮料和音乐派对我的饮料和音乐派对没有限制唱歌/跳舞的新鲜的鱼/肉我可以在酒店或房间?没有办法没有假期。 JJJ Can icook在酒店?不,我有义务在小酒馆吃饭,每天花费大约70欧元的家庭,但是在家里,我可以通过在大多数时间从家里的超市提供新鲜/健康产品来减少食物的成本。以上所有的答复为什么我必须选择恩典别墅在我的假期在桑托里尼,我将很幸运,如果很早就安排预订,因为后来由于需求高的困难。 The Grace别墅1号与其他房屋分享游泳池。
The villa has 62 s.m. with sea view and a huge terrace with a 40s.m swimming-pool.
T.V., CD-player, Wi-Fi Internet plus kitchen with a big saloon with fire place and a big couch( for two guests).There is one loft connected to the saloon with one double bed at the top and one double bed at the rea.
The house is fully furnished in traditional island style.The 1st floor of the villa is 71 sq.meters complete house and 2nd floor 62 sq.meters also complete house both houses with two bed (URL HIDDEN) 62 Sq.meters is Grace 1.
The area is considered special, nature- beauty!
-Santorini original landscape sourounded with grape fields.
-greek traditional taverns.
- lovely small fisherhourbours.
- old churches blue coloured.
A place that you find peace and silence and invites every guest to go hykking(walking)and for all those who look for an place to practise yoga and recharge their "batteries".
The best way to explore the island of Santorini is to rent a car or Bike.The famous sunset of OIA is just 8min. driving away.And the capitol Thira just 10min.!
We make the staying of our guest unique because:
-you have your own beach next to the house.
-you have a private garden with own country eggs and seasonal grapes, eggplands, tomatoes, etc.,
-fishing activities with private boat ( weather permited)
+ included barbeques parties.
and last but not least, the owner is willing to organise also nights with playing musik, also known as "greek nights". Location of the villa is in safe ground and in safe distance from Caldera side in case of earthquake as such locations require special attention as it is not safe to sleep someone in the night but even during the day is danger because never you know when new earthquate again is coming due to this is beter to look caldera from safe ground and far instead to sleep or to walk through buildings or roads of caldera side incase such conditions your life have not to consider safe we suggest to lookcaldera from safe ground and safe distance as well to sleep in the safe section of the island and these are the conditions Grace villa quarantee also for the guests life during the night sleep or during the day.Few minutes only fromGrace Villa to see caldera side and leave to sleep or drink in the safe section of the island .The villa actually is 130 S.Meters but is divided in two floors each complete house with separate entrance andbalconies so two friend families can stay and each section have anything needs a house the second part is the part GRACE VILLA No2.Both sections are houses with two bed rooms accomodate each 4persones with both access in swiming pool.
Why to choose Grace villa for my holidays Santorini answers as following AAA Safe location to sleep due to safe ground in case disaster earthquate i am not sleeping in caldera house or hotel with spoil unsafe ground. BBB I am not stay in hotel with one bed and bathroom i am comfortable like to be in my house.CCC I am very close to interested places of Santorini like Fira/oia only 6 km.DDD I am close to the sea 35 meters fromthe beach.EEE Quite place no noises and fumes like kamari (one hundred flights fumes per day from near airport)DDD Sea and mountains breath only far from airport fumes and gases.EEE Sea activities front of my homeFFF Close distance to Fira with the night life in case drung can return walk my home/beach without to drive 35 km far like Perissa/Akrotiri. GGG I have free seasonal tomatoes/vegetables/fruits from Villa gardens 5000 sq.meters land.HHH Free to make mybarbecures and enjoy fresh fishes/meats with my drinks and musical parties without restrictions to sing/dancing can i do this in hotels or rooms ? No way insuch a case are not holidays. JJJ Can icook in hotels ? No i am oblige to eat in taverns and to spend daily for a family 4 about 70 euros minimum however in the house i can reduce the cost of the food by supplying fresh/healthyproducts from supermarkets cooking inmy home most of the days. All above gives the reply why i have to choose Grace villa for my holidays inSantorini and i shall be lucky if very early ishall arrange reservation because it is later difficult due to high demand. the The Grace villa No1 shares swiming pool with the other property houses.
房客使用权限
通常客人大部分时间都在度过,晚上在享受美丽的游泳池享用烧烤饮料和音乐。游泳池与其他物业公寓共用。
Usually guests are spending most of their time, at night enjoying the beautiful swimming pool with barbecue drinks and music. The swiming pool is shared with other property apartments.
与房客的互动
业主非常亲密,客人准备晚上派对,特别是当鱼类缓存在游泳池甲板上烧烤时,一起钓鱼一切免费。
Owners are very close with guests preparing with them night parties specially when fishes cached grilling at the barbecue on the swiming pool deck going fishing together everything free.
其他注意事项
自然/海上/您的睡眠中的安全,因为您在卡尔德拉边不睡觉。同样的时间非常接近FIRA的夜生活。私人的
NATURE/SEA/SAFETY DURING YOUR SLEEP BECAUSE YOU ARE NOT SLEEPING IN CALDERA SIDE. SAME TIME VERY CLOSE TO FIRA FOR NIGHT LIFE. private
---
Zannes and his family were the most generous, hospitable hosts we could have possibly hoped to have. The guesthouse was wonderful, spacious and inviting. The views of the beach in the backyard are incredible, and the pool was very nice too. Zannes was also very helpful when it came to local recommendations and tips. He also helped set us up with a rental car through Jerry's Rent A Car, and Jerry was extremely kind and gracious as well. When we first arrived on the island around midnight, we felt a little lost and confused, but Zannes was extremely welcoming and helped us find our footing. We had a great time on Santorini, and Zannes was a huge part of the reason why.
---
First, the good points. The location of the home is great if you'd like to be away from the towns but not too far to drive to the beautiful town of Oia. The place is right on the beach, you can hear the waves and there is a pool (shared with other units) and there is a quiet beach (more pebbles than sand, which was fine with us) a short walk away. One would really be stuck here without a car, so it was a great convenience that Zannes helped us arrange a rental car at a good rate. His neighbor Jerry picked us up at the port which is a great convenience when arriving in a new place where most of the roads don't seem to have names. The apartment has the necessities but I would characterize the condition and amenities as more basic than luxurious. Again, this was ok with us. The reason for the lower rating is mainly a communication issue. We had originally booked the unit for 2 nights. I later wrote to see if we could extend the stay for 2 more nights. Zannes said this was ok and to bring cash for the other two nights. It wasn't until our arrival that we were told we would need to switch to a different unit which we hadn't seen for the other two nights. Rather than switch to a unit we hadn't seen or signed up for, and since my friend was diving in the south of the island, we switched to an Airbnb in another location for the second two nights.
---
Zannes' place is exactly as advertised. You need a car but he will arrange it with you. If you'd like to get out of the crowds and have an experience in Santorini few get this is for you.
---
We stayed at this home from 08/18 - 08/20/2017. Here are some important things to consider Location: The home is not accurately described on the AirBNB website. The distance to Oia is about 7 km, which takes between 20-30minutes to commute. The distance to Thira is about 7 km, which also takes about 20-30 minutes to commute. If you are going to be staying here, you need to rent a vehicle. The location is rather remote, so obtaining a cab may be an issue. The Home: The home is located on a beautiful beach but the beach is pretty rocky, so swimming here is not ideal. The home was somewhat clean but not what I have experienced with other AirBNB's. Some of the appliances do not work, such as the dishwasher. The owner was somewhat caught off guard when we placed all of our dirty dishes in the dishwasher. He sent me messages asking me where all of his mugs are, as he thought we stole them or something. The whole time they were in the dishwasher. Lastly, this home is not private. You will be sharing the property (and the pool) with 3 other homes (the host lives here and two other apartments). I felt that this was not clearly described in the description of the home. Privacy is very limited here. The Car Rental Company: The host offers to set you up with a car rental from Jerry's Rental Car. When Jerry showed up to pick us up, he saw that we had too much luggage and offered to have his father drive up some of the luggage. He wasn't very clear to communicate that there would be an extra fee for doing so. Once we arrived at the home, he wrote up a contract adding additional fees that I was not aware of. My recommendation to him is to be more transparent from the beginning in communicating the extra fees, so that we can then make a decision as to hiring him or not. The Host (Zannes): It's very hard to communicate with the host. He comes off rude and is always outside of your home watching you. The host also accessed the home while we were gone to make the beds and clean up without our consent. I can appreciate their efforts, but I was caught off guard as this has never happened at other AirBNB's without our approval. Lastly, we had an unexpected friend stay with us at the home. I completely forgot to notify the Host and pay the additional fee. The Host approached us and basically yelled at us that we should have notified him right away. He began to ask for more money, but when I told him that I wanted to do all of the monetary transactions through AirBNB, he got frustrated and said to forget it. I felt like he was trying to get more money out of us and completely remove AirBNB from the equation, which is against their...
Thanks for Adrian comments however he have to know that some of the hosts are not stupid as he things the whole reason for what he write is the follow (URL HIDDEN) the time he check in the noumber of the persons was correct as was declared in AIRBNB and as you know we are paid base the number of the visitors for each house fact which he propable was aware this was the reason and declared less visitors from actual in the group in AIRBNB and for Less people we were paid.During their stay and after check in the cleaner advise me that one more person sleep in the house in additional to the number checked in and were expected base AIRBNB.I was expecting MR. Adrian to approach me and declare the reason as we are polite people did not say anything untill time of check out . At the time of check out and see that MR.Adrian did not say anything for the additional person i told him that there is an amount to be paid for the additional person then he told me i will pay to (URL HIDDEN) his reply i told that is late now and that was better to had tell us from the begining and these practices is good to be avoided in his life in the future and that we do not ask any money cash or via AIRBNB for the additional friend and wished him nice trip.Regarding the others he say for the house and the beach are not correct as the PORI beach is small black sand beach no rocky as he say.The houses are very clean in a famous location see previous review reports over 100 about.
---
Mr Zannes organized for transfer for us between the airport and the house and then helped us in obtaining our ATV for our commute on Santorini. He kept the place really clean and constantly provided us with guidance in everything we would like to do in Santorini. The house is really enjoyable and spacious with a fantastic view to the sea. We have thoroughly enjoyed it and truly appreciated the stay!
---
I used to work as a sea captain in merchant marine . I have travelled all arround the world. Now I am in pension and i am passing the time fishing ,gardening and playing my guitar with friends and cliens
making small parties when i will cach some fishes with my fishing boat.when bad weather and no fishing possible i use to read and playing or hear music.
music parties and santorini wine make me happy especialy when in the company friends and nice girls.

语言:
English、Tagalog、Ελληνικά