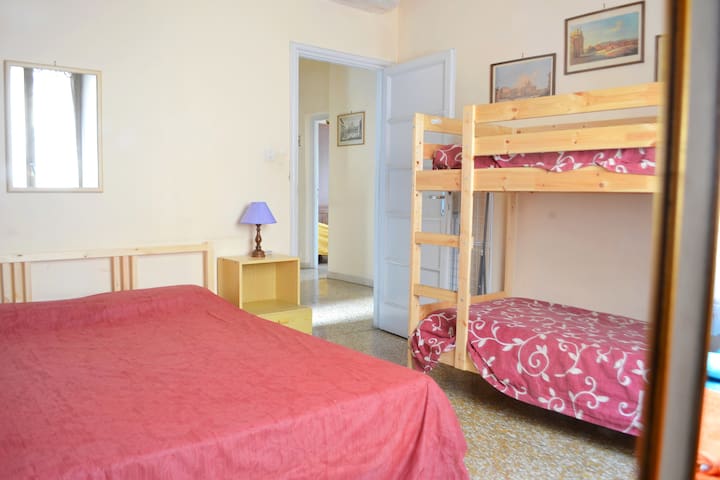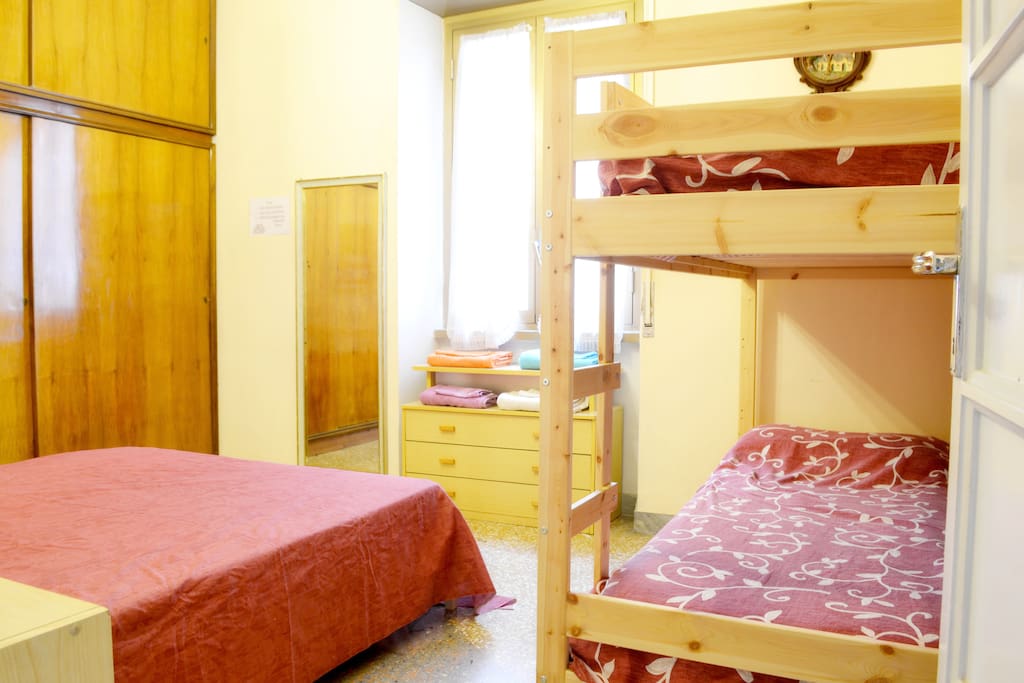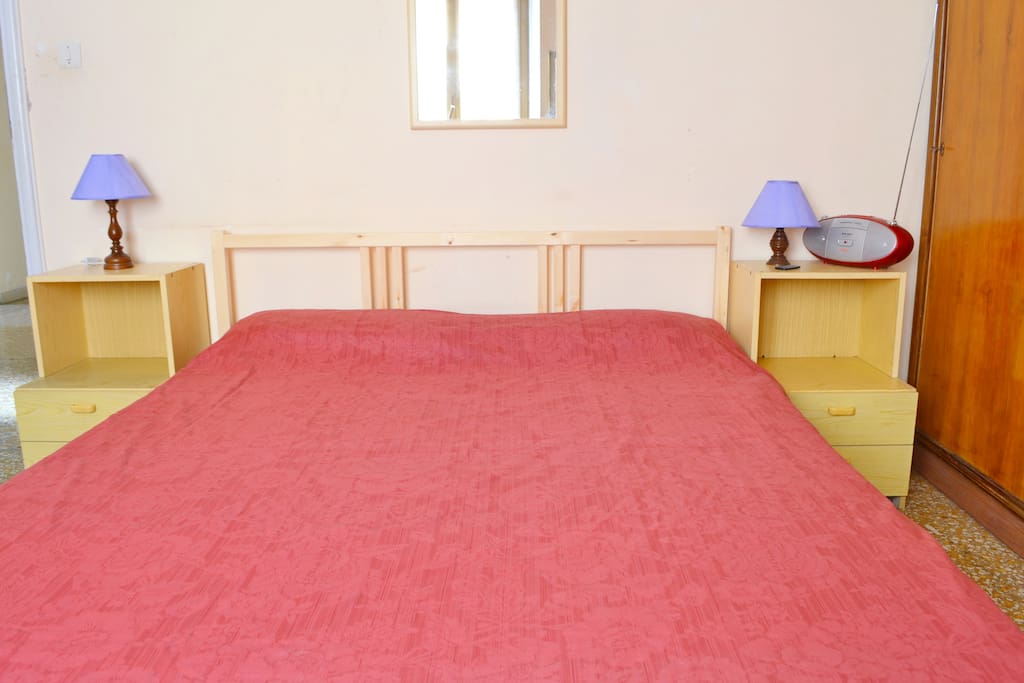 此房源的描述已由谷歌翻译从英语翻译成您的语言,但谷歌翻译并不能保证翻译的准确性。
一个复古和舒适的双人间(最多4人)享受意大利生活的体验,在罗马经典,大型和装备齐全的公寓,位于中部和连接良好的区域。
公共汽车在5分钟,10分钟地铁,城市列车在15分钟,步行到斗兽场不到30分钟。夜班车也!
从机场方便到达
非常安静,安全而不是旅游区,充满了不贵的酒吧,餐馆,商店。
5分钟内有很大而美妙的公园,里面有罗马遗迹。
房源
一个原始的意大利老式家庭的一个漂亮而又大的双人间,是我的祖父母!
几乎所有的装饰品和家具都是原创的,在60年代就回到了!
床很舒适,房间很安静,俯瞰着内部的庭院。
欢迎你的宠物,如果友好的话(问我)。
重要信息:双人床为2人,但在房间内设有一张双层床,可容纳其他2人,每人每晚仅需15欧元。
重要!我们将准备:
2人= 1张双人床
3人= 1张双人床+ 1张双层床
4人= 1张双人床+ 2张单人双层床
如果你想要一个不同的安排(例如,如果你是2,你想睡在双人床和单人双层床上),每床需要额外支付5欧元每张床,需支付现金,请求应为当你预订时提交。
关于加热的注意事项:从建筑物集中供热,由于市政法规,只能从Avril的11月15日至15日,只有上午6点到8点,下午3点到10点。
如果你是一个冷的人,穿温暖的衣服!
房客使用权限
当您可以煮饭并吃饭时,您可以使用设备齐全的厨房(冰箱,燃气灶,电烤箱,微波炉,烤面包机,水壶等)!
或者您可以在大餐厅吃饭,还可以在那里放松身心或与其他客人聊天。
浴室与其他客人共享,可以是其他3人(除非您预订整个公寓),所以请考虑使用它(时间和清洁)。
也请不要太长的阵雨。
当你在这里时,我会尽可能多地清洁我的公共区域(因为意大利法律,我无法清理你的房间)。
有无限的Wi-Fi访问互联网在房子里!
洗衣机每次使用€5。我会为你做的
我不能在我的报价中包含早餐(总是因为意大利法律),但是你可以自己做饭!
入住时间是下午4点后,退房时间是上午12点之前,请尊重这些时间。
通常我不能改变这些时间,因为我有客人在你之前和之后,但也许你可以在入住或退房之前或之后离开你的行李(提前问我)。
如果您想确保能够提前入住或延迟退房,只需在入住之前或之后预订另外一晚! ;-)
当然,我们将不得不尽快同意入住时间尽可能快,无论如何,在您到达之前的某一天。
如果不清楚,这是一间共用公寓的房间。
如果你不喜欢分享公共区域,你可以预订所有的公寓;-)
你可以在Airbnb的地图上看到房子,或者问我地址。考虑一下它是否适合你
如果没有,预订另一个地方,而不是抱怨之后的位置!
与房客的互动
很高兴我们会在入住时见面,我会给你一张免费的罗姆人地图,我会给你看房子,让你签订一份合同(为意大利法律所必需),并要求你提供你的详细资料,因为我有送他们到意大利政府。
如果您需要在办理入住手续之前离开您的行李,可以从晚上12点起,请提前询问我确定是否有可能。
如果您需要在退房后离开您的行李几个小时,我们必须同意如何,提前要求我确定它是可能的。
如果你晚上深夜(8点以后),我会让你找到没有我的钥匙。
我住在一个非常亲密的房子,所以如果你需要一些帮助,你可以打电话给我的房子电话。
如果你想更多地互动,我会很高兴认识你,做一些合作,也许做友谊! :-)
其他注意事项
你可以带宠物,我也想知道他们!在房子里会有你需要的所有东西。
他们应该永远保存在你的房间,除非你预订房子的两个房间,或者询问给其他客人。
---
---
---
---
不适合婴幼儿(2岁以内)入住,或不能为婴幼儿提供安全的住宿环境
不要打破任何事情!退出时务必关闭窗户。不要向任何你不知道的人打开前门。入住时间是下午4点后,退房时间是12点以前,不要太吵闹,特别是在晚上。不要在共享的浴室花太多时间,为地球节约能源。不要丢钥匙尝试开心! :-D
---
---
---
---
Alfredo is a friendly and extremely helpful host! Communication was perfect, check-in was smooth. Alfredo even contacted us from time to time in order to be sure that everything's alright. The flat is located 5min away from a bus station and 15min away from a metro station. From there we could reach sights like the Vatican or the Spanish Steps in no time. Close to the flat there are a lot of bars, cafes and supermarkets. Also, it lies near the famous Via Appia Antica. Although we do not share Alfredo's passion for the vegan lifestile, we appreciated that he treasures sustainability. Thumbs up!
---
El apartamento de Alfredo es muy espacioso y estaba impecable cuando llegamos. La ubicación es un poco lejos del centro pero Alfredo tiene en la cocina instrucciones muy buenas y completas para llegar al centro, la estación Termini, lugares con buena vida nocturna y los monumentos, como el coliseo. Yo recomiendo quedarse en este apartamento 100%.
---
My name is Alfredo, I was born in Rome and I always lived here.
I'm a normal guy that doesn't accept to be normal, so very soon I make a mess in my life.
I am open minded and very curios, I can be very shy and people say that I look very gentle and peaceful.
I try to always see things from another point of view, but I can be also very lazy in doing real stuff.
I have a lot of interests but I am also dispersive.
I can be very simple and very complicated: I have lot of contradictions and doubts! :-)
I am antifascist, antiraxist, antisexist and antispecist.
I think everyone must be free and alive so I don't eat animal and I don't eat or use anything that comes from animals: someone would say I am vegan. :-)
I like to read, photography, to spend time on computers, to cook, to eat, to drink, to meet strange people, to love, to relax on the beach, to trekking on mountains, animals, to walk.

******************
Mi chiamo Alfredo, sono nato a Roma e sempre vissuto qui.
Sono un ragazzo normale a cui non piace la normalità, quindi spesso faccio un casino nella vita.
Sono di mentalità aperta e molto curioso, posso essere molto timido e dicono che sembro molto gentile e pacioso.
Cerco sempre di vedere le cose da un altro punto di vista, ma posso anche essere molto pigro nell'attivarmi.
Ho molti interessi ma sono anche dispersivo.
Posso essere molto semplice e molto complicato: ho un sacco di contraddizioni e dubbi! :-)
Sono antifascista, antirazzista, antisessista e antispecista.
Penso che tutti debbano essere liberi e vivi quindi non mangio animali e non mangio o uso niente che viene dagli animali: qualcuno potrebbe dire che sono vegano. :-)
Mi piace leggere, la fotografia, perdere tempo al pc, cucinare, mangiare, bere, incontrare persone strane, amare, rilassarmi sulla spiaggia, fare trekking in montagna, gli animali, viaggiare.

I HOSTED 1110 PEOPLE FROM 72 COUNTRIES!
HO OSPITATO 1110 PERSONE DA 72 PAESI!
Mostafa & Sakina & Soraya from AFGHANISTAN (3)
Lucio, Maura & friend, Florencia & Juan Pedro, Sol & Alejo, Rodrigo & Eliana, Silvia & Fernando, Lucia & Juan, Damian & Natalia, Federico & Laura from ARGENTINA (17)
Alice, Brett, Carmel, Kai & friend, Sarah & friend, Nadia & Mitch, Jack & Natasha, Jasmine & Arabella, Ryan, James & Sally, Emily & Takahn, Ash & Riley from AUSTRALIA (20)
Leon from AUSTRIA (1)
Maxsim & friend from BELARUS (2)
Theo, Philippe & friend, Tom, Leà & Valentin from BELGIUM (6)
Amanda, Fernanda & friend, Mayra & grandmother, Debora & friend, Rosa & friend, Mariana & friend, Pedro & Leonardo, Douglas & Raiza, Rodolfo & Maria Fernanda & Paulo Roberto, Joao & Stephanie, Paula, Bruno & Deborah, Elaine & Carlos, Bianca & Rodgiro & Josè, Eric & Munique & Erica, Gustavo & Luis, Pedro & Pedro from BRAZIL (35)
Munjiya & friend from BRUNEI (2)
Vasil e Tiho Mira, Yana from BULGARIA (3)
Yawen, Caitlin & Odessa, Steffan, Antoine & friend, Matthew & friend, Dominic & Annachie, Alexandra & Béatrice, Barry & Linda, Therese & Antonia, Jackson, Jean & Francine, Greg, Corina & Mihnea, Rebeka & Braydun from CANADA (24)
Florencia, Josè & Sandra & Berta, Danilo & Stefanie, Sebastian, Gabriel & Paz, Camilo, Martin from CHILE (11)
Chelsea, Esther & 2 relatives, Jongyi & friend, Feiyan & 2 friends, Youhan & friend, Jichao & friend, Jason & friend, Celin & mother, Gracie & friend , Claudia-Su, Qifei & Mengjie, Yanhan, Jiasheng, Weixiao & Weimiao, Xiaojia & Weining & Xinping & Zhigin & He Yu, Tengyu & Siu Wai & Chenk Tinkg, Ling Yu & Bing Ging, Ziyue & Zimu, Ran & Haoqi, Dandan, Qiu & Zhirong & Long from CHINA (44)
Estefania & friend, Ana, Elsa & Sebastian & Jinu, Andres & Jaun Manuel, Pedro & Gloria & Luis from COLOMBIA (11)
Sofia & Carlos from COSTA RICA (2)
Martina & friend from CROATIA (2)
Nikola & friend from CZECH REPUBLIC (2)
Ida & Sofie & Anne, Mia, Malene & Liv, Niels & Tanja from DENMARK (8)
Carolina & Asso from ESTONIA (2)
Sanna-Maria & friend, Jasmin & Heini, Seija & Mikko, Tomi, Mikael & Matias & Eerika from FINLAND (10)
Olivier, Jean Michel & friend, Yannick, Charlotte & 2 relatives, Celia & friend, Fouad & friend, Simon & friend, Kevin & friend, Cloe & friend, Tanguy & 4 relatives, Liza & friend, Jean Luc & 2 relatives, Leonard & friend, Maite & friend, Hanan & friend, Patrick & friend, Chaya & friend, Juliette & friend, Joshua & friend, Laurence, Christine & Christophe, Angelique & Chloe, Gilley & Floriance, Amandine & Yamina, Nathalie & Matthieu, Robert & Guillaume, Ingrid & Clement, Martine & Laurence, Charlotte & Florent, Cedric & Fabien, Romain & Charlene, Francois & Carole, Hatem, Damien, Benoit & Baeza, Lois, Alexandre & Helene, Jean Francois & Daniel & Robert, Theau & Esther, Gaetan & Emilie, Xavier & Mathis & Albane, Christophe & Mathieu, Océane, Anael & Hugo, Barbara & Alexandre, Julie, Tony & Philippe, Chloé, Lucie, Melissa & Simon & Danielle from FRANCE (100)
Ulrike, Isabel & son, Tala and friend, Ana & friend, Felicitas & friend, Vincent & friend, Marine & friend, Jenny & friend, Elisa & friend, Paulin & friend, Gunter & wife, Anna & friend, Jan & friend, Caroline & Juliane, Johannes & Johanna, Ruben & Moritz & Felix & Konstantin, Beatrice & Reena, Tim, Sophie & Robin, Anna & Valerie, Franziska & Dominik, Marion & Sebastian, Katharina & Judith, Maria & Maria, Katharina & Manuel, Martin & Sylvia, Cosima, Tobias & Jonas, Elisabeth, Sandra & Tonio, Petra & Juan Carlos, Michel, Barbara & Lea & Isabel & Volkes, Friederike from GERMANY (66)
Nick, Eleni & Styliani & Fotios & Panagiota, Venetia from GREECE (6)
Daniela from GUATEMALA (1)
Thomas & friend, Daniel & Wing, Ka Yee & Tim Tim & Jess from HONG KONG (7)
Judit & Szabolcs from HUNGARY (2)
Lokesh & friend, Narahari & friend, Kannan & Preethy, Vivek & Sandeep & Rajkumar, Saumark, Naga & Sresta & Bharghay & Mounika, Amarnathm & Gangi & Sakshmy &Prabnavagmi & Muralz & Padmavathz & Ratnam, Vishnu & Ksheereja, Prajat & Anuj, Tina & Guneet from INDIA (27)
Wendy & Raisa from INDONESIA (2)
Fadi & Lana from IRAQ
Sonia & Poline, Shay & Naya from ISRAEL (4)
Alessandro, Mimmo, Antonio, Luigi, Fabio & Sara, Elisa & friend, Veronica & friend, Roberto, Giuseppe & friend, Cecilia, Michele, Maria Grazia & 2 relatives, Bruno & friend, Francesca & 4 friends, Lorenzo, Rinaldo & Stefano & Guido, Elena & Antonio & Caterina & Danilo & Giorgia & Chiara, Emanuela & Marika & Rosy & Pietro & Francesca & Daniela & Sabrina & Erica & Marinella, Michela & Fabio & Nevia, Elisa & Rossella, Valentina & Alfio, Sabino & Stefania, Paolo e Marta, Silvia & David, Patrizia & Gianni, Roberto, Francesco, Esmeralda & Francesco, Alessandro & Francesco, Alberto, Donato & Maria Lucia, Greta & Loris, Elisabetta & Ginger, Matteo & Gabriele, Claudio, Simone & Alessandra, Vincenzo & Francesca, Angelo, Renzo from ITALY (81)
Tanifuji, Masashi, Matt & friend, Shunsuke & friend, Akane from JAPAN (7)
Christina from KENYA (1)
Aleksandrs from LATVIA (1)
Mindaugas & Vaida, Vytautus & friend, Auguste & friend, Aiste & Kestutis, Darius from LITHUANIA (9)
Nathalie & Nonihanitra & Nicolas & Karen from MADAGASCAR (4)
Siew & friend, Ah Moi, Siaw Chin & Siaw Gyn, Phoebe & Aaron & Lee & Ooi from MALAYSIA (9)
Elizabeth & son from MALTA (2)
Inaki & friend, Raul, Fabby and friend, Teresa & friend, Mercedes & brother, Adolfo & Josè, Fabian & Adriana, Mariana & Juan Pablo, Ivan & Viviana & Ana Luisa, Gustavo & Diego & Antonia, Abraham & Francisco, Alfredo & Mariana, Raul & Heriberto, Nestor & Ricardo & Maribel from MEXICO (30)
Dimitri & Darie from MOLDOVA (2)
Natasa & 2 relatives from MONTENEGRO (3)
Andre, Elena, Natasha, Raquel & Caroline, Liam & Grace, Alivia from NEW ZEALAND (7)
Nathalie from NICARAGUA (1)
Valentina from NORWAY (1)
Nawaz & Hafeez from PAKISTAN (2)
Ronald & Velkys & Aleinys from PANAMA (3)
Lily from PERU (1)
Lidia, Michal & Ada, Dorota & friend, Marcin & friend, Piotr & Eliza, Kinga & Maciej, Kapcer & Karolina, Leandro, Malwina & Dawid from POLAND (16)
Joao & 2 friends, Jose Luis & Mariana & Costanca, Miguel, Diana & Caroline & Ines from PORTUGAL (10)
Mina & Ana Maria, Maria-Mihaela & Ilie, Elena e Iounut Mihai, Andreea & Daniel from ROMANIA (8)
Natascia, Diana & friend, Margarita & mother, Tatiana & friend, Anastaciia & Kseniia & Mariia, Inna, Ekaterina, Ioanna & Gleb, Elena & Kirill & Liev, Elena & Nina, Nikita & Marina, Olga & Eugenii, Tatiana, Victoria & Alexander, Georgy & Svetlana, Anton & Anastasiia, Anna e Olesya, Yana & Ilona, Ekaterina & Elena, Elena, Dmitrii & Dmitry & Aleksandra & Maryana, Damir & Leisan, Timur, Karine, Sophia & Gennady, Alekei & Juliia & Andrei & Victoriia & Marziia, Yulia & Danila, Maksim & Anastasiia from RUSSIA (56)
Ousseynou from SENEGAL (1)
Tamara & Jakov from SERBIA (2)
Jasmine & friend, Yingna & Han Neng from SINGAPORE (4)
Lucie, Jana & Sona from SLOVAKIA (3)
Jure & Petra & Milena & Klemen from SLOVENIA (4)
Jake & friend, Wilko, Farryn from SOUTH AFRICA (4)
Yuhwa & friend, Ahn & friend, Yuwon & friend, Eun & mother, Intae & friend, Miga & brother, Noh & 2 friends, Myeong & 2 friends, Kwan & 2 relatives, Gijeong & Ara, Judith & Juyang, Hyung & Hong, Bitnarae & Young Shuk & Jaehwan & Heesun, Sae Ha, Eunjung & Inhan, Dawoon & Weonseop, Myung, Hyeran, Sehun & Jieun, Na Hyun & Na Young, Huiju & Jihye, Yong Hoe & Jinjoo & Hyun Ju from SOUTH KOREA (47)
Erika & 5 friends, Leticia & Pablo, Naroa & Gloria & Cata, Marina & Ana Dolores, Pablo & Juan & Max & Irigo & Jorge, Maria Paz, Alvaro & Sara, Estela, Irene, Sarah & Valeria from SPAIN (25)
Agnes, Elin from SWEDEN (2)
Francesco, Abraham & Carole & Perrine & Vanathy, Martha, Anais & Rolando, Tristan, Lukas &Moritz & Yannick & Catharina & Liv from SWITZERLAND (14)
Souad & Abdul from SYRIA (2)
Nalin & friend , Ai Chi & Weihao from TAIWAN (4)
Piyush & friend, Marteen & Mieke, Camila & friend, Huub & friend, Mara & Nine, Shlomi & Cornelia, Evelien & Thijs, Froukje, Miryam, Remco & Linda from THE NETHERLANDS (18)
Eya from TUNISIA (1)
Yakup, Kerem, Melis & Hanife & Ozgun from TURKEY (5)
Lynh & friend, Philip & father, Mano & 2 friends, Capucine & friend, Elizabeth & friend, Sabrina & friend, Annette & sister, Rachael & friend, Jon & Olivia & Louise & Lucy, Pippa & Kate, Amber & Dan, Callum, Gary & Lia, Kirsten, Michael, Michelle & Jerry, Jamie, Elliot, Cerys, Matthew, Joanna, Adam, Dale & Paige, Ben, Connor & Sarah, Lydia & Jenny, James, Gail & Murray, Adesewa & Elouiza & Maria & Isabelle, Caitlin & Joshua, Reece & Abbie, Ali from UK (57)
Vadim & friend, Katerina, Olga & Klaudija, Mariia & Ihor & Rostyslav, Anna, Liliia from UKRAINE (10)
German & Stephany & Shalako from URUGUAY (3)
Isaiah, Karen & friend, Cassie, Diego, Irving & friend, Rhea & friend, Kimmy & friend, Tara & father, Melissa & friend, Chelsea & friend, Julie & friend, Yucheng & 5 friends, Nathan & friend, Tara & friend, Danielle & friend, Lauren & friend, Andrew & friend, Nora & friend, Mollie & friend, Cara, Connie & friend, Karla & 2 friends, Tori & friend, Ryan & friend, Samantha & 3 friends, Vanessa & Keep, Akshay & Rachel, Michelle & Morgan, Sara, Lilian & David & Leticia & Noah & Niklas, Angela & Maxime & Jayleen & Marcey & Petronila & Alexa, Colleen & Erin, Annie & Claudia, Ellen, Roni, Rui & Adria, Michael & Claire, Chandler & Evan, Mary & Anna, Max & Rachel, Cameron & Daisy, Eugene & Daniel Hy, Charles & Vivianna & James & Matthew, Lindsey, Meliza & Aven & Aila, Sabrina & Alexandra, Linsey & Kelsey from, Abel & Michael & Chelsea & Matthew, Dan, Sheryl & Jocelyn, Julia & Marissa, Jesus & Horacio, Tinsley & Noah, Sofia & Victor, Jun, Vargas, Andrew, Ayanna & Ornella, Grace & Eric, James & Kyle & Brian, Colin & Megan, Rachel & Rubye & Catherine, Derek & Amanda & Daniel, Rachel Michelle & Michelle & Taylor, Khani & Ashley, Wesley & Ashley, Hanai & Sergio & Souad, Elaine & Jayhyun, Erica & Sinead, Orr & Katie, Jason & Elizabeth, Nathaniel & Kenneth, Tram & Trinh & Tuan & Alexandria, Daniel & Brenda, Lidia & Martin, Jason & Yongseon, Jennifer & Kelly, Joseph & Carey & Martin & Earl & Joshua & Quentin, Anna & Brett, Melissa & Jason, Martin & Lance & Henry, Harrison & Dan & Steve, Rachel & Lisa & James, Lisa & Julie & Daniel, Russel & Kendall, Amy & Carol, Angel & Caleb, Ellen & Carter, Allegra & Daniel, Addison & Ryan, Riniah & Sierra, Phanavanh e Kassandra from USA (206)
Javlon & Jasurkhuja from UZBEKISTAN (2)
Hector & Gabriela, Alexandra, Joswrany from VENEZUELA (4)
Ahn & My Linh & Ngoc Ha, Tram & Quynh, An & Hung, Loc & Thanh, Thao, Minh & Linh & Phuong & Ninh & Dung from VIETNAM (15)
语言:
English、Français、Italiano