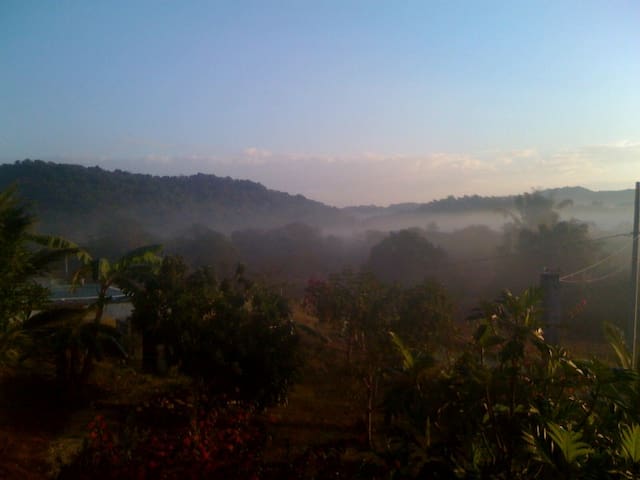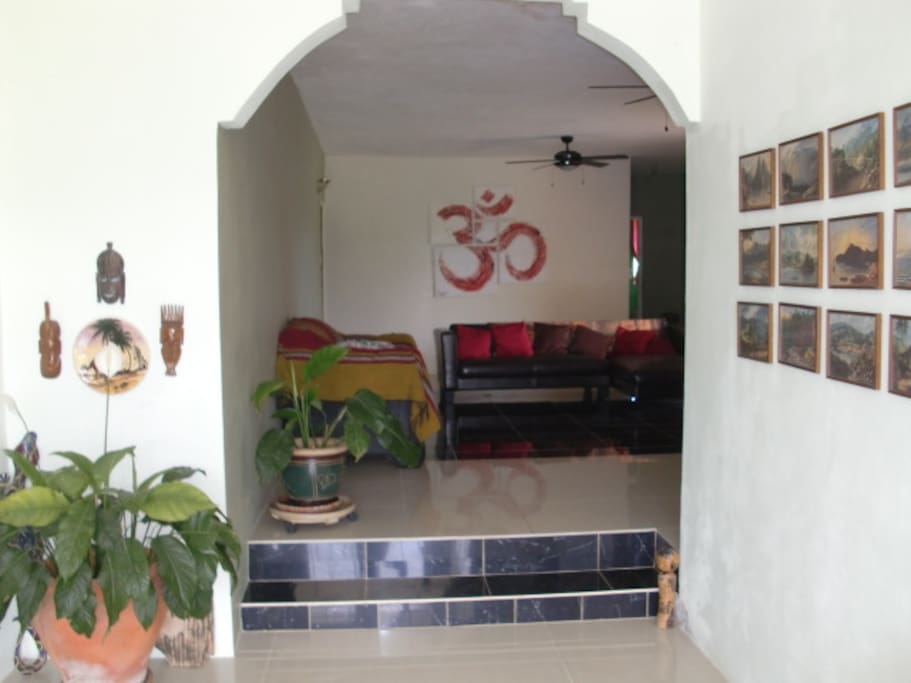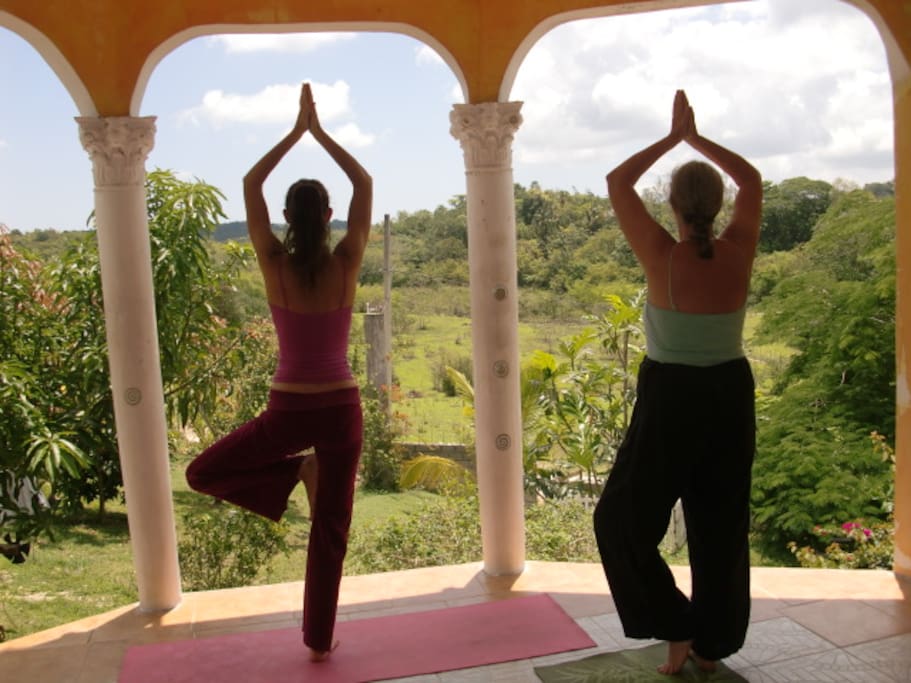 Natural Beauty of Misty Valley 1
We aim to provide a genuine, real, safe, effortless experience of Jamaica. Meeting as much of your needs as possible.
房源
Misty Valley prides itself on offering a really, friendly, clean, open, personal & helpful service. This growing family home opens it's doors to world travellers wanting to get the a real taste of Jamaican culture & it's beauty. We have 2 double rooms have their own bathroom & 1 twin room all with hot water & all rooms have fans.. Wi-fi is available, for those that need to keep in contact with the "real" world. The outdoor pool provides scenic & silent floats among the countless species of birds, dragonflys, cool breeze & of course soothing sunshine. This is a place to land & ground oneself before venturing off through Jamaica. People have booked for 2 nights often stay for a couple more, due to the relaxed & serenity that Misty Valley offers. Ugo & Siobhan (husband & wife) will tailor make anyones needs & have some amazing "un-touristy" tours & adventures.They also offer personal "holistic healing" retreats which include Yoga, raw/vegan meals & juices, reiki & massage for those that are reaching out for something a little different. Their basement recording studio has been a hit with travellers drawn to the "reggae" vibe that Jamaica is so well known for. So whatever you are looking for, Misty Valley offers what ever it can to accomodate your personal needs.
Guests have access to their own kitchen (a small contribution is required for kitchen use towards the gas, electric & water, for 2 nights or more) & we are happy to provide meals.
Breakfast, lunch & evening meals are available upon request.
Only 25mins away from Sangster International airport by car, we offer pick/up & drop off service (free with a min 3 night booking) other wise a competitive rate of US$20 one way. Chartered,Public or private transportation is available, as is car hire.
Just 10mins drive to the coastline & 15min drive for all your shopping needs.
Public & private beaches are a stones throw away,we can organze boat trips to snorkel,scuba or just ride the waves of the Caribbean sea, rivers & falls, caves & mountains, coffee & rum tours, experience a sunrise boat trip to catch & fire cook your morning brekkie.What ever you want we try our hardest to provide.
房客使用权限
Guests have access to all grounds, garden, pool and chill deck. For those with their own car hire you will have a remote for the gate, to be returned before check out. (Please note you will be charged J$3000 if you leave with the remote).
与房客的互动
We are here to help you with abolutely anything thats required.
其他注意事项
We do have dogs, they are loving & friendly however we understand if guests dont felel comfortable or relxed around dogs & we are happy to have them kept in their own locked garden.
---
---
We ask for smokers to smoke outside of their rooms & to maintain as much of a "green awareness" as possible, with regard to switching of lights, fans & a/c.
We also don't allow guest to have friends/acquaintances that were not orignally booked to stay over night. Unlesss pre arranged.
---
Nice and tranquil place to stay. Ugo was a great host and catered to all our needs. I highly recommend the Roaring River tour to get a taste of 'real' Jamaican culture.
---
We had the most wonderful stay with Siobhan and Ugo. From the moment Ugo picked us up from the airport, we felt right at home. Ugo introduced us to some of the most delicious fruit in Jamaica and Siobhan cooked us fantastic vegetarian food. They also organized a day trip that was one of the highlights of our time in Jamaica - we went to Roaring River to explore the caves, swim in mineral water, and explore the village. Their house is located in the mountains and they have a phenomenal view. They also recommended us some really great activities in Negril (scuba diving and a drum show). The only thing to note is that the house is fairly isolated and you do need to take a taxi wherever you go. The quiet and calm is part of the charm, but would not be the best option if you are looking for a lot of nightlife.
---
Siobhan and Ugo were absolutely amazing! We were instantly relaxed and at peace when we arrived. Misty Valley is quiet and simpley beautiful. Siobhan and Ugo helped us arrange our last two days of vacation. Siobhan made a delicious dinner and her mother Carole's breakfast was a real treat. After the hustle and bustle of Negril this was the perfect place to let everything go and really just relax and enjoy your surroundings.
---
We had a wonderful stay at Siobhan and Ugo's and highly recommend Misty Valley to any traveler seeking an alternative to the touristy/resort-style experiences offered by many lodgings in Jamaica. Ugo met us at the airport, and on our way to Misty Valley, stopped at a supermarket for snacks and at a cambio to exchange our cash. Misty Valley is located in a serene mountain setting about 20 minutes' drive from Montego Bay. Getting into town is not difficult, as route taxis regularly pass the crossroad near their place (if available, Ugo will drop you off and save you the walk down the hill). If you prefer direct service into Mo Bay or have other destinations in mind, Ugo will chauffeur you for a small fee or can put you in touch with a reliable driver. Check if your cell phone will be able to send messages via text or What'sApp, as this is the most convenient way to coordinate with Ugo. The pool is clean, well-maintained, and features a large, shaded deck with a small outdoor kitchen. The rooms are clean and breezy, and the showers are clean and spacious, with ample hot water and pressure. There is no A/C, but the nights are cool, so the open windows and/or ceiling fan kept us plenty comfortable. However, if you are unaccustomed to the sounds of nature and/or are a light sleeper, you may want to pack earplugs if you plan on sleeping in late! While we did not take advantage of lunch or dinner, Carole did prepare lovely breakfasts of fresh grapefruit, coffee, eggs, and toast and jam on several mornings. We enjoyed chatting with her as we ate poolside, and appreciated her insight into Jamaican culture, history, and flora and fauna. She's also a dab hand with the first aid kit should you have need! :-) Misty Valley offers a selection of tours which present an intimate view of Jamaica and serve as an alternative to the overcrowded tours offered by commercial outfits. We booked the Roaring River trip and enjoyed the guided tour of the cave system and the small, rural village where our guide, Robert, was born and raised. The caves once served as an escape route for slaves fleeing the surrounding plantations; they are used today as place of meditation, remembrance, and healing. After an invigorating soak in an underground river (think natural jacuzzi!) and a swim in a bottomless mineral pool, we walked to Robert's house, learning about the many plants and fruit trees which provide Robert and his neighbors with an abundant variety of produce along the way. We were then treated to a delicious vegetarian feast of these local ingredients prepared in our gracious host's backyard kitchen. An unforgettable day! This open-hearted hospitality is characteristic of our experience at Misty Valley and throughout Jamaica. Our hosts welcomed us as family and helped transform a nice mid-winter getaway into an experience which exceeded all our expectations.
---
We had a great time. Our hosts were so kind and the property is very beautiful. Got a great introduction to Jamaican fruit from Ugo! For a small cost many unique day trips are available. It takes about 20min to get downtown/hip strip but Ugo will take you anytime for less than the cost of chartering a taxi.
---
We felt VERY welcomed at Misty Valley. Siobhan, Ugo and Carole are kind caretakers, thoughtful, respectful, down-to-earth folks. We had no idea of what to expect as this was our first trip to Jamaica and our first experience with AirBnB. The rooms we stayed in were simple - a bed, a table, a folding chair with a decent bathroom, and no frills, yet the fan overhead kept us cool at night and the feeling that resides at Misty Valley is one of peace and calmness. The neighborhood is quiet, except for the dogs- there are 9 which didn't bother our family, as we have pets ourselves. We always felt safe. The kitchenette is situated by the pool and was fun to cook in, then eat our meals poolside. A few of our meals were take away from the little restaurant down the hill that Ugo suggested. Goat Curry and Oxtail were family favorites, prices were great, and if you're not fussy you'll get a filling meal for 6 or 7 bucks. The pool was fantastic and clean, we spent many hours lounging in it and enjoying the view of the surrounding hills and mountains. In the rooms they have information on outings you can take, Ugo is a trusted driver to get you there and educate you along the way, (he will drive you wherever you want to go).We highly recommend Roaring River Community as a full day outing and you've got to do the zip line if you're into that kind of thing, so fun! These kinds of events were what we had hoped to experience in Jamaica. Meeting real people, talking with them and learning about their lives. If you have a knack for music Ugo has a great recording studio that's fun to see and express your talents. We learned so much from our conversations with Siobhan and Ugo about their experiences and even personal philosophies. It was always uplifting and truly something we'll never forget. We felt well taken care of and our needs were always met.
---
Spontaneous to lifes flow, enjoys everything that is joyful & loving.