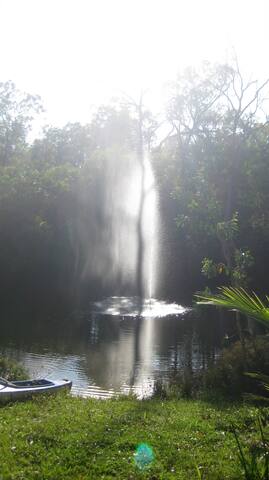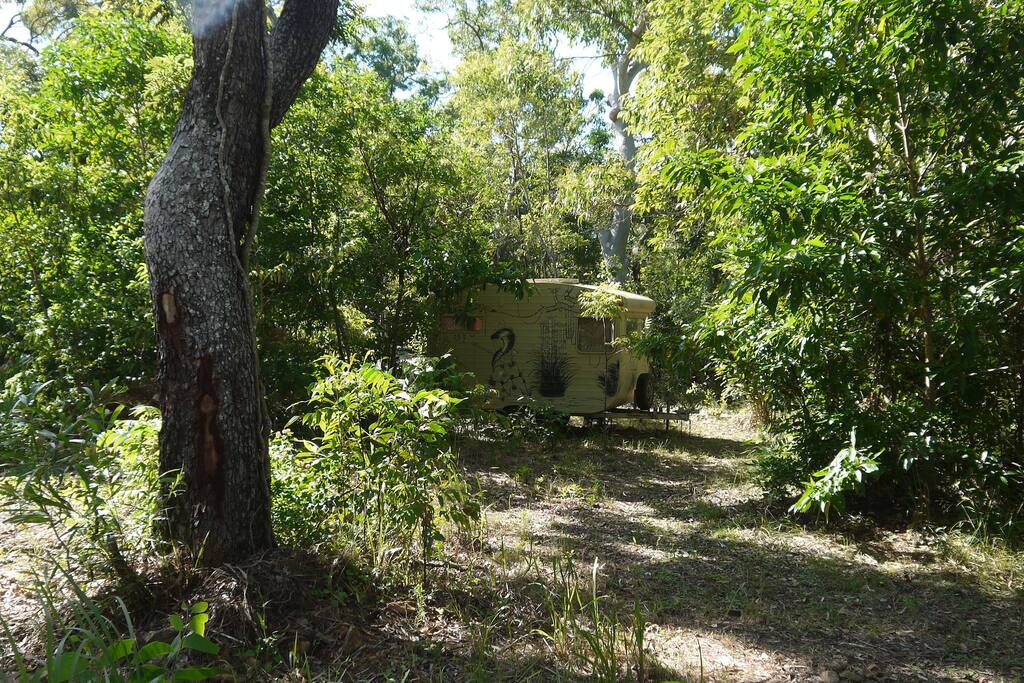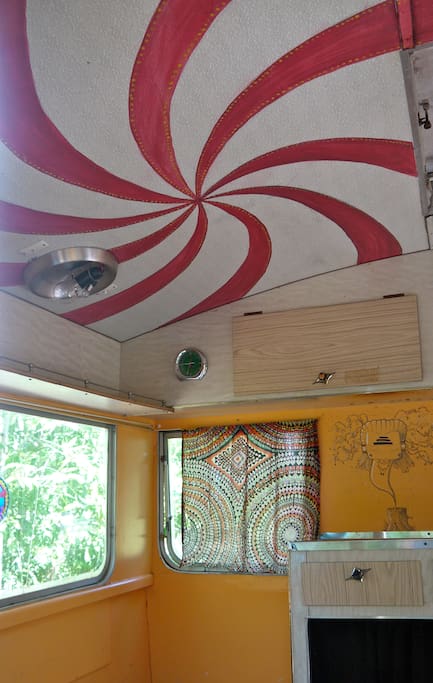 Cute Arty Caravan in Bushland
A quiet retreat in beautiful bushland, 2 kms down bush tracks and across mungumby creek is a small artistically painted caravan, with one queenbed. If you are looking to get way from it all, this is really a good place to be.
---
---
---
---
Relax and enjoy your surroundings
No smoking inside any buildings
Pets are welcome, I have chickens, ducks and a dog running free.
---
---
---
If you are looking for the Hilton, press the back button in your browser and look elsewhere.... If you have an interest in calm surroundings, inspiring conversation and an opportunity to centre yourself, look no further. Priority is placed on the simple pleasures, far more meaningful than well appointed light switches to people of substance. Taste exotic organic fruits, learn as much or as little as you choose in living 'off the grid' and engage with an environment that sustains itself and it's wonderful host Waratah. If you are looking for your very own garden of Eden, where freedom abounds and toxins are non-existent.....treat yourself and book with Waratah for a few days. This is the gem of Far North Queensland!
---
Waratah was very welcoming and showed me around her large property. Amazing how she can manage it all by herself. Her house and the caravan are very open and whoever visits must be at ease with living close to nature. I love the stillness you get when there is no electricity. Waratah runs her whole place on solar energy. The driveway in would be better for a 4WW, I would want to take my little car in after some rain. We had some interesting yarns over dinner, she's lead such an interesting life by the sounds. She's very welcome to stay at my place if ever in Cairns, if she can handle 'straight' city living that is. :)
Hey thanks very much for your nice feedback, it was lovely to host you. In after thought I think that $50 is a fair price for the night as it includes a yummy organic home grown breakfast and my guests have individual and personal attention and as you know their experience is unique and special.
---
Whispering Winds is in bushland 35kms south of Cooktown, near the iconic Black Mountains. Mungumby Creek falls down from the Big Tableland in spectacular cascades, meandering on through the valley it nurtures a beautiful vine rainforest on it's banks, away from the creek the forest opens to open wet sclerophyll woodland, large hard wood trees create shady glades to sit in and special places to dwell.
I often host wwoofers who have helped me create a bio dynamic garden, growing tropical fruit and vegetables, nurtured by the cool spring waters of Mungumby Creek.
I am an artist and a creative, I love exploring new ideas and rehashing old ones, I AM an intuitive who finds nourishment in the natural world, I love exploring the earth, finding it astonishing, amazing and inspirational.

I am surrounded by a wonderland of ecology, rocks, plants, trees, animals, birds, clean water, clear air and rich earth, i am a caretaker for this place that i love and the land nurtures me in return.
I believe it is really important in this speedy time, to spend time connecting with the earth, nature is a meditation, if only we take the time to slow down, breathe deeply, drink in her fragrances and reach out to her, tell her 'Thank you, I love you', listen...and hear her responding.
Whispering Winds is a special place, a safe place where the world stops and nature is waiting for you.
I love welcoming guests and I happily will make you feel at home. If you find your self at Whispering Winds you will have found a 'home from home.'
语言:
English