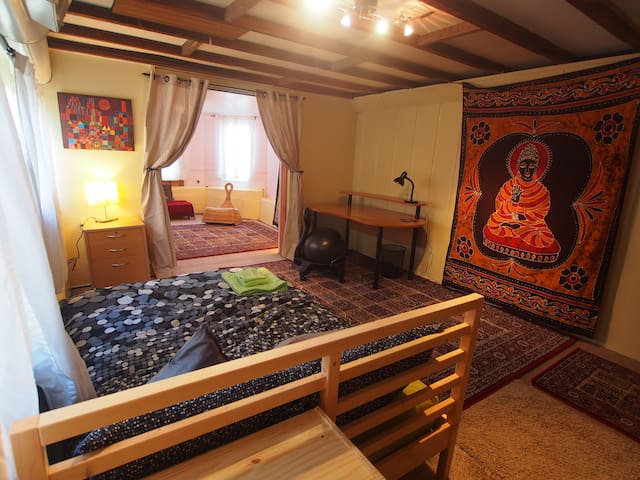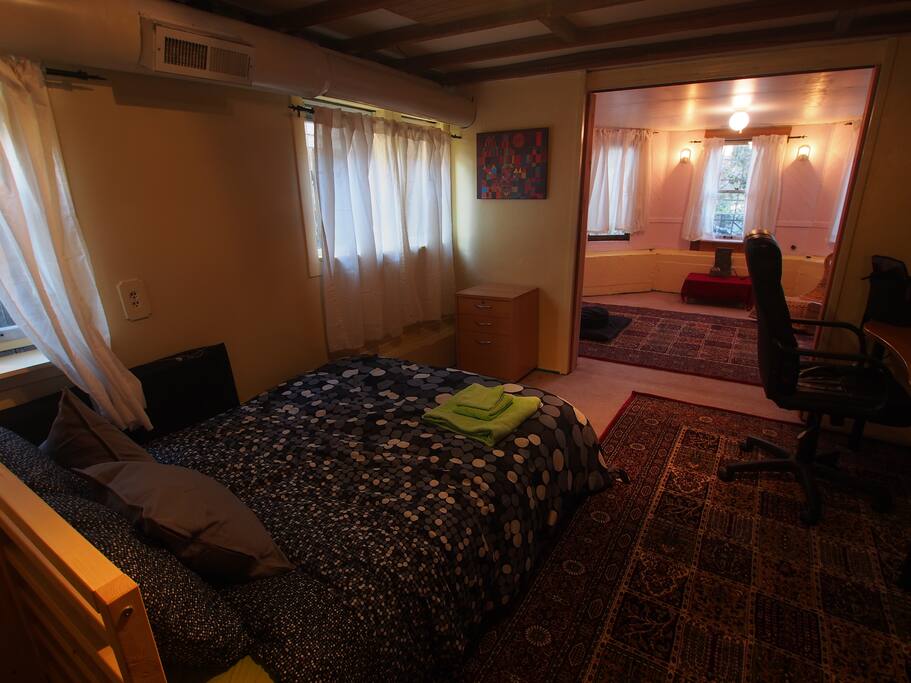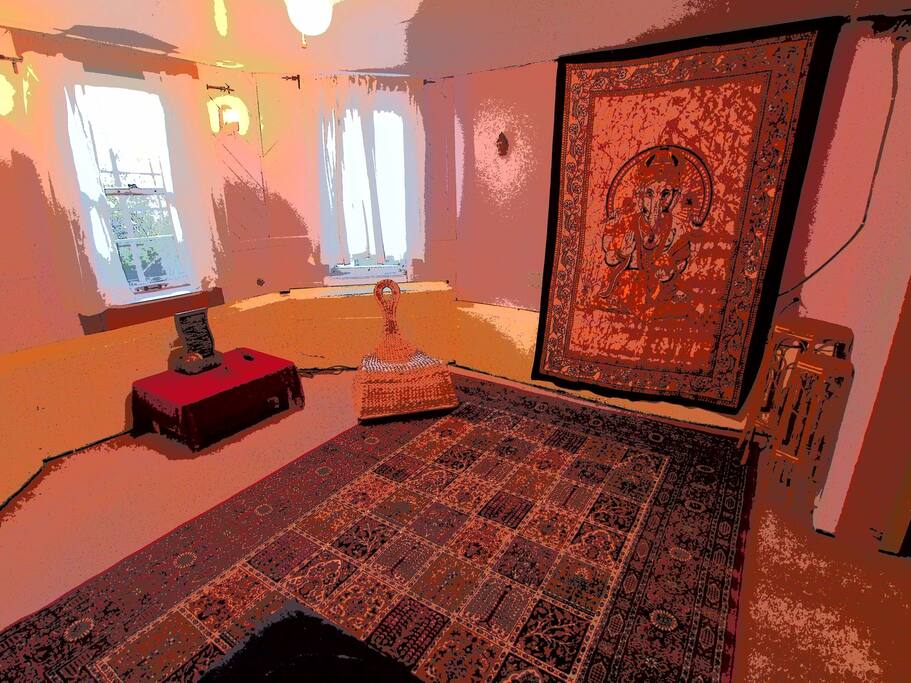 一个美丽,大,宁静的维多利亚时代的家庭和撤退式的环境,位于南伯克利地区,距离BART仅有2个街区。建筑丰富多彩,独特,位于咖啡馆,面包店和着名的伯克利碗杂货店附近非常便利。
A beautiful, large, tranquil Victorian home and retreat-like setting in the South Berkeley area, only 2 blocks from BART. Architecturally colorful & unique, very conveniently located near cafes, bakeries, and the celebrated Berkeley Bowl grocery.
房源
This charming Old Lady, a century old Victorian Home, has a colorful interior and is truly a house with character and soul. It is an artistically colorful and inspiring refuge and place to find rejuvenation for your soul. I have several guest rooms in the house, so to see other listings, click on my photo or name to go to my profile and see the others. See my profile here:
https://www.airbnb.com/users/show/5406587
All rooms are single occupancy only to help preserve the peaceful, quiet environment.
NOTE: This room is available only for longer stays of 2 weeks or more. In addition, for fall and winter season, because I dont' want gaps in my calendar, you must take the room within 2 days of the date it comes available, which is currently December 15th 2017. This means for instance that you cannot book a 3 week or 2 month long stay starting Jan 10 2018. You will need to book the room with a starting date of Dec 15, 16 or 17 2017.

THE HOUSE AND THE LOCATION:
This house is very conveniently located directly on the Berkeley-Oakland border 2 blocks from the South Berkeley (Ashby) BART station, the local subway. This allows you to travel to most any San Francisco Bay Area destination without a car. You can quickly arrive to downtown San Francisco within 30-45 minutes by BART.
Within walking distance of 5 blocks, you can find: several ethnic restaurants (African and Mexican come to mind), 2 cafes, 2 bakeries, La Pena Latin American cultural center, Starry Plough Irish Pub, a low-fee acupuncture clinic, and Berkeley Bowl grocery store, with its celebrated enormous offering of fresh produce. Walk a little farther north, and within 30 minutes or 1 mile you will come to downtown Berkeley, and the University of California at Berkeley, movie theatres and many shops, restaurants, and other attractions such as bookstores, comics/games stores. (Downtown Berkeley is also just one BART stop away.) By walking East, you come to the attractive Elmwood avenue shopping area within ¾ mile, and its shops, restaurants (Indian and Mediterranean among them), movie theatre and Metaphysical bookstore. THe Walkscore rating for my house location is 88 out of a possible 100 for walkability: any higher a rating and you would likely have trouble finding parking. Speaking of parking: there is plenty of 2 hr parking on my street -- Monday thru Friday, 8am to 6pm, there is a 2 hr limit -- but you can find smaller areas of unrestricted parking on my street and nearby.
THE ROOM:
THis room is generally oriented to those staying 3 weeks or more, but there is some short term availability Dec 23 to Jan 4th.

This luxurious, very large room is actually two rooms. It is located on the ground floor of the house. The first room is a 16 ft by 12 ft size bedroom, with closet, carpeting, and a brick "altar" area, containing a full size bed, dresser, and table and chair with desk lamp for study.
Then there is a second room, a private yoga/meditation room, which is 10 by 12 ft in size. This room has 3 bay windows, lovely natural morning light, is painted with lilac walls and a peach colored base, and is furnished with an altar and zafu and cushion, as well as a yoga mat and low wicker chair. It is a great place to ground and center, gather your thoughts, do some quiet journaling or art, or energize yourself with some yoga practice(URL HIDDEN)The room has a TV which at present only receives one channel --CBS, local channel 5 -- and can be used to view movies on VHS format, of which I provide a small library of about 12 movies(URL HIDDEN)Clean sheets and towels provided. The house is generally very quiet, and the house rules help make it so, but keep in mind this room is underneath other guest rooms so you will at times hear others walking, or talking above you.
You will share the kitchen and bathrooms (one full bath plus one half bath) with up to 2 other guests and myself, though I don't cook much. I am not vegetarian, and there are no restrictions on what you may cook here. There is wifi and laundry available on site. Depending upon which floor you are on, you would be using a bathroom with tub with glass tub enclosure, or a tiled shower.
ARCHITECTURE:
Architecturally, this is a colorful and playful house, where you won't find white or "off white" rooms. The rooms have ten foot high ceilings and attractive moulding. All the original redwood moulding and redwood panel doors remain. The spacious kitchen is orange with a blue countertop and green tile floor, featuring an antique Wedgewood stove. For those staying 4 weeks or less, there are basic staples for you to use for your cooking. (For those staying longer, please purchase your own kitchen staples). Feel free to enjoy the fresh chicken/quail eggs I have placed in the kitchen, from my backyard flocks. In the kitchen I have also placed free maps which will help direct you to local shops and attractions.
MEDITATION ROOM:
The Meditation room generally has a guest staying in it and is not available to guests, but during those times when no one is staying in it, feel free to enjoy the meditation room and library, the colorful front room of the house featuring 3 bay windows. Sit on the zafus (or the plush armchair) and gaze out to the trees in front of the house, or sit in stillness a while. Browse my book collection or engage in meditation, yoga, reading or writing, art or any other silent activity: guests may talk in the room during hours 3-7pm but please no cellphones in the meditation room.
BACKYARD:
Also feel free to enjoy the backyard garden, perhaps visiting the hens, quail, or Henry the rabbit, or sitting by the pond with running water.
CLEANING:
The common areas of the house are professionally cleaned once a month, and I clean these areas once a week. Apart from this, guests are required to clean up after themselves when using common areas (see house rules for more info).

PARKING:
street parking is available, mostly limited to 2 hrs on weekdays, but there are unrestricted parking areas also within 1-2 blocks.
BICYCLE:
I have a bicycle available for guest use with the payment of an additional security deposit to cover its potential loss.
HOUSE RULES:
Please read house rules below before booking a reservation, to make sure you will be comfortable with the setting. I ask that prospective guests fill out a complete profile including photo, as well as verified email and phone number.
AREA SAFETY:
Prospective guests often ask about area safety. Guests have said they felt safe in the area. Neither I nor any renter/guest has been robbed or accosted in the 9 years I have lived here. Apart from stating such facts, I cannot answer general questions about "how safe" the area is, or "will I be safe doing X", any more than I could answer a question about how likely you are to get hit by a car when walking around my neighborhood. Asking "is the area safe?" is a bit like asking "are tamales delicious?" Obviously, it depends. Safety is both subjective and relative, and is also dependent upon use of common sense, such as being observant of one's surroundings, and not walking down the street while talking on the phone and advertising one's expensive electronics. Robberies do occur around the Ashby BART area, and throughout Oakland and Berkeley. No area is completely safe.
This house has been a community house of one kind or another for over 40 years, and I have over 8 years experience in renting rooms in my house and learning how to create a tranquil environment for others to enjoy. It's a large house, and you won't feel crowded here: it's a great place to stay if you like your privacy and enjoy your independence.
I welcome you to come enjoy a tranquil retreat from the workaday world and rekindle your sense of delight and enchantment!

___________________________________________________

Search keywords: retreat, meditation, mindfulness, vipassana, contemplation, dharma, reflection, quiet, tranquility, garden, cottage, private, privacy, independent, introverted, spiritual, Buddhist, Buddhism, Zen, zafu, silence, art, artist, library, nurturing, rejuvenation, psychology, nature, animals, chickens, hens, urban farm.
房客使用权限
2间浴室,充分利用厨房,充分利用洗衣设施,为住3天以上的客人使用后院。
2 bathrooms, full use of the kitchen, full use of laundry facilities for those staying 3 days or more, use of backyard.
与房客的互动
我喜欢在客人到达时与客人交谈,但我是一个漂亮的私人,还有一些需要大量私人时间进行创意的项目,所以在我下班回家后,我倾向于花时间度过。周末我也很多。我喜欢与客人聊天,如果你喜欢与他人互动,总是有不止一个客人在家里,你很可能会去了解世界各地的其他人。
I like to talk with guests when they arrive, but I am a pretty private person as well as someone needing large blocks of private time for creative projects, so after I get home from work I tend to spend time alone. I also am out a lot on weekends. I tend to chat with guests when I them around...if you like interacting with others, there is always more than one guest at the house and you are likely to be able to get to know other people from around the world.
---
---
I am delighted to be able to provide a rejuvenative, tranquil and retreat-like atmosphere for guests, as well as a healthy, comfortable and safe environment. The following house rules greatly assist the preservation of such a unique environment.
Please keep in mind:
You will be sharing common areas with other guests, and thus the cleanliness of the common areas is far more dependent upon all guests cleaning up after themselves, than it is upon my once a week cleaning. Most guests do very well in keeping common areas clean!
House rules:
Kindly remove shoes upon entering the house.
Please leave things as they are in your room and to protect the floors, avoid moving furniture around.
To create a pleasant and clean atmosphere, no smoking or "vaping" of any substance inside or outside house.
No pets/animals may be brought to my home. If you like animals, there are some in the backyard who enjoy being visited!
For the better health of all, I keep my home free of toxic chemicals. Please do not use toxic chemicals or strong scents such as perfumes/colognes, "air fresheners", laundry soap with fragrance, fabric softeners, incense. Shampoo with fragrance is fine.
Also...please do not use any benzoyl peroxide that will come into contact with my linens (sheets, pillowcases, towels). I have had countless linens ruined by guests using this chemical. Please bring your own linens if you need to use this chemical.
Due to danger of fire, no candles, space heaters or open flames may be used in the house.
Rooms come already furnished, and guests may not bring additional furniture. Please limit yourself to 3 suitcases to avoid damage to the floors/furniture. You may bring only your own belongings -- you may not use my room to store belongings of anyone who is not a paying guest at my house.
Please observe hours for laundry facilities.
To make the kitchen welcoming for the next person, please put everything away when you leave the kitchen. Thus please leave no dishes in sink, on counters, stove, etc.
To keep the house neat and free of clutter, please store your items only in your designated storage areas.
AFter use of the bathtub/shower and sink, please clean out hair from the drain/floor area and sink area and make sure tub/shower is basically clean.
Common areas are cleaned once a week, and guest rooms are cleaned in between guest visits. Apart from this, guests are expected to clean common areas after use and clean their own rooms during their stay.
Rooms are single occupancy only, and guests may not bring any others to visit to my house, neither overnight or during the day.
House quiet hours are 10pm to 8am, and laundry hours are 9am to 9pm. To help preserve the tranquil environment, please keep electronic players and/or voices down at all times, and do not have cellphone conversations in the house after 10pm to avoid disturbing others. No socializing in the house after 10pm.
To preserve the retreat like setting, please use computers, radios, electronic players and cellphones in your room only and do not bring these into common areas.

For security's sake, please always lock deadbolts of exterior doors when passing in/out through the doors.
If you have a bicycle, there is a bike storage area outside where you can put it: please do not bring bikes into rooms. Because bike storage space is limited, please ask me before bringing a bike to the house, as there may or may not be room for additional bikes. I do have a bike available for guests to rent if desired.
No mail may be received by guests at my home. Please do not give out my home address to any person or entity.



Guest agrees to pay Host for damages or loss for any of Host's property damaged/lost by the Guest.
In order to save myself and my guests from trouble in the case of any guest refusing to follow house rules, significant violation of house rules may result in immediate termination of the reservation, forfeiture of the total cost of reservation, and/or a $20 fee per incident.

Arbitration. All claims and disputes for total amounts greater than $5000, arising under or relating to this Agreement are to be settled by Binding Arbitration in the state of California. An award of arbitration may be confirmed in a court of competent jurisdiction.
---
The room was very much as described. The Buddha room was very cozy but spacious. The neighborhood was quiet and a 5 minute walk to Bart, very convenient!! as well as a short walk away from coffee shops, some restaurants and grocery markets. Room is private but bathroom is shared with 3-4 other people and the walls are thin so even though other guests are very quiet and respectful, you hear a lot of walking/doors closing/ cooking etc. everything was very clean!!
---
I have a passionate interest in cultivating the life of the soul of the human psyche. In the past I worked as a counselor and led a dream group. For many years, I have studied mythology and Jungian psychology, and practiced Active Imagination and dreamwork. I use Tarot as a to…