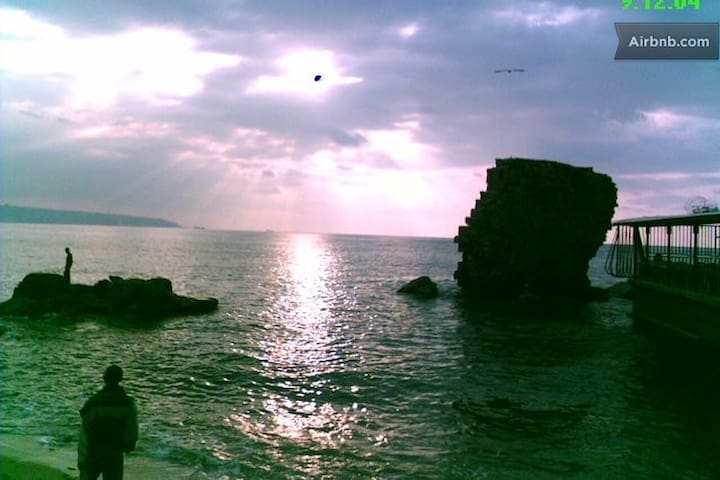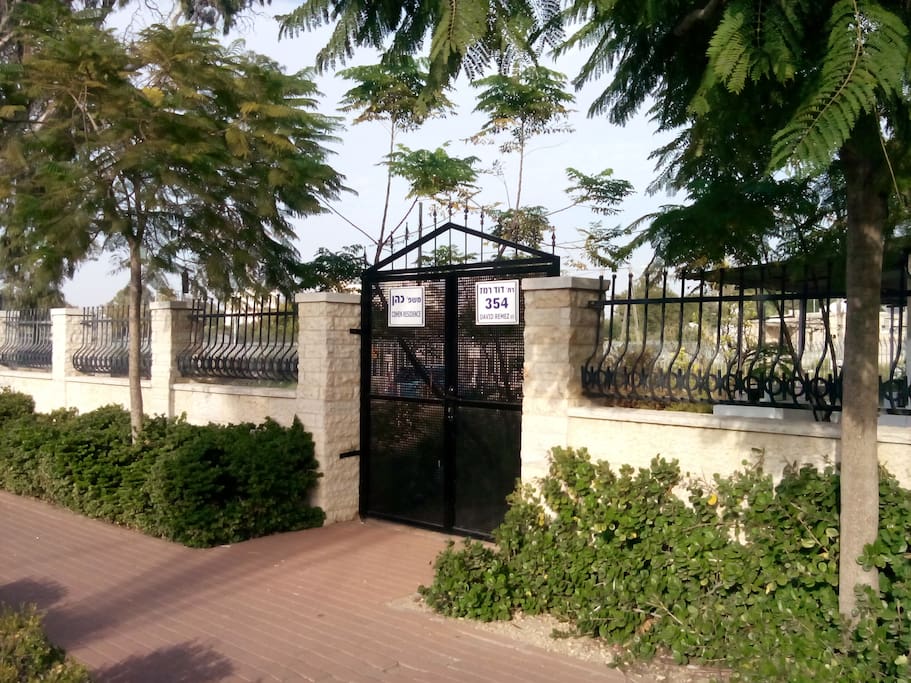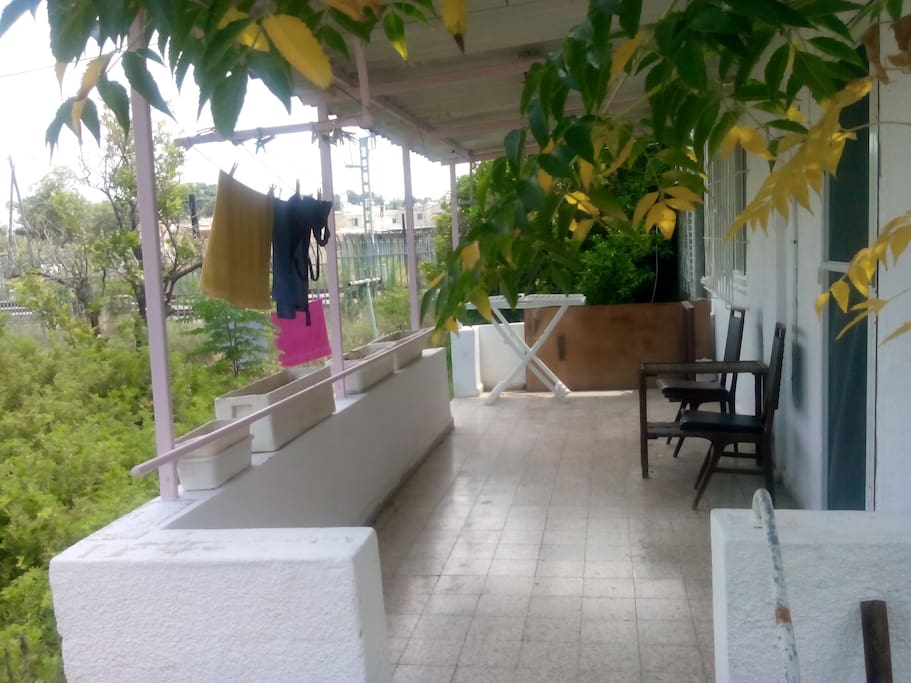 靠近火车(直达TLV机场-2小时)和公共汽车站,城市市场,超市和商场,ATM,拿破仑山。 伟大的基地,巡游北部。 可爱的教科文组织世界遗产老城区和美丽的海滩+长廊+巴哈伊花园+网球和极限运动中心。 15-20分钟步行到各个方向的城市景点+免费停车。 私人宽敞的房间只适合于您(最多4人:双人床2张,可伸缩的美式舒适沙发床2张),大而舒适,轻松的房子+码头。
Near TRAIN (DIRECT TO TLV AIRPORT-2 hours) & bus stations, the city market, supermarkets & mall, ATM, Napoleon Hill.
Great base for touring the north.
Lovely UNESCO WORLD HERITAGE old city & beautiful beaches + promenade + Baha'i Gardens + Tennis & extreme sports center. 15-20 min walk to city attractions at all directions + free parking.
Private spacious room only for you (up to 4 people: 2 in double bed+2 in retractable American Comfort couch), in big, cosy and relaxing house + yard.
房源
To see close by TOURIST ATTRACTIONS plus how to get there, please press "+ More".
A private room in a one-story house with a veranda + a large garden and 4 private rooms in Akko (Acre) - a lovely UNESCO World Heritage city in Israel, with a beautiful old seaport and beach promenade (20 minutes' walk), one of the loveliest beaches in Israel, covered with golden sand - Argaman Beach, and a diverse and interesting history.
The common area of the house includes also a well equipped kitchen, a veranda, a living room, a dining space and 2 rest rooms; one of them includes a hot water shower.
There are special acoustic windows which filter out the noise from the nearby railroad and street.
There is a free parking yard adjacent to the house.
It's only about 3 minutes' walk + 2 hours by train from the TLV airport! That's because it's located 3 minutes' walk from the train station (& the city market) and 5 minutes' walk from the central bus station. Also most, if not all, of the bus lines stop at the train station. It's a 2 minute walk to the Sherut taxi line to Nahariya-Haifa which works also on Shabbat and goes through the street that intersects with my street.
It's about 15-20 minutes' walk in different directions from:
the old city & all the beaches
(URL HIDDEN)
the local Bahai gardens
(URL HIDDEN)
the Tennis center
(URL HIDDEN)
and extreme sports center
(URL HIDDEN)
You can get everywhere in the city quickly via a taxi for only 14 Shekels or by bus for less than 7 Shekels for a whole day, using a Rav-Kav electronic card which will be loaned to you free of charge when you ask. Using this card you can also cover huge areas for 21.5 Shekels per day.
The first picture is of the view from the Pisan Port, not from my house :). That port was actually constructed by the Italian crusaders from Pisa and the bigger port was constructed by the Venetians. There are many beautiful views like that all around Akko's shoreline. Akko changed hands many times and even Napoleon tried to conquer it from the Ottoman (Turkish) Jezzar Pasha and his Jewish right-hand man Haim Farhi who supervised the battle against the siege. A Royal British Navy flotilla under Commodore Sidney Smith also helped repel repeated French assaults and after 6 weeks Napoleon gave up but left us "Napoleon's Hill" near the train station to visit.
My house served 2 very intelligent women for writing/finalizing their PhD thesis and countless other tourists as a great base for touring Israel's northern sites. For example:
• Naharia- ~10 minutes (by train) and from there 30 minutes to the beautiful
• Rosh-Hanikra Reserve (via bus 31).
• Akhziv Beach National Park.
• Haifa with its beautiful Bahai gardens (~30 minutes by train) and from there to • The Mount Carmel Nature Reserve.
• Tiberias - ~72 minutes (via bus 500 to Tsomet Amiad+from there: (PHONE NUMBER HIDDEN)).
• Tzfat (Safed)- ~70 minutes (via bus 361).
• Nazareth- ~70 minutes (via bus 331 from Haifa Checkpost).
• Tel Afek, also spelled Aphek and Afeq, is an archaeological site located in the coastal hinterland of the • En Afek Nature Reserve, east of Kiryat Bialik.
• Nahal Me'arot Nature Reserve (the quickest way is via train to Haifa Hof Hacarmel station, then the 921 or 202 or 222 bus lines and ask the driver to get off in the Ein Carmel station).
• The Holocaust Museum and archive in the nearby Kibbutz lohamei hagetaot ~5 minutes (via the Nahariya taxi line)
• Tel Megiddo reserve for archaeology lovers... and many more.
It's also only 1.5 hours by train to Tel Aviv and less than 2 hours to the airport.
Acre also hosts 2 major theater festivals: The Fringe Theater Festival, on Sukot holiday and The Masrahid Festival. It also hosts The Vocaliza Festival also called The Liturgical Zimriya, The Olive Harvest Festival, The International Youth Circus Convention, Medieval life and knights battles Re-enactment, international tennis tournaments and more.
Many more festivals are held in the Western Galilee district, which Acre is its capital and in the Galilee district.
房客使用权限
4间客房设备齐全,配有空调,免费无线网络连接,有线电视(起居室配有55英寸的4K电视,1室配有42英寸全高清电视,其他客房设有32英寸高清电视),一个衣柜和床。 厨房包括一个过滤水龙头,自动Moulinex汤机搅拌机(yup - 它切蔬菜,自己做饭)),自动蒸汽炊具,自动米饭和蔬菜炊具,2个辉煌的炒锅+ 6盆高科技陶瓷涂层和2个感应炉,微波炉,2个烤箱,2个烤面包机,玻璃电热水壶,感应咖啡机,卡诺拉油,香料,燕麦,葡萄干,亚麻籽,咖啡和几个品牌的茶叶等。 还有西门子洗衣机和跑步机,重量,平衡板和瑜伽床垫和腰带,您可以使用。 大部分时间我使用第四个房间,我乐意以任何方式帮助你。 欢迎观看我的天才嘉宾Karsten Risseeuw拍摄的视频剪辑"Akko一夜"。
The 4 rooms are well equipped, air-conditioned and have free Wi-Fi, cable TV (the living room has a 55'' 4K TV and room 1 has a 42" Full HD TV, the other rooms have a 32" HD TV), a closet and beds.
The kitchen includes a filtered water tap, an automatic Moulinex Soup Maker blender (yup - it slices the vegetables and cooks them by itself :) ), an automatic steam cooker, an automatic rice and vegetables cooker, 2 splendid woks + 6 pots with a hi-tech ceramic coating and 2 induction stoves, a microwave, 2 ovens, 2 toasters, a glass electric kettle, an induction espresso coffee maker, canola oil, spices, oat, raisins, flax seeds, coffee & several brands of tea etc.
There is also a Siemens washing machine and a treadmill, weights, a balance plate and a yoga mattress & belt which you can use.
Most of the time I use the forth room and I'll be happy to assist you in any way I can.
You are welcome to watch the video clip "One night in Akko" filmed by one of my talented guests Karsten Risseeuw.
与房客的互动
无论什么舒适,取决于双方的忙碌。我通常可以在晚上进行社交活动,但是在我正在开发的软件上被淹没的时候,所以我提前道歉。
Whatever is comfortable depending on how busy both parties are. I am usually available for socializing in the evenings but there are periods when I'm swamped with work on a software I'm developing, so I apologize in advance...
其他注意事项
*请在预订前阅读房屋规定! *预订后,请复制或打印方向部分,以防在以色列没有蜂窝网络。房子没有编号,但是如果您按照火车站的指示,很容易找到我的房子。如果你不会 - 这可能是困难的...
* Please read the house rules before booking!
* After booking, please copy or print the Directions section in case you don't have cellular internet in Israel. The houses are not numbered, but if you follow the directions from the train station it will be very easy to find my house. If you won't - it might be difficult...
---
---
* PLEASE READ ALL THE RULES AND AT LEAST THE PARTS MARKED BY CAPITAL LETTERS IN ALL DOCUMENTS. It will save you and me problems. As an example, guests didn't read about closing the special acoustic windows to prevent the nearby trains from bothering them at night and complained about the noise from the trains after they left... it also states what you may use, which refrigerator is intended for your use, how to operate the different devices, etc.
* You might be able to save 60 Shekels by cleaning the room yourself before or after using it - ask me if it's possible. I'm also interested in translations of my Airbnb text to other languages in exchange for extended hosting.
This option MIGHT BECOME A NECESSITY if you book 2 days or less before checking-in because the maid and I are not always available, so if you disapprove you should verify this BEFORE BOOKING on such short notice.
If this option is agreed upon, I'll send you a special offer with the discount and you can accept it. You'll get fresh sheets + cleaning materials.
* NO SMOKING is allowed inside the house.
* NO ANIMAL MEAT is allowed in the kitchen and fridges. That of course includes fish and chicken. I can accept use of eggs and cheese.
I am vegan because I choose to be compassionate to animals, healthy and ecological :)
* CLEAN THE DISHES AND KITCHEN AFTER USING THEM. Don't leave dirty dishes, food scraps or open bags of food after you. You wouldn't enjoy it if the other guest did the same.
* CLOSE ALL MOSQUITO SCREENS.
* BE ECOLOGICAL: Electricity and water are very expensive in Israel and have a huge ecological impact. When activating the AC or radiator, please close all windows + door. When leaving the room, please turn off the above + the lights. Please don't use a hollow-fiber blanket at the crazy-hot Israeli summer and then adjust the AC to the minimum temperature because of that...
* Throw ONLY TOILET PAPER INTO THE TOILET, nothing thicker.
* SPECIFY THE CORRECT NUMBER OF GUESTS.
* COORDINATE YOUR ETA & GETTING+RETURNING THE KEYS with me.
If you come before you are expected, you may find no one to let you in.
I try to be flexible with my guests and make their check-in and check-out times independent of my own schedule so they are comfortable as much as possible without a strict timetable. Because of that flexibility you might be obliged to pick up or return the keys at a Lebanese restaurant located 1 km away from my house. You may also return the keys by throwing them through the mosquito net as you precisely follow a procedure detailed in the house manual.
If that doesn't suit you, verify with me before booking if it's possible to avoid that.
YOU MAY NOT LEAVE THE KEYS NEAR THE HOUSE AND GO.
---
I felt very welcome at Moshe's place. Moshe was very kind that he came to help me carry my luggage from the train station to his home because I arrived very late due to limited transportation on Shabat. I really appreciate his help. The place is exactly as he described - the location is excellent! It takes only 3 minutes to walk from/to the train station to his place. The old city is only 30 mins walk or only 10 mins by taxi. The fresh market is in front of the train station and in a vicinity to his place. His place is very organized and clean. Moshe is a professional in hosting many people and he knows so much about different places. You can ask for his help/suggestions regarding the places to visit and how to get there. I really enjoy my time staying at Moshe's place. To anyone who is looking for a place to stay in Acre and is thinking whether to stay at Moshe's place or somewhere else, I would recommend his place unhesitatingly. If you stay in the old city, the surrounding of the places in the old city is not so clean. Moshe's place is away from those unclean places and the noise from the trains is not a problem at all - you need to close the window as he suggests.
---
I'm from Akko, Israel. I'm vegan and enjoy preparing my own healthful food or eating tasty Humus :). I like Biodanza, self-development workshops, computers, kayaking, yoga, popular science, varied music from all over the world, dancing... I'm a software technician and instructor,…
语言:
English、Français、עברית