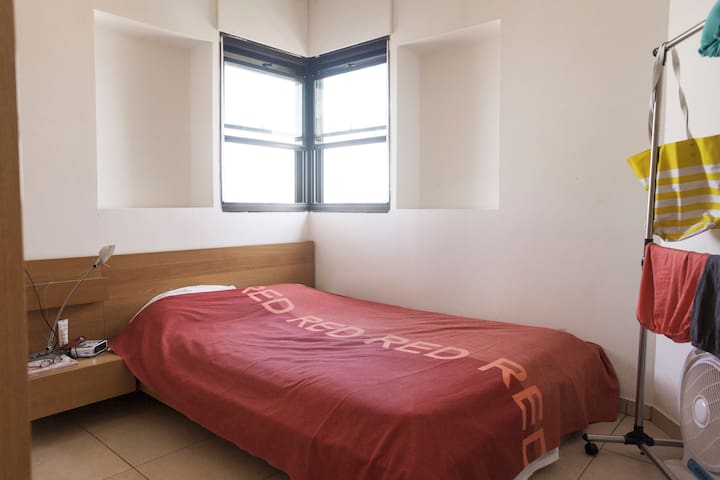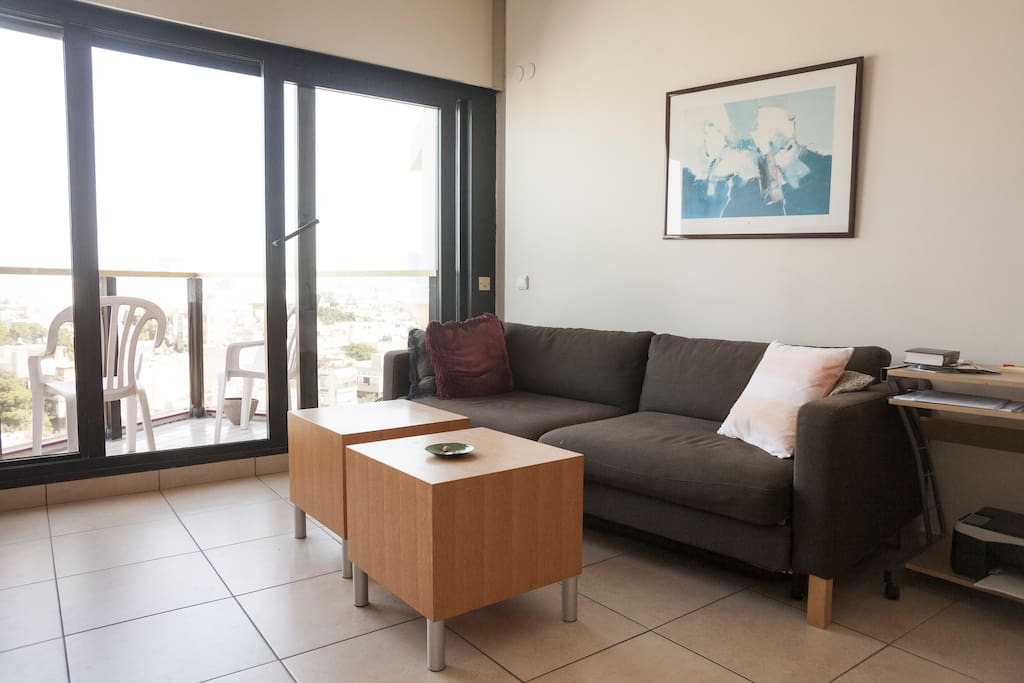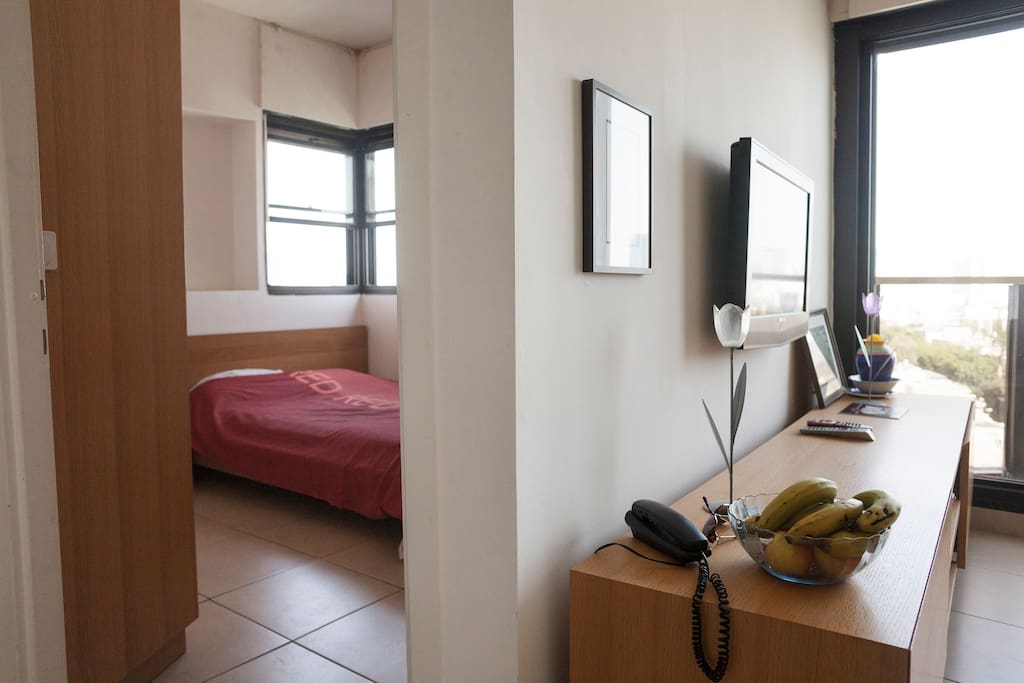 房源
A beautifully renovated apartment with stunning views of urban Tel Aviv. It is located in the heart of Tel Aviv, only a five minute walk from the beach. The Dizengoff Tower has a security 24/7, swimming pool and gym; parking is right below (for a fee).

The apartment, located on the 14th floor of the tower, includes a living room with a sleeper sofa, a dining area, a 32 inch HD Plasma TV, a well equipped kitchen, a remodeled bathrooms and a bedroom. There is ample closet space, a washing machine and a dryer, high speed wifi internet connection and air conditioning. The apartment is fully stacked with kitchen supplies, linens, towels, etc.

The apartment is right above Dizengoff Center which is the first shopping center in Israel. This urban mall consists of four floors of shops and restaurants, a cinema complex, a swimming pool and 2 gyms.

Right in the heart of Tel Aviv!
---
I'd like to thank Galia for a wonderful vacation. She sent me an email with a detailed explanation of how to get to the apartment from the airport, as well as regarding all domestic issues, which I might face. Moreover, she gave me the manager's phone number that I could call in case of any problems. The apartment is very conveniently located in the very center of the city in a safe area with a developed infrastructure. On the ground floor there is a shopping center with a supermarket. There are also many cafes, shops and The Habima Theatre nearby. A walk to the sea takes about 10-15 minutes. The apartment is clean, cozy and well-equipped. There is a nice balcony with a beautiful view on the city. The street is pretty crowded; however, the noise didn't disturb me at all. I definitely give a high rating to Galia's apartment. In case you are planning to visit Tel-aviv, I recommend that you stay at her place. Хочу поблагодарить Галю за прекрасный отдых. По электронной почте она дала мне подробные инструкции на английском, как добраться до квартиры от аэропорта, а также по поводу всех хозяйственных вопросов, с которыми я могла столкнуться. Кроме того, у меня был телефон менеджера, к которому я могла обратиться в случае каких-либо проблем. Квартира прекрасно расположена. Это самый центр города, безопасный район с развитой инфраструктурой. На первом этаже находится крупный торговый центр с супермаркетом. Вокруг большое количество кафе и магазинов, рядом театр "Габима". До моря можно добраться пешком за 10-15 минут. Квартира чистая, уютная, оборудована всем необходимым. Есть приятный балкон, с которого открывается красивый вид на город. Улица довольно оживленная, но я не испытывала никакого беспокойства от шума. Однозначно ставлю высокую оценку этой квартире, и в случае, если вы намерены посетить Тель-авив, рекомендую остановиться именно здесь.
---
The apartment is exactly as advertised. Great location right in the centre of Tel Aviv. It is on the 14th floor so the view is great (no water view though). The Disengoff tower has a 24 hour concierge which means that the keys can be collected any time. There is a shopping mall directly below the tower which is also very convenient. The owner, Galia, is very easy to deal with and she communicates promptly. We would be very happy to stay again.
---