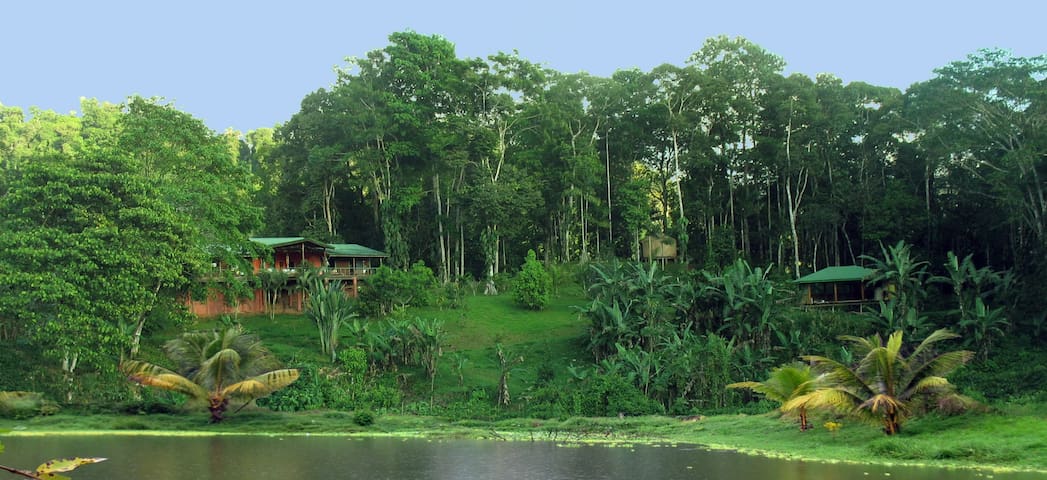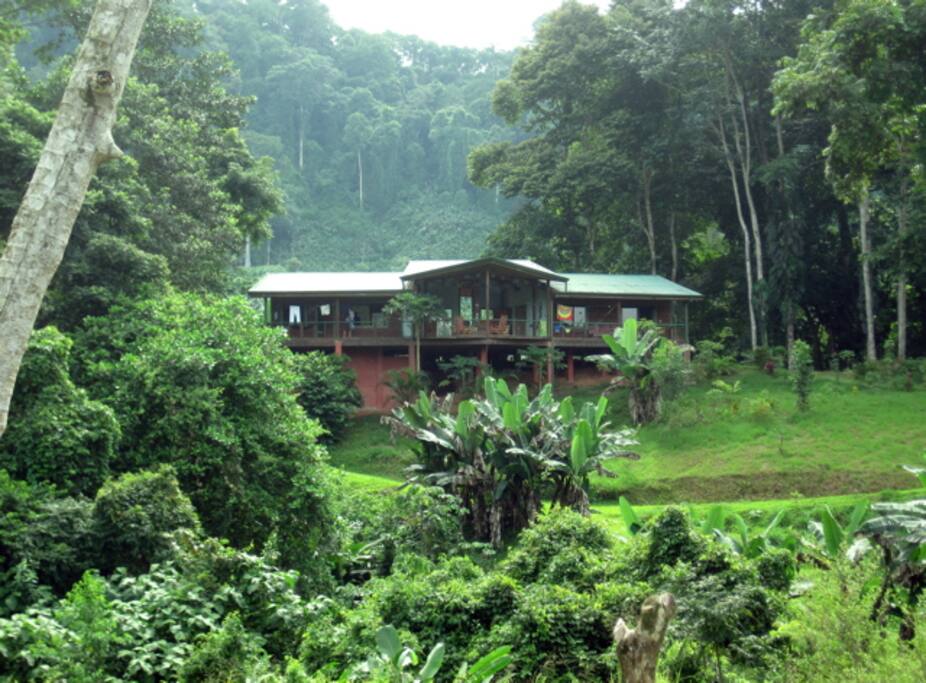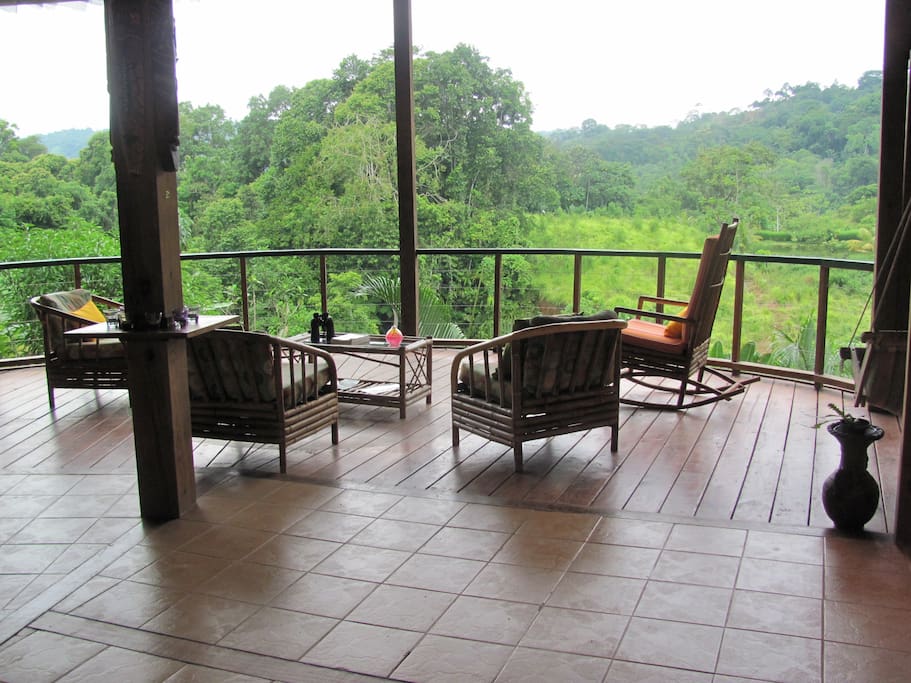 Casananda-jungle home in Platanillo
Just 15 minutes up the road from the surfing town Dominical, this quiet mountain home is perfectly situated within a tropical jungle landscape complete with a pleasant breeze and an open air feel.
房源
Enjoy tropical trees, plants and flowers and watching toucans, parrots, falcons, and butterflies that visit the grounds in the early morning and afternoons from hammocks and cozy chairs. Every morning the howler monkeys can be heard welcoming the day. The 1100 ft elevation ensures a more comfortable temperature, even when it's steamy at the beach. The house is not air conditioned, but ceiling fans and the house's location allows for comfortable air movement.

The mostly-shaded deck offers a perfect place for relaxing, drinking Costa Rican coffee, reading books, and watching the jungle. The dining area consists of an oversized table overlooking the deck and green jungle beyond. The kitchen has granite countertops, an island, as well as a small table and sitting area.

Hikes can leave directly from the house. One steep trail leads down the back hillside to a small creek. Another goes down to the headwaters of the Baru River for a dip or to hike to amazing waterfalls in either direction, upstream or down.as well as the most photographed waterfall in Costa Rica, Nauyaca Falls. Other activities include hiking, surfing, kayaking, rafting, horseback riding, snorkeling, scuba diving, zip lining, going to the market, bird and wildlife watching, going to the market, as well as relaxing and soaking up the simple life.
Sleeping Accommodations
The home sleeps six people comfortably. Two bedrooms are equipped with full sized beds and the third bedroom has two twin beds. We have two single mattresses that can be placed on the floor either in an extra room (or, by special arrangement, in the yurt). The adjacent, romantic yurt also has an awesome deck overlooking the jungle and a full size bed. Two bathrooms are located on either side of the house with hot water. There is also an sublime outdoor shower.
Children are welcome, but the house may be unsuitable for families with small toddlers or children who would climb on the deck railing.

Cooking Accommodations
Make use of the fully-equipped indoor kitchen by cooking up stir fries and fresh fish catch bought in Dominical. Our caretaker is available to prepare fresh vegetarian lunch or dinners to order in advance. Produce is largely organic and purchased locally at the farmers' market in San Isidro, where we buy free-range eggs, goat milk/cheese and kefir, organic brown rice, and fresh corn tortillas.
Internet available thru the pretty good local 3G phone network, and we try to maintain WiFi in the main house.

**Please look under the tab "House Rules" for additional information about visiting the area.
其他注意事项
In 2014 we completed a separate open studio with facilities for extra sleeping and kitchen. It is mostly for owner use. Please contact us if you are interested in holding an event or retreat requiring extra space
---
---
---
CASANANDA FAQs:

-Will I need a car?
Yes, the home is in the gated community of the Valley of the Horses, situated approximately 6 miles (9.5km) from the beach –5.5 miles on a paved highway, and the last 1/2 mile on maintained gravel road into the coastal mountains. A car is recommended, though four-wheel drive is not necessary. There is a small grocery store in the village of Platanillo, about a mile away, but it would be a strenuous hike. There are also two fruit stands near the turn off for Valley of the Horses. For groceries, restaurants/bars, beaches, stores, etc. you would require transportation to the town of Dominical or San Isidro El General. Several taxi services are available. Plus, there are so many places around to explore!

- Is there someone in Costa Rica who can assist me while I am there?
Yes, once you book the home, you will be put in touch with our local caretaker, who can assist you with key handling and any questions or activity suggestions you may have.
- Where are the beaches??
The closest beach is Playa Dominical, approximately 6 miles away. This beach, however, has larger waves (it is a surfing destination) and can also have a dangerous rip tide. Although the only beach in the area with lifeguards, I would not recommend it for casual swimming, especially for children. There are two other beaches we favor, down the coast near the next town of Uvita, Playas Ballena and Ventanas. Dominicalito, just adjacent Playa Dominical, is also generally calmer, but a bit rocky.

-How far is the house from the San Jose airport?
About 3 to 3.5 hours, depending upon traffic and stops, via the new Caldera highway, or 4+ hours on the older Rt. 2 through San Isidro El General. You can also fly into Quepos via regional air, and it's a 30 minute drive down the coast.

-How will I know how to get there?
We will provide clear directions, and the home is just off a paved highway, and just a few kilometers off the Costañera Highway (34).

-Are there restaurants and shopping close by?
Dominical is a rustic surfer town and has a nice selection for casual dining. You can find Mexican, Thai, Italian, "Typical Costa Rican," (Tipico) even a deli/bakery that serves awesome smoothies and great lunchtime sandwiches. Nearby hotels, such as Roca Verde and Rio Mar offer dining and bars. For shopping, you may wish to visit the bustling tourist town of Manuel Antonio (30 minutes drive north), which has souvenir, jewelry, and art/craft shops and many lively restaurants (I recommend a trip to Manuel Antonio, anyway, for the national park).

-What activities are in the area?
Yes, yes, yes! Activities include watching birds and butterflies, touring Manual Antonio Nation Park or Haciendo Baru near Dominical to see monkies, slothes, and birds, hiking in the Valley of the Horses, hiking in the Chirripo area (the highest peak in Costa Rica at 3,820 metres (12,533 ft), surfing (at various levels), kayaking (whitewater and sea kayaking), rafting, horseback riding, snorkeling and scuba diving at Caño, zip lining, going to the open air fruit and vegetable market in San Isidro, watching the sunset, and eating mangos from local fruit stands. There are dozens of picturesque, quiet beaches all the way up and down the Southern Pacific coast near Dominical. You could easily go to a different one each day for more than a week!

For surfers, Playa Dominical has a famous left and right beach surf break, and waves most of the year. The same conditions that attract surfers can make it treacherous for swimmers. Playa Dominical can have dangerous rip tides. There are lifeguards present, though Playa Ballena, and Playa Ventanas are more calm. Playa Dominicalito, just south of Dominical, is also known for less intense waves and currents, but is rockier. Dominical Surf Adventures has high and low tides listed on their website: (website hidden)

-Is the neighborhood quiet?
Yes, Casananda is in a gated community with other homes, but it is private. The caretaker lives in a small casita away from the main house. The noise heard is that of the jungle.

-Where do I shop for food?
A small market in Dominical has almost everything you would need. Another small market is located about 1 mile east on the main road (Hwy 34) in Plattanillo. For larger shopping, there is a bigger supermarket in Uvita, about 20 minutes down the coast, or there is a large MegaSuper in San Isidro El General, the largest nearby city about 35 minutes up into the Talamanca mountain range. They also have a large open-air market on Thursdays. Fruit and some vegetables can be gathered at fruterías. There are two fruterías close to the Vallley to the Horses junction with Hwy 34. There is also a place to buy fresh fish daily in Dominical.

-Does the home have internet and phone?
3G phones and ipads work well at the house. We bring our ipads for email and web browsing, and there is enough bandwidth for using (SENSITIVE CONTENTS HIDDEN). There is consistent wifi in Dominical and at a sweet coffee spot in Plantanillo that serves a lovely fruit platter (about one mile-I'll give you details).

-What can I expect the weather to be like?
You can expect about 85+ degrees at the beach year round. The only difference in climate year round is that April/May-November is the "green," or rainy season, and December through March/April is the dry season. The temperature at the house is always a few degrees cooler because it is around 1100ft. elevation, and you get mountain breezes.
The sunrise and sunset are constant year-round at approximately 6am/6pm, because of its proximity to the equator.

-What will I need to bring?
You need not bring any household items -- all bedding, tableware, bath towels, cookware etc., are provided. Bring only your personal items, beach towels, sunscreen, binoculars, swim gear, water shoes, and a sense of adventure and/or relaxation!

Please note our cancellation policy prior to booking, and we also require a $300 security deposit, in case things are damaged or stolen. To clarify, smoking is only allowed away from buildings and not on the outdoor decks. Pets will be considered on a case-by-case basis and there will be additional fees and the security deposit may be greater. Thank you for your respect.
---
---
Beautiful location and home. What a nice relaxing and serene location in the jungle. Main point for everyone is the fish monger next to the "la mancha" restaurant just past dominical towards uvita. Also the grocery store b.m in uvita is the best source for a fully stocked grocery and pricing we found around.
---
We had an incredible experience in this house, and would highly recommend it to anyone looking for an adventure. Chandra is a wonderful host. The views from this place are unreal, the waterfall hike on the property was the jungle experience I've dreamed of since I was a little kid. It's so peaceful and beautiful, and the town of Dominical is a perfect little beach town. I could have spent a week just sitting in the hammocks on the deck. That being said, we did run into a minor issue that I wanted to note for other travelers. The house is extremely clean and well kept, but it is IN the jungle, and it is an open home - so bugs are are a part of your stay here. We knew this, and after a day we adapted to it - and most people will too. However, one of the bedrooms had large, biting ants in it, and we were unable to use it at all during our stay. I don't think this is normally an issue at this home, but it did prevent us from using all of the home, and the kids had to end up sleeping with us, which was a bit disappointing. The rest of the insects were totally manageable and shouldn't deter you from staying here - you quickly learn to coexist with everything and if you don't mess with the bugs, they wont' mess with you. This house is truly a gem and provided us with an experience I'll never forget. Just melt into the jungle and leave all of your stress far behind. I would encourage anyone who's looking for an authentic adventure to visit here, just be prepared to live among the jungle critters (I mean, we were guests in their home)!
Thanks for that feedback about ants in the small bedroom. We looked into it, did a deep cleaning, and think it is resolved. Guests since then have not reported a significant problem with ants. But, ants need to be acknowledged as the ultimate, silent rulers of the jungle. Jerry--- Aug, 2017.
---
Amazing place! Exactly what we needed after a few days in the north exploring and hiking countless miles. The house is situated perfectly in the mountains where each room wakes to a gorgeous view. The indoor/outdoor feel is truly magical. Coffee on the porch in the morning overlooking the jungle really feeds your soul. Chandra is a wonderful person. Her stories are engaging and interesting. We loved getting to know her. She maintains the house and is very eco-conscious, which I personally was thankful for. Traveled as a family of 7 and had plenty of room. House is easily accessibly but I would definitely recommend a 4x4 or at least an SUV. Set aside some time to walk down to the private waterfall. It's amazing. Make sure to visit Dominical - awesome sunsets. Remember it's jungle living! Critters will be present but the kitchen/lounge is the "bug free zone" and we didn't have many issues inside the actual house. Heard the howler each morning and night, had visits from toucans and countless other avian species. Loved our time here and it will always be a time that we carry with us. Thank you again Chandra! Pura Vida
---
Amazing jungle house! Our family of 6 (kids - ages 12-20) stayed in Casananda for 3 night in June. We wanted the jungle experience without being too rustic, and Casananda fit the bill perfectly. One of the big selling points for us was the option to hike right from the property. We went down the path right from the house to the private waterfall to explore and enjoy the water. The path was steep but short and interesting with huge trees to gawk at along the way. Another day we went down a different trail to the river. Here we swam and hiked up river a long ways. Not something you can do in June with little kids as the current was strong in places, but for our highly adventures teens, it was awesome. We boulder-hopped, swam, and explored to our hearts content. The house itself has amazing views front and back. I loved watching the clouds dip among the trees. We are big nature/wildlife lovers. Dave the howler monkey called to us every morning (Dave is not his official name, just we we named him). We also had a group of white-faced monkeys in the trees one morning. Daisy the duck flew in to say good morning and wag her cute little butt like a dog. Neighbor dogs stopped by to say high while we were out hiking. We stayed at 3 vacation rentals during our trip. Casananda was the family favorite, even when stacked up against houses with more amenities. The setting was sublime. Speaking of amenities, the new WiFi is really strong and consistent, which was much appreciated by the teens. I was really worried that the heat and humidity would be too much without A/C, but we were quite comfortable with the fans. The only negative for us was the beds are much firmer than we like, but that is the case often when we travel. Jerry, one of the owners, was extremely patient and helpful answering all my questions. Super nice guy! Chandra, the housekeeper, went out of her way to buy smoked trout for us before our arrival at the local farmers market. It was a great experience in every aspect. I'd return to Casananda in an instant!
---
We absolutely loved the house and location and will return. Situated in the jungle with phenomenal views. Monkeys, deer, fruit trees, a 10 minute hike to a spectacular waterfall on the property. We even had a daily visit from the sweetest duck, Daisy. Immersed in a jungle setting with the beach 15 minutes away. Highly recommended. We cannot wait to return. Thank you Chandra for the memories.
---
I am a critical care nurse in Denver, CO. I grew up in the Green Mountains of Vermont, where my parents still reside when they are not in Costa Rica or traveling. My parents, Abbe and Jerry, dreamed of this house in Costa Rica about 15 years ago. We have brought many people over the years that have enjoyed themselves tremendously, and I decided to help my parents share the home with you!
语言:
English、Español、Français