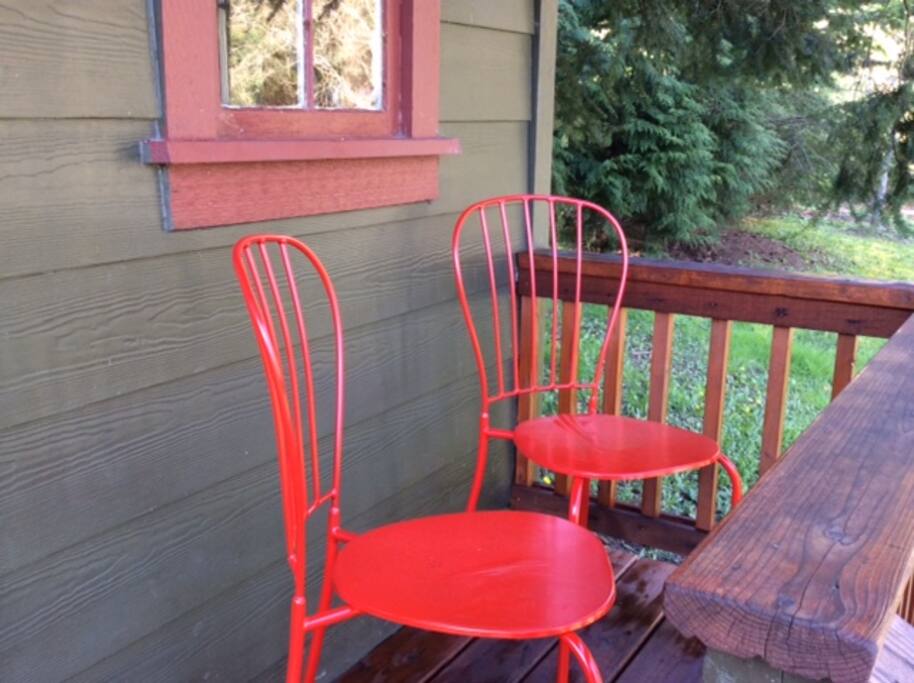 A tiny, rustic cabin tucked in the orchard, with shower and kitchenette. Climb the ladder to a snug sleeping loft with a full size mattress. Private with a view of the water. For 1-2 young, adventurous guests. 3 night min, we occasionally have shorter stays.
---
Lydias farm was so much fun! The setting is lovely and the garden was beautiful. We stayed in the cottage that is behind the garden, we used everything! The picnic table, barbecue , veges and eggs made the stay very comfortable. The loft would be very cozy for a young couple, but for us we chose to use a blow up bed we happened to have with us. We will definetly come back, hopefully next time with grandkids!
---
The Garden Cabin at Pebble Cove Farm has everything you need for a cozy experience. The space was exceptionally clean and Lydia makes sure every detail is in order for your stay. It was a treat to be able to pick our own veggies from the garden for our dinner and grill out by the cabin. It was tremendously peaceful, but note that the farm has other guests as well.
---
We absolutely loved the Garden Cabin and highly recommend it! The location is perfect, the cabin is adorable and it was exactly what we needed to relax and recharge. The farm animals are just lovely as well. Nothing like rubbing a pig's belly while on a lazy stroll down to the water. We look forward to coming back in the summer when the garden is in full bloom!
---
Lydia's little home is simply perfect for two. My wife and I loved how accommodating Lydia was. This little home has everything a couple could need to enjoy a nice meal and a well deserved snuggle after a day of exploring the island. We will absolutely be back. I will note, this listing in particular is for people who come prepared and we appreciated that is was framed as "upgraded camping", it was definitely that more.
---
Our Inn is a family run business on Orcas Island. At Pebble Cove Farm we are making an effort to be environmentally responsible. We use all natural, non-toxic toiletries, cleaning products and laundry detergent. We line dry linens and towels, weather permitting. We buy organic and fair trade whenever possible. We never use any pesticides or chemicals on the farm. We feed organic grain to our animals. We recycle and compost. We look forward to sharing island life with our guests.