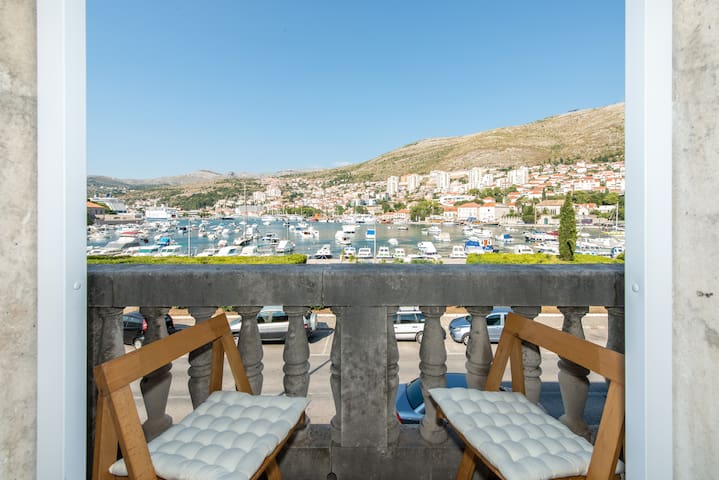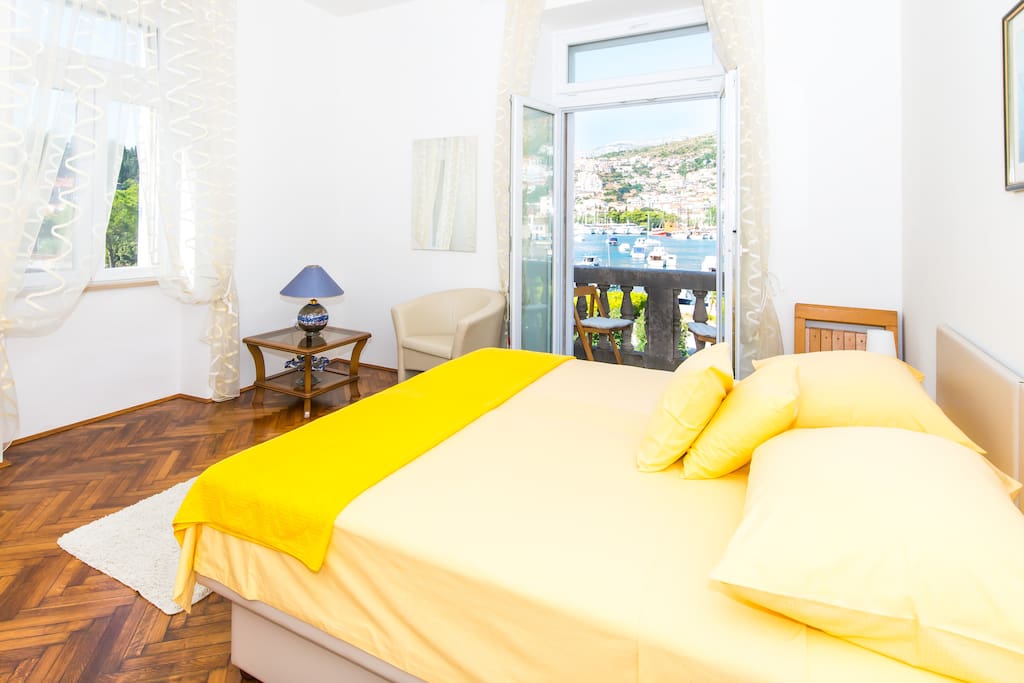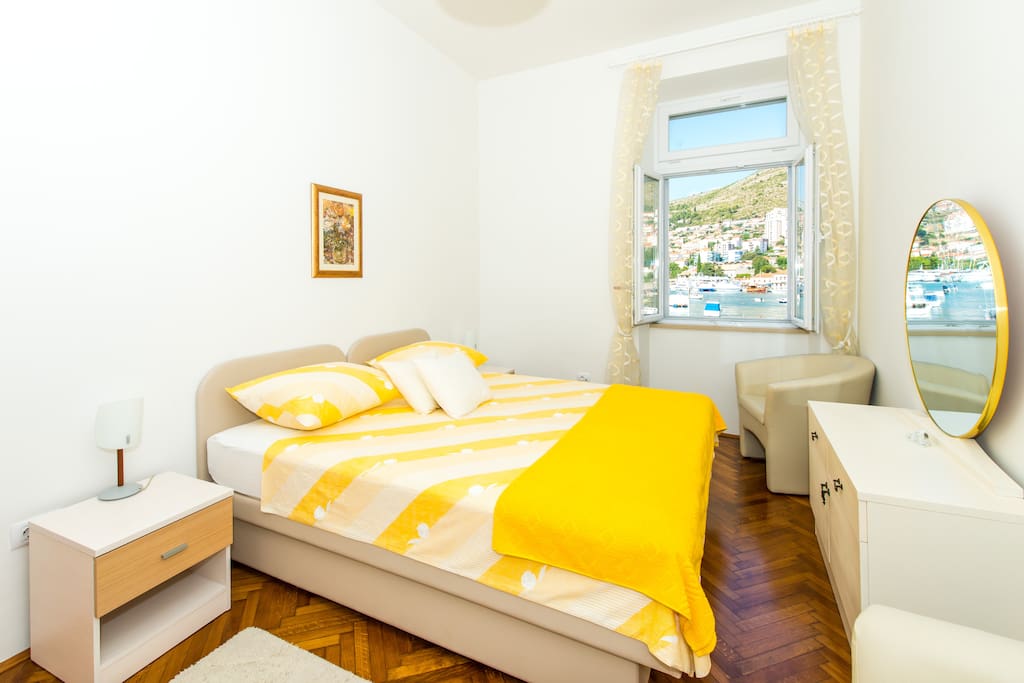 Fantastic apartment on great position near sea.
房源
Tucked away on the first floor of a stately 100-year-old building is this gem of an apartment. The rooms are high-ceilinged, generously-sized, and flooded with natural light.
Only the living room, decorated to resemble an old-fashioned parlor (albeit with new furniture), hints at the building's rich history; the rest of the apartment exhibits a completely modern style.
And its prime location right along the Gruz Harbor means that all amenities are within easy reach.
In front of the property is restaurant Otto, where serves delicious innovative bistro style food which we would heartily recommend-it's one of our favourite Dubrovnik restaurants in fact!

Bus station from 50m
Apartments overlooking the marina, small(kruzer) boats and probably sitting on the balcony you can see the arrival of the ships
-Local bus station is just 50 meters from the apartment.
Cable car is in the area of Old City. The Old Town can be reached in 5-10 minutes by car or bus and center of Lapad is a leisurely 10-15 minute walk away, there is snorkeling.
---
There was welcoming wine and beers in fridge. His explanations of the area were helpful. Don't be offput by the lower entrance, strictly utilitarian. Arranged for extra 1/2 day for a fair fee. Great area away from the hustle bustle. Fantastic view of harbor, just like pics. On busy street but double glaze seals out 99% of noise. Easy to get taxis-- as cheap as bus for 4 people. Otto restaurant is excellent-- res necessary. Great Italian across the street from boat ferry terminal on other side of harbor-- Amfora. Good Japanese nearby-- Shijuku-- take taxi-- must have res. 5-12 PM 4 adults could not have had a better time... bathroom excellent Washer used often Dishwasher helpful. Tons of pots and pans, dishes, glasses...American style fridge and freezer. COULD NOT HAVE BEEN BETTER
---
The view was stunning from the apartment with 2 balconies that overlook the marina. The lobby of the building is slightly run down but the apartment is nothing but amazing. The air conditioning worked perfectly and it was very large and modern inside. It sits next to an amazing seafood restaurant, Otto, that we would go back to any night of the week! Drago met us after our flight was delayed and explained the city and how everything worked in the apartment. We loved it.
---
This was our first Airbnb experience and it was a winner. We are a couple traveling with two daughters ages 20+ years old. We all loved it here. Delightful couple, lovely spacious, clean apartment, great location. Draguton and his wife were so kind and helpful with anything we asked. We enjoyed the walk to the Old City from the apartment and found the bus system to be very easy and reliable. I would very comfortably recommend this apartment to my family and best friends so I recommend it to all!
---
Apartment Gemma was a great place for us (3 married couples) to stay in Dubrovnik! We only stayed for 2 nights and I wish we would have planned to stay a couple more. Dubrovnik is a wonderful city with many things to do, and you can easily spend 4+ days exploring everything and doing day trips to the islands, etc. The apartment was very modern with three comfortable bedrooms and 2 well outfitted bathrooms. The mattresses on the beds where pretty firm, but that is our preference. The views of the Marina were very nice and gave the apartment a relaxed vacationy feel. Also the AC was ice cold, which was a blessing in the 100+ degree heat Dubrovnik was having while we were there. The apartment is not close to the old town for an easy walk, but is conveniently located on the same block as a bus stop and the #6 takes you right into the old town in ~5 minutes and runs about every 10, so no issues getting in to see the sights. It is also only about a 15 minute walk to Lapada beach which is a nice place to spend the afternoon taking a swim and avoiding the heat of the old town. Another wonderful perk of Apartment Gemma is that it is right next door to Otto Taverna, which is one of the top restaurants in Dubrovnik. This was a god send when we needed a late dinner on the day we arrived and just popped down and they accomodated us with a 10pm seating. Drago was also an excellent host and met us right at the apartment. We arrived a hour after we planned, and he was still waiting for us and very gracious about us being late. I would definitely recomend staying here!
---