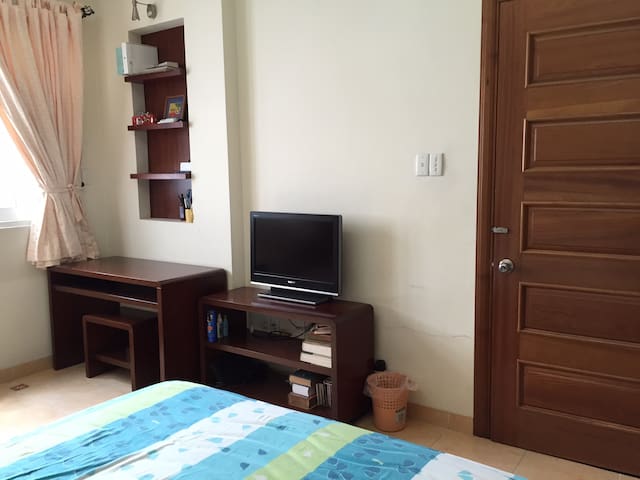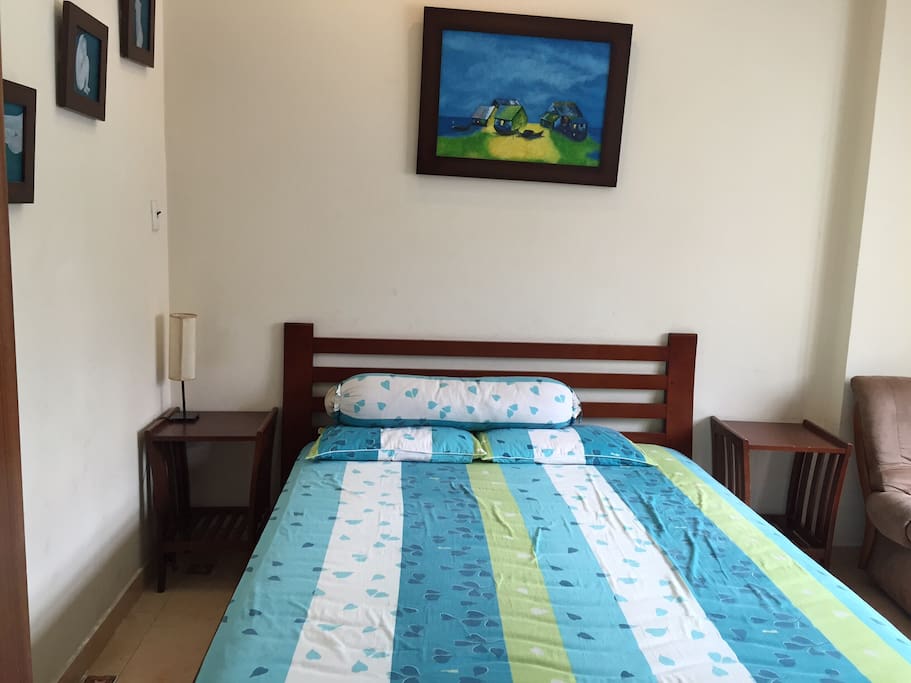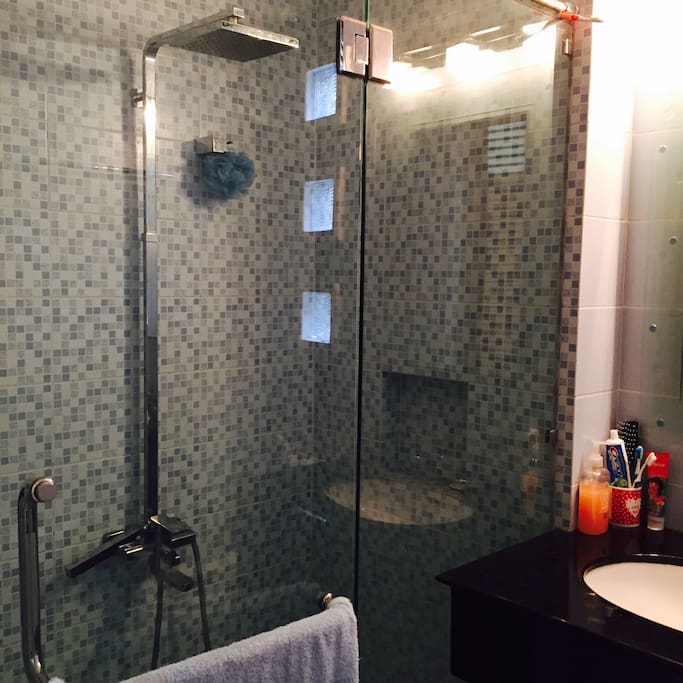 A very clean and modern designed room with water heater, air con, cable tv, fridge, wifi, in-room toilet and shower. The house has 5 bedrooms (3 are used by my family), 2 rooms are available for rent.
房客使用权限
Washing machine, kitchen. We have car services, bike for rent.
与房客的互动
Up to guest, we can arrange dinner upon request, we can give tips,
Loved staying here! The hostess, Que, was so warm and welcoming as was her entire family. I was invited to eat lunch with the family, and they were a lot of fun to chat with, and very funny! The food was of course delicious as well. The room is exactly as described, I can't tell you how nice it was to have a real shower with hot water! The house is situated off of the street in an alley, so its nice and quiet. The bed is large and comfy as well. I'm teaching at a school near by, so the location has been perfect for me. Its also a quick moto ride into the city, 15-20 mins, and only costs about 20K dong when you use the grab taxi app and take a moto! I would definitely recommend this room!
---
Que and the family are really really helpful and very friendly. The room is clean and I was nothing missing at all. The room service cleaned the room twice per week. The family also invited me for lunch or dinner several times. The house/room is situated in a quiet side street so that all the traffic of the city seems so far away. Nevertheless one is in district 1 within 5-10 minutes by motorbike.
---
It was a great experience! Everyone in the house were helpful and friendly. It's always great to see smiling faces whenever you run into them. My room was very clean and comfortable. I liked every bit of it. I was offered dinner by the family, which was very nice of them. Que's nephew was very helpful with showing me the surrounding area. He even took me on a city ride on his motorbike! He was very helpful with couple of things I've had to deal with while there. It really overcame potential language barrier confusions. I felt at home while at Que's place. I even extended it to an extra couple days before leaving. I would stay there again, definitely recommended!
---
My stay at Miss Que airbnb was an experience i'll always remember with affection.Though i did not meet her she was very helpful with advice on places of interest.In fact the whole family were very helpful and good to me during my ten days there.Was even invited to have breakfast and lunch with them on (URL HIDDEN) bedroom was large and always clean and has a good size walk in shower.The air-con in the room was good to have had.Her place is just a little out of the city centre,but the taxi's are very cheap.There are bikes if you wish to give it a go! Overall i highly recommend Miss Que's airbnb. A very relaxing place to stay with a lovely helpful family.Thanks for everything Miss Que.I'll be back!
---
My stay in Que's house was perfect, the room is better than described with a wonderful hot shower, air conditioning, quiet and very secure. I arrived after dark and was glad I was able to find the property but needed the help of neighbours. Beware fellow travellers, only use taxi with company signage, I was overcharged and had to insist he take me to the end of the road rather than leaving me half a mile away. Que did give me this advice but I was tricked, if no sinage, refuse the ride.
---