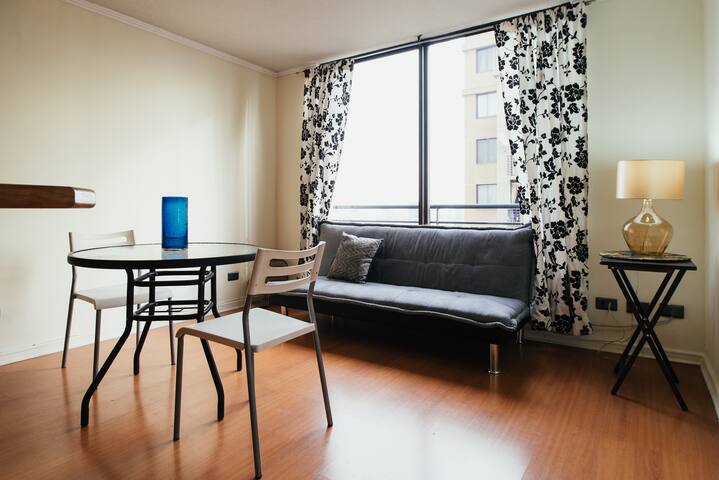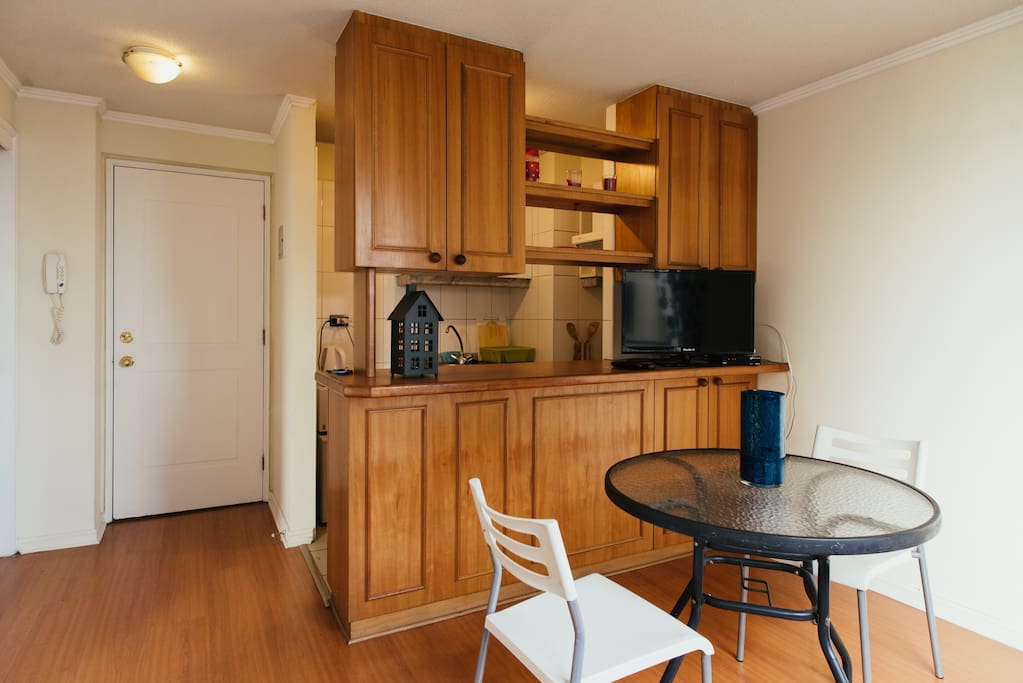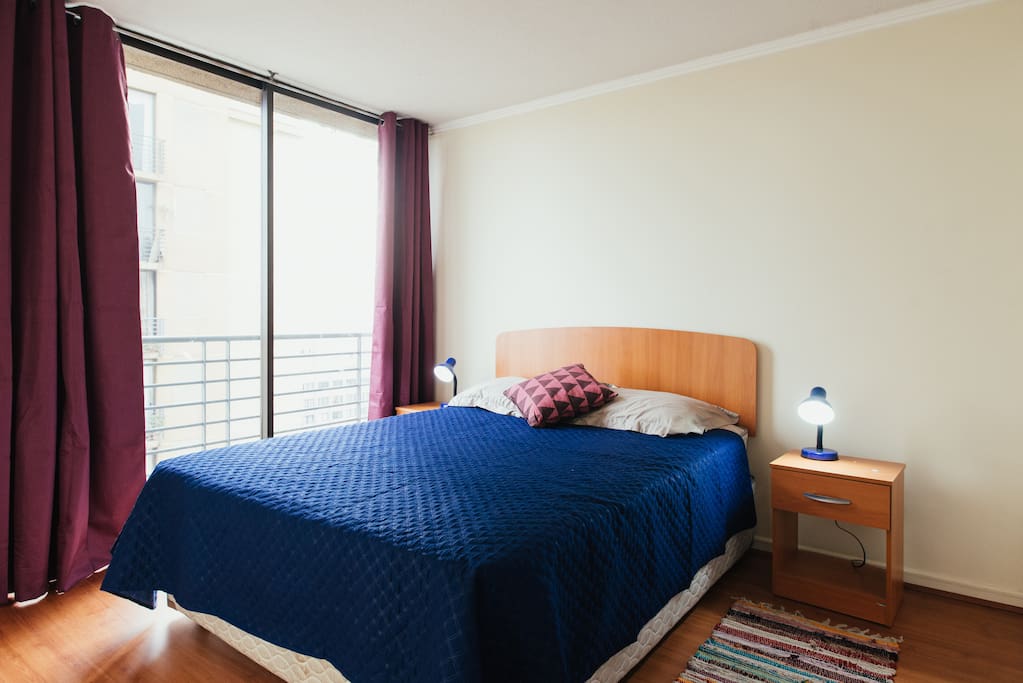 圣地亚哥市中心,这间一卧室公寓最多可容纳2人。位于贝拉斯阿特斯(Bellas Artes)附近,是探索城市的最佳去处,距离2个地铁站:Bellas Artes和Plaza de armas广场仅几步之遥。 您可以从公寓步行抵达许多圣地亚哥的景点。以熙熙攘攘的Plaza de Armas广场为中心的紧凑型核心之旅应包括访问:您可以访问的地方: 帕拉西奥·德拉蒙达(总统府) 圣克里斯托瓦尔(圣克里斯托瓦尔)(一座巨大的公园) 圣卢西亚圣地亚哥(圣地亚哥成立地点) - 帕克森林 -Barrio Lastarria( - 博物馆贝拉斯阿特斯 -Barrio Bellavista(波希米亚季) -Mercado中央(典型食物) -Pablo Neruda的房子"La Chascona" -Museo de Arte Precolombino。 - 旧金山博物馆(少数几个殖民地的两个) (以上这些距离公寓步行距离) 更多: 科斯塔内拉中心购物中心(城里最好的一个) 纪念博物馆(关于人权与智利独裁) 派克公园(现代公园) 巴里奥饭店 Barrio el高尔夫(花式商店和餐馆) Cajon del maipo 葡萄藤:圣诞老人Rita和Concha y Toro。 在网上研究这些地方。 公寓位于两个地铁站之间。 Bellas Artes车站和Plaza de Armas车站。 步行距离到智利首都的所有主要旅游者都想看到。
In downtown Santiago, this one-bedroom apartment fits up to 2 people.. Located in Bellas Artes neighborhood is the best place to discover the city, and steps away from 2 subway stations: Bellas Artes and Plaza de armas.
You can get round many of Santiago's attractions on foot from the apartment. A tour of the compact core, centred on the bustling Plaza de Armas, should include visits to: places you can visit:
-Palacio de la Moneda (Presidential)
-Cerro San Cristobal ( A hill which is a huge park)
-Cerro Santa Lucia (Place where Santiago was founded)
-Parque Forestal
-Barrio Lastarria (
-Museo de Bellas Artes
-Barrio Bellavista (Bohemian quarter)
-Mercado Central (Typical food)
-Pablo Neruda's house "La Chascona"
-Museo de Arte Precolombino.
-Iglesia and Museo San Francisco (Two of the few colonial trasures)
(these ones above are in a walking distance from the apartment)
More:
Costanera center shopping mall (One of the best in town)
Museo de la memoria (About Human rights and Chilean Dictatorship)
Parque Bicentenario (Modern park)
Barrio providencia
Barrio el golf (Fancy shops and restaurants)
Cajon del maipo
Vineyrads: Santa Rita and Concha y Toro.
do a research of these places on the net.
The apartment is between two subway stations. Bellas Artes station and Plaza de Armas station.
Walking distance to all the main atractions tourist want to see in the capital of Chile.
---
This apartment hasn't seen any upkeep and the pictures make it look much nicer than it is. The walls are dingy and dirty, most of the dishes were dirty, the bed is old and not very well kept, and I was provided a half roll of toilet paper for a four-night stay. You can tell this is a unit that isn't really cared for, and there are much nicer Airbnb's for the same price in the area. Also, a heads up for solo travelers if you plan to leave the unit at night take a right out of the gate towards Mac Iver and the Bella Artes district, as San Antonio can be bad at night.
---
The location of this apartment cannot be beat. Walkable to many of the main attractions and great restaurants in our opinion. It is exactly as described and pictured: small but clean and comfortable. Although it says laundry is available, it costs money and is located in basement of building. Our only complaint was that the WiFi connection was very poor or nonexistent throughout our stay. Overall good value for price but WiFi really needs to be more consistent for international travelers
---
Hi friends, I am Vicente. I like traveling and meeting people from around the world. Discovering Airbnb has been great. Since then, I have been both: host and guest. The experience has been awesome.
语言:
English、Español